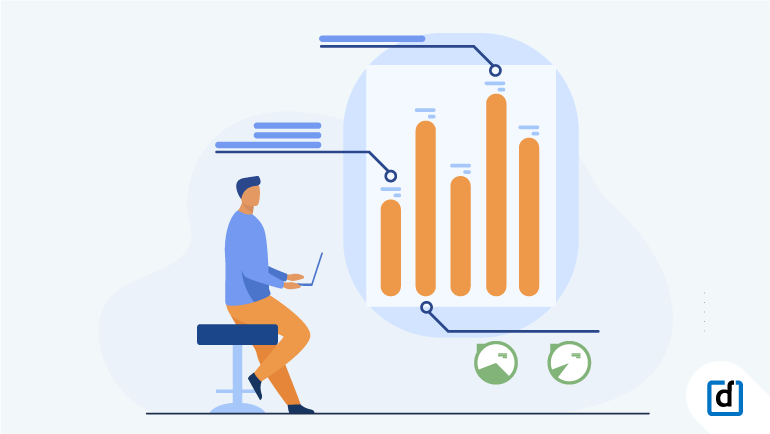 Everyone is talking about the most valuable resource of the 21st century: data. It is ubiquitous these days and is on its way to revolutionizing the HR field too. HR processes across the world are fast adopting data analytics capabilities as a fundamental part of business strategies. According to 2021 research, 95% of 126 Asian organizations say that HR analytics is critical.
But an effective HR analytics system needs to be based on the right data metrics. Only the right metrics will accurately measure performance on different HR functions and benchmark their effectiveness.
There are many HR data analytics metrics defined for different HR dimensions. But here are 10 of them that you should be tracking:
Time to hire (TAT):

TAT is an HR analytics metric that can measure the efficiency of the recruitment process. This metric refers to the time between the day a candidate applies for the position and the day they accept the job. HR managers can assess how quickly they could identify the best fit for the company. They can also identify those positions that are difficult to fill.
Cost per hire:

The cost per hire metric indicates how much it cost the organization to hire new people. It supplements the TAT metric in assessing the efficiency of the hiring team. It includes the costs during recruitment, transport, and official expenses.
Applicant to Offer Ratio:

It refers to the number of offer letters the company sends to selected candidates divided by the number of candidates who accept the offer. It indicates the preferability of candidates to join the company. A low applicant to offer ratio might be related to compensation issues. Discussing the pay earlier or listing the salary at the beginning of the recruitment can help tackle a low score.
Turnover rate:

Turnover rate is the percentage of employees leaving the company within a specified period. The specified period used for calculation is usually twelve months. Turnover may be voluntary or involuntary. Voluntary turnover includes resignation, which may be due to dissatisfaction or better career opportunities. Involuntary turnover involves termination of employment from the employer's side. Reasons for involuntary turnover may include poor performance, bad reviews, or behavior. Turnover rate is a critical measure through which a company can analyze its performance regarding employee engagement.
Turnover Cost:

When an employee leaves an organization, whether voluntarily or involuntarily, it entails some costs. The vacancy could create a gap in the workflow and result in delays and halts. There are costs of recruitment, selection, and training of the new people that would replace the one who left. Hence, this metric will help companies analyze their employee engagement policies to minimize this cost in the future.
Organizational Goals Achievement:

This is one of the most critical yardsticks to analyze workforce performance. It will be favorable for the company if the employees are performing well in their objectives. If they are not performing well enough, this score would be low and serve as a tool to find why. It would help HR in devising a strategy to improve the performance level. There could be several reasons for underperformance: there might be a lack of skill, communication, or even motivation. The employees might need additional resources in terms of better technology and tools.
Compensation Revenue Ratio:

This metric is the ratio between the amount a company spends on compensation and salaries to the annual sales. With this metric, HR can assess if they can afford to make raises, bonuses, or other benefits.
Absence Rate:

If employees remain uncharacteristically absent from work, it could indicate several problems. These problems may include unfavorable work culture, stress, sickness. An absence rate of 1-2% can be considered normal, but companies would not want the absence rate to be high for long periods.
Employee Performance and Potential:

A popular tool used to measure an employee's performance is the 9-box grid. It helps the leaders know which of the workers are performing poorly, which of them are improving and who the best performers are. The company can take steps to retain top performers and help improve the poor performers.
Employee Engagement:

Employee engagement can help assess employee productivity. People who like their job are less likely to leave it and are more likely to be motivated to perform better. This metric measures engagement by taking opinions from the employees directly. This statistic is directly related to turnover, revenue, company outlook, and company performance.
HR professionals are trying to find different ways to include various HR Data metrics to drive an efficient HR process. Especially in times of a global crisis, organizations are trying to fit into the new normal. With thousands of people losing their jobs, business functions requiring new skills and talents, it has become pertinent for HR to acclimate to these changes and work towards an evolved and better HR Analytics. There is a need to invest more in data-driven strategic HR. In that context, Darwinbox, a new-age cloud HCM pioneered in AI-based HR data analytics, is a hire-to-retire technology platform that helps organizations get a competitive boost in their HR.
With features like compensation analytics, time and attendance analytics, and attrition analytics, the Darwinbox Analytics module helps companies take proactive measures to ensure better hiring policies and streamline their HR processes towards better business and people management.
A people analytics report that Darwinbox has developed in association with People Matters: Read On>>