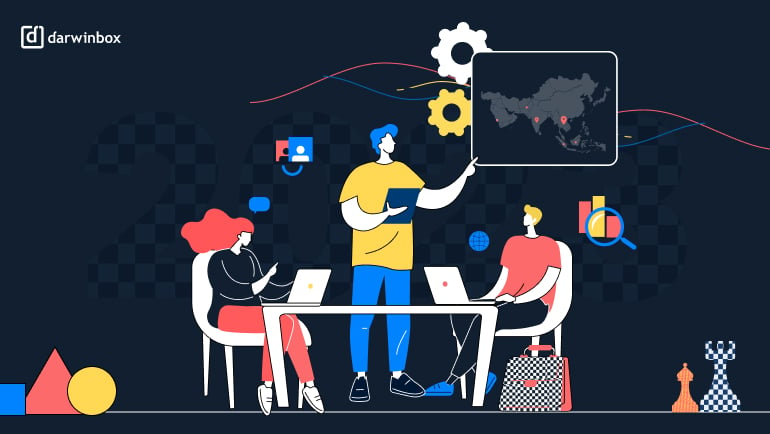 APAC's largest HR research study is here with ground-breaking revelations on how visionaries in the HR space are shaping businesses in the face of uncertainty, AI upheavals, and tech-driven evolution. We share insights from the study on realigning priorities and crafting your unique path to a successful HR transformation.
Perspectives: Behind the Scenes
Early 2023 was characterized by a storm of uncertainty and disruptions– geopolitical upheaval, economic slump, recessionary trends, and the disruptive force of AI reshaping talent landscapes. Amid this chaos, one thing was becoming clear – the HR function needed to be at the forefront to help organizations survive and thrive in the evolving world of work.
Enter HR Evolution Perspectives – a study that resulted from recognizing the need to unravel how the shifting business and talent landscape was molding HR's role and readiness. As Asia embraced a shifting work environment, the focus was on understanding how HR leaders in the region would navigate these changes to pioneer a new path to transformation.
Darwinbox, in partnership with People Matters, embarked on this expedition across the Asia-Pacific, garnering insight from 350+ CxOs and 1500+ employees across 1200 organizations in Southeast Asia, India, and MENA. Our research was fueled by two fundamental hypotheses:
1. HR Response
With businesses evolving, the HR function needs to step up and answer the call of business needs while crafting employee experiences that can keep up with the evolving expectations of the workforce.
2. Tech Catalyst
Technology, ever the game-changer, is poised to play a pivotal role in catalyzing this transformation.
Let's dive into some of the critical insights uncovered by the research study.
Navigating Asia's Growth Landscape: Strategies and Trends
Amid a challenging global economy, Asia is emerging as a dynamic force. Despite various hurdles, such as monetary policies, interest rates, and geopolitical tensions, the IMF forecasts a growth surge in the Asia Pacific region to 4.6% in 2023 from 3.8% in 2021.
Asia's unique growth strategy not only focuses on more margins and productivity but also on the way the growth is achieved sustainably:
1. Asia's Holistic Growth Approach
Asia's growth strategy is driven by innovative strategies like the "Go Local" motion and strengthening of regional trade linkages; but it is equally focused on sustainable growth in addition to higher margins and productivity.
2. CxO Insights on Growth
The majority of the 350 CxOs polled predict that in the next two to three years, "Go Local" strategies and the growing impact of Gen Z in the workforce will lead to greater revenue, organic expansion, and mergers and acquisitions (M&A).
3. Balancing Efficiency and Sustainability
While 58% of CxOs expect higher profitability, 18% of them are planning to improve productivity without increasing headcount. The goal is to maximize the potential and efficiency of the current workforce.
Digital innovation and the focus on sustainability are shaping strategies, with a commitment to net-zero emissions and growing attention to Environmental, Social, and Governance (ESG) goals.
Navigating Talent Challenges Amid Asia's Swift Growth
With Asia on the path to rapid, intentional growth, critical talent challenges surface, catching organizations off guard. Accelerated growth reveals issues in finances, talent, and innovation, leaving over 350 surveyed CxOs uncertain about their readiness for this transformative journey. Their insights highlight that fast-paced innovation and ambitious growth plans trigger significant organizational shifts, exposing talent-related risks.
The data highlights the following top risks: developing critical role capabilities (63%), embracing new digital work models (49%), inadequate leadership pipelines and rising personnel costs (44%). This vulnerability stems from a gap between risk impact and organizational readiness. When planning organizational and talent strategies, CxOs must consider a few imperatives:
1. Leading and Shaping the Workforce
Cultivating leaders, balancing costs, attracting talent, and guiding purposeful engagement amidst uncertainty
2. Keeping up with the 'Always-On' Shortage of Skills
Swiftly identifying, deploying, and fostering skills, breaking free from perpetual skill shortages
3. Sustaining Change Efforts
Empowering innovation, managing burnout risks, and ensuring seamless change adoption for engaged employees
Navigating Evolving Employee Expectations
In the current scenario, employees wield more influence in the workplace, introducing a multitude of challenges. Swift turnovers and fierce talent competition coexist, and so do productivity goals and mounting burnout. Trends shift rapidly, from "great resignation" to "quiet quitting to "quiet hiring," demanding adaptability. In this scenario, CxOs face a dual challenge: aligning organizations with dynamic employee expectations while managing costs, fostering innovation, and driving growth. This dynamic raises the need for a strategy that can balance both these priorities for favorable outcomes in both the business and employee realms.
Based on insights from 1,500+ employees, CxOs must understand core employee preferences. This means grasping values that drive them – like valuing work-life balance (54%), recognizing strong leadership (52%), and embracing a sense of purpose (46%). These insights guide organizations in nurturing both their workforce and business goals.
Trends in Evolving Employee Expectations
1. Work-life balance tops expectations
Work-life balance is the topmost parameter that employees consider when evaluating employers. Flexibility refers to autonomy in work schedules, while work-life balance ensures equal focus on work and personal life. Both are crucial for optimal performance, and the distinction is crucial to be understood by CxOs.
2. Expectations around good leadership rise in priority
In a hybrid work environment, employees seek leaders who provide a shared purpose beyond work. Amid business pressures and ambiguity, they need emotional, mental, and rational connections to their work and work lives.
3. Rising expectations for better pay, benefits, and digital transformation
Hybrid work drives expectations for technology-assisted collaboration. The distance from offices and focus on well-being elevate expectations for better pay, benefits, and digital transformation.
Reimagining HR Transformation in Asia
Employee Experience Emerges as a Top Priority
In 2023, HR transformation is of the utmost importance. This is because of the realization that talent plays a pivotal role in competitiveness. Transformation is now an ongoing process, with HR leaders working to achieve both operational excellence and strategic influence. In the past, HR changes that focused on cost reduction and service expansion often fell short due to employee resistance to change. With the shift in expectations, HR needs to drive not just efficiency to deliver services at a functional level but also effectiveness to achieve talent and business outcomes.
A major shift is evident: employee experience is set to take center stage in HR transformation. An impressive two-thirds of organizations now prioritize enhancing employee experience, compared to just one-third previously. This is followed by the expectations of improving HR service quality (63%), empowering managers and frontline staff (59%), and proactively responding to business needs (52%).
Empowering Radical HR Transformation
HR Agility & Employee Experience Emerge as Two Key Pillars
Expectations from HR are shifting rapidly and embracing this shift requires an "Outside-In" approach. This perspective rests on two crucial factors: HR Agility and Employee Experience.
HR Agility
HR's capability to sense and respond to changes through interconnected practices and strong governance.
Employee Experience
Organizations' ability to build an engaged workforce by supporting employees, being transparent with them, building mutual trust, and showing empathy.
Employee experience impacts how employees view their relationship with the organization, while HR agility enables organizations and employees to quickly adjust to new business conditions. These elements work together to create an effective workforce strategy. Our data shows that good governance, excellent service delivery, and talent practices that are in line with business outcomes are all important contributors to HR agility. The employee experience, on the other hand, focuses on empowering employees through support, transparency, trust, and empathy.
The road to comprehensive HR agility involves aligning talent management practices with business goals and consistently adapting them to changing requirements. Ensuring an effective and efficient HR service delivery system is key, which can be achieved by boosting delivery speed and quality. Modern technology integration optimizes HR procedures and improves user experience in general. Establishing solid governance enables tracking and reporting on critical business-aligned HR indicators, driving timely stakeholder action.
The catalysts to creating exceptional employee experience include helping employees as needed and providing them the tools they need to support themselves, giving employees the tools to access their personal and pertinent organizational data, equipping them with the knowledge they need to excel in their current positions and further their goals, treat employees with respect, communicating openly with them, making them feel appreciated, and so on.
Setting the Right HR Operating Model Powered By Technology
Our research has identified a revolutionary recipe to accelerate HR transformation: combining the ideal HR operating model with a strong technology strategy. Per our analysis, HR transformation outcomes are better for organizations with the right HR operating model powered by a robust technology strategy.
To dive deeper into how different organizations deliver on agility and experience, we classified them based on their degree of clarity on the operating model and robustness of technology strategy. But that's only the very tip of the iceberg.
We've divided up organizations into four distinct archetypes: Laggards, Market Average, Leaders, and Outliers, each with a special take on experience and adaptability. It's a journey that goes from improving governance to promoting efficiency, unlocking empathy, and maximizing technology for creativity.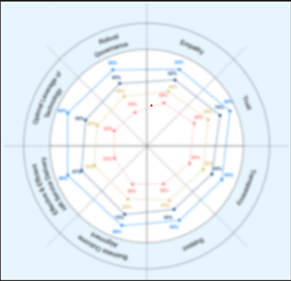 Download the report to unlock image
Additionally, we asked respondents about their confidence in various business parameters, and the findings indicated that HR transformation and business outcomes are directly linked to each other. CxOs in companies that prioritize agility and the employee experience are twice as confident in the results of their businesses.
HR Transformation Leads to 2x Better Business Outcomes
Only 20% of Laggards express confidence in having an effective and efficient HR department, and they also score poorly on other important business metrics. On the other side, Outliers and Leaders have a high level of confidence in the capability of HR to produce business results.
Want to learn more about which archetype you fall under? In our extensive report, explore the entire range, discover areas of improvement for your organization, and craft your unique path to HR transformation. Download the report right away!
The Three Key Shifts Determining for a Successful HR Transformation
1. HR Agility
Execute, not just design, to deliver on HR agility
HR Agility needs intent and execution. When we looked closely at how organizations are handling change, we discovered that while many of them showcase strong intent on incorporating agility in HR, they lack when it comes to execution.
Out of a set of 22 attributes chosen to define agility, we analyzed the top 6 and the bottom 6 based on respondents' degree of confidence on a 6-point scale. While there are several attributes linked to design and business alignment that work well, the weak points of HR are digital adoption, leveraging technology to integrate talent programs, embedding it in the operating model, change management, and so on.
To overcome this, organizations must accelerate digitization and leverage technology optimally to keep up with their competitors. They must also leverage technology to integrate talent management practices for a better view of talent. The only way forward is to quicken digitalization and ride the tech wave. Leaders are already using technology consolidation to improve experience and efficiency.
Compare your HR agility priorities against those of the Leaders in the game. Download the full report now!
2. Employee Experience
Personalize, not generalize, moments that matter
Employee experience is the perception of employees regarding their journey via all touchpoints in an organization, and employee engagement is the result. Organizations have been developing action plans based on employee engagement or pulse survey results for many years. This results in a unified solution for all employees. This one-size-fits-all approach to providing experience is ineffective.
We surveyed over 1,500 employees spanning four different generations about their organizations' delivery of key experience parameters and observed some congruence in the top 6 experiences but variation in the bottom 6 experiences. The six experiences all employee groups scored well are trust in their organization to use data ethically, support with work-life balance… <<Download the report to find out the full results>>
The fact that the top 6 experiences are similar across all generations suggests that organizations have been crafting similar experiences for all employees for each segment. This style may not work for the evolving workforce.
Identifying "moments that matter" is a useful approach for enhancing employee satisfaction. It involves identifying unique moments important to each persona, in this case, each generation of a multi-generational workforce, and tailoring experiences to each segment for maximum impact.
3. Technology
Technology is a huge priority for HR and a factor that can so easily lead to agile and experience-centered transformations. However, despite the focus on digitalization, satisfaction with HR technology remains low. The performance of HR technology has fallen short of organizational expectations. Our analysis reveals varied Net Promoter Scores (NPS) across different HR areas and organization archetypes. From Laggards to Leaders, dissatisfaction with specific technologies is evident. A mere 9% of the Market Average group and only 30% of Leaders are satisfied with their HR technology stack.
Organizations are now reevaluating their technology strategy, swinging towards deep consolidation, driven by the total cost of ownership and the need for integrated talent views. This move not only streamlines HR operations but also enhances agility, responsiveness, and user experience.
However, technology utilization varies; over one-third of the respondents surveyed are not fully leveraging technology in even the basic, foundational HR practices. Under 20% of the respondents have explored advanced tech such as AI-driven performance management and blockchain. The journey to a robust technology champion involves solidifying foundational aspects before jumping into innovative frontiers.
Explore the full report to uncover insights that pave the way for smarter technology decisions.
Key Steps to a Successful HR Transformation
Steering HR transformation towards success requires careful planning and execution. We bring you the key steps to follow for a successful HR transformation:
1. Value realization
Clearly describe the goals and outcomes of the transformation and match them to quantifiable success indicators.
2. The vision of the future
Develop a comprehensive vision with an integrated view of people, practices, and platforms.
3. Executive Alignment
Obtain executive backing for the strategy and ensure collective responsibility.
4. Experience and Change Enablement
Early mindset modifications can help stakeholders get ready for change in a creative and timely manner.
Download the report to explore all the steps.
The Way Forward
Navigating change in modern organizations is like playing a game where the rules keep changing. Yet, the game must be played. You must adapt and evolve to emerge victorious. With this study, we have assessed the evolution journey of HR and how companies are anchoring business requirements of agility and employee experience in their people management processes.
The report provides a compelling window into the future of HR transformation in a market characterized by sudden changes and shifting expectations. The results suggest that organizations must start on a transformative path by encouraging agility and improving employee experience. By delving into the study, you will gain insights into how HR pioneers across industries are doing so for their organizations, get an opportunity to benchmark your position against the industry standards and gain visibility into your own unique path to improvement.
So, what are you waiting for? Take action now to drive successful HR transformation and stay ahead of the competition.