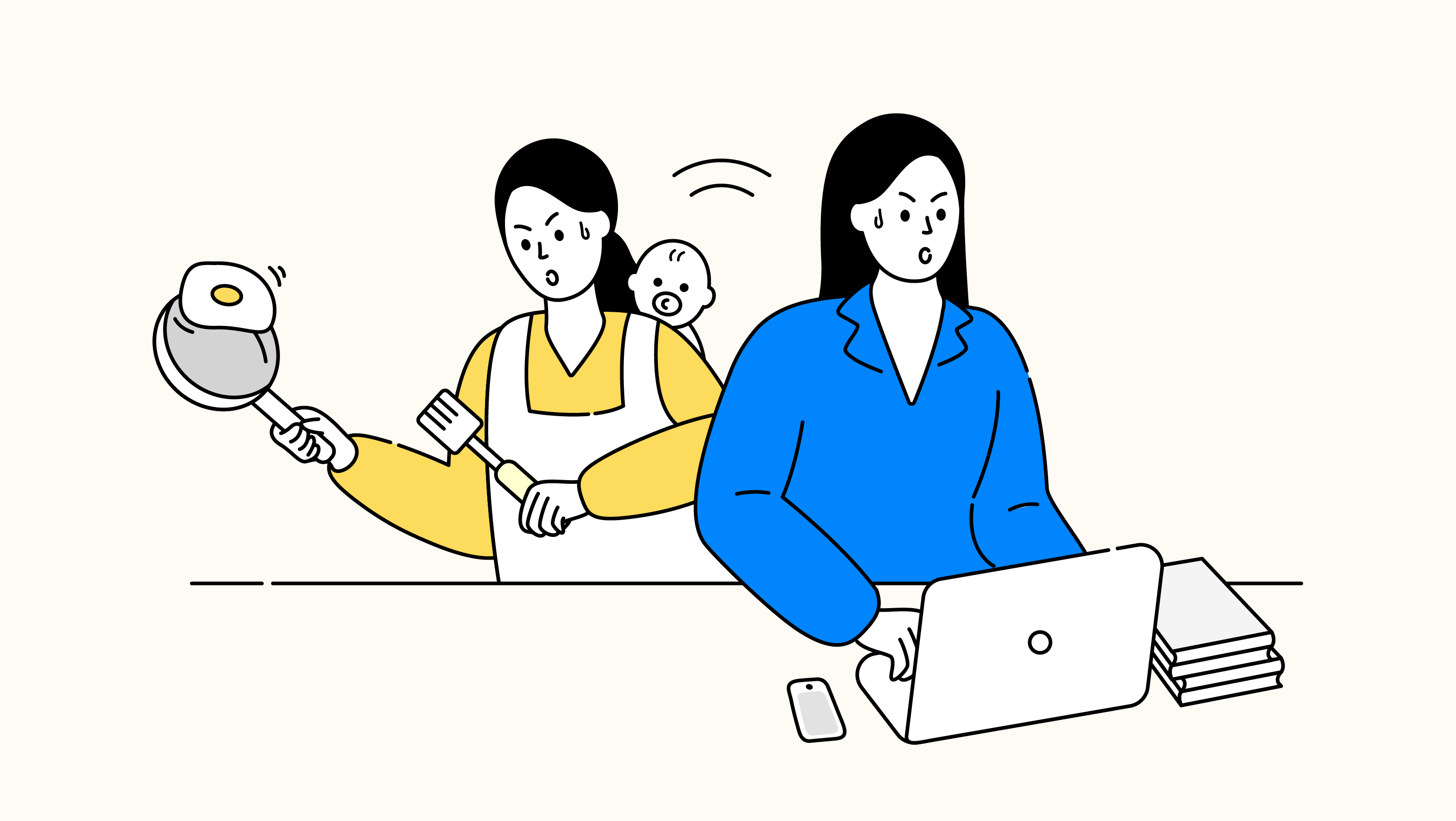 We're exploring the challenges working mothers face at the workplace. We'll also explore the very real solutions that HR teams can facilitate at the workplace for this crucial demographic.
HR is responsible for employees' well-being and ensuring they are happy at the company. Though HR must remain unbiased irrespective of an employee's gender, to achieve equity in the workplace, we must consider that working mothers face many unique challenges. More than 70% of working men and women agree that women are penalized for having children while men aren't.
In such a situation, HR can take the onus and come up with plausible solutions that can truly help make the situation better for working mothers. However , it is crucial to identify the challenges that working mothers regularly face in the company to identify the right solutions.
3 Challenges Working Mothers Face at the Workplace
Here are three of the most significant challenges faced by working mothers in the world of work:
1. The lack of time for self-improvement
Spending time on activities that upgrade one's skills in today's competitive workspaces is essential. However, this turns out to be a far-fetched idea for working mothers. They are either looking after their family's needs or working to achieve their workplace goals and getting no breathers while balancing everything.
The scale of the problem became intensified during the pandemic as the duties of working mothers increased tenfold. They had to juggle their children's online classes, never-ending demands from family members, incoming team calls, and the need to reach their targets within deadlines. In all this hustle and bustle, any personal time or self-improvement takes a back seat.
2. The constant expectation of multitasking
We've consistently heard the word "Supermom" being applied to working mothers over the past few years. It's almost the baseline expectations for mothers to manage multiple roles and responsibilities in their homes and the workplace seamlessly and with an obligatory smile.
As great as that sounds, it places unreasonable and unrealistic burdens on one human being who has the same 24 hours as the rest of us. They are bound to encounter difficulties, just like any other employee. They can also lose focus and make mistakes at work, like any other employee.
3. Never-ending gender biases
The notion that women can't deliver specific tasks the way men do, or that men are better at certain types of work or have more leadership skills impacts many organizations' workplace
environment. While that affects most working women to some degree, it is magnified in the case of working moms.
Due to these gender stereotypes, working moms get hired on lower salaries than men. They are even judged more harshly than men when it comes to the quality of work. What's worse, they are considered unsuitable to handle time-sensitive tasks because they can't work too late, and so even while striving to prove themselves repeatedly, lose out on opportunities to impress and progress.
4 Effective Solutions to the Challenges Faced by Working Mothers
As we have seen the challenges HR needs to solve for have deep-seated roots. Let's explore four promising solutions with short-term and long-term action plans.
1. Provide mental wellness and upskilling opportunities
Short-term action plan:
Your immediate focus should be on easily making available short courses that encourage women to work on their mental health and upgrade existing skills. You could start by introducing subscription plans for platforms like Headspace, Calm, etc.
Long-term action plan:
For the long run, you can start collecting feedback that gives you insights into how they feel on a day-to-day basis. Solutions like Darwinbox help you capture employee feedback regularly thorough surveys: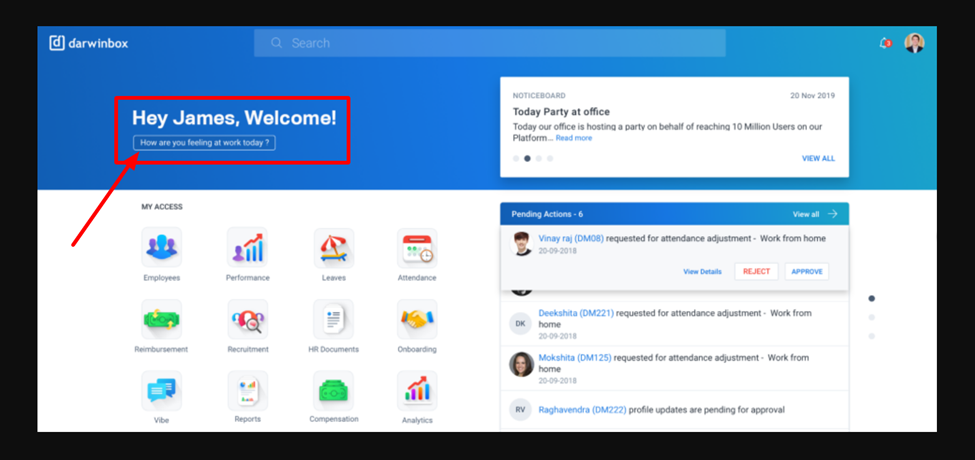 Learn More: The Evolving Dynamics Of Continuous Feedback - Insight From An Exclusive Study
2. Revise work-from-home and leave policies
Short-term action plan:
Introduce an emergency leave plan to help working mothers take leaves easily if there's an emergency at home or elsewhere. Once they come back from such leaves, they can focus better on their work.
When you introduce this new benefit, however, it would need to apply to all employees. By introducing a gender-neutral policy, you can reduce bias against working mothers and improve their retention rate.
Long-term action plan:
1. Introduce a better paternity leave plan for working fathers as well. This plan can help you destigmatize maternity leaves and reduce workplace discrimination against working mothers. What's more, working fathers will have an opportunity to support their partners by sharing their childcare duties.
2. Make maternity leaves more flexible for working mothers. Scandinavian countries like Sweden and Norway have benefitted from this philosophy. This will help working mothers join
the workforce faster if they wish and take the remaining leaves when they need. Such policies inculcate workplace loyalty in working mothers and further improve their output.
3. Encourage managers to hone their soft skills
Short-term action plan:
1. Introduce soft skill courses for leadership and team building that help your managers lead their teams with more empathy. Such courses showcase the constant challenges the team may face and how managers can help team members, including working mothers, overcome these challenges.
2. Introduce interactive sessions with experts. These sessions can be designed to sensitize managers about their inherent biases, how they might react to situations like working mothers asking for emergency leaves compared to other male members asking for leaves, etc. The sessions should help managers gain actionable insight into the best course of behavior.
Long-term action plan:
Send out SWOT (Strength, Weakness, Opportunity, and Threat) analysis forms to all team members to understand how they view their managers. This form can be sent annually or bi-annually to employees to gauge how managers perform. This practice is a great way to identify their strengths and challenges and guide them to improve further. A practice that will help working mothers in their teams in general.
Read More: 15 Best Examples of Honest Employee Feedback for Managers
4. Set up mechanisms to improve communication and empathy
Short-term action plan:
One of the first steps towards reducing misconceptions about working women is to encourage more opportunities for regular communication. When teammates get to know each other on a one-on-one basis, it becomes easier for them to empathize with someone when they are having a bad time.
Set up a quarterly or monthly budget for each team to get to know each another outside of work. This plan will help you create more integrated teams and team members who are a more likely to offer support and understanding to a stressed team member.
Long-term action plan:
Another initiative that HR teams can undertake is to set up a community for working mothers at work. This can be an online community where working mothers can post questions or have bi-weekly meetups with other mothers. You can create a sense of belonging and support by bringing working mothers together.
Let's Build a Welcoming Workplace for Working Mothers
To build a workplace for working mothers, that serves their needs and the company's needs, it is crucial to start with the question: "How can we build a gender-neutral workplace?"
These long-term and short-term action plans will help you build a more gender-neutral workplace and create a nurturing environment for working mothers.
Find out how Darwinbox can help you create a better workplace for all, book a demo today!