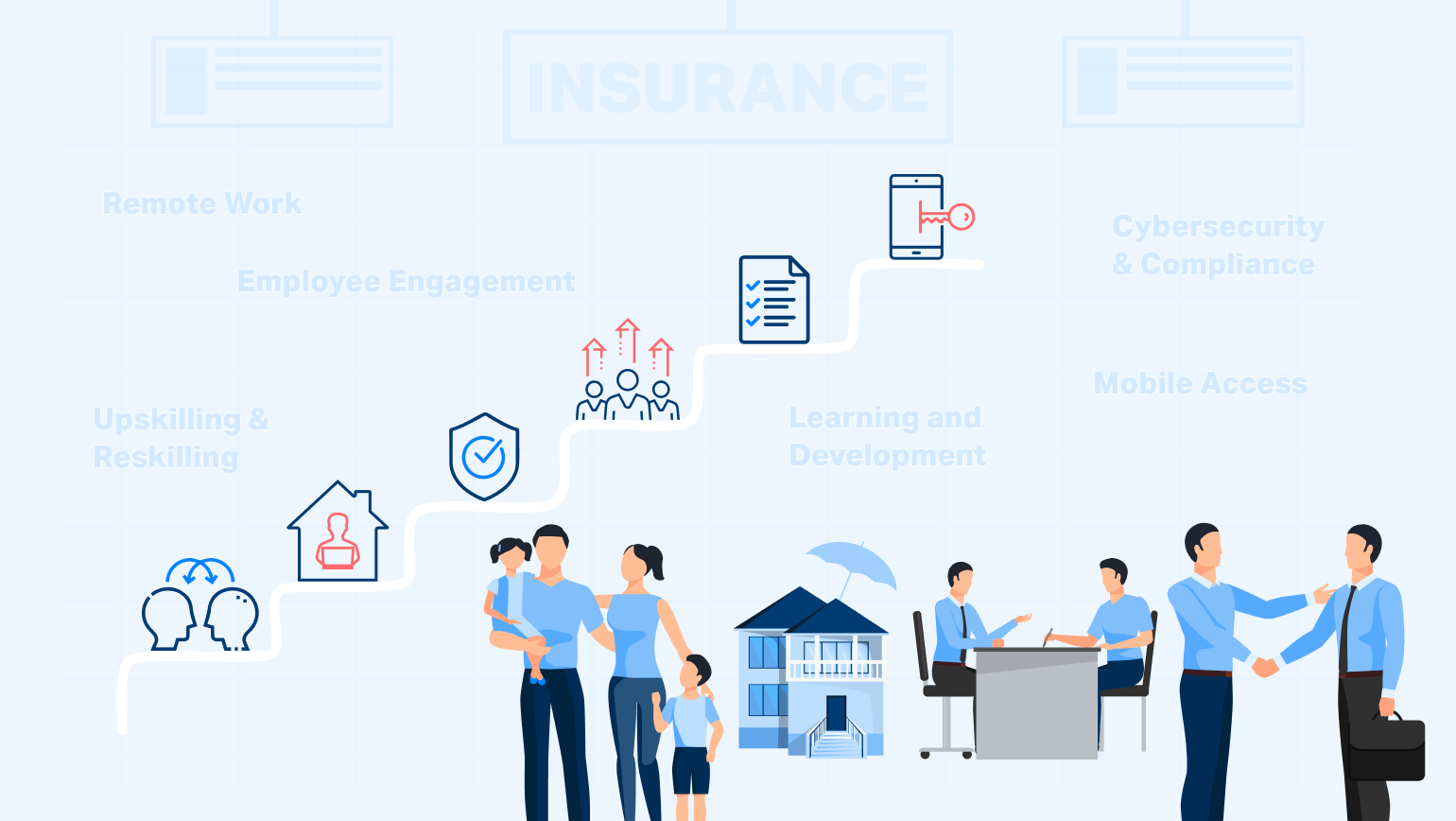 The insurance industry is in the midst of a significant transformation, on the path to explosive growth over the next few years. This article discusses the insurance industry landscape, and how HR technology can accelerate the efficiency and growth of insurance companies.
An Overview of the Insurance Industry
The insurance industry is in the midst of a significant transformation.
The sector has successfully overcome multiple obstacles and challenges such as the COVID-19 pandemic, economic uncertainties, cybersecurity threats, etc., and is now headed for rapid growth. Insurance industry revenues are predicted to grow from $6.1 trillion in gross written premium (GWP) at the start of 2020 to $7.5 trillion by the end of 2025.
Globally, the insurance industry hadn't been considered an agile, innovative, customer-centric sector, but the sentiment has changed quite a bit in recent times, particularly during the pandemic when the industry rapidly and efficiently adapted to meet changing requirements.
Insurance firms have rapidly adopted technology. Insurtech has developed into a niche sector by itself. Insurers are exploring new business models, and they're creating products that will appeal to the modern, next-gen customer base.
These are exciting and important times for the insurance industry, as insurers prepare for a significant shift. Shifts which range from the kind of employees, the size of the workforce, the volumes the industry operates with, the way insurance companies are structured, and the scale of growth, among other factors.
Digital Transformation in Insurance Companies
The adoption of technology and the digitalization of processes is the biggest change the insurance industry has witnessed over the last few years.
Insurance companies have been on the path to tech transformation for a few years now, and the pandemic accelerated technology adoption across the board – to manage operations, step up security and compliance, facilitate the shift to customer-centricity, and manage talent. Companies have started seeing returns with overall capabilities improving thanks to the use of technology.
The next step is to build on this momentum and adopt technology for functions that haven't yet made the shift. One such key function is HR, considering that talent management is vital for insurance companies to tap into the industry's growth potential.
The HR Landscape in Insurance
The insurance industry is heavily dependent on employees and field staff to grow and scale, so insurers need to increase staff and train employees to prepare for growth. Hiring has traditionally been an issue for insurance companies, and they will be facing more challenges going forward, such as:
High Attrition:

Turnover and attrition levels at insurance firms continue to remain at extremely high levels of around 30%; attracting and retaining talent is becoming harder by the day for HR leaders in insurance companies.

Need for Digital Literacy:

Non-metropolitan towns are the emerging markets for insurance companies, so most new employees are being hired in smaller, semi-urban towns and cities. These employees, however, aren't tech-savvy. They typically belong to the population new to the internet and those who use the internet primarily on mobile phones, work with low internet bandwidth, and require local language support on their devices. A priority for HR leaders is hiring sales representatives who are conversant with the latest technology or training them to be able to use the latest technology.

Shift to Customer-Centricity:

There's also a need to train the new crop of employees with soft skills. Companies need to foster a work culture where employees put customers first, invest in customer-centric products, and operate comfortably in a global, interconnected world.

Talent War with New-Age Sectors:

Insurance companies, like their peers in sectors such as IT/ITES, fintech, e-commerce, and other such new-age industries, need to invest more time and resources on initiatives such as Diversity, Equity & Inclusion (DEI), sustainability, etc., that are valued by both customers and employees.

Complex Regulatory Environment:

HR professionals also deal with several complex regulatory and compliance issues and manage constantly changing regulations that they need to adapt to. This includes multi-country regulations, considering insurance firms are now operating in several markets and expanding their scope.



The State of HR Technology in the Insurance Industry
Insurance firms across the world have adopted technology solutions for several HR functions, but adoption and usage levels by employees are quite poor. HR leaders have invested in implementing HRMS platforms, but several features and functionalities remain untouched; primarily because employees aren't trained to use these systems, or aren't digitally native or comfortable with technology.
Moreover, a large section of the workforce is on the field with little or no access to a desk and broadband internet, making it nearly impossible for them to use desktop-based HRMS platforms for tasks such as leaves, attendance, peer-to-peer communication, etc. Having access to the HRMS on mobile is essential to enable employees to gain value from the platform and for insurance companies to extract the highest possible returns from the investment.
Moreover, HR tech platforms have been looked at just as tools to automate/digitize processes. Modern HRMS platforms, however, enhance efficiency and productivity and elevate the value of HR processes overall.
8 Ways Next-gen HR Technology Can Help HR Leaders Ace Growth
Modern HRMS platforms help improve efficiency, productivity, and overall employee experience, in addition to serving as the single source of truth for employee information and handling basic HR tasks.
Here are some ways HRMS platforms can help:
1. Skill Development, Upskilling, and Reskilling
Given the transformation the industry is undergoing, employees need to be given opportunities to reskill or upskill themselves. Insurance firms have the responsibility to prepare their workforce to handle the expansion and advancements coming their way.
HR technology can help organizations plan, execute, and review these skilling programs efficiently.
There are now several high-quality training programs, courses, and learning material available for employees across all levels at several insurance companies, and HR tech is a great medium to disseminate these programs to employees.
HR tech platforms enable leaders to:
Match skill gaps with the training programs required

Plan, schedule, and execute training programs

Manage the entire training process, and evaluate employees periodically

Support peer-to-peer learning
HR tech also enables companies to provide access to continuous learning and development modules with features like AI-enabled course suggestions that employees can access independently, including on their mobile phones. They can be customized to offer features such as gamification and leaderboards on peer learning platforms that encourage employees to learn competitively and excel in their programs.
2. Talent Acquisition & Talent Management
The insurance industry is heavily dependent on its sales teams, and hiring the right kind of salespeople has a direct impact on growth numbers and the ability to scale. HR technology is indispensable for insurance companies that want to hire right and ensure that new employees experience a smooth onboarding process. Also, a large section of the existing workforce is set to retire over the next few years. The industry, and HR leaders in particular, need to strategize to hire young talent and increase staff for the coming years.
Investing in HR tech products will help with both efficient hiring and employee retention. HR tech solutions can help with:
Efficient hiring using AI-enabled features such as resume parsing, and resume stack ranking.

Smooth and positive onboarding experience through personalized onboarding programs
Providing transparency on the impact of individual employee goals on organizational goals, through consistent check-ins between managers and reportees.

Improving diversity and inclusion during hiring, with the help of AI-driven technology. For example, AI-based tools can also be used to call out the use of discriminatory words or phrases in job descriptions and company communications and promote the use of sensitive language.
Customers are demanding personalized services from insurance companies. They expect insurers to respond faster, better, and in more personal ways and offer products that are suited to their requirements. They expect companies to invest more time and have a deeper understanding of their needs.
The shift to remote work is a boon for insurance companies because they can nurture deeper relationships with customers through multiple virtual conversations rather than have just one in-person meeting. This gives them the opportunity to deliver high quality products and create long-term engagements with policyholders.
This, however, comes with the challenge of rewiring the industry's mindset and operational processes, and the shift to putting customers front and center.
3. Employee Engagement and Employee Experience
Hiring the right kind of employees is only one half of the equation. Employee engagement is as essential.
Although the industry employs millions of people, attracting and retaining talent is a struggle because candidates lean towards other financial sectors such as fintech, banking, or securities. They expect the kind of compensation, benefits, and work policies prevalent in other industries. Employee turnover is also relatively high, particularly among sales staff.
Modern HRMS platforms are designed to help HR leaders improve employee engagement levels, and enhance employee experience. Here are some things you can do with a next-gen HRMS platform:
Connect with employees, share the company vision, and ensure employees are aligned with the goals and mission of company leadership.

Enable employees to conduct all their administrative activities such as attendance, managing leaves, travel requests, training, L&D, performance appraisal, grievance redressal, etc., on one unified platform that can be used both on mobile and on laptop/desktop devices.

Set up internal social networking portals that will promote peer engagement, social interest groups, collaboration, etc.

Ensure equity and parity in compensation and benefits, with awareness provides about the total rewards available to an employee.
Conduct surveys, polls etc., to collect feedback and gain insight into how employees feel and what they expect.

Enable diverse, hybrid teams to work together more efficiently using mobile-first HR tech.

Run rewards and recognition programs to encourage employees with rewards, recognition, and appreciation both from managers and peers.
4. Workforce Management
The insurance industry in most part will work in hybrid or virtual mode going forward, and a large section of the workforce is expected to be freelance or contingent workers. HR technology can help train the workforce accordingly and put processes in place to improve agility and collaboration. It can also help to manage a large field workforce that is spread across a wide geographic area. HR leaders can adopt next-gen HR platforms to:
Track attendance, leaves, and day-to-day HR tasks

Automate activities like onboarding and induction

Hire remotely, which involves sending out digital offer letters and setting up video-based onboarding
Support teamwork and collaboration across geographies

Provide employees with knowledge bases, helpdesks, e-noticeboards, etc.
5. Cybersecurity and Compliance
With digital transformation comes the need for cyber security and data privacy. The global insurance industry is particularly vulnerable to cyber-crime, considering insurers hold a lot of sensitive data about customers and policyholders.
Next-gen HRMS platforms are built to deliver security features and handle data security for insurance firms. Such HR software is designed to:
Enable companies to set up role- and permission-based frameworks that will allow access to data on a restrictive basis and ensure that sensitive policyholder data cannot be misused

Enable HR leaders to disseminate information about cybersecurity and compliance across the company
Hold periodic assessments to gauge if employees are following the recommended practices

Keep employees updated on the latest regulations, recommendations, and compliance policies with features like push notifications about the latest developments

Assist decision-making and strategy by providing insight from data analysis, keeping tabs on regulatory updates, ensuring transparent communication between departments, etc.
6. Analytics and Reporting
From the kind of talent that is hired, to the way workforce planning is done, to where these employees will be located, everything about work in the insurance industry will be different from what the industry has witnessed in the last few decades. Insurance companies now need to use a lot more data and analytics to ensure that the business operates efficiently and is prepared for the future of work.
HR technology has the potential to be the one-stop solution for insurance companies to elevate their data game:
HR tech can help insurers with AI-enabled features for hiring and recruitment, data-driven decision-making, and using employee data for better engagement and productivity.

Technology can provide companies with information about employees and their productivity through dashboards and surface data-driven actionable insights.

Talent analytics can help insurance companies identify and hire the right kind of talent.

Once employees are onboarded, HR tech can use employee data to help employees with career progression plans.

Data and AI technology can be used to help employees identify areas of improvement, auto-suggest learning modules for employees, etc.
HR technology provides companies with easy-to-use employee pulse surveys, polls, etc. And helps analyze this data for critical insight into employee engagement and satisfaction levels.
7. Mobile Access
Next-gen HRMS platforms that are mobile-first and are designed to be as efficient on mobile apps as on the web can help insurance companies improve efficiency, and provide employees with a smooth, frictionless experience. Here are some things modern HR tech solutions offer:
Access to basic tasks such as time and attendance, leaves, etc. on mobile

Compensation and payslip access

Learning & development on the go

Voice-enabled helpdesk on mobile

Internal/native social networking portals
Cross-team communication and collaboration on the app
Mobile devices have become as important as laptop/desktop devices, if not more. In the insurance industry, where employees are often on the field rather than at their desks, access to basic services on mobile is not just convenient but essential. Moreover, a large section of the insurance industry has skipped the desktop/laptop computer phase and seeks mobile apps for most services. It is important for insurance firms to adopt mobile-first HRMS platforms.
8. Integrated Travel & Expense Solutions
The insurance sector has a constant requirement for travel and expense solutions, considering the large number of people who travel for sales meetings and other fieldwork. All these employees regularly raise travel and reimbursement requests with managers and HR partners.
An HRMS that has an integrated travel and expense solution can be handy for HR leaders managing a large number of on-field employees spread across a wide geographical area.
Here are the key benefits such a solution can offer:
Convenience and autonomy for employees to handle their travel plans
Policy compliance and fraud prevention when employees file for expense reimbursements

Analytics and insights on spending to control budgets



4 Examples of HR Tech Successes at Leading Insurance Companies
In the last couple of years, several leading insurance firms have revamped their HR processes and have implemented modern, next-gen, unified HRMS platforms, and have seen nearly 100% adoption by employees. Here are a few examples:
1. Kotak Life Insurance
Kotak Life Insurance, one of the fastest-growing insurance companies in India, provided 'HR services on the palm' of every one of their 16,000+ employees.
Kotak now has all its HR processes on an integrated cloud-based platform and employee satisfaction levels have improved to around 90% after the HRMS revamp.
2. Niva Bupa Health Insurance Company
Niva Bupa Health Insurance Company, a leading player in India, was able to bring in a complete transformation which made everything "easier, convenient, and experiential".
The transformation helped Niva Bupa significantly enhance the HR team's capabilities by freeing up valuable bandwidth so the HR team could focus on more strategic tasks.
Star Union Dai-ichi Life Insurance (SUD Life)
Life insurance company Star Union Dai-ichi Life Insurance (SUD Life) revamped its HR platform to bring its highly distributed workforce a "seamless employee experience".
SUD Life has witnessed a 100% app download rate, and a similar usage rate with its mobile HR platform, and employees say they have better communication and collaboration thanks to the HR platform revamp.
Ujjivan
Ujjivan, another leading BFSI company from India, brought together 17,000+ distributed employees through one mobile-first digital HR platform.
The company says it now has a stronger people-connect and stronger employee-first culture because of this unified HR experience.
Join the HR (R)evolution
Most insurance companies are adopting next-gen HRMS platforms as they prepare for the next era of growth.
To start your HR digital transformation process in Insurance, schedule a Darwinbox demo today!