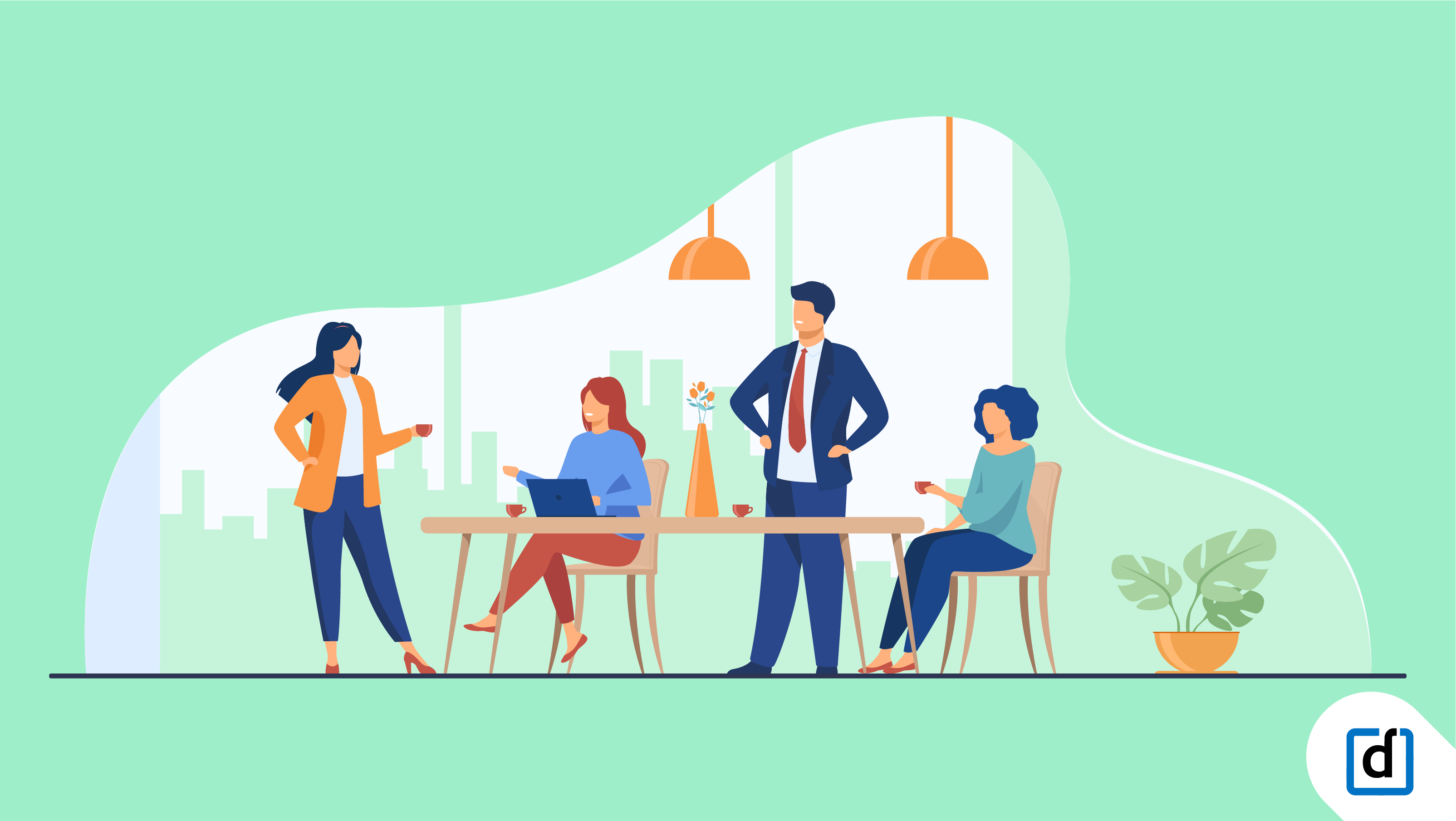 Organizational culture has been a point of concern for a few years now. With some of the big names standing out as great examples of organizational culture, most companies are trying to follow in their footsteps.
It's obvious that organizational culture doesn't just happen. It takes a lot of deliberate planning and smart implementation for great practices to become culture. It is a lot more than great photos and strong employee testimonials. If anything, these come as a result of great organizational culture.
What is Organizational Culture?
Organizational culture is when a set of good practices, healthy behavior, ethical values, and expectations become commonplace in the work environment. When this becomes the norm, that is, when everyone in the company practices this consistently, you call it a culture.
The best organizational culture examples focus on fortifying employees' good behavior and looking at a set of good practices that lead to better performance.
You see an organizational culture reflected in how employers treat employees and how employees treat their customers daily. This is especially clearly seen when something goes wrong and has to be fixed, or worked on immediately, such as a crisis.
Here are the Best Organizational Culture Examples
1. Disney
This is a great organizational culture example. Why wouldn't they make it on the list, known as the happiest place on Earth, you would expect the culture to be outstanding. We all recognize the name. Whether we grew up watching Mickey Mouse or are avid Marvel fans, the name Disney invokes something special.
This is the case for the employees as well. The company focuses so much on experiences and ensures that employees have great experiences. As an organization that has stood tall for over ninety years, Disney takes pride in its roots, what it does for people, how it makes people feel, and fostering creativity and growth.
On their careers page, the first paragraph invites aspiring applicants to become a part of their 'exhilarating experience'. Their "Life at Disney" section shows the kind of culture that is promoted in the organization, such as diversity, kindness, and unity.
Who wouldn't want to work for a company like that?
2. Zappos
This is another company that is always on the list when it comes to organizational culture examples. Zappos is so focused on the culture that their culture fit interview holds almost fifty percent weightage when selecting a candidate. Their goal is to comb through new hires and keep only those that exemplify their organizational culture.
They even go to the extent of paying new hires that have completed training up to USD 2000 to quit after their first week. Zappos only wants to keep those that are there for the long haul and believe in working with the company.
In this example of organizational culture, you can see that their hiring and screening method is to choose people that already have a certain culture, rather than instill the desired culture in everyone. Having said that, employees do go through a training period where certain values are instilled in them.
They are so confident in their organizational culture that they release an entire book each year that has hundreds of unedited testimonials from their employees.
3. Nike
Again, probably not a surprise that this company is on the list. Nike is known to be a company that cares for its employees unapologetically. They even shut down their offices for an entire week to give their staff a mental health break.
Yes, you would expect them to have tonnes of great perks and have a pretty pumped-up work environment, which they do, but their true culture is about attaining greatness, whether that is at work, for yourself, or in some way that may not even be related to Nike.
Nike values transparency so much that they have laid out their entire interview process on their "How we hire" page. Of course, we all value transparency, and if going out of their way to ensure transparency just for an interview is how they work, imagine working there.
It is great to know that your company has your back and that's a big thing for Nike; they are always there for their employees.
4. Adobe
This is probably a name that any who has ever opened a PDF file is familiar with. Adobe is well known for many things, one of them is being a great example of organizational culture. Employee well-being is at the top of Adobe's list. They offer subsidized gym memberships, reimbursement for tuition, paid sabbaticals, and even ways for people that have to travel to work to get subsidized transport.
That's not all, employees who come up with great ideas get bonuses. They even make sure that these ideas are patented for that employee. A big part of their culture is letting their people know that the organization sees the effort they put in and rewarding it.
Another huge reason they are on this list of best organization culture examples is how much they stress communication. Company-sponsored social events, networking events, and communities have been created to create a culture of open communication.
If that is the kind of workplace that would put a smile on your face, there are a few things you could learn from them and implement in your organization.
Their careers page talks about how employees would be surrounded by core values that inspire creativity while promoting equality and making employees feel at home. That is a great reflection of the culture they foster.
5. Netflix
We all know Netflix, and many of us probably even use their services. They are also known for having great organizational culture. They make it onto this list of organizational culture examples because of their slideshow called Netflix Culture: Freedom and Responsibility.
The company's culture revolves around two things, honesty and trust. They believe in trusting their employees so much that they even give them unlimited vacation days! If that isn't trust, then I don't know what is.
This is how honest they are. The first line on their jobs page is, "A great workplace combines exceptional colleagues and hard problems."
They aren't going to say the job is going to be easy. They say it is going to be hard but worth it.
Here is a look at their culture memo:
They encourage their employees to make their own decisions.
They value transparency by ensuring that information is shared.
They value open communication and expect everyone to be candid.
They don't want to waste their time or anyone else's. They will only retain those they find to be very effective.
And here is a great one. They avoid rules.
6. LL Bean
The company has been going strong for over a hundred years. It's no wonder they make the list of best organizational culture examples. Just the fact that they have been around so long and employees still have great things to say about them reflects what their culture is like.
They do a lot of great things, just like other companies, such as reimbursing employees' tuition fees, discounted gym fees, employee discounts, and more. What really takes the cake is that they organize great events that reflect the kind of people that they want working for them. Events like kayaking and camping are sponsored by the company regularly.
They even let employees borrow outdoor gear when they need to.
Another big part of their organizational culture is that they take the time to meet employees face-to-face discuss their growth and offer development plans and workshops.
The culture section of their careers website starts with, "Work hard. Play hard. Live well."
7. Google
Yes, of course, they are on the list of best organizational culture examples. The list wouldn't be complete without Google. We have all heard about their corporate culture, and we have all heard about how much they value employees' happiness.
Google is the pioneer of great workplaces, giving employees sleep pods, free food, promoting casual attire, amazing gyms and even allowing pets at the workplace. An entire movie was made around Google's work culture and how different it was from the norms of the time.
All these are great and of course, are a huge part of their organizational culture, but what makes them truly amazing is their focus on openness.
They encourage employees to always be open with each other.
They also focus on peer coaching, encouraging employees to learn from each other and help each other.
8. Quora
Quora has become well-known as a great website that provides answers to questions. As an organization that has grown because of providing access to knowledge, it is only to be expected that they take knowledge and learning very seriously.
They are on this list of the best organizational culture examples because of their learning and improvement culture. The moment new hires are ready to work, the company matches them up with seniors who act as their mentors. They then encourage peers to review each other's work and provide feedback to each other.
This ensures that a feedback culture is developed, and this is important in an organization where continuous deployment is expected. Continuous feedback ensures that improvements are also constant. A culture of feedback is a great way to ensure that employees feel that they are part of everything the organization does as they get a valued say in what happens.
9. DogVacay
While this one may not be a name that everyone is familiar with, they did make quite a lot of noise a few years ago. Their focus has been on finding dog boarding facilities for dog owners that may not be able to travel with their pets all the time.
The company culture is all about fun and freedom. Employees get lots of perks like access to free bikes that they can take for a spin, catered lunches, and regular fun-filled outings.
The office space is an open floor plan, which reflects their culture of teamwork and collaboration as well as open communication. Of course, a prerequisite to joining the company is to have a love of animals.
10. Medium
Medium is on this list of best organizational examples to teach one very important lesson. Stay flexible and make changes when you need to.
The company started with a powerful idea. They decided that they would have absolutely no people managers at all, giving all the freedom and autonomy to their workers. This was a strong part of their organizational culture.
As the company grew, they realized that their existing culture needed a change for the company to be successful. They managed to make the right changes in their organizational culture.
Their culture now focuses on learning something new, which ties in closely with what they do as a content brand.
Conclusion
Some of these are great examples of organizational culture. There is surely something you could learn from each one of them.
However, as your key takeaway from this article, work on your culture from the inside out. That means you don't start by posting big pictures of smiling employees and pasting hundreds of inspiring quotes. You start by taking steps to show people what your organization's culture is.
This starts from how you treat your employees, ensuring that they have all the tools they need to do their jobs well and that customers are happy with how they treat them.
Remember that your organizational culture is something you have to work on constantly and may not necessarily be the same always.
Read through the list of best organizational culture examples once more and decide how you will make your culture shine through your employees.