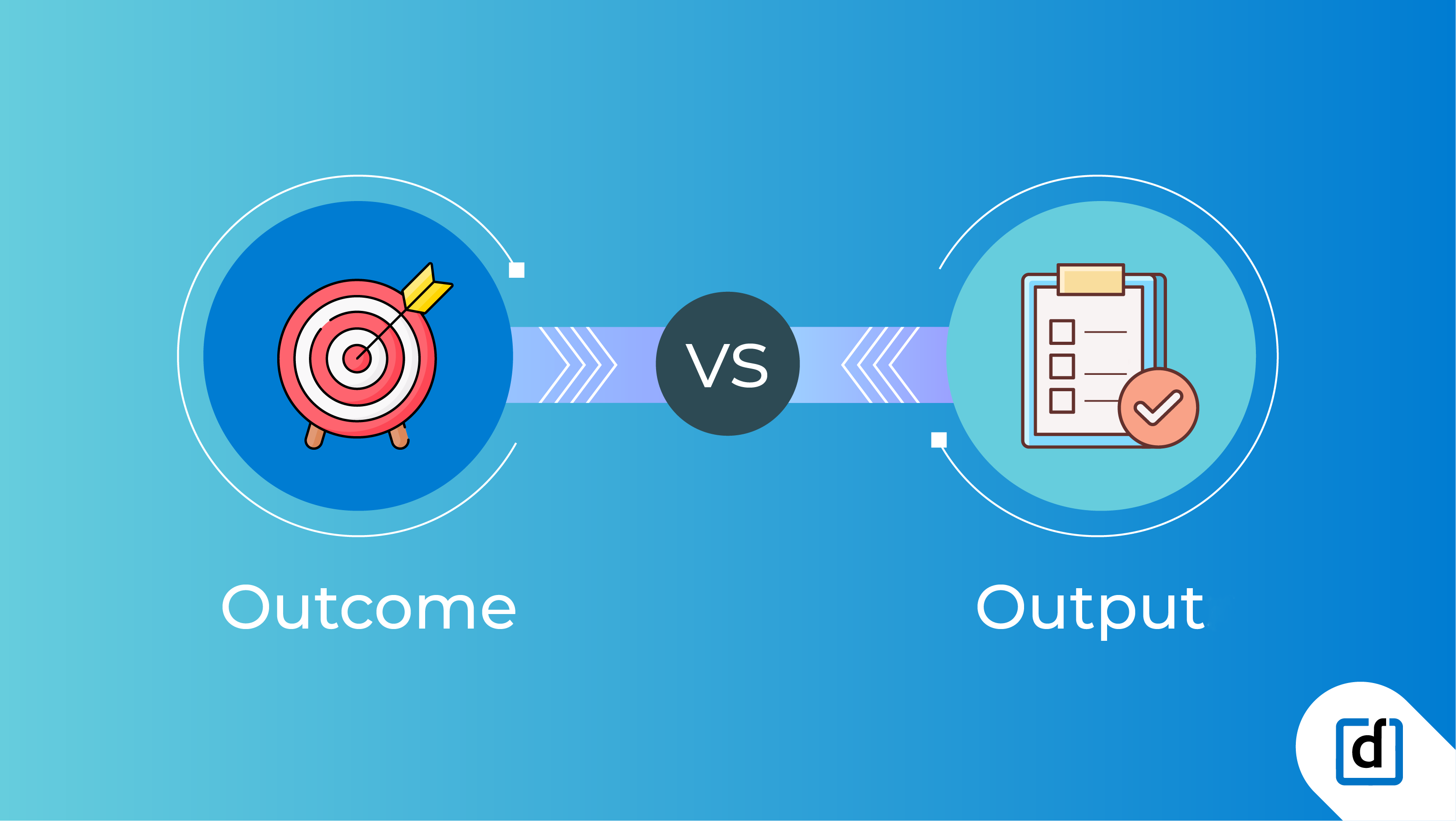 Let me ask you a question, what excites you more? Completing a task just so that it gets crossed off from your long to-do list? Or focusing on what is the outcome of the task which can be a contributor to success?
It is no denying that action-oriented people find the latter a more suitable fit for their style of work. Crossing off a task is just an output with no measurable outcome. Yes, you heard it correct, outputs and outcomes are not always synonymous!
The Objective and Key Results (OKR) framework is a dynamic goal management philosophy which is adaptable for any organisations. OKRs are proven to provide the best blueprint to better articulate the individual/team goals and outline a roadmap to achieving them with the organisations vision in mind. The formula for 10x Performance is pretty straightforward - Objectives are the overarching goals (mostly aligned with the company vision) a team or an employee would like to accomplish and key results are SMART action steps towards achieving the objective.
Seems simple right? Well, actually it's not! It is one of the biggest challenges that most of the organisations are facing, to define Objectives and Key Results the way it was intended to be! What has been observed in most cases is organisations define Key Results as measurable outcomes they set as list of action-based Outputs, which clearly goes against the whole point of OKRs. Let me explain how.
"Measure What Matters" is great for motivation, but one might not be able to translate it the way it was intended. Leading to a set of common mistakes, facing the Outputs vs Outcomes confusion.
So, what is the difference?
Outputs are a way to describe an activity and not always measurable. The confusion comes into play especially in the concept of OKR because outputs are more often than not, coined as initiatives, milestones etc. which mean the same in OKR Philosophy. Simply put, output is an action that you take towards your goals with progress being a secondary priority.
On the other hand, Outcomes are the measurable results that you hope to see after you have finished your outputs. Outcomes are not about just doing a task in hand, they are about delivering real, valuable business results. If the new marketing campaign is the output, then the desired outcome of it can be that of increasing the marketing qualified leads from 1500 to 2500 this quarter.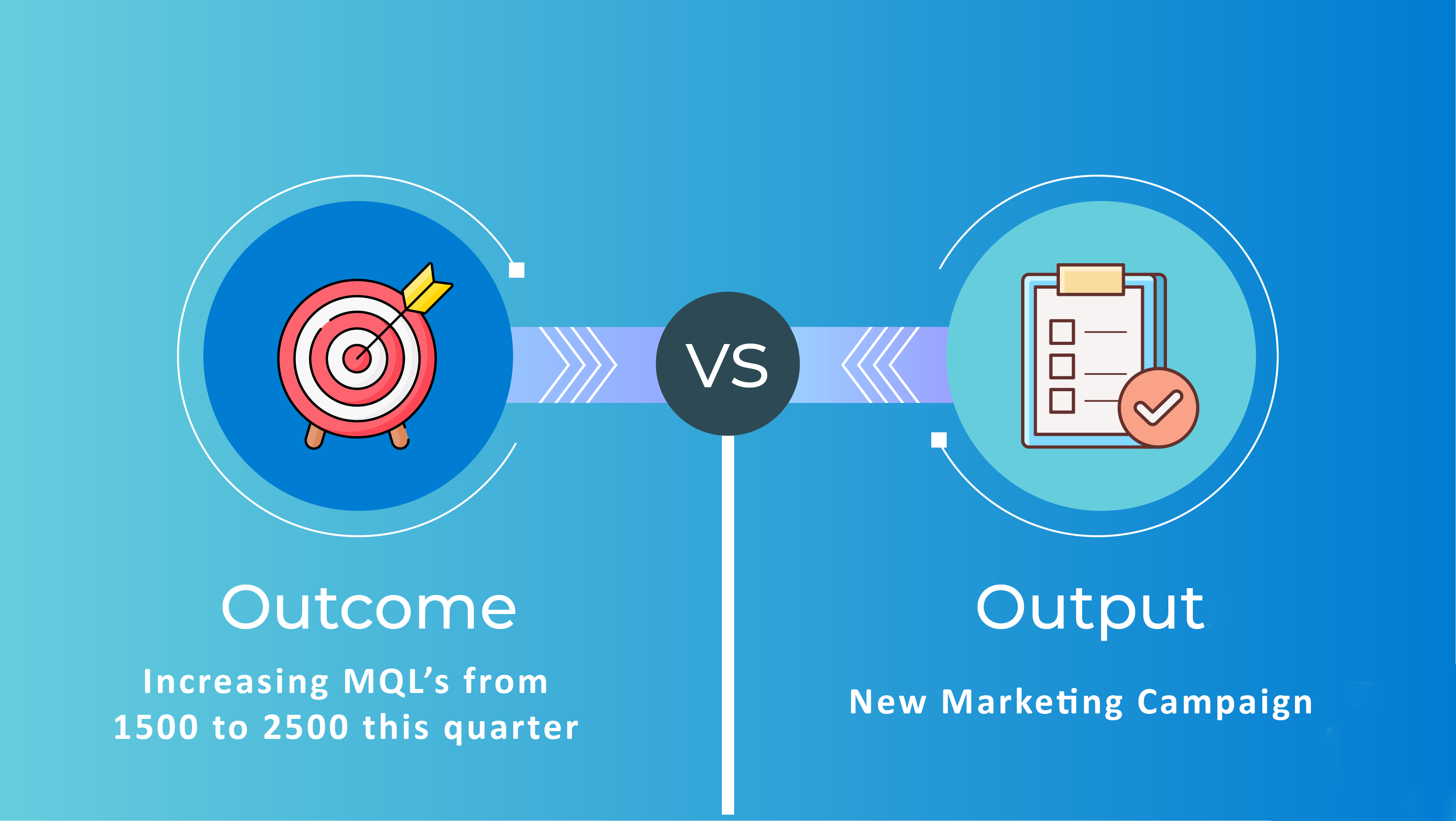 Having said that, everything has its place, so do outputs. They are still important to achieve goals but not necessarily the place where your focus should be since it's not a way to measure success. What is important is to keep an eye on key measurable results that deliver business value.
But what is all this fuss about Outcomes and Outputs?
The main reason why most of the organisations fail implementing or taking up the new performance management philosophy, OKR, is because of they tend to create a list of outputs instead of thinking about what the real business outcomes are.
The core value in OKR philosophy is to set and align measurable business outcomes. It's all about focusing on results that bring real business value instead of just doing different activities which need closure "asap".
You will not see the real benefits from OKR as a performance management philosophy if you're not focusing and setting your eyes on measurable outcomes.
What is being seen as a major setback (if not drawback) is most traditional organisations set their long-term goals at a high-level, translating into KPIs/metrics targets, confusing KPIs/Metrics to be the same as OKRs while they are miles apart!
After setting the outputs, they are cascaded down (which is always a top-down cascade) and the respective teams/departments are asked to deliver those different projects/tasks on certain due dates (possibly ASAP, am I right?!). Nobody questions the business impact it is bringing since everything was 'on-time' and nobody eventually even tries to look back at what could've been done better. One of the many issues of cascading outputs. Lack of clarity, possibility of a low business impact, unmotivated employees and sometimes even unhappy managers, that's quite a downfall!
Here, steps in, the magic of Outcome oriented business proposition. Outcomes become the success indicators for all your Outputs.
The Objective defines the direction and the focus while the Key Results help you to understand what you are looking to achieve. Key Results acts as a measure the success to when you have achieved your Objective. Hence, they are SMART (Specific, Measurable, Achievable, Relevant, Time Bound).
Here's an example to make it clearer: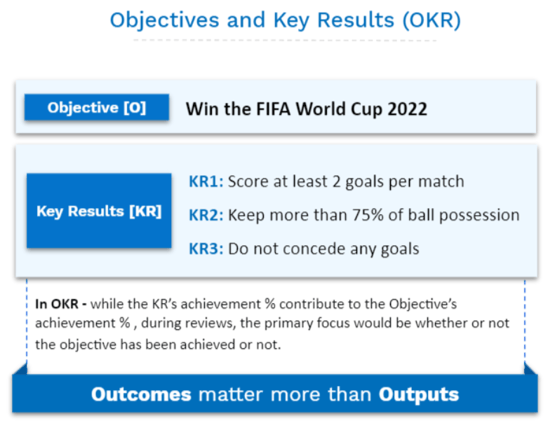 Let's say you are the manager of your dream team and have to align an objective for the entire season. Your objective could be as high level as it can, such as, winning the FIFA World Cup 22. Now, is that the only thing you are going to ask your team to focus on? Or are there going to be success qualifiers for the set objective?
You understood it correctly! Your Key Results would be the deciding factor for your teams overarching goal, and these can be multiple Key Results such as, keeping more than 75% of ball possession or something like scoring at least 2 goals per game. This way, you exactly know what needs to be tweaked or changed if there are setbacks instead of just shooting it in the wild.
From a business perspective, taking an example of Talent Acquisition team trying to hire 4 candidates for a particular role which is very critical to the business. Now, as an HR, would you just want to end the process by hiring quickly or to hire candidates who have the most potential to be beneficial for the business outcome? Definitely the latter right! It's important to build a criterion for which type of candidate you are looking to qualify and then create an overarching plan around it and start focusing on how the candidate can become a critical contributor to the role and the organisation. That's the power of Outcome oriented planning with OKRs!
Remember, whatever your goal may be, always keep in mind that outcomes will drive you to achieve the goal better.