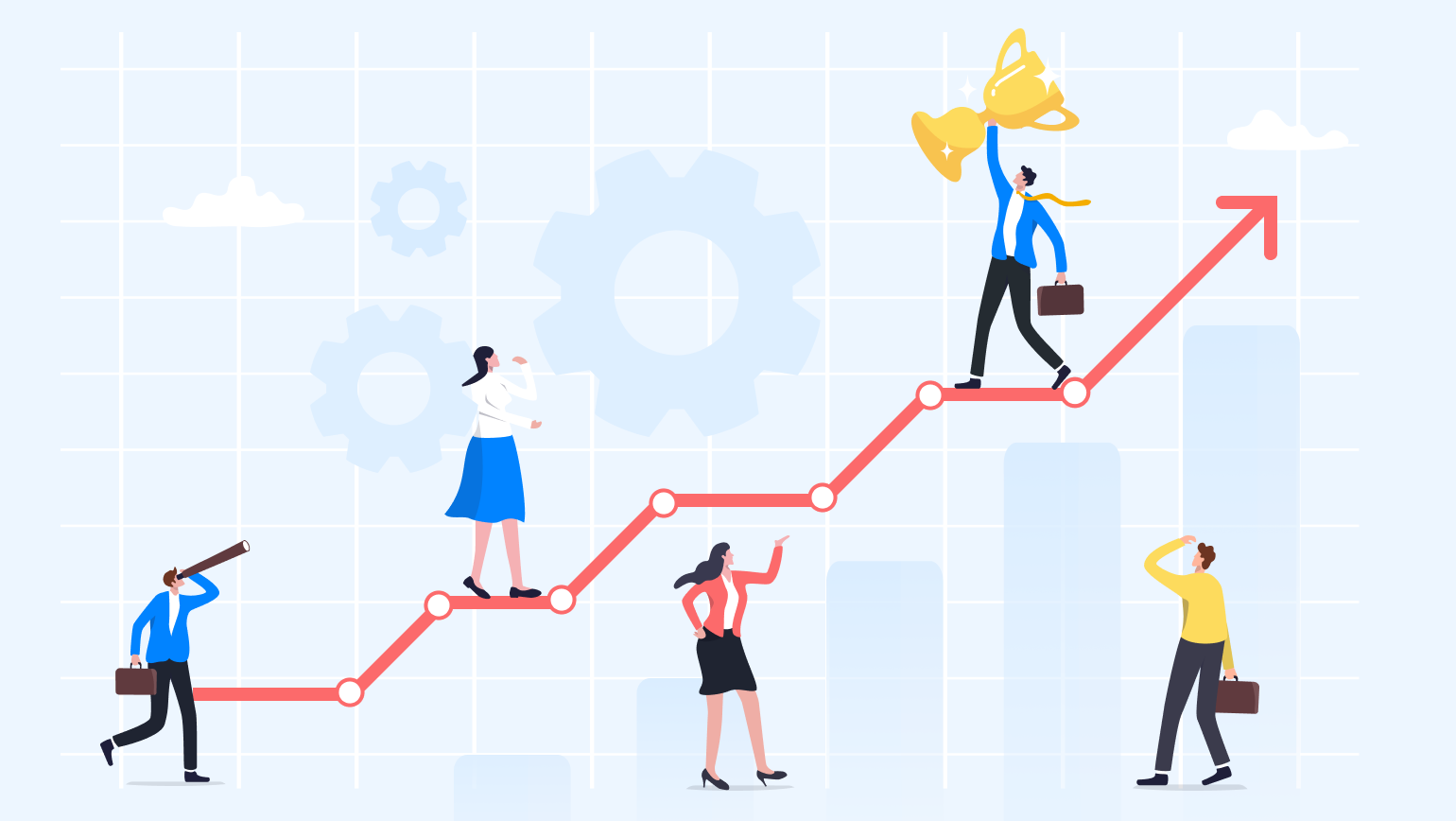 It is always good to adopt best practices from other organizations and try something new to see if it works for you as well. This article discusses why getting performance management right for your organization is critical to its growth and gives examples of performance management programs at organizations that are doing it right.
Employee performance management is one of the most important corporate processes. So, it is important to choose an employee performance management strategy that will be most effective for your organization.
Performance management includes multiple steps such as clarifying expectations, setting objectives, identifying goals, providing feedback, and reviewing results. Performance reviews, when done right, provide the chance to promote employee growth, increase engagement, and improve business performance across functions.
The approach to performance management has evolved substantially in the last few years. According to Gartner, 81% of HR leaders are modifying their organization's performance management system, and less than one-fifth of HR leaders believe their performance management is currently successful.
Most organizations have abandoned annual performance reviews in favor of ongoing feedback, coaching, and 360-degree feedback. Moreover, getting performance management right is important for higher employee engagement, employee retention, higher transparency and productivity, efficient goal planning and setting, and higher employee motivation at the workplace. Several companies have started taking an employee-focused approach to performance management.
22 Companies That Have Excellent Performance Management Practices
From scrapping yearly reviews to implementing real-time feedback, organizations across industries are reinventing performance management. Let's look at some of the best ones, in no particular order:
1. Google
Google has one of the most advanced HR practices in the world. From hiring the best talent after multiple rounds of interviews to training them with the best resources possible to looking after their learning and development needs, Google does it all.
Google ensures that its employees perform to the best of their capabilities by conducting annual performance evaluations with a mid-year checkpoint and monthly performance check-ins that cover topics like professional growth, coaching, personal difficulties, etc.
Google also holds an annual 'Upward Feedback Survey' which is something similar to a 360-degree evaluation. It also relies on OKRs, or objectives and key results for its performance management initiatives.
Learn more: A thorough read about OKRs.
Quick tip: Read the book 'Work Rules' by former Senior Vice President of People Operations Laszlo Bock to learn about Google's performance management process in detail.
2. Meta
Meta is widely recognized for having a fun work culture and wonderful employee benefits, but if you delve deep, you can uncover what actually drives its employees to be motivated and fulfilled, and hence perform their best.
The performance management at Meta is done through semi-annual evaluations, with a focus on peer-to-peer and employee-to-manager feedback. Meta creates secret one-to-one groups to share individual goals, track progress, and share feedback.
Regular employee coaching is also a part of Meta's performance management practice. Employee performance coaching is a form of on-the-job learning. It is a collaborative process between a manager and an employee, as well as between employees in the form of everyday interactions.
Meta also provides constant 360-degree real-time feedback, allowing managers to note an employee's performance prior to the appraisal.
Learn More: The evolving dynamics of continuous feedback.
3. PasarPolis
Pasarpolis is one of the top insurtech brands based out of Indonesia. The company, in partnership with Darwinbox, introduced a performance management process that is quicker and more frequent, so as to enable employees to consistently improve their performance.
Darwinbox facilitates timely report generation of pending self-reviews from the employees. This report helps HR to take immediate action and nudge the employees who didn't complete them. This has helped Pasarpolis complete the entire performance review cycle well within time, something the company previously struggled with.
Learn more: How Darwinbox drove better employee performance for Pasarpolis.
4. IBM
IBM follows a performance management process that enables its employees to bring their entire selves to work, thereby driving creativity and connection.
In 2016, it transitioned from yearly, absolute evaluations to a model where feedback is self-driven and focused on delivering a more holistic evaluation of employees.
5. Microsoft
Microsoft shifted to a more collaborative and less competitive performance management strategy after recognizing that its stack ranking-style performance management system was negatively impacting employee engagement and motivation.
It currently holds performance reviews every two months. These check-ins are official, structured talks between managers and direct reports in which they examine goal progress, skill development, and other topics so employees know if they're on the right track while there's still time to make adjustments.
6. BKP
BKP, Bina Karya Prima, is a leading FMCG company in Indonesia. The company transformed its HR and performance management process to be 'PRIMA', i.e, professional, relentless, integrity, marvellous team, attitude. The company moved from having a manual performance management process on Microsoft Excel to using Darwinbox to digitally transform its HR processes. The company has taken a forward-looking approach and has completely automated its performance management process using Darwinbox.
Learn more: How BKP digitally transformed HR on mobile for greater efficiency and effectiveness.
7. Goldman Sachs
Goldman Sachs switched from a rating-based performance assessment process to a performance management strategy that involves frequent feedback. Goldman Sachs developed its own web-based tool for delivering and getting feedback in order to promote informal performance dialogues. The once-a-year review methodology of the performance assessment was also eliminated.
Beginning in 2021, Goldman Sachs introduced a concept called The Three Conversations, that is conducting performance reviews at least three times a year. Managers set goals with their team members at the outset of the year, check-in on progress mid-year, and then close out the year with a discussion about performance against goals.
8. Times Internet
Times Internet is the digital arm of India's largest media conglomerate, the Times Group. The company's performance management strategy involves automating all performance assessment processes to ensure the processes are completed on time. The company uses Darwinbox and has fully digitized and automated its HR processes, many of which were previously done manually.
The company focuses on and ensures timely completion of goal-setting, goal cascading, performance journals, and continuous feedback.
Learn more: How Times Internet automated all its processes and scaled with Darwinbox.
9. Accenture
Accenture follows a performance management process that humanizes its workforce and rather than just looking at employees as numbers on paper.
In 2015, the company eliminated annual reviews and stack rankings altogether after learning that its traditional performance management techniques were more dangerous than useful. As a result, all employees at the organization received more rapid feedback on assignments and a more equitable reward structure.
10. Adobe
Adobe has positioned itself as an expert in continuous performance management. Adobe eliminated annual performance assessments and ratings in favor of check-ins, a less organized but more effective approach. Adobe believes that in order to perform their best work, employees need quick and timely feedback and that there have to be year-round open and continuous discussions.
The current process involves continuous, two-way interactions in which an employee and their manager discuss performance and career advancement while also providing real-time feedback. The check-in meeting is meant to discuss what's working well, what could be done better, and where to focus next to maximize business impact and career advancement.
Learn more: The ultimate guide to continuous feedback.
11. Quick Heal
Quickheal has a performance management practice that promotes an object-oriented culture to make employees work collaboratively rather than working in silos.
The process is centered around the OKR framework and runs on Darwinbox's flexible and robust performance management platform.
Quickheal's performance management process involves having reviews that are focused on outcomes rather than activities. Employees create journal entries noting critical incidents during their performance cycle, which helps eliminate recency bias and allows for more accurate reviews later in the year. Employees are empowered to modify goals in the middle of their performance cycle if necessary and have more control over their performance goals.
Learn more: How Quickheal Aligned 1000+ employees with org-wide goals using Darwinbox
12. Deloitte
Deloitte's performance management system is designed to recognize the contributions of individual employees within each team, to obtain an accurate picture of performance free of bias, and to assist individuals in reaching their full potential.
Their strategy isolates compensation decisions from day-to-day performance management, provides improved information through quarterly or project-specific "performance snapshots," and focuses on weekly check-ins with supervisors to keep performance on track.
13. GE
There once was a time when GE was well known for its hard-charging and intensive approach to performance appraisals. The company's current style of performance management procedure has changed dramatically, and GE now follows a continuous, evenly distributed evaluation procedure. The emphasis is on growing, connecting, and inspiring employees rather than on evaluating and ranking.
Annual performance assessments have been phased out in favor of a more lean and innovative system. The company uses a smart software app that has been created with the objective of allowing management and staff to communicate more frequently and meaningfully.
14. Cargill
Cargill, a global agricultural producer and distributor, has a performance management system that it calls 'Everyday Performance Management'.
This system includes effective two-way communication, giving regular feedback, and coaching. Even during the pandemic, Cargill was able to respond to business difficulties with significantly greater agility thanks to its daily performance management. In fact, Cargill has received recognition for its Everyday Performance Management, which represents an industry best practice.
The company also replaced its old document-heavy system with one that prioritized relationships between employees and managers. It emphasized on man­agers having frequent, on-the-job con­ver­sa­tions and giv­ing reg­u­lar, con­struc­tive feed­back rather than only having per­for­mance rat­ings and annu­al review forms.
15. Regeneron Pharmaceuticals
Regeneron follows a performance management approach that is simple and straightforward.
The company, in 2021, revamped its performance management process, and brought in a simplified rating scale with four points rather than 12 points.
The company also follows the practice of having behavior-focused feedback, that drives employees to think about more than just their salary or compensation.
16. STP
PT Solusi Tunas Pratama Tbk. (STP), a leading telecom tower company in Indonesia, concentrates on continuous performance tracking.
STP uses Dawinbox's performance management module and follows the OKR model of assessment. With this, the company tracks employee performance on a monthly basis, ensuring the process is more dynamic and accurate.
Learn more: How STP leveraged the power of OKRs with Darwinbox.
17. Netflix
Netflix overhauled its performance management a few years ago, eliminating annual performance appraisals entirely. Netflix now uses a 360-degree evaluation system.
Netflix's performance management approach focuses on full transparency among employees, in that it has signed feedback as well as face-to-face 360 appraisals. One of Netflix's popular processes is its unique 'stop, start or continue' template that emphasizes what a person should start, stop, and keep doing on a regular basis.
Learn more: Read about 360-degree reviews/feedback.
18. Amazon
Amazon has a reputation for being a high-performing, high-risk company. It should come as no surprise that this extends to how they assess employee contributions.
Amazon's feedback system is meant to push each employee to their limits. They conduct weekly or monthly business evaluations, during which each employee is held accountable for a variety of key performance indicators (KPIs).
For performance reviews, Amazon combines stack ranking and continuous feedback methods. Continuous feedback is shared through Amazon's 'Anytime Feedback Tool' that allows employees to anonymously praise or criticize colleagues.
Amazon also holds organization-level reviews, in which top and bottom performers are reported to the board of managers to inform incentive and termination decisions – a process that closely resembles the typical stack rank structure.
19. Volkswagen
Volkswagen's performance management approach is designed to encourage employee satisfaction and motivation through equitable opportunities and an appealing working environment.
The company's performance management strategy includes structured meetings where workers' progress toward fulfilling defined goals is assessed. During these sessions, group leaders, workers, and managers have the opportunity to share their thoughts, corrections, and guidance on how well people are doing in meeting their goals.
Volkswagen also has modern people analytics set up to drive data-driven decisions when it comes to managing the performance of its employees.
20. Uber
Uber has introduced what it calls the "Top 3 Bottom 3 approach" for performance management.
Employees are asked to name their top three attributes or strengths, as well as their bottom three areas for improvement. Goals are then derived from these responses and incorporated into a system that employees, managers, and top executives can access.
This approach focuses on development rather than previous behavior. Formal and frequent feedback is offered, and it is classified as either positive reinforcement or constructive advice.
21. Reliance Capital
Reliance Capital, a part of the Reliance Group from India, follows a performance management approach that strengthen its culture of meritocracy in the company. The system, that Reliance calls SOUL, focuses on the softer aspects of performance management, whereby the manager plays an active role in guiding, mentoring, and supporting teams to achieve breakthrough performance.
SOUL stands for:
Sharing resources & ideas to enable
Outperformance through coaching & mentoring of the team, based on
Understanding, and
Listening.
22. JP Morgan
JP Morgan's performance management strategy lays emphasis on continuous feedback. The company has created an internal application – Insight360 – that delivers constant feedback to its 240,000+ employees.
Employees can request feedback from their coworkers and managers at any time using the web-based tool. Managers will also be able to ask their peers for comments on their employees. With Insight360, subordinates will be able to review their supervisors instead of only the other way around.
Performance management is evolving, and it is critical to transition to a system that increases organizational productivity and helps you stay ahead of the competition. Feel free to draw inspiration from these brands to improve your performance management system and practices!
Find out how Darwinbox can help you learn from these examples of performance management, and craft the right strategies for your organization. To automate this critical process, book a demo today!