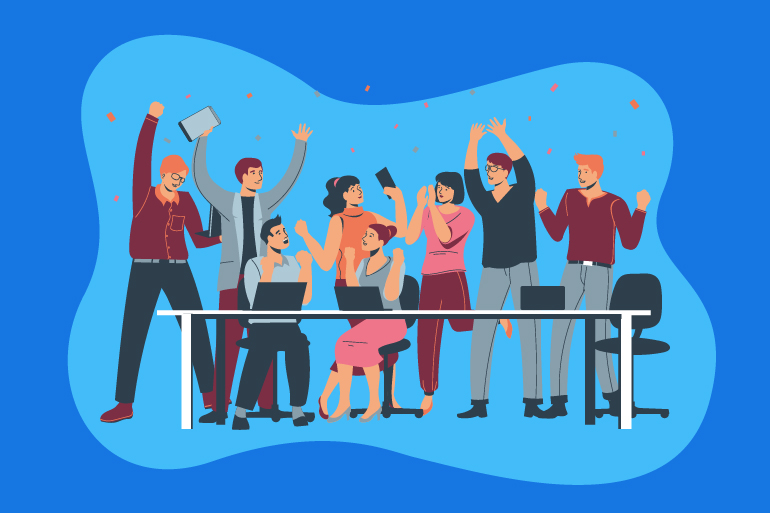 After what felt like an eternity of working virtually, things are slowly getting back to normal, and offices are starting to open up. What did you miss the most? Was it the office games or smoke breaks? Lunchtime banter or just being able to swivel your chair and speak to your colleague? Did you notice the fact that all the above mentioned are nothing but ways to bond with your team? Because what fun is a workplace if there is no bonding between team members?
Every day when most of us look forward to going back to work, one major reason we do so is to meet the people we work with. Behind all the progress that happens each day lies the collective effort of a team that strives together. After all, success is these small efforts repeated day in and out.
To achieve stellar results, drive growth and most of all to feel a sense of accomplishment, it is imperative to have a team that always stands by you. In fact, Teamwork is listed as one of the top four important skills for employees' future success.
Why Conduct Team Building Activities?
Over the years, team-building activities have become an important aspect of the corporate culture. Whether you are a new joinee looking to get acquainted with everyone or someone who has been employed for years and looking to develop deeper relations with your team, these activities can prove to be extremely useful. Bringing a team together is a critical process and that is why many organizations are now taking every conceivable step in this regard, and team-building activities are a big part of that.
Conducting Team building activities will ensure that your team is equipped with the 5 C's - Commitment, Consistency, Courage, Care, and Contagious energy. All necessary to build a winning team. With well-planned and executed team-building activities, employees will have the opportunity to collaborate on fascinating and challenging activities while also showcasing their skills and talents.
From the following list of keenly crafted team building activities, teams will learn:
To build a sense of understanding among each other.

The likes and dislikes of their team members.

The value of empathy and trust.
The importance of the right decision making, strategizing and critical thinking.

The importance of listening and collaboration.

The need to take all views into account before arriving at a decision.

The benefits of unity in diversity.

To accept differences.
22 Amazing Team Building Activities
Here are carefully picked 22 team-building activities that will improve employee morale and help them break down barriers and create a pleasant work culture:
The Newly-weds Game
The activity: This bizarre-sounding game determines how well you know your playing partner. Both team members are required to respond to a set of questions. The twist is that you'll write down the answer you believe your companion will give. All you must do now is compare your answer to your partner's. You get a point if the answer is the same; otherwise, you don't.
Team size: 2
2. The Good Old Pictionary
The activity: In this activity, players get random words, and they use their best drawing skills to get their teammates to guess as many words as possible, without writing the word itself. Each right guess will earn your team a point, allowing you to move on to the next word. The team with the most points at the end of the game wins!
Pro tip: Leverage online platforms like Skribbl to host this activity virtually.
Team size: no limit, but a good team size would be not more than 10.
3. Around the City in 1 Day
The activity: A team outing around the city could be a great opportunity to get some fresh air and ideas while also unwinding. A Day out could involve café and bar hopping, visits to the museum, camping, or travel to anywhere that kindles connection and conversation. In fact, your organization could sponsor this outing.
Team size: no limit
4. Find the Ingots
The activity: 'Find the Ingots' is a fancy name for the famous Treasure/Scavenger Hunt. The sweet rush and thrill of this activity can attract and energize even the most indolent employees. The organizers provide a list of specified items that the participants attempt to collect. The objective is to be the first to finish the list or to finish the most items on the list. Sometimes, the activity could also involve following a series of clues to find objects or a single prize in a particular order. Basically, Ingots here are nothing but the final item/destination.
Team size: 5-6
5. Escape Room
The activity: The team is imprisoned in a room for a set amount of time in this activity. They have a certain amount of time to uncover hidden things, solve riddles, and figure out clues to obtain the key that will allow them to escape. The only way to get out of the room is to operate as a collective bunch. If you have to make the escape, you will have to use your wits.
Team size: 7-8
6. Volunteer For a Cause
The activity: This activity helps in team bonding as well as serves a cause, a win-win situation. You can organize a monthly or quarterly volunteering activity at your organization. Teams can take part in causes related to sanitation, poverty, global warming, education, etc. Not just this, teams can be encouraged to build products that will serve society.
Team size: no limit
7. Bob the Builder
The activity: The activity gets its name from the famous kids' show "Bob the Builder". It follows in the footsteps of Bob from the show who solves problems and gets things done with a positive attitude. All you have to do in this activity is identify problems in your surroundings, brainstorm solutions and draft a winning strategy to combat that problem. So, what are you waiting for? Can we fix it? Yes, we can!
Team size: 5-6.
8. Creativity Extravaganza
The activity: Your own star-studded night is your chance to display all your talents. Themed exactly like the "Got Talent" platform, the Creativity extravaganza is where you can act, dance, sing, and do the most unconventional things possible. It is all about having fun!
Team size: Solo.
9. BINGE Night
The activity: Would you agree that most of the non-work-related discussions at workplaces are about movies and tv shows? Have there been times you wanted to go movie-watching with your team on the weekends, but your commitments always clashed? Do not worry, BINGE Night solves it all. A day filled with movies and series of your choice could be the perfect setup for team bonding. This could be facilitated by organizations if they agree to host this on a large scale in the office with theatre-sized screens. Is that too much to ask for?
Team size: no limit.
10. [Company name] Idol
The activity: There is no workplace without a talented bunch of singers. With Idol, team members could perform solo or in teams. To make the activity exciting, judges could be elected, and participants could be scored based on their performance.
Team size: Solo or Group.
11. The Artistic Nook
The activity: This creative activity is sure to build lasting bonds as well as bring in the competitive spirit from your employees. This activity is especially to be conducted during festive occasions. In this activity, each team decorates their own nooks in whichever way they want. Every decoration must have some story attached to it. The team with the best and most thoughtful decorations wins.
Team size: 5.
12. 'Get Drunk' Cards
The activity: In this activity, players take turns drawing a card from the deck of cards called - 'These cards will get you drunk'. The cards will ask you to do a silly thing which will involve getting you or your team members drunk. The game can be easily played with any form of beverage your team desires, so if beer is your forte, then you should do so or if not then choose something else like wine! Because the game is easy to play, it leaves room for you to incorporate your own rules into it, making the game more fun, more entertaining. The goal of this activity is to be the most sober person at the end. Now that would be fun to watch!
Team size: solo.
13. Board Games
The activity: Board games are the most convenient and quick-to-access activity. If you're looking for a strategy to engage your employees in team-building activities but aren't sure where to start, consider playing board games. You must keep in mind that not everyone is a social butterfly eager to participate in a group activity. Introverts exist within the workforce, and no company leader should neglect this. You can gradually introduce more socially dependent team-building activities, allowing introverts to not "dread" those activities, by hosting team-building sessions that first make them feel comfortable among their team members.
Team size: no limit.
14. MasterChef [Company Name]
The activity: The workforce in any organization today is a mix of people hailing from different parts of that country if not the world. Also, since most people today are food lovers, organizing a cooking competition is indeed a fruitful team-building activity. In teams, employees can present a dish from their state/country. The judge decides the final winner.
Team size: 2.
15. Roles Switch
The activity: We're sure that most people wonder what it would be like to do someone else's job. Well, this activity lets you do the same. For a day, you get to live in the shoes of one of your team members, understanding and performing their daily tasks. For instance, if you are a junior writer and you get to be the manager, you will handle the team for a day and host all the meetings, etc.
Team size: not applicable.
16. The Old-School Dumb Charades
The activity: Dumb Charades entails acting out 'words' or the title of a 'movie,' etc. A person is not allowed to speak and must enact the phrase or name with various gestures, facial emotions, and body language. Points are awarded to their team if they correctly guess the word within the time limit. The team with the most points is the winner.
Team size: no limit.
17. 2 Truths And a Lie
The activity: One participant makes three statements about themselves to the rest of the group in this entertaining activity. All of the statements will not be true—two of them are true and one is a lie. After you've finished, ask your teammates to guess which statement they believe you made up. Once everyone has guessed, confess which statement was your lie.
Team size: not applicable.
18. Chai pe Charcha
The activity: The name of this activity translates to "Discussion on tea". This activity, rather than being sporadic, can be organized weekly or once every two weeks to discuss everything that has happened at work and outside of work. Each team member may take turns sharing their thoughts with the team provided they come with their cup of tea.
Team size: not applicable.
19. JENGA, With a Twist
The activity: Players take turns removing one brick at a time from a tower of 54 blocks in this activity. Each removed block is subsequently stacked on top of the tower, resulting in an increasingly unstable structure. A player is asked a question when he or she removes a block (truth). If a player removes a block that causes the tower to collapse, he or she is given a dare to complete.
Team size: not applicable.
20. Comedy and Improv League
The activity: It is time to find out the stand-up comics that have been hiding within the team. This competitive, fast-paced improv team-building activity will bond your team socially and empower them at their job. You could organize small improv team events by yourself or hire professional agencies to organize a workshop for you. Check out Laughter on call and Team Bonding.
Team size: Solo or Group.
21. Get Fit Together – YOGA Session
The activity: A team that stays fit together, wins together! A yoga/mindfulness session with your team can help foster deeper relationships among the team members. Although you may not be conversing as much during these sessions, it is a helpful activity for a group to practice tapping into a deeper sense of connectedness. There are plenty of services available online that conduct these sessions.
Team size: not applicable.
22. Sports Contest
The activity: The spirit of sportsmanship is a must-have in each member for building a strong team. A sports contest could be a 1–3-day event, including every possible sport such as football, volleyball, chess, cricket, etc.
Team size: variable.
Sneak Peek Into the Team Building Activities at Darwinbox
At Darwinbox, team-building activities are hosted from time to time to ensure that there is a healthy team dynamic. Some of the most popular activities are:
1. Dominoes, a Fiasco?
The concept of dominoes teaches a lot about trust and dependence. No member of a team can work independently, there's always some sense of connection their work will have to others'. This activity consists of 10 teams with 6 members each. Each team makes a pattern with the dominoes and ensures that it works. With only 10 min left for the activity to be completed, teams join their patterns and ensure that it still works. Although challenging, this activity tests the trust teams have in each other. Towards the end, it is an incredible sight to witness a large single dominoes pattern!
2. Outsource the Fun
At Darwinbox, we've also had external agencies organize team-building activities for the employees. With FocusU, employees had a day full of exciting activities and gala. Although more focused on leadership development and building employee engagement, FocusU's involvement definitely had a lot to do with team building as well.
3. Fun Fridays – Wine from Home
Friday has all the weekend feels, agree? To relax and to get into the weekend mood, every Friday evening after work is over is dedicated to fun. Online games, trivia, and a simple chit-chat session are all part of this WFH session.
4. Quizzing Club
Do quizzing and trivia ever go out of Fashion? We don't think so. For all the quiz heads, a dedicated quiz club takes care of all their intellectual needs at Darwinbox.
Excited to know more about all the fun things that happen at Darwinbox, click here.
Conclusion
These team-building activities have been carefully curated to bolster the relationship among your team members. All you have to do now is use them at your workplace. Feel free to use them as is or modify them as per your needs. It is always good to keep having fun amidst all the learning. In fact, it is the fun activities that have a bigger impact on your business!
Also, share with us the team-building activities you have participated in at your workplace!