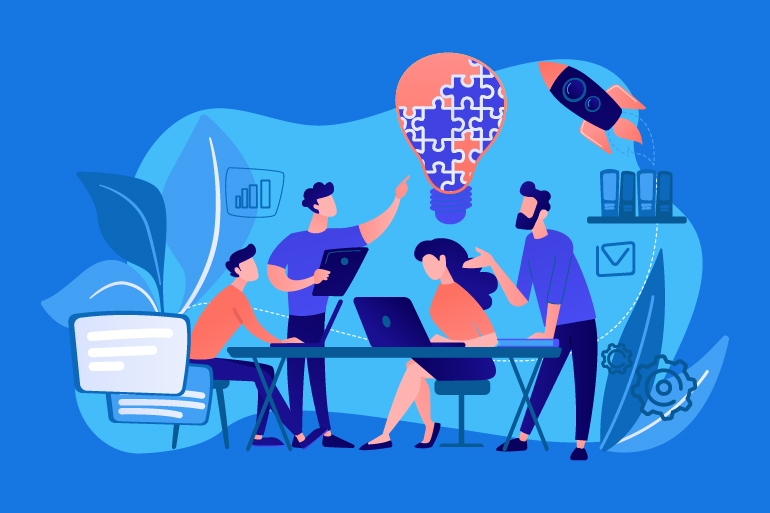 "Teamwork is the ability to work together toward a common vision. The ability to direct individual accomplishments toward organizational objectives. It is the fuel that allows common people to attain uncommon results." – Andrew Carnegie
When you have a great team by your side, no task is extremely big or tough. Figuratively, teams can even move mountains together. That is the power of teamwork; to enable individuals to achieve the extraordinary. It is commendable how people with different skill sets, ideas, and backgrounds come together to work towards a single goal. Keeping teamwork at the heart of your company culture will yield definite results. Let's take a closer look at some of the amazing benefits of teamwork in the workplace.
Benefits of Teamwork in Motivating the Team
1. Greater clarity and harmony at work
When individuals work in a team setting, each member agrees on a similar aim or goal, appreciates their role in the plan, and is comfortable asking questions when they arise. This clear, consistent approach to work decreases the likelihood of misunderstandings and inefficiencies and allows the team to operate more effectively. This is because the better the synergy, the better the ability to pay attention to ideas that others bring to the table.
2. Better risk-taking ability
When people feel safe and part of a successful team, they are more ready to take risks. They have the opportunity to think big and take more risks because of the group's support and reassurance. This increases the likelihood of getting more imaginative and unique solutions from team members
3. Enhanced creativity
One key benefit of teamwork is the influence of group thought on creativity. Diverse viewpoints lead to better idea generation. Employees are energized by the opportunity to exchange ideas with the rest of the team, which speeds up the creative process.
4. Increased productivity
To begin with, working in a group motivates people to work more. Many studies have discovered that team members motivate one another to be more productive. During any project, teamwork acts as a valuable guide for understanding team members' roles in the group, as well as their psychological qualities, strengths, and shortcomings. And, in order to obtain the best outcomes, it's critical to identify and manage the responsibilities within the team, allocating the appropriate tasks to the appropriate people. All of this ultimately contributes to the team's productivity.
5. Better support
When faced with business challenges, members of a team can support one another by providing better assistance. This way, teamwork aids in building strong relationships between coworkers. Team members have a greater understanding of each other's strengths, limitations, and personal characteristics. Trust is created via deeper relationships, communication becomes more natural, and people feel more supported.
6. Higher employee morale
Teamwork results in higher morale in employees, which is eventually evident in the outcomes. In a team environment, communication is key. The better the communication between employees of the team, the better the understanding of the work that is happening. And once each employee is aware of what is happening, the more involved they feel at work. In fact, in a survey by Cision, 33% of HR managers said that a breakdown in communication is at the heart of most morale problems.
In today's times of hybrid and remote work, it is natural that team members might feel lost and unsupported. To ensure that they are motivated constantly, here's an extensive list of the best teamwork quotes:
"If everyone is moving forward together, then success takes care of itself." – Henry Ford
"The strength of the team is each individual member. The strength of each member is the team." — Phil Jackson
It's not the team with the best players that wins. It's the players with the best team that wins. - Anonymous
"The greater the loyalty of a group toward the group, the greater is the motivation among the members to achieve the goals of the group, and the greater the probability that the group will achieve its goals." — Rensis Likert
I can do things you cannot, you can do things I cannot: together we can do great things." — Mother Teresa
"It is literally true that you can succeed best and quickest by helping others to succeed." – Napoleon Hill
"Collaboration allows teachers to capture each other's fund of collective intelligence." — Mike Schmoker
"If Kingdoms wish to move quickly, they must go alone. If we wish to go far, we must go together." - E.Y. Laster
"To build a strong team, you must see someone else's strength as a complement to your weakness and not a threat to your position or authority." – Christine Caine
"The nicest thing about teamwork is that you always have others on your side." — Margaret Carty
"You need to be aware of what others are doing, applaud their efforts, acknowledge their successes and encourage them in their pursuits. When we all help one another, everybody wins." — Jim Stovall.
"A team never loses due to strong opposition or unfavorable conditions; a team loses due to own players failing to upgrade their game and continue running up and down the field thinking that their job is not to score or defend but to run behind the ball." – Shahenshah Hafeez Kha
"Unity is strength. When there is teamwork and collaboration, wonderful things can be achieved." - Mattie Stepanek
"Talent wins games, but teamwork and intelligence wins championships."- Michael Jordan
"No matter how brilliant your mind or strategy, if you're playing a solo game, you'll always lose out to a team." – Reid Hoffman
"Coming together is a beginning, staying together is progress, and working together is success." – Henry Ford
"There is no "I" in TEAM." - Anonymous.
"Strategy is not a solo sport, even if you're the CEO." – Max McKeown
"There's nothing greater in the world than when somebody on the team does something good, and everybody gathers around to pat him on the back." — Billy Martin
"You must learn how to hold a team together. You must lift some men up, calm others down, until finally they've got one heartbeat. Then you've got yourself a team." - Paul Bryant
"Find a group of people who challenge and inspire you, spend a lot of time with them, and it will change your life forever." – Amy Poehler
"If one member of the team is not at their full capacity, the team cannot be at its full capacity." – Britt Andreatta
"When you need to innovate, you need collaboration." — Marissa Mayer
"Teamwork is a make-or-break situation. Either you help make it or the lack of it will break you." – Kris A. Hiatt
"Snowflakes are one of nature's most fragile things, but just look what they can do when they stick together." - Vesta M. Kellyz
"Teamwork is so important that it is virtually impossible for you to reach the heights of your capabilities or make the money that you want without becoming very good at it." -- Brian Tracy
"None of us is as smart as all of us." — Ken Blanchard
"The way a team plays as a whole determines its success. You may have the greatest bunch of individual stars in the world, but if they don't play together, the club won't be worth a dime." – Babe Ruth
"Great teams do not hold back with one another. They are unafraid to air their dirty laundry. They admit their mistakes, their weaknesses and their concerns without fear of reprisal." — Patrick Lencioni
"Don't let the ability to do a thing on your own become a liability." – Hunter Post
"None of us, including me, ever do great things. But we can all do small things, with great love, and together we can do something wonderful" - Mother Teresa
"You don't inspire your teammates by showing them how amazing you are. You inspire them by showing them how amazing they are." - Anonymous
"Great things in business are never done by one person, they are done by a team of people" - Steve Jobs
"To build a strong team, you must see someone else's strength as a complement to your weakness and not a threat to your position or authority." – Christine Caine
"A single arrow is easily broken, but not ten in a bundle." – Proverb
"If you take out the team in teamwork, it's just work. Now who wants that?" — Mathew Woodring Strover
"Great teamwork is the only way we create the breakthroughs that define our careers." - Pat Riley.
"You've never heard the phrase: 'Divided We Stand.'" – Manuel Corazzari
"If you want to go fast, go alone. If you want to go far, go together." – Anonymous
"Not finance, not strategy. Not technology. It is teamwork that remains the ultimate competitive advantage, both because it is so powerful and rare." - Patrick Lencioni
"The most important single ingredient in the formula of success is knowing how to get along with people." - Theodore Roosevelt
"Many candles can be kindled from one candle without diminishing it." - Midrash
"There is no such thing as a self-made man. You will reach your goals only with the help of others." — George Shinn
"Together, we will raise the dunes from the earth, and rain death from the sky. Together, we are capable of anything." – Hafsah Faizal
"If you want to lift yourself up, lift up someone else." Booker T. Washington
"Many ideas grow better when transplanted into another mind than the one where they sprang up." - Oliver Wendell Holmes
"A boat doesn't go forward if each one is rowing their own way." - Anonymous
"We talk a lot about hope, helping, and teamwork. Our whole message is that we are more powerful together."- Victoria Osteen
"Teamwork is dependent on trusting the other folks to come through with their part without watching them all the time." - Steve Jobs
"One man can be a crucial ingredient on a team, but one man cannot make a team." — Kareem Abdul-Jabbar
"Connection and teamwork are very much intertwined. If you can't connect with a person, be a team player. If a person does not show teamwork connect with them. All engagement is centered around relationships" - Janna Cachola
"The path to greatness is along with others." – Baltasar Gracion
"A single leaf working alone provides no shade." – Chuck Page
"If you want to build a ship, don't drum up people together to collect wood and don't assign them tasks and work, but rather teach them to long for the endless immensity of the sea." — Antoine de Saint-Exupery
"Don't aspire to be the best on the team. Aspire to be the best for the team." - Anonymous
"Teamwork. A few harmless flakes working together can unleash an avalanche of destruction." - Justin Sewell
"The cost of having a team is way lower than the expense of not having a team." – H. J. Chammas
"We look for people who are passionate about something. In a way, it almost doesn't matter what you're passionate about." - Mark Zuckerburg.
"Many candles can be kindled from one candle without diminishing it." - Midrash
"Teamwork is really a form of trust. It's what happens when you surrender the mistaken idea that you can go it alone and realize that you won't achieve your individual goals without the support of your colleagues." – Pat Summit
"Only by binding together as a single force will we remain strong and unconquerable." – Chris Bradford
"The ability of a group of people to do remarkable things hinges on how well those people pull together as a team." – Simon Sinek
"When 'I' is replaced by 'we' even 'illness' becomes 'wellness'." - Shannon L. Adler
"I've never scored a goal in my life without getting a pass from someone else." – Abby Wambach
"One piece of log creates a small fire, adequate to warm you up, add just a few more pieces to blast an immense bonfire, large enough to warm up your entire circle of friends; needless to say, that individuality counts but teamwork dynamites." – Jin Kwon
Facilitate Teamwork With Darwinbox
"It is the long history of humankind (and animal kind, too) that those who learned to collaborate and improvise most effectively have prevailed." ­– Charles Darwin.
Technology can aid in building driven teams and in creating future-proof workplaces. With Darwinbox's flexible and robust HR Tech platform, organizations can leverage the power of technology to do so. For enhancing teamwork, it is important to focus on the team's performance and provide timely feedback. With the performance management module of Darwinbox, companies can effortlessly get a deeper understanding of their workforce and constantly push them for improvement, thus, setting the team up for excellence.
Teamwork and employee engagement go hand in hand. Engaged employees collaborate and communicate more effectively. It is easier than ever to build motivated teams with our employee engagement module. One of the most outstanding features from Darwinbox that lets team members engage from anywhere is our enterprise social network – Vibe. With Vibe, organizations can allow their employees to play an active part in crafting a rich organizational culture.
From democratizing conversations to engaging teams on the go to conducting surveys for a quick pulse check, Darwinbox's all-encompassing HCM suite might just be the best investment you will make to create agile teams.
Conclusion
To be successful, teamwork is necessary. If you want to build an environment where everyone understands the concept of achieving more together, it is important to provide the correct kind of motivation. Feel free to utilize all of these teamwork quotes to create winning teams!