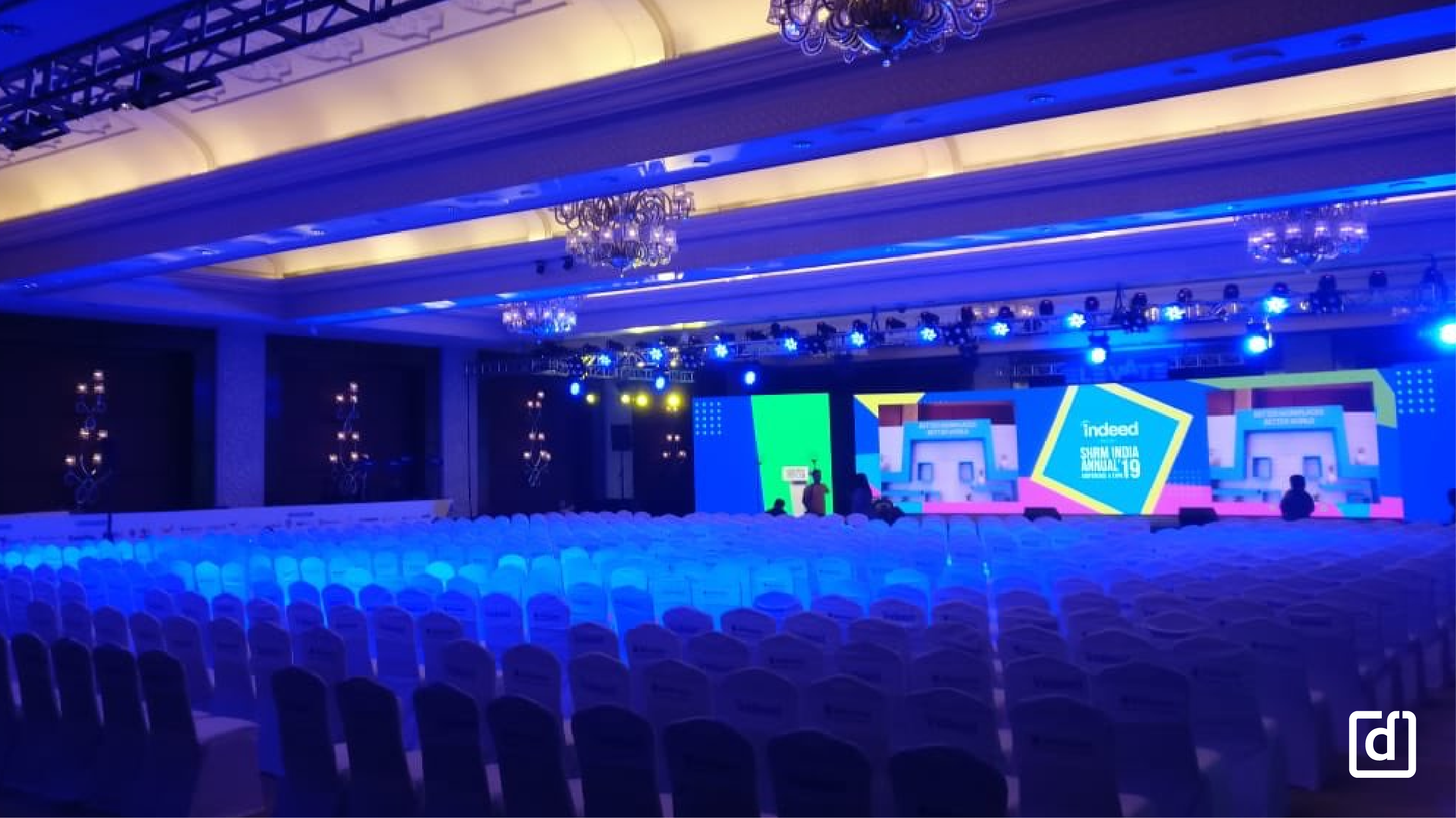 Darwinbox was thrilled to be a part of SHRMIAC19, SHRM's annual HR conference. This two-day event, with the theme ELEVATE, was held on Oct 10-11th and aimed at transcending the conventional HR practices to delve into the unexplored depths of People Management. True to its name, the event helped us glean insights and meaningful learnings, and nudged us to ELEVATE our game so that we're ready for the impending HR revolution.
While we wanted to attend all the speaker sessions, panel discussions, masterclasses and workshops that were on the agenda, we could only attend so many. Here are our 4 favourite sessions from the event: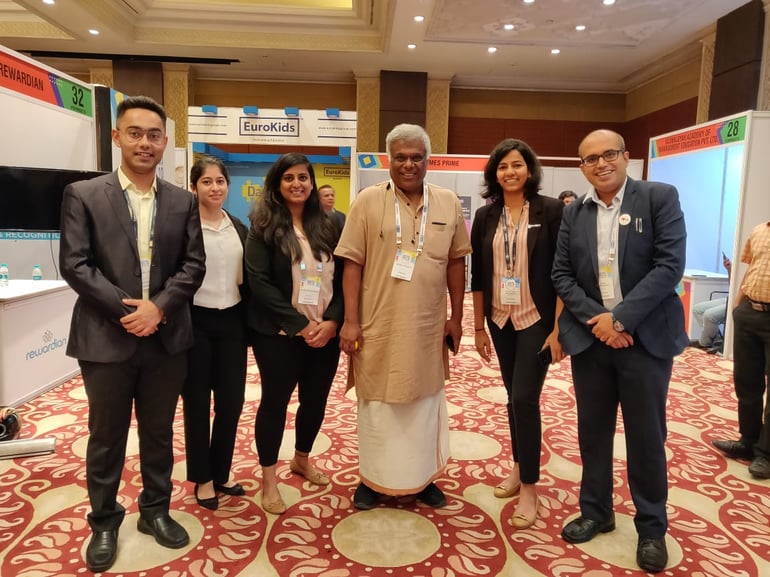 Ashish Vidyarthi with Team Darwinbox
1. The Journey to a $5 Trillion Economy
Moderator: Anilesh Mahajan (Commentator on Economic & Policy Issues)
Speakers: Sumant Sinha (Chairman & MD, Renew Power), Ila Patnaik (Economist & former Principal Economic Advisor to Govt. of India) and Rathin Roy (Director and Chief Executive, National Institute of Public Finance and Policy).
This was the first and arguably the most interesting session we attended on ELEVATING INDIA. These experienced senior economists on the panel discussed the journey India needed to undertake to achieve Prime Minister Modi's vision for India to grow into a $5 Trillion Economy by 2025.
The session also threw light on where Indian corporates stand presently, and what needs to be done to sustain a growth of 8-9% per annum. Some of the highlighted areas of improvement that were identified during this discussion were:
Upskilling/Reskilling: The rapidly transforming work environment will change job profiles and require employees to be upskilled in a vast number of key competencies.
Investment in Infrastructure: Rs 100 lakh crore (roughly $1.45 trillion) will be needed for infrastructure development across the country in the next five years.
Importance of Digitisation: India will continue to benefit from the growing digital economy in India.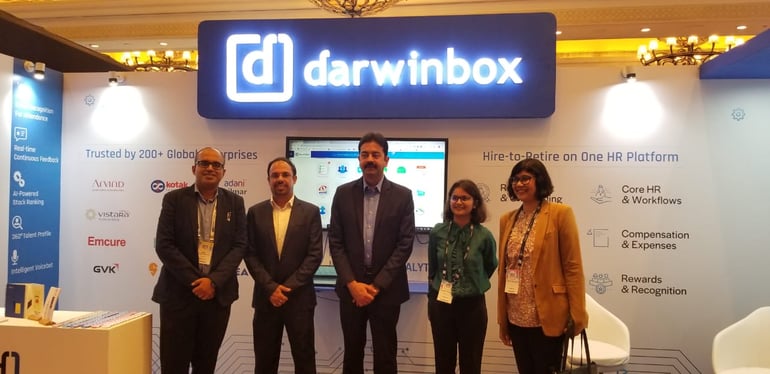 Amit Narain, Gaurav Khanna, Babita Fernandes and Nitanshi Agarwal from Nestle India at the Darwinbox stall
2. Staying Elevated through Rapid Change:
Speaker: Suresh Narayan (Chairman & MD, Nestle India)
Suresh Narayan shared some key pointers on how organisations can stay elevated through rapid change.
He highlighted that Attitude, Ambition, Ability, Articulation and Adversity are some of the biggest battles we need to fight.
Suresh further went on to share some useful tips for leaders to sustain and grow their business during economic highs and lows, including:
Making acceptance an inspiration for action.
Ensuring our perspectives revolve around sound values.
Importance of being sure of our purpose.
Realising that your ikigai is for you.
Not allowing your ego to become your worst enemy.
He also said that People, Purpose, Planning and Process - the 4 P's are the key factors for success in any organisation in their HR transformation journey.
Raghav Datta (Principal Leader, Mercer) having a tete-e-tete with Mohit S. (AVP HR, Au Small Finance Bank) at the Darwinbox stall
3. Who is Skilling the Skill Master:
Moderator: Kshitij Kashyap (VP & Head Human Capital India, Optum Global Solutions)
Panellists: DP Singh (Sr. EVP, Chandigarh University), Sumit Neogi (VP HR, RIL) and our co-founder Jayant Paleti.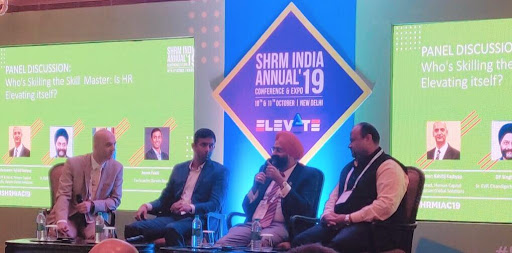 This was another engaging discussion that revolved around what skills must be built and what must be dropped during the HR revolution. It also drew a roadmap for leveraging technology to help organisations create a stronger employer image to attract talent.
These were discussed as the four steps organisations need to take to bring about a successful digital transformation:
Here's a sneak peek:
"Driving culture & behavior with HR Tech should be the Holy Grail of any HR #DigitalTransformation," shared @jayantp, our co-founder, while describing the 4 stages of HR digital transformation at the panel discussion on 'Transforming Talent In The Age Of Agility' at #SHRMIAC19. pic.twitter.com/aTuHUlpdFi

— Darwinbox (@theDarwinbox) October 10, 2019
4. A Story of Survival and Triumph:
Speaker: Lisa Ray
A speaker session by the 'Accidental Actress,' Lisa Ray brought a meaningful and thought-provoking end to the event. She shared her journey about living life on her own terms and beating cancer to a successful career and motherhood.
An inspiring session, to say the least, it shed light on what it takes to be true to yourself and triumph over all odds.
On the whole, #SHRMIAC19 was filled with meaningful engagement, learning and networking. We had several insightful conversations and exchanges and got the opportunity to meet eminent HR leaders from various different sectors. Now to put all those learnings to action!