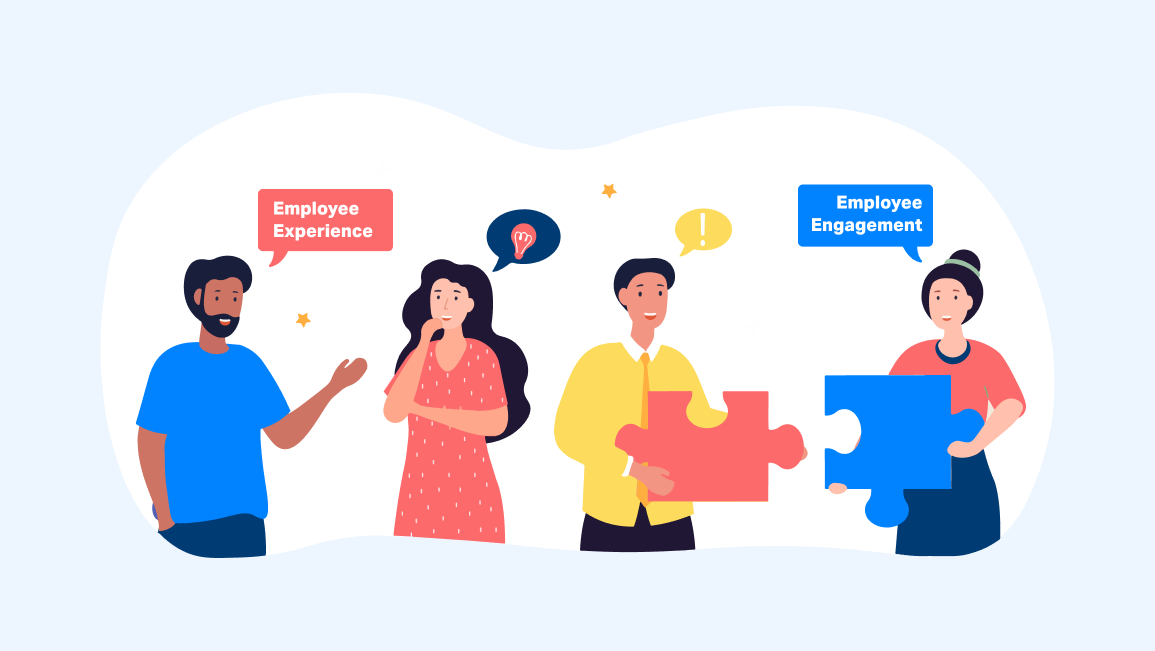 Employee engagement and employee experience are two different aspects of how HR caters to their workforce. Let's learn about all the factors that set one apart from the other:
At the heart of a business, we have people. How we attract, nurture, and retain them is what makes the difference between a business that simply does well financially and one that's highly successful and loved by employees and customers. When it comes down to it, enhancing the employee experience and improving employee engagement are the critical steps in the process of building a successful business.
In this article, we will be discussing in detail what employee engagement and employee experience strategies look like and how they impact businesses differently.
Difference Between Employee Engagement and Employee Experience
Employee experience and employee engagement are two different ways to treat your employees to a better work culture. Let's dive further into the concepts of the two and learn about them with their definitions, components, and example:
Employee Experience
Employee experience is concerned with tracking how workers think and feel at every touchpoint along their journey through the organization. The employee's journey is the accumulation of countless processes and interactions that they go through from hiring till their exit. The impressions that the employees carry from all these processes constitute employee experience.
Here's everything that the ideal employee experience ensures:
The quality of EX that your company provides is reflected in how authentic an employee feels about being themselves with their work, workforce, and workplace.

It gives them the right tools and digital touchpoints to align their work with their goals, hence, making the whole system a highly supportive one.

It is self-improving - As the needs and working conditions evolve, the employee experience does too, and hence, the cycle just keeps on being in a state of constant improvement.

It ensures that every process of the individual's lifecycle is aligned with all the principles and values that are imbibed within the culture of the organization.

It empowers people to drive their own processes, engage in activities they are interested in, choose the kind of environment they want to work in, etc.
On the concept of incorporating flexibility as a part of employee experience, Vijayshankar Ananthanarayanan, VP & Global Head, Transformation, Darwinbox, says:
"Feeding into a flexible culture includes harvesting in-house ideas and infrastructure available in the different pockets of an organization"
Some of the most powerful examples of EX initiatives are:
CEO Dan Price, Gravity Payments set a new precedent for leadership and wholesome employee experience by taking a pay cut to hike up his staff's salary.

Mozilla amped up its EX game during the pandemic by running successful engagement programs for their remote workforce. It is also known for its ample diversity and inclusivity programs like Racial Justice Commitments and LGBTQ Inclusion.

Arby's, a prominent American hospitality company is known to empower its frontline workers by acknowledging their concerns, seeking their opinions, and tweaking policies to adjust to their needs.



Learn More: Employee Experience: Definition, Importance, Examples, Trends, Statistics, Best Practices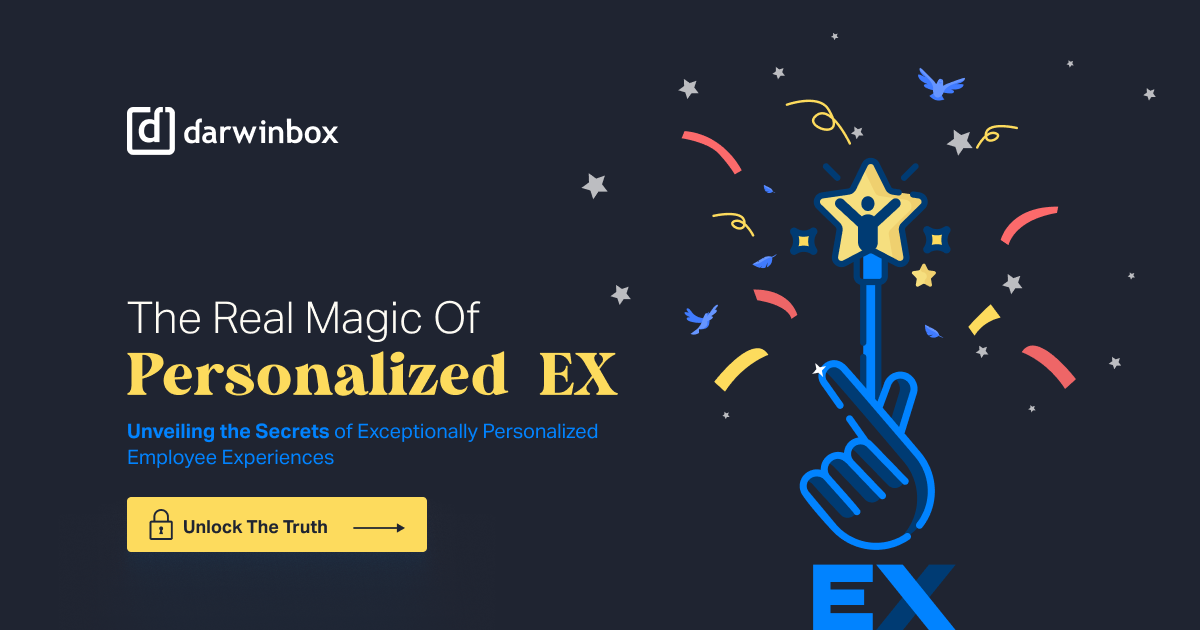 Employee Engagement
Employee Engagement is a concept that involves taking steps to improve an employee's feelings and emotional attachment to the company, their job, their fellow employees, and the company culture. HR departments use employee engagement tactics to boost well-being and productivity across all company levels.
Engaged employees care about their work and about their contributions to the performance of the business. Because of the efforts of the employer to bring everyone together and show them a purpose to serve the collective goals, the employee believes that their input makes a real difference.
On the contrary, disengaged employees feel detached from their work and workplace. They typically don't display a passion for their work and will not be proactive with taking up new projects.
It is important to work on employee engagement strategies because being a big part of the EX, engagement directly pours results into the employee's lifecycle. These create memorable moments of delight throughout the employment journey.
Here are some of the greatest examples of remarkable employee engagement strategies in action:
GitHub empowers its people to create opportunities and make the most of the ones that they have. The organization provides unconscious-bias training, awareness of privilege, and successful allyship programs.

Companies like Full Contact pay their employees $7500 to go off the grid when they are on vacation. The only catch is that the employee must have recorded that they did not check work emails, texts, or calls when they are away.

Southwest Airlines is a team full of people who are passionate about the brand vision. The company gives its people autonomy over their work lives and career. It keeps things fun and upbeat by telling departments to come up with their uniform and acknowledging their requests.
Putting the Two in Perspective
While employee experience is an all-encompassing list of processes that define the employment journey for an individual, employee engagement is an effort to increase communication, collaboration, and motivation at the workplace.
EX initiatives are started by the HR but with real humans at the wheel, while employee engagement initiatives are run and executed by HR to keep the employees in line with a certain ideal and agenda.
When you put it in perspective, the goals to improve work culture, professional growth, and business outcomes from the employee experience as well as engagement will overlap quite frequently. This is because employee engagement is a key element of employee experience.
Learn More: Employee Engagement: Definition, Importance, Benefits, Examples, Trends, Statistics, Best Practices
To Sum it Up
Employee experience holds its overarching principle of enabling HR to produce solutions that enable everything from ease to purpose. On the other hand, employee engagement is an organizational measure to uplift the morale of the workforce and consequently promotes productivity as well as workplace happiness. While both carry heavy significance for a growing organization, it is also important to note how engaging the workforce is the part and parcel of employee experience.
Create an employee experience that runs seamlessly from hire to retire with Darwinbox. Schedule a demo and see for yourself.