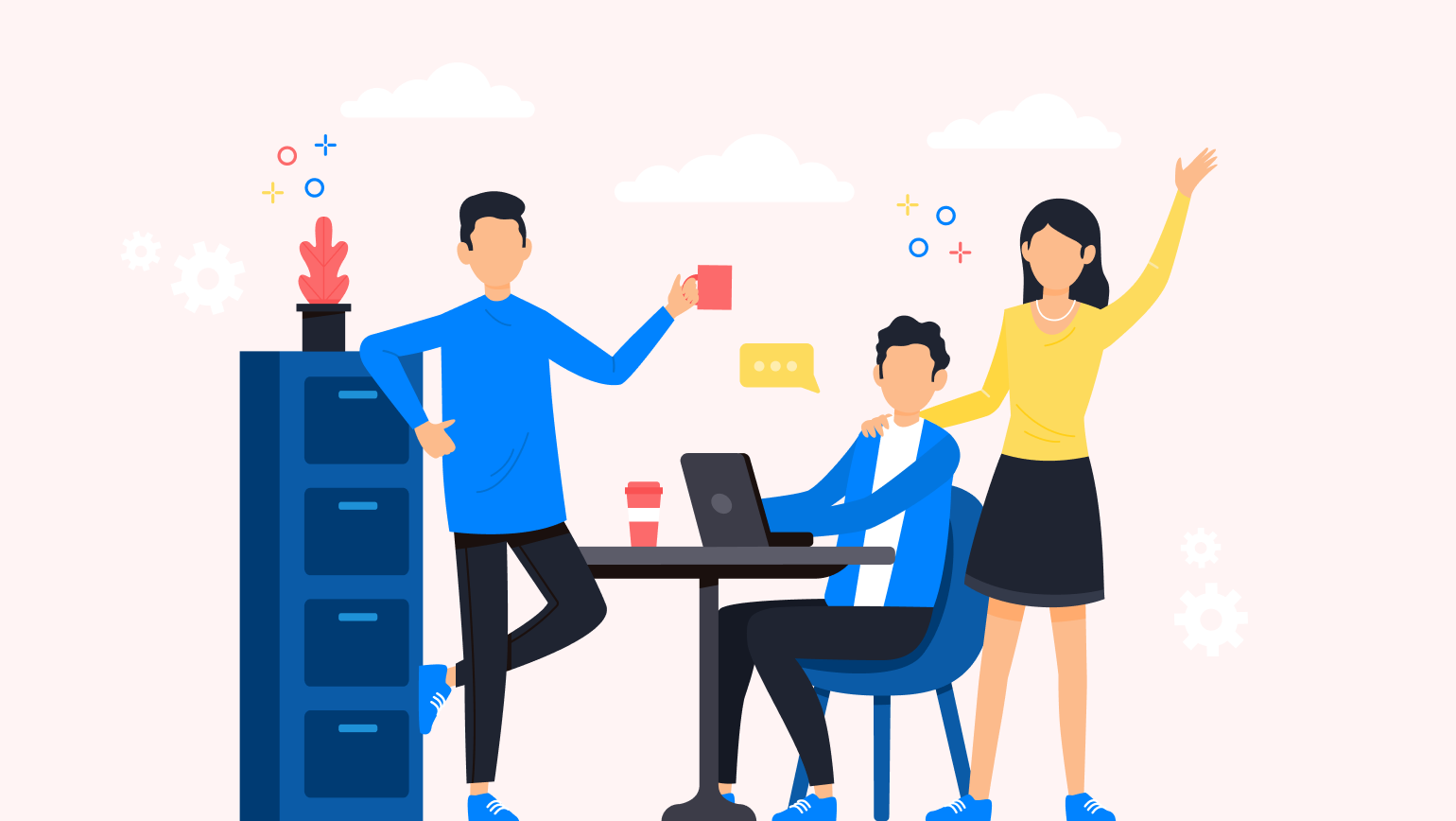 What is employee experience? Why do companies need employee experience best practices to win the talent war? Our guide answers all your questions on employee experience (EX). It also shares actionable tips for improving employee experience in the workplace, with examples from Adobe, Google, Hyatt, and other EX leaders.
Definition of Employee Experience
Employee experience is how workers assimilate and interpret their interactions with their organization.
Employee experience (commonly abbreviated as "EX") is an emerging corporate function concerned with tracking how workers think and feel at every touchpoint along their path through the organization. EX arose as a direct response to a comparable function one may be familiar with: customer experience (or CX).
CX is the most advanced method of understanding a company's customers at present. Using advanced analytics such as journey modeling and audience segmentation, organizations strive to comprehend and maximize the core customer experience.
In recent years, people-centric businesses have begun to raise an essential question: why don't we apply the same attention to one's employees? What is employee experience and how can we improve it? As the old saying goes, happy employees bring happy customers. So, it is important we invest time and resources on improving employee experience.
According to research by IBM, companies that score in the top 25% in terms of employee experience get 3X the returns on their assets than companies in the bottom quartile. The notion that businesses would need to go beyond the scope of the traditional Human Resources (HR) function in order to meet their goals ushered in the EX revolution. In fact (as we shall see in our discussion of employee experience examples), companies like Adobe, Google, Hyatt, and others invest in EX as a top priority.
Components of employee experience
Now that we have defined what is employee experience, let us look at its components. Typically, EX will comprise the following components and dimensions:
1. The physical work environment
Those who operate on a 9 to 5 model, in a soundproof, air-conditioned underground office, will have a drastically different experience than those who operate flex-time in an airy, modern glass building with a gym, subsidized cafeteria, and chill-out lounges. When employees are satisfied with their work environment, they are able to focus better, enjoy better health, and are more productive. And the physical workplace need not always be located within the office: the possibility of working from home or in numerous workspaces may also enhance employee satisfaction.
2. The culture of a company
A company's culture is described as the shared beliefs, ideas, behaviors, and actions of the entire workforce. It is influenced by the cumulative life experiences of all employees. Representatives of the C-suite and senior executives have a significant impact on the organization's culture, since they are the ones making the strategic choices and determining the company's overall direction. The company's culture is the energy you encounter when you enter the office; it may inspire or hinder, energize or deplete, inspire or dissuade its people.
3. The digital work environment
Digital capabilities have altered the manner in which we access information, consult with experts, take decisions, and ultimately supply and consume products and services. Not only have these technological advancements altered where we work, they've also altered the fundamental character of the task itself.
Forward-thinking organizations invest in the appropriate tools for workers to complete their tasks effectively, keeping in mind future advancements. The breadth of this burgeoning digital environment makes it simpler than ever to provide employees with the resources they need to enhance their productivity and feel more secure in their roles.
4. The work in itself
An important aspect of employee experience is the degree to which employees believe they can control their task, grow professionally, and comprehend the broader purpose of their work experience. Numerous variables affect the accomplishment of work-related activities. Understanding how the task relates to the goals of the workgroup and the wider mission of the organization as a whole, possessing relevant skills or expertise, having recourse to further information or specialists as necessary, and getting timely feedback – from supervisors and other stakeholders – can profoundly impact the employee experience.
5. The workplace community
Almost everyone relies to a certain extent on social connection. Therefore, it is not unexpected that the connections we establish and maintain may impact our individual performance and our perception of the organization as a whole. The goodwill we create via these interactions, often referred to as "social capital," has a range of significant benefits, ranging from promoting cross-organizational information exchange to increasing individual employee happiness.
Why Is It Important to Focus on Employee Experience?
In recent years, it is more important than ever to know the meaning of employee experience and how to improve it. This is because of several key trends.
Firstly, millennials expect more opportunities to express their opinions, and businesses must have a better knowledge of the demographic that believes, feels, and acts differently from the previous generations.
Further, the competition for quality hires is increasing. Now that there are more applicants for fewer positions, EX is one of the primary ways for employers to differentiate themselves. In this context, personalized employee experiences are expected. Employees increasingly expect to be treated as distinct individuals. As a result of the proliferation of social media as well as the chance for unfavorable reviews to go viral, workplaces have grown more accessible and open, in order to safeguard organizational and brand perception.
Numerous studies indicate that individuals who are actively engaged in their professional environments tend to be more productive, obtain better customer satisfaction ratings, generate higher quality work, and have lower attendance and turnover rates.
10 Pillars of a Positive Employee Experience
The best employee experiences hinge on the following key pillars:
Values and purpose:

Core value systems, compassion, integrity, and honesty are at the center of the company's mission statement.

Democratization and empowerment:

Employees are able to express their views and participate in making corporate decisions.

Holistic well-being:

Fundamental, sociological, and psychological requirements of employees are satisfied.

Work-life harmony:

Employees have a flexible work schedule and an excellent balance between their personal and professional lives.

Employee growth:

The organization offers individualized training, education, and skill-upgrading programs to cultivate and develop talent.

Rewards and compensation:

Employees receive the optimal combination of salary, incentives, and benefits that prioritize their psychological, intellectual, physical, societal, and financial well-being.

Access to resources:

Employees are equipped with the resources necessary to achieve success, such as specialized tools, training, procedures, and information sources.

Voice of the employee:

The organization evaluates feedback from employees, develops actionable insights, and focuses on improvement areas.

Performance focus:

Key Performance Indicators (KPI) are established to clarify job expectations and accomplishments and match personnel with long-term objectives.

Two-way communication:

Communications amongst colleagues, groups, and management fosters an environment conducive to openness and collaboration at work.
Learn More: Employee Experience Strategy: Definition, Advantages, Steps To Build, Best Practices
7 Examples of Great Employee Experience
The world's leading and most people-centric companies not only know what is EX, they employ employee experience best practices in a highly strategic way to bring about tangible outcomes. Here are seven examples of companies that provided some of the best employee experiences and have seen an improvement in the bottom line and has resulted in market goodwill.
1. Wegmans Leverages a Great EX To Drive Superior CX
This grocery shop definitely deserves a place on this list. Thanks to exceptional EX, Wegmans is recognized for delivering outstanding customer service. Approximately $50 million is invested annually in employee development initiatives. Wegmans strives to provide its workers with professional and personal development opportunities. Their consistent efforts to enhance the employee experience have resulted in higher revenues. By concentrating mostly on talent experience management, Wegmans was able to grow its yearly sales from $7.9 billion in 2015 to $9 billion in 2018.
2. Gravity Payments Focuses on Fair and Equitable Employee Experiences
In 2015, Dan Price, the CEO of Gravity Payments, set a precedent on how to treat workers by embracing a salary cut in order to increase his team's compensation. His precise remarks were, "The majority of people live paycheck to paycheck. Why do I require 10 years of living expenditures when you do not?"
n addition to increasing the minimum wage for all employees to $70,000, the company also provided flexible/variable work schedules, organizational support, and a positive workplace environment, routine Special Educational Needs and Disabilities (SEND) workshops, internal career progression, free snacks, and beverages, etc. Dan's controversial action, which was first derided, is now a Harvard Business School case study. Customer interest increased, personnel turnover decreased by less than 50%, and total revenues quadrupled.
3. Adobe Strengthens Workplace Connections as a Key Part of EX
Adobe views employee experience as a combination of art and science, where science refers to the data acquired and art refers to the emotional trigger content delivered. For Adobe, individuals have always been their most valuable asset, stemming from the founders' belief that their finest assets go home at night.
Their cloud-based intranet is the primary internal engine for employee experience . This, along with their internal initiatives such as a focus on working experiences through the building of relationships at the offices, has helped Adobe climb to the top of the employee experience rankings.
4. Google Reduces Employee Effort Through a Frictionless EX
Google, in many ways, wrote the book on employee experience best practices. The company has created an environment in which workers have access to just about everything they must have, to be effective. They provide breakfast, lunch, and dinner; free transportation is provided as well. Google workers need to worry about only one thing — which is simply carrying out the task.
Around 97% of Google workers agree that the company is an excellent place to work. And the tech giant has been a prominent advocate for hybrid work schedules. Sundar Pichai, the chief executive officer of Google, has emphasized the significance of flexible scheduling and stated explicitly that Google is receptive to all work alternatives. . Pichai emphasizes, however, that going to the office is not only an opportunity for "facetime," but instead a defined plan that fosters cooperation and interactions.
5. The Cheesecake Factory's Exceptional EX Drives Stock Prices
The Cheesecake Factory is the sole eatery on Fortune's list of the 100 Best Companies to Work For, and it has remained on the list for six consecutive years, partly due to its continuously improved learning and incentivization programs. A focus on EX has resulted in a high approval rating for the CEO. Prior to focusing on employee experience, The Cheesecake Factory's stock price fluctuated around $31. Since championing its working professionals and being recognized as "a great place to work", the company's stock price has steadily increased, reaching a 2017 high of $64 per share.
6. Hyatt empowers employees to be their best selves
The unique and unconventional route to success in the hotel business followed by Hyatt, can be summed up by its decision to prioritize empathy above perfection. Rather than utilizing an orthodox playbook while interacting with visitors, Hyatt employees are allowed to be themselves. This promotes a more genuine customer experience and motivates staff members to develop an emotional bond with visitors.
Hyatt leverages empathy not just to improve the client experience, but also to improve the work experience, introducing the Housekeeping Flextime Program — since it allows housekeepers to leave early if they finish their job early or to clean more rooms for extra pay. Another benefit is Family Assistance Leave, that provides principal caregivers with at least eight weeks of paid leave.
7. Sephora Empowers Its Workforce With Training and Technology
By concentrating on training, technology, and development, Sephora has perfected employee experience. All "cast members" (their internal term for frontline employees) get initial training on the three primary product categories (perfume, cosmetics, and skincare) on their first day of employment and ongoing retraining on new goods, methods, and trends.
Sephora is so devoted to training that they established Sephora University, a worldwide institution with three sites that trains frontline and corporate employees.
In addition to providing its employees with industry expertise, Sephora equips them with the most advanced technology for use in its stores. From ColorIQ (their computerized shade finder) to portable registers, cast members utilize cutting-edge technology as often as they use a cosmetics brush, making their tasks simpler and more pleasant. Additionally, Sephora is proud to provide its employees with mobility across roles, locations, divisions, and even nations.
Learn More: 101 Fun Back to the Office Employee Engagement Activities
Key Employee Experience Trends & Statistics
Now that we have explored what is employee experience – along with employee experience examples at some of the world's top companies – let us discuss a few notable trends in this space. Here are 10 employee experience statistics that HR leaders need to know, based on research from McKinsey, Deloitte, Gartner, Gallup, and Harvard Business Review (HBR).
1. Only 13% of workers are fully satisfied with the employee experience they receive
According to a Gartner report, only 13% of employees are completely happy with their experience. Significant expenditures are being made in attempts to enhance employee engagement, such as spending on onboarding and workplace redesign. However, according to Gartner, despite the fact that these expenditures marginally enhance employee happiness and engagement, the expense of continuing to fulfill employees' ever-increasing expectations is unsustainable.
2. 64% of CX drivers are "feel factors," which is important guidance for HR
Two-thirds of the determinants of customer happiness, according to Gartner research on customer experience, are "feel factors," or how people felt at the time of, and about their interactions. Employing cognitive, motivational, and social principles, HR leaders should apply the same method to the employee experience. Learning from this employee experience statistic, they should concentrate on improving workers' perceptions about their overall work experience.
3. Only 21% of employees are engaged after the pandemic
Prior to the pandemic, global employee engagement and well-being levels were increasing for over a decade. However, they are currently stagnant. "Trying to watch the clock tick," "waiting for the weekend," and "work is merely a paycheck" are what a lot of global employees are saying. With just 21% of workers involved in their work and only 33% of workers flourishing in their general well-being, the majority of employees would declare that they do not find their job important, that their lives are not going well, and that they do not have hope for the future. This is a worrying employee experience statistic from Gallup.
4. Low engagement costs the global economy a staggering $7.8 trillion
Well-being, employee engagement, and experience interconnect in several powerful ways. When employees are involved and flourishing, they experience far less stress, hostility or anger, and health complications. Unfortunately, a majority of individuals remain disengaged. In fact, poor engagement costs the world economy $7.8 trillion dollars annually as per Gallup. The connection of well-being with engagement is crucial because how individuals perceive their job affects their lives outside of work, and well-being affects life at work.
5. Most employees who quit do not feel valued by their employer (54%) or manager (52%)
While leaders are aware of this situation, their responses often miss the target. Many CEOs (52%, as per McKinsey) want employees to work from the office four to five days a week to improve connectedness and collaboration. However, returning to the workplace may not address the issue. In fact, if further and more meaningful actions are not taken, it might potentially backfire. The world, since the pandemic, has evolved, and so have employees' attitudes. In order to foster community, coherence, and a feeling of belonging, businesses must alter their strategies and respond to the message this employee experience statistic gives.
6. Nonfinancial recognition is the No. 1 driver of employee experience
Many strategies intended to unite workers are seen as commercial, monotonous, and unsympathetic. The "mass market" strategy of offering everyone a one-time bonus, for instance, may seem fair and effective on the surface, but it runs the danger of not striking the right chords, finds McKinsey. Leaders should avoid falling into this trap by establishing what is most important to their employees, personalizing appreciation and gratitude, and providing genuine opportunities to foster connections.
7. 62% of employees consider purpose to be the biggest EX factor before joining a company
Over a third of respondents (36%) in a Deloitte survey said that an organization's larger goals and purpose were just as critical as its wages and benefits package, according to a poll of over 4,000 workers conducted by Deloitte. In a competitive employment market, organizations that provide fulfilling work are more appealing to workers. In light of these results, it is clear that organizations must demonstrate true purpose and an actual commitment to societal good, in order to recruit and retain talented employees.
8. Women who work for "gender equality leaders" report far more positive experiences
Nearly two-thirds of women who work in hybrid workplaces believe they have been sidelined from interactions and meetings, and nearly half believe they are not given sufficient access to senior-level leadership. However, just 14% of women working with "leaders recognized for gender equality" have felt alienated from discussions in hybrid work settings, and only 7% say they do not have sufficient access to senior executives.
This employee experience statistic from Deloitte indicates that "leaders" in gender equality hold a massive advantage in the wellness and retention of their female employees. "Gender equality leaders" are clearly checking all the right boxes, which is a crucial differentiator not just for women but also for enterprises competing for the brightest talent.
9. An improvement in EX can result in a 50% uptick in revenues
Few would disagree that a strong and happy employee experience (EX) favorably impacts an organization's performance. This is why HR directors want to better grasp the direct relationship between EX and business results in their organizations.
Harvard Business Review (HBR) collected three years of comprehensive personnel and financial information from over 1,000 U.S. brick-and-mortar businesses. It investigated the influence of EX (as defined by four metrics) on consumer experience and organizational objectives like revenue and profitability. If an average retailer could shift from the worst quadrant to the upper quartile in all of the EX indicators analyzed, its profits and sales would jump by more than 50 %.
10. 73% of HR leaders feel employee experience ownership should be shared
Given the breadth of what might be accepted as a component of employee experience, HR executives believe it is a collective responsibility between HR and other departments. In an effort to enhance employee experience, the most successful HR directors are refining their current internal stakeholder relationship dynamics and establishing new ones. This is a telling employee experience statistic from Gartner – pointing towards the need for greater collaboration when designing and executing EX.
Learn More: Crafting A Winning Employee Experience in The Hybrid Workplace
Best Practices to Achieve Exceptional Employee Experience
As our employee experience examples show, there are proactive measures you can take to improve how workers interact with and react to the professional ecosystem. We have distilled these measures into five employee experience best practices that you can follow:
1. Just like a customer journey map, try an employee journey map
A journey map depicts the numerous phases an employee witnesses throughout their tenure with a company. It enables the identification of challenges, and critical instances when employee participation and actions are required to bridge the gap between the existing and desired condition. The most effective employee journey maps begin with strictly delineated outcomes, combining EX and HR ops data records, and engaging key organizational stakeholders.
2. Incorporate diversity & inclusion (D&I) into the employee experience
Establishing an inclusive workplace and a business environment in which employees feel appreciated, valued, and at ease is not just the right thing to do; it's also crucial to your company's bottom line. When D&I is implemented effectively, it enables your organization to recruit the best individuals and drive creativity via a wide range of experiences and perspectives. To do this, you must clearly define your D&I objectives and establish measurable, attainable targets that ensure that both the company, and the team is empowered and accountable.
3. Train managers in leadership, team-building, and mentoring skills
At every step of the employee's journey, the manager-employee connection is the most significant – because, as the saying goes, "people quit bosses, not companies." Managers influence the work experience of their personnel by engaging with them and cultivating their abilities. Managers are able to consistently assist employees in recognizing their present worth and future within the organization. Consequently, every employee experience plan should emphasize the discovery and development of exceptional managers.
4. Provide benefits, rewards, and development opportunities based on employee personas
Employers must establish and better comprehend their workforce personas in the same way that marketers must develop and grasp their customer personas.
As the workforce of today is extremely intergenerational, it is essential to comprehend their nuances, personality types, and characteristics, in order to deliver more individualized working experiences. To establish employee profiles and personas, it is a good idea to include your own current workers from various departments, ages, cultures, and levels of seniority.
You may, for instance, ask these various employee groups what inspires people at the workplace and what pushes them to achieve their best performance. You may construct employee personas based on all of these information pointers to offer a more tailored employee experience and incentives.
5. Focus on health and well-being
After the pandemic, employee fatigue and stress have become critical problems. To assist workers with looking after themselves, HR should ensure that they offer wellness benefits, and ensure that employees are aware of the variety of wellness and health options accessible. This might involve running a marketing campaign promoting health benefits, wellness initiatives, stress management guidance, and safety tips. When workers see that the business and its executives care about their welfare, their experiences and involvement is bound to be greatly enhanced.
In addition to these five employee experience best practices, there are several other steps companies can take. For example, creating an effective hybrid work policy can help employees transition back from 100% remote work and make the experience free of friction and bottlenecks. Using the right performance management metrics is also important, as it allows employees to focus on real outcomes and reduces stress.
Finally, a cloud-based HR management system is the key to shaping the best employee experience possible. It lets you make data-driven decisions, monitor experiences across locations, and centralize how you manage the five EX components. As employee needs and expectations change, HR departments must update their strategies and systems to succeed in the future.
Learn how the Darwinbox cloud-based HCM can help deliver stellar experiences in the workplace! Ask for a demo today.