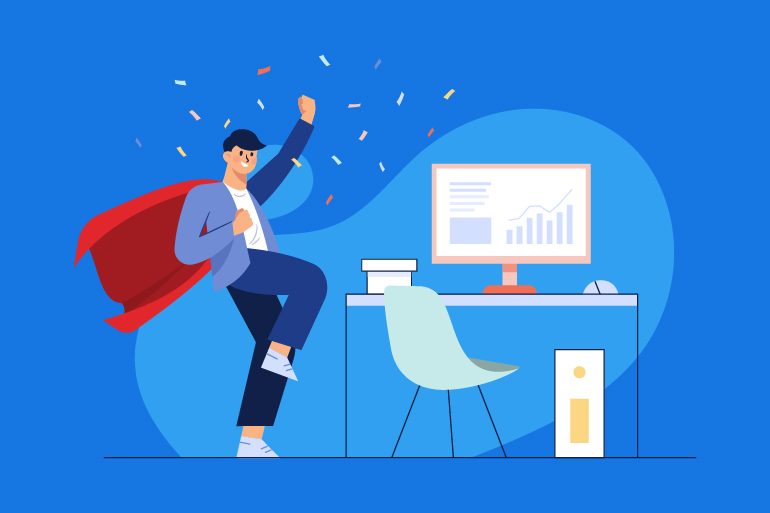 "Customer Satisfaction starts with Employee satisfaction."
Employee satisfaction is the extent to which an individual is happy with their job and the role it plays in their life. Employees who are satisfied are incredibly loyal to their employers and stay with them even in the worst-case scenarios. They do not work because they must, but because they want to take their company to the next level.
What is an Employee Satisfaction Questionnaire?
It is a proven fact that high employee satisfaction at the workplace results in higher revenues. One of the oldest yet most effective methods to measure employee satisfaction at the workplace is via conducting surveys or utilizing the employee satisfaction questionnaire. A survey is a conventional way of checking-in with the employees and receiving any feedback that they may have. Today, 89% of HR leaders agree that ongoing peer feedback and check-ins are key for successful outcomes. This survey gives managers insight into how satisfied their workers are at work and what actions they should take if the results are not entirely good.
Why Should You Conduct an Employee Satisfaction Survey?
An employee satisfaction survey should be made a mandate at organizations and should ideally be conducted once every 3-4 months to know the pulse of the workforce and enact accordingly. Reasons why it should be conducted:
It aids in understanding and improving productivity levels.

It helps in retaining employees since it directly leads to lower turnover rates.

It helps in comprehending training requirements.

It gives a sense of direction as to what can be improved further with respect to the work environment, career growth opportunities, etc.
Top 50 Questions To Ask in an Employee Satisfaction Questionnaire
Are you happy with your career in general?

Do you look forward to going to work every day?

How would you evaluate your work-life balance on a scale of 0 to 5?

Do you have a clear knowledge of the organization's strategic goals?

Do you understand what your role entails in achieving the company's goals?

Do you think you have enough time to focus on new ideas each week?

What would be the best leadership style for dealing with disagreements and difficult decisions?

Will you continue to work for the same company in the next two years?

Do you find it difficult to obtain information that will help you make better judgments at work?

Do you believe that your superior values and listens to your ideas?

Do you believe there is room for personal development, such as skill and expertise?

Would you recommend the company to your friends and acquaintances as a great place to work?

Do you believe an employee has adequate opportunity to speak freely with the highest person in the management in this organization?

What motivates you to achieve your goals?

How do your superiors motivate you?

Do you see yourself succeeding in our firm in the future?

Do you have a clear understanding of how your work affects the company?

Do you feel proud to be associated with this organization?

What kinds of possibilities for involvement would you wish to have?

Do you have enough time to accomplish your work?

Are you pleased with the company's existing compensation and benefits package?

Do you have a positive coworkers' network?

Do you feel like you have the freedom to voice your opinion at work?

Is your job exciting and challenging to you?

Do you believe you go above and beyond to complete a task?

Is your boss giving you constructive feedback?

Is your job causing you unreasonably high levels of stress?

Do you believe your boss treats all of your coworkers fairly?

Do you believe the company has fair promotion policies for all employees?

Do you intend to work for that firm over the next two years?

Do you have all you need to feel at ease and comfortable at work?

Do you know where to go for help if something strange occurs?

Is your organization providing you with all the resources and tools you need to do your job well?

Do your superiors inspire you to put forth your best effort?

Do you believe you are rewarded for your hard work and dedication to the job?

Do you think the company's wellness initiatives are sufficient?

Do you feel the management/leadership is genuinely interested in your career objectives?

Do deadlines and workloads cause you stress on a regular basis?

Do you usually bring your work home with you or end up working on weekends and holidays?

Do you believe there is room for individual career development and progress inside the company?

Do you feel that working within the management team is open and honest?

Overall, how pleased are you with your job at the company, with 1 being the worst and 5 being the best?

What would boost your overall job satisfaction?

Are you pleased with your physical workplace's degree of comfort?

What would you alter about your job or workplace if you could?

Do you have the support of your coworkers, and do you work together to achieve a similar goal?

Apart from work, what do you look forward to when you get to work?

Do you think you are valued at work?

What would be your rationale for quitting your work if you were to do so tomorrow?

Is there anything more we should have asked you in this questionnaire that we may have missed?
Conclusion
Often times employee satisfaction and employee engagement are considered the same thing and are used interchangeably. But they are fundamentally different concepts. Employees who are satisfied are simply content with their work. For some, this may imply putting in as little effort as possible. While employees are engaged when they bring in passion and drive to deliver work.
Employee satisfaction serves two important purposes – increases engagement and reduces turnover. Respectful treatment, adequate remuneration, employee-executive trust, job security, and the opportunity to upskill are all factors that contribute to increased employee satisfaction. According to studies, businesses with higher employee satisfaction ratings on Glassdoor do better financially than businesses with lower job satisfaction ratings. For this reason, use this employee satisfaction questionnaire and customize it as per your need to understand the pulse of your employees and build a profitable organization.
Trigger the distribution of custom forms with automated workflows using Darwinbox. Here's a small demo to help you discover all you can do with our platform.