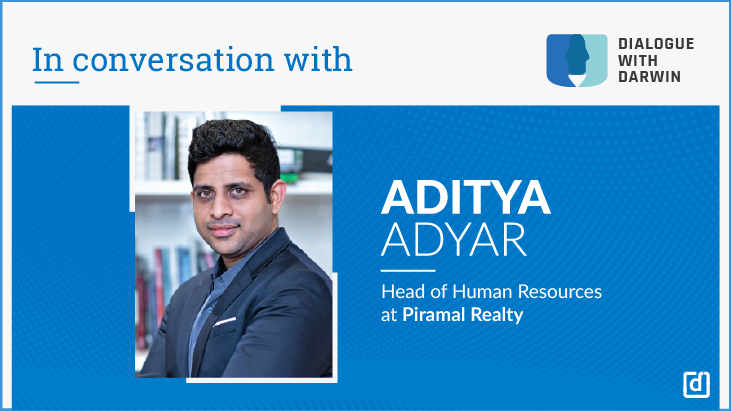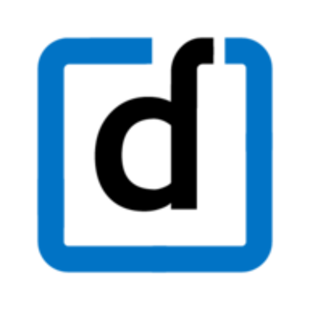 For a long time now, we have been participants in and observers of the HR journey. Along the way, we have tracked the evolution of HR in response to increasing demands. This journey has more of a direction than a destination. HR wants to add value, to contribute in meaningful ways to employees and line managers inside the company and to customers, communities, partners, and investors outside the company. At times, those on the journey have been the target of snipers who discount HR's value and want to send it back to its administrative beginnings.
Our interview today is with the Head of Human Resources - Piramal Realty - Meet Mr. Aditya Adyar.
Sharing some of his experiences on the difference in work culture and how an HR can add value to the business and become a strong strategic element for an organisation, it's truly an honor to host Mr. Aditya Adyar in our Dialogue with Darwin expert interview series:
Given your experience in a new age startup as well as a well-established organisation, it will be great to hear your thoughts on the below aspects.
With the advent of millennials at the workplace, what radical changes do you foresee in the next 5 years with respect to HR? How can organizations gear up?

Millennials as such I feel aren't so different from anyone else. While we do see a lot of literature on how millennials want to change jobs frequently, are impatient, need instant gratification and they need flexibility. This is probably because now there are a lot more options available. In the pre-liberalization era, there were fewer jobs and probably not so many options available. Today's millennials have a lot more options. They are well informed and well connected with all the information available at the press of a button.

With Gig-economy/Uberisation of the workforce, there are a lot of options and it is no longer a prerequisite that you need to be associated with one organization throughout or with one organization at a point of time. For instance, a cab driver can choose to switch on his Uber app for a couple of rides and switch to Ola for the next couple. Nowadays there are websites where chores or short-term assignments are listed and one can bid for these roles.

In the next 5 years; engaging the workforce, providing them with a career path, learning opportunities and challenging opportunities are going to be critical. You would already be reading about 20 somethings choosing startups over MNCs because they find meaningful/challenging roles as they want to learn and advance fast. The number of millennials who would want to go this route will only increase.

Attracting great talent could also be a problem for age-old companies compared to the new age. For instance, a data scientist would want to work in the Teslas and Amazons of the world against an option of working with an age-old company as one feels that the learning, growth, and challenges would be far lesser in the old organizations. Employer brand or Employer value proposition and the way your company is projected to the outside world would then become a critical component or factor everyone.

New age technology-focused companies are breaking boundaries and moving ahead through innovation. They are able to provide faster career progressions. Now, having said this there are umpteen non-tech startups doing really well, but probably not showcasing their brand enough and are not able to attract the right talent. Companies would have to gear up on this front to stay relevant.

What is that big difference an HR professional should brace for while moving from larger corporates into startups and vice-versa?

While working at larger corporates, there are more hoops and you have to jump through to get anything done. On the other hand, Startups tend to have less bureaucracy, less organization, and less complexity, making it simpler to navigate the organizational maze to know who makes a difference.There is no option of not understanding the business and being around in a startup.
In larger companies, you have people to guide you; there is a lot of muscle power in terms of getting additional help from consulting firms to help in the thought process, setting benchmarks to take better decisions and using consultants to hire. Whereas, in a startup, you have to probably do everything on your own right from engagement surveys to understanding what is happening in the market and getting the right people probably because you can't afford paying high retainer to recruitment consultants.
As an HR professional, you should know how to set up various processes and mechanism, create policies etc. "Creating" is a major part at a startup and getting the buy-in of various stakeholders to get it implemented. For a few startups probably nothing apart from recruitment would be a people agenda. For instance, no one will tell you what needs to be done as there are already umpteen things on their radar from the business end. HR should identify the areas which will help add value to the business in the top and bottom line. Both in the short and long run and provide solutions to the business problems. For instance, culture change, attrition, Quality of Hire, talent management will help solve business problems add overall value.
At a start-up, everyone is required to wear multiple hats. When you're working on a team with only a few others, you have to be flexible and take on some tasks that might otherwise be out of your purview. In a large setup, there is enough manpower to assign a different person to each of these tasks. When you move from a start-up to a large setup, the quality of inputs and expertise in an individual function will go up. Someone who is a generalist might not find it interesting in a large company
At startups, the company culture and hierarchy might not have been solidified. You're in a prime position to call shots, start traditions, voice your opinions and influence hiring. You'll also feel a sense of ownership you otherwise might not find at a larger corporation.

What are some major differences in work culture you have seen between a new age startup and an established enterprise? Is there a need for change culture wise in both the types?

The Bigger, the More Bureaucratic - In a large company there are many checks and balances, the decision making is slower. Its simpler to get things done for a hustler in a startup
You Get to Wear More Hats - Working for a small business can give you much wider exposure to job functions. You could probably have been hired for Marketing but eventually in a couple of years you could end up getting a hang of sales, operations and multiple other facets of the business. In a large company, after 2-3 years you could still end up working the same role. Change is the only constant: The cycle for a project could be months/years in a large setup. In a startup, it could be weeks. It wouldn't be a surprise if the business model itself changes every quarter in a startup
High risk, lots of potential - There is no guarantee for anything in the world! The risk-reward gradation at startup is very high. You could end up putting your career in a high pedestal in a couple of years which could have taken 10 years in a conglomerate and there are enough chances that you could end up wondering why you joined the startup in the first place
More opportunities to be a leader - Are leaders 'born' or 'made' is a question which many ask. You would end up nodding your head to 'Leaders are made' in a startup. There are a number of opportunities to put your hand up in a startup.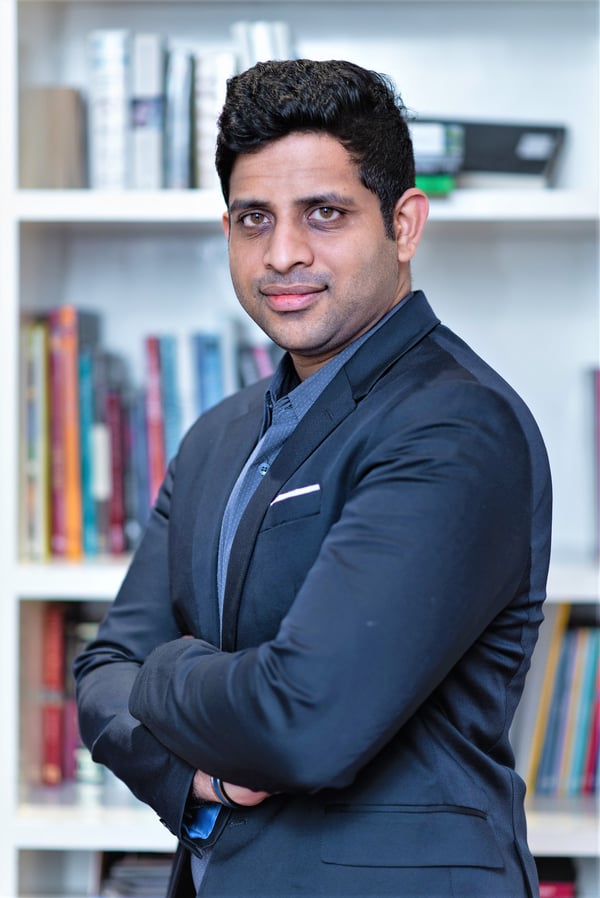 Is there a need for culture change?

There is no need for a culture change. What works for one organization may not work for another organization. Each company works for a unique culture which in turns helps the organization grow.You may want to implement a policy for one organization which may not be applicable to the other.

One needs to create a culture which is applicable to the employee set of the organization.

If young millennials are your primary set, then you would want to build processes and mechanisms relevant to them. For all, you might know a large setup would very well fail if they start adopting a culture of startups and vice versa.
With new age organizations undergoing changes far more frequently what is the best way to align the workforce to meet the changing skill set requirements?

With the half-life of skill sets going down every year, one needs to encourage employees who have the inclination and the ability to learn new skills and build capability.
Reward systems should be aligned with people who learn constantly and adapt. Organizations should disproportionately invest in the future potential of people.
Learning and development should be the top priority for any organization in the new age. Companies which do not invest in learning and developing future leaders will perish.
Here are few other questions to help us know you more as a leader and an individual.
What inspires you to excel in all that you do? Are there any mentors you look up to for inspiration and guidance?

From the time I was a child, I wanted to do excel in everything I do. My parents; who are doctors, have excelled in their field and earned a lot of respect both in the society as well as their fraternity. They are the ones who have instilled strong values in me which always motivate me and urge me to put my best effort by leading through example.

What are the most common misconceptions people within the organization have about HR as a function?

Well, there a lot of misconceptions and it depends upon the maturity of the organization and level of involvement of HR in adding value to the business. HR will be viewed as a risk mitigation department as long as one does not add value to the top line and the bottom line.
In one word can you answer these rapid-fire questions?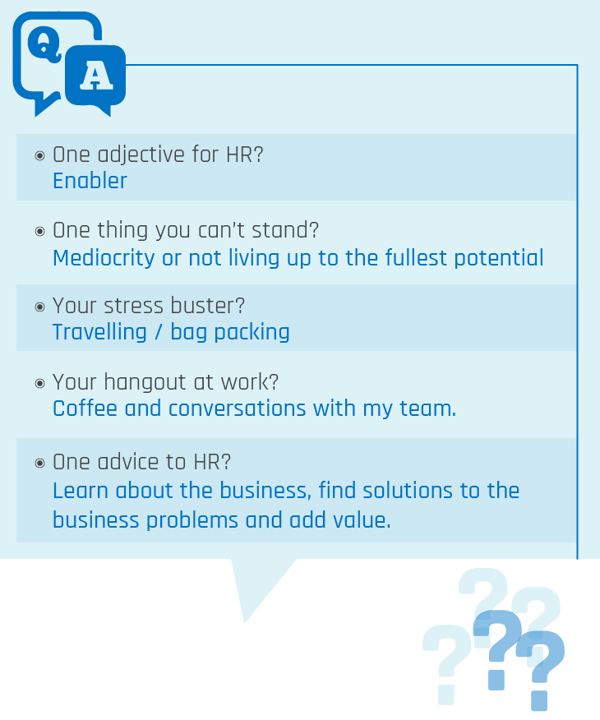 Any initiative you decide to take, it should add value to a business and then you will be recognized. Learn about business, find solutions to business problems and add value.
Today we got to know some interesting facts in terms of HR which can also help you boost up your business from the expert – Mr. Aditya Adyar. Going forward there are many more specialists that we want to chat with. We will resume our discussion with another industry expert in our next post.
Until then, keep admiring the human in you !!