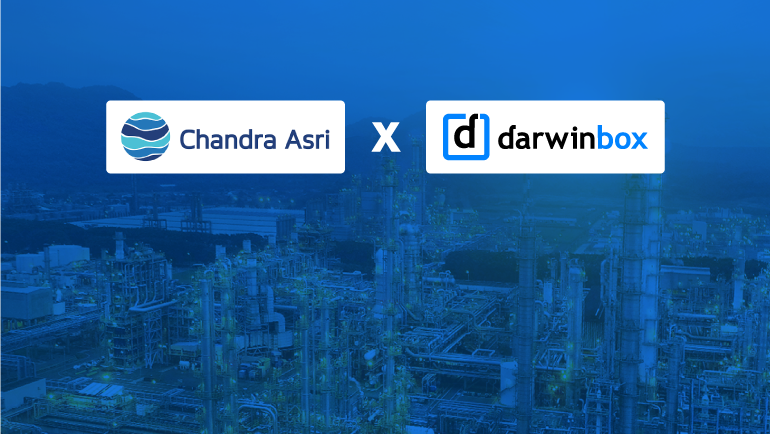 To create a holistic digital ecosystem to improve employee productivity and HR efficiency, PT Chandra Asri Petrochemical Tbk (Chandra Asri), one of Indonesia's leading petrochemical companies, has developed a five-year digital transformation roadmap.
The partnership with Darwinbox supports Chandra Asri's vision of harmonizing with the concept of society 5.0 and accelerating the process of transformation. For Indonesia's preferred petrochemical company, crafting a top-notch experience for its 2,000+ workforce is central to its mission.
Futuristic goals invoke the need for partners who are equally future-focused. In a modern enterprise tech stack, 'simpler, faster, and connected' are key to achieving operational excellence, business growth, and cost efficiency while enhancing user experience (UX). We are pleased to find a strong enabler of our futuristic vision in Darwinbox. Selected after a thorough and comprehensive consideration process, the team executed the transformation successfully with a smooth Go-Live in 2022."

- Andre Khor, Chief Financial Officer of Chandra Asri.
Chandra Asri looks at this partnership as an investment into its three important pillars – people culture, process optimization, and technology advancement.
The Chandra Asri HR team aims to utilize Darwinbox as a 'super app,' as the HRMS can seamlessly integrate with other tools in our enterprise tech stack for a unified, frictionless employee experience. Darwinbox's technology enables Chandra Asri employees to be connected, where they can access any HR-related processes in one app, anywhere and anytime."

- Suryandi Suryandi, Human Resources and Corporate Affairs Director of Chandra Asri.
We are delighted to be trusted by a brand such as Chandra Asri, which believes in technological advancement as the best way to craft extraordinary company culture and create an exceptional employee experience. Our top priority will be to facilitate a hassle-free HR experience for the company so they can focus on serving the needs of the vibrant and growing Indonesian market.
"Part of keeping your people productive and happy means not tiring them with tedious HR tasks and paperwork. And we're thrilled to see just how well Chandra Asri has leveraged the platform to supercharge their processes," said Jayant Paleti, our co-founder. He went on to say, "It's a great pleasure to partner with a company that is a cornerstone of the petrochemical industry in Indonesia; a company that not only has an eye on the future of work but is also playing a key role in actualizing it."
The first SaaS unicorn from India in 2022 and the youngest and only Asian player to feature on Gartner's Magic Quadrant for HCM suites for 1000+ Employee Enterprises, we are backed by TCV, Salesforce Ventures, Sequoia India, Lightspeed India Partners, Endiya, and others. Today we serve over 650+ enterprises and 1.5 million employees across 90+ countries including leading Indonesian enterprises and fast-growing companies like Tokopedia, Kopi Kenangan, Sari Roti (Salim Group), and many more.
It is a pleasure partnering with Chandra Asri to help them reimagine their HR experience in the digital age. To know how we can assist you in streamlining and modernizing your HR function, Schedule a Demo now.