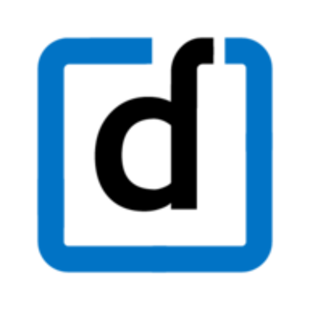 Developing talent is business's most important task - the sine qua non of competition in a knowledge economy. Peter Drucker
These are times when the economy is both promising and turbulent.
Every few years, disruptions of large scale are witnessed. And they cast prominent dents in business frameworks that people, process, and technology need to be redesigned, or realigned at best; so as to function properly.
One of the key learning we had from our experience of organizing the previous editions of the round-table (that were mainly focused on design thinking) is that irrespective of how the narrative is set, in the end, it always narrows down to better talent management.
Hence it becomes extremely important to assess the why, how, and what when it comes to re-engineering talent management practices and leverage these learnings to build better workplaces of tomorrow. We'll begin with the most important aspect - why?
WHY Re-engineer?
There has been a steep rise in the number of new age companies full of youthful, and energetic talent that refuses to play by the existing rules.
With concepts like freelancing, better known as gig economy, and remote workforces set to become the norm, old policies head towards becoming obsolete as new ones are articulated and set to take over.
Job descriptions and expectations have become a lot more dynamic and cross-functional. There is a high degree of fluidity and flexibility in every aspect of businesses, which is a stark departure from the more rigid framework followed in the years gone by
The modern-day employee now seeks to be enabled rather than controlled by the HR function.
As a company that caters to end-to-end HR needs of enterprises; we were keen to learn how different organizations across industries are using best practices to deal with the same. Also, we wanted to share our understanding of the topic with the evangelists of HR Tech; who over their glorious careers, have carved a niche for themselves in this field.
Therefore, the third edition of Darwinbox's CHRO Roundtable: Talent Talks was centered around the same theme. The session was moderated by Ms Nandita Gurjar, and apart from the insightful discussion, the highlight of the session was the fireside chat with Mr Mohandas Pai.
What & How to re-engineer?
Ms Nandita Gurjar opened the session by briefing everyone about the topic and thereafter presented a case study on the role of technology in re-engineering Talent Management on behalf of Darwinbox.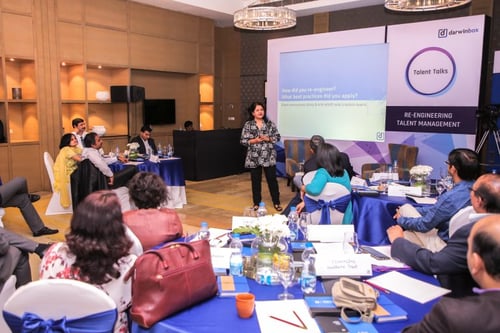 She highlighted how technology was a phenomenal change in HR around 15 years ago but now it is an indispensable part of HR Management! The change which started more than a decade ago is still relevant to the modern day scenario. In this age of fast-paced technology, HR continues to reinvent itself, one step at a time.
And on that note, leaders shared some key insights and focus areas for re-engineering talent management that we have articulated here.
Career goals re-envisioned: Alpana Dutta, EY emphasized on how HR as an enabler should aim to bring out the best in people. And how when we say betterment, we should truly mean betterment.
Rather than assuming that every employee desires to move up the organizational hierarchy, they should be given an option to choose what development suits them more at that particular stage in life and career. Therefore it is the flexibility and ownership for one's career that empowers an employee on a broad level and fuels their desire to excel at the job. HR, being the enabler of their growth must ensure that such radical thoughts and practices are heard and nurtured for both employee and organizational betterment.
There's no point of tech if people won't adopt it: In recent years, there have been some breakthrough developments in the fields of artificial intelligence and machine learning. It is now more feasible than ever to leverage these technologies for better talent management. But with growing scepticism over privacy invasion and data collection by applications, it is a challenge to drive adoption for developments made here. Soma Pandey, Firstsource recollected her experience of having to deal with this. She stated how when one of the organizations introduced an application for the better administration, it was widely criticised by the employees as they feared the company would be tracking their movement and activities!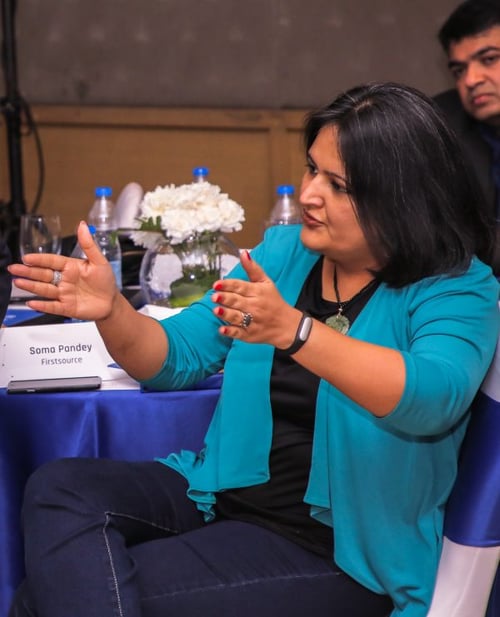 It was a daunting task to get them to download and use it.Therefore, while AI, big data, and other developments are making it easier to identify parameters like attrition in early stages, there is another side of it that needs to be addressed. HR needs to take a lead here to ensure people are open to these by promoting a culture of trust and transparency in the organization.
Parameters for evaluation have evolved: The metrics for evaluating talent need to be revamped to stay relevant to modern day scenarios. "High potential is no longer about performance. It is about learnability", says Srikanth Karra, Mphasis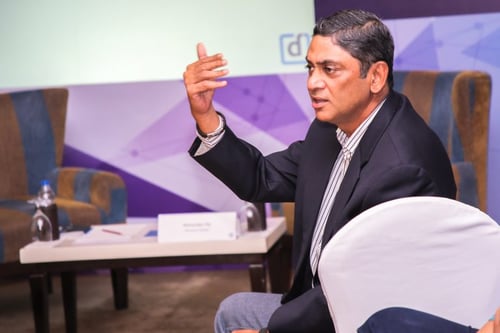 With job descriptions becoming more and more cross-functional than ever, today it is not only about how much value an employee will bring to the organization, rather it is about how quickly and efficiently they learn new skills to adapt to the ever-changing context! New measures meant a need for new means to analyze and draw insights. The discussion was carried forward towards the importance of analytics by Nandita. The problem today is not lack of data. It is rather the lack of insights. The audience unanimously concluded that the raging need of the hour is to have a more holistic approach in order to make sense out of it.
One size definitely doesn't fit all: Personalization has become a key determinant of relevance and reach of technology. Ashish Kumar Singh, Myntra-Jabong, shared his experience of leveraging technology to deliver a better experience to candidates during hiring. Crafting the elements of hiring and talent management to suit individual employee's needs yields high returns in terms of employee engagement and satisfaction.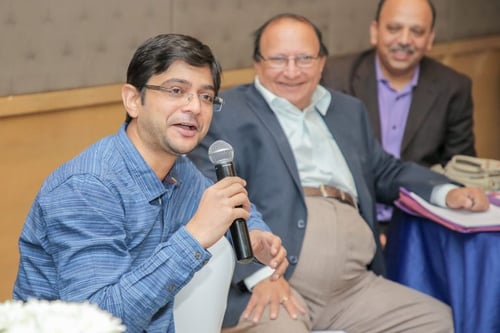 Continuing the structural transformation that HR has witnessed in talent management, our co-founder, Chaitanya Peddi has also shared his insights on the technological transformation that he has experienced at multiple enterprise clients of Darwinbox.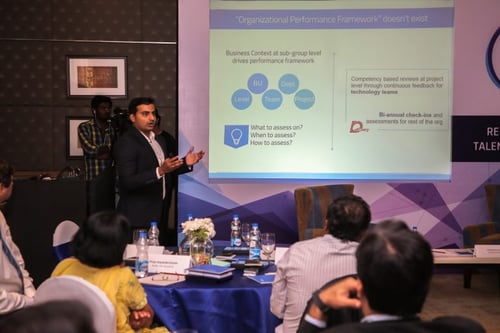 He emphasized how in many organizations, company performance framework has become obsolete and personalization has taken over at various levels of BU, department, etc. An example from our client Paytm where they deployed different assessment framework for the HiPo Talent and Sr. Leadership from the rest of the organization highlighted this very point. Leadership levels at Paytm are assessed only on their values. They are given a high level of ownership and authority in this regard which has, in turn, led to a more proactive and engaged workforce!
When we talk of evolution and revolution, it just cannot conclude without getting into a discussion with one of the biggest business visionaries of our times, Mr Mohandas Pai. Therefore, next and the final element of the session was the much-awaited fireside chat with Mr Mohandas Pai, hosted by our co-founder; Chaitanya Peddi.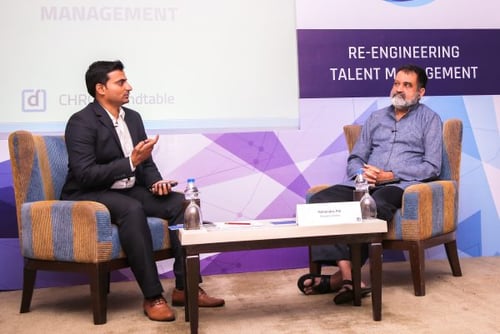 Mr Pai delivered some high impact learnings and graciously answered some intriguing questions during the session or thereafter. He emphasised the need to understand and brace ourselves for the fact that we live in the age of intelligent machines and how no aspect of business can remain untouched by this! When it comes to HR, it is the coming together of HR and technology that is going to drive this whole transformation.
Talking about the trends in business, he elaborated on how tables have turned for HR professionals across industries. HR function has or at least aspires to have a seat at the table today and is more concerned about achieving measurable business goals. They closely work with other CXOs to reconstruct the organization to fit into today's context and drive maximum value.
He ended on a final note quoting "HR must remember that HR cannot do it alone.The key to success lies in the collaboration between HR, business elements and the technology ecosystem to deliver business impact"
Well, we couldn't agree more Mr Pai! And this is exactly why we believe thought leaders, who are both; the shapers and facilitators of tomorrow, must gather in meetings like these to look back on learnings, think radical, and pave the way ahead for all!
Team Darwinbox looks forward to hosting more such gatherings and connecting with leaders of HR!