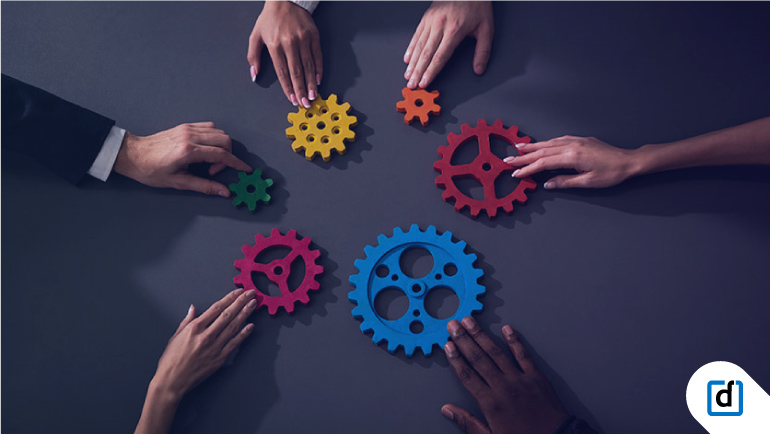 In this digital day and age, technology systems are no longer standalone tools designed to carry out a specific task. Each piece of tech needs to seamlessly integrate within the technological ecosystem of the organisation for you to be able to derive its true power and harness it to achieve your organisation's goals.
While an HR Digital Transformation ultimately leads to an evolution of the way your organisation and people work, the CIO and IT team have the uncanny ability to see transformation projects through a technical lens as well as a business lens.
If you're reading this blog, you've probably already set into motion your organisation's HR digital transformation journey. But the key to a smooth and successful transformation is acknowledging the role the CIO and IT teams play in streamlining processes and ensuring their involvement from Day 0.
We at Darwinbox have successfully implemented our HCM platform for 400+ enterprises globally, and have collated some of the best practices we've seen with respect to the HR IT strategy when undergoing an org-wide HR digital transformation:
IT Involvement in the Evaluation Process:
While HR teams can identify the key features, policies, and configurations that are needed, involving the CIO and IT teams in your HR Tech evaluation process will ensure org-wide policies around things like security and privacy are also accounted for. It will also give them the much-needed context they need when the implementation processes begin, so they can ensure the new platform seamlessly integrates into your current IT landscape.
Joint Implementation Kick-Off:
Assembling a cross-functional team with HR and IT, for the implementation kick-off can provide with the knowledge about business requirements, system limitations, process improvements, and operational needs that will ultimately impact the success of your HRMS software solution. It also ensures the key responsibilities are clearly outlined and any misalignments are swiftly identified and addressed.
IT Process Mapping & Drafting the To-Be Systems Landscape:
Be it a reporting tool or a learning management system, you might already have a few systems either built on top or are peripheral systems that are communicating with your current HRMS. It is therefore crucial that the IT team clearly outline the existing system landscape so that accurate process mapping can be done.
This process mapping exercise will help you identify what systems will be partially shut down, in case some of their functionality will come into your new HRMS system, and what systems will be fully shut down, as all their functionality will be subsumed into the new HRMS. IT can also evaluate the actual cost savings of sunsetting the existing systems at this stage.
The main output from this process mapping exercise will be your to-be HR IT systems landscape. And will serve as the base when proceeding with your HRMS implementation.
Here's an example of an As-is HR system landscape:
And here's how the To-Be landscape changed after process mapping for the new Darwinbox HRMS system:
Identifying Key Integration Touch-Points:
Once the to-be HR systems landscape has been created, the next step is identifying the key integration touchpoints to ensure the data from various old, disjointed systems are accurately flowing into the new HRMS system and what integrations need to be built in order to achieve this.
Based on these integration requirements, it is important to coordinate with the HR process mapping exercise that would be going on in parallel, so any required data points are identified and configured, ensuring that the HR and IT systems talk to each other seamlessly.
Exit strategy for systems that are being replaced:
As the integrations are getting built, and the UAT is underway, an exit strategy needs to be devised so that the sunset date for redundant systems and go-live dates are in sync. Except in case of critical systems that cannot run simultaneously, what we recommend is to have at least a couple of weeks where the two systems (old and new) are parallelly running, where back-up mechanisms are in place in case of any glitches in the new system's data feed.
Ensuring Org-wide Access to the new HRMS:
Apart from the implementation process itself, the IT team will also work on aspects such as access, so as to ensure employees can access the new HRMS system. These conversations will include things such as single-sign-on configurations, MDM policy compliances, integrations/linking with existing intranet portals, and how the HRMS will be accessed from both web and mobile devices.
Changes to Network & Firewall Configurations:
Certain organisations, especially banks, will have certain restrictions with respect to the networks and domains that can be accessed by employees in different locations. These network restrictions and policies will need to be discussed with your new HR tech partner, so as to find the most suitable solutions to ensure the new HRMS is fully accessible by employees and all communications to and from the HRMS are executed seamlessly.
Network Speed, Bandwidth and Browser Compatibility Recommendations:
An often overlooked aspect that can cause problems post-go-live is the minimum network speed and browser configuration requirements. Especially for organisations with offices in remote areas where the network speeds can be low, it is important to ensure that the new HRMS can still be accessed by employees. Data points such as these are usually not readily available and such compatibility issues should be identified well in advance to avoid any future road-blocks.
Compliance and Privacy:
Last and most importantly, your IT teams will help you seek necessary compliance norms, requirements and documentation that you can seek from your vendor up front. Additionally, and validations of the system can be done internally by the IT team through a thorough QA process.
By keeping these IT strategy best practices in mind, your team can now be equipped to implement a fail-proof HR digital transformation. For more on how to go about a remote HR digital Transformation here's the ultimate guide book for you.