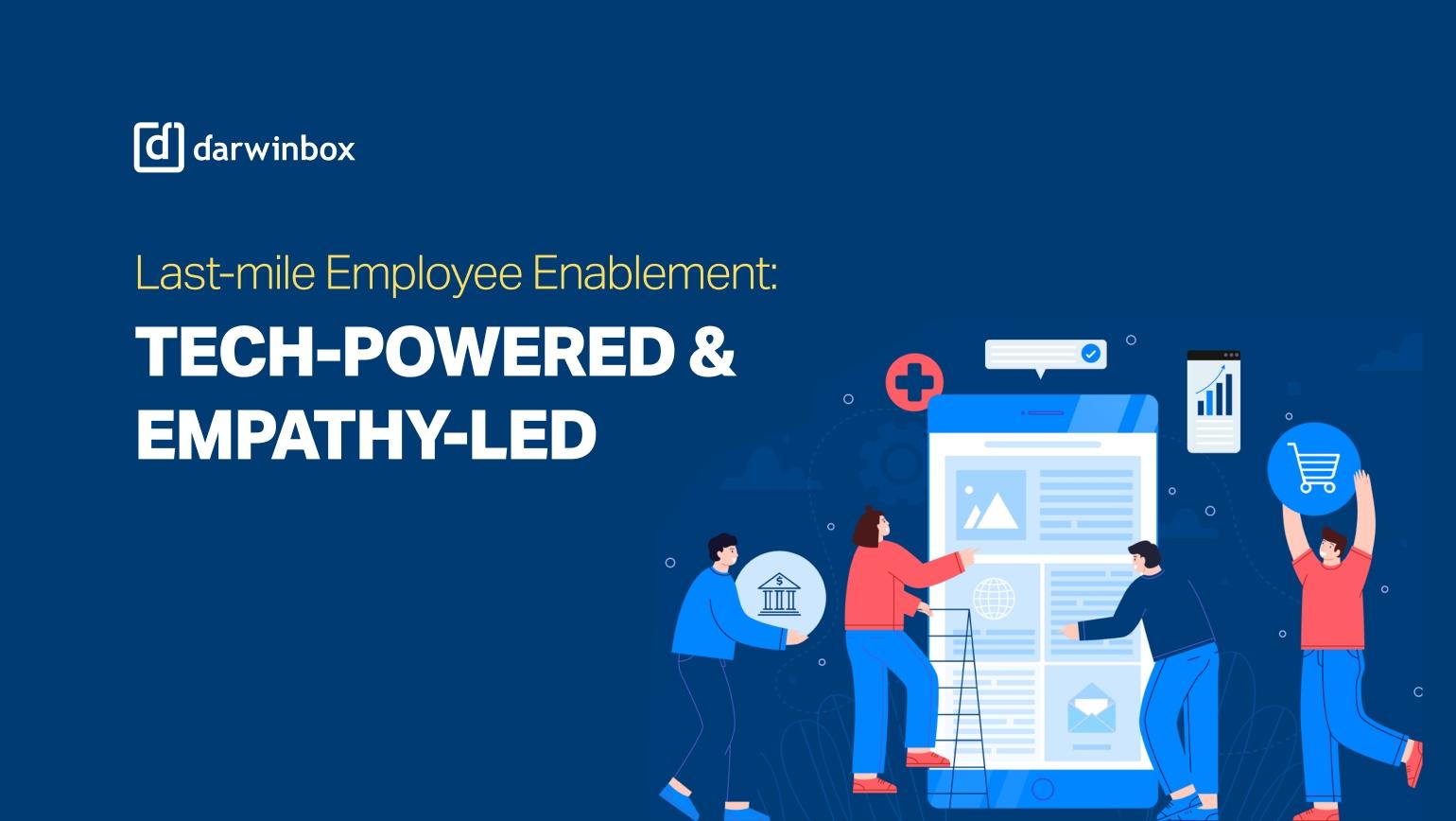 In this article, we will delve into the importance of digital HR, people analytics, total rewards, employee experience, and cognitive talent mapping and how they can be leveraged to build robust last-mile employee enablement strategies that can drive engagement, productivity, and loyalty.
"An employee with a supportive manager, access to the right tools, and freedom to share their honest feedback will have a high sense of belonging to the organization."

– Ben Eubanks, HR Analyst, Author, and Podcaster
Are you ready to

r

eimagine

the way you approach HR?
The HR function has assumed increasing importance in the modern business environment, which is fast-paced and continually changing. The administrative parts of managing employees are no longer the only thing that HR professionals are required to do. They must develop and put into action solid HR strategies that can support last-mile employee enablement and foster a more devoted, productive, and engaged staff.
71% of firms prioritize people analytics, according to a Deloitte survey. Additionally, 56% of HR professionals are investing in learning and development initiatives, while 69% are increasing their investments in employee experience. Digital HR is becoming a requirement rather than a choice. In particular, in remote or hybrid work contexts, a mobile-first digital HR approach can help establish a straightforward, intuitive, insightful, and manageable HR experience for employees.
On the other side, people analytics can assist HR professionals in making data-driven decisions to enhance the employee experience, lower attrition, and promote business results. For instance, a Gallup survey revealed that businesses with engaged employees beat their rivals in terms of earnings per share by 147%.
Employee retention and satisfaction are significantly impacted by total rewards, which include pay, perks, and recognition. In fact, 82% of workers claim that if their employers offered a full range of perks, they would be more devoted to them. Finally, the ability to predict employees' long-term career trajectories and find the right talent for the relevant roles can help organizations manage talent more effectively.
To elaborate on these ideas and get varied viewpoints, we recently conducted the Leaders' League Session at NexTech India HR Summit 2023, where we discussed themes like Digital HR, People Analytics, Total Rewards, Talent Mapping, and Employee Experiencer! With HR stalwarts across industries like manufacturing, BFSI, and retail participating, we saw a plethora of revolutionary insights and thought-provoking discussions.
Let's dive into the insightful discussions that took form and the key takeaways:
1. Digital HR: An Agile People Strategy
As businesses continue to adapt to the digital age, HR departments are also evolving to meet the needs of an increasingly mobile workforce. The key to success is a mobile-first digital HR strategy that is simple, intuitive, and insightful. However, the challenge lies in making digital HR easy to manage while still meeting the needs of employees and the organization as a whole.
One potential roadblock to creating a simpler and more insightful digital HR experience is the HR department itself. In some cases, HR professionals may be resistant to change or hesitant to adopt new technologies. However, as the expectations from HR continue to change on a day-to-day basis, it is becoming clear that organizations need a simple-to-use and intuitive HRMS that can be easily accessed on mobile devices.
To meet these changing expectations, HR departments must embrace digital transformation and take a more agile approach to people management. By adopting a mobile-first digital HR strategy, organizations can provide employees with easy access to HR services, streamline HR processes, and make data-driven decisions to improve the employee experience.
2. People Analytics: From Complexity to Clarity
As the role of HR continues to evolve, so does the need for data-driven insights to inform decision-making. People analytics is the key to achieving these desired outcomes. However, many HR professionals struggle with how to collect and analyze data from various sources to gain actionable insights.
One solution is augmented analytics, which does the pre-work of binding data and giving insights, but still requires the human layer of empathy to improve the employee experience. HR professionals must learn how to ask the right questions and use the right data points to gain meaningful insights that can drive positive outcomes.
By leveraging people analytics, organizations can gain a better understanding of employee behavior, identify patterns and trends, and make data-driven decisions to improve the employee experience. This data can be used to inform talent management strategies, improve employee engagement, and drive business outcomes.
3.
Getting Total Rewards Right
With
Digitization 
A Total Rewards strategy plays a critical role in attracting and retaining talent in today's competitive job market. However, with the changing workforce and evolving business landscape, it can be challenging to navigate compensation revisions and ensure that the rewards strategy caters to the diverse workforce.
One solution is to leverage technology to segment the total rewards strategy. By using data and analytics, HR professionals can gain insights into employee preferences and tailor rewards packages to meet their individual needs. This not only improves the employee experience but also helps organizations attract and retain top talent. HR professionals need to listen to employees a lot more closely to know what their preferences are when it comes to total rewards.
It is also important to ensure that the rewards strategy is fair and equitable. HR professionals must consider factors such as pay equity and diversity and inclusion when designing the rewards strategy. As we approach the 2023 compensation cycle, it is essential to keep these factors in mind and use technology to simplify the process. Technology can help streamline compensation revisions, automate processes, and provide real-time insights into employee preferences.
4. Cognitive Talent Mapping to Achieve Business Outcomes 
We also delved into the concept of cognitive talent mapping to achieve business outcomes. Cognitive talent mapping is a powerful tool for organizations looking to achieve their business outcomes. By leveraging technology, HR professionals can gain insights into the performance data of their leaders and predict the long-term career trajectory of new hires.
Success profiling for leaders is an essential component of talent management. However, it can be challenging to identify the characteristics that make a leader successful. By using technology to analyze past performance data, HR professionals can gain insights into the skills and behaviors that lead to success. This information can be used to create success profiles for leaders, which can be used to guide leadership development programs and succession planning.
Predicting the long-term career trajectory of new hires is another area where technology can be leveraged. By using data and analytics, HR professionals can gain insights into the skills and experiences that lead to career advancement. This information can be used to create development plans for new hires, ensuring that they have the skills and experiences needed to succeed in their roles and advance in their careers.
Finally, technology can help organizations compose an inventory of skills based on the qualifications of the employees. By analyzing the skills and experiences of their workforce, HR professionals can identify areas of strength and weakness. This information can be used to develop training and development programs that build on existing skills and develop new ones, ensuring that the organization has the talent it needs to achieve its business outcomes.
5. The Art and Science of Exceptional Employee Experience (EX) 
Finally, we discussed the art and science of exceptional Employee Experience. The importance of employee experience (EX) cannot be overstated, especially when it comes to personalization. HR professionals need to focus on personalizing EX based on different parameters to ensure that employees have a positive experience at work. They can start by identifying the outcomes they want to achieve. For instance, if an organization wants to increase employee engagement, it needs to identify the EX-elements that drive engagement and prioritize them. This could include providing opportunities for career development or recognizing employee achievements. Once the desired outcomes are identified, HR professionals can develop an EX-strategy that prioritizes the most important elements. 
Breaking down EX-journeys into micro-moments is another way to improve EX. By analyzing the different touchpoints employees have with the organization, HR professionals can identify opportunities to improve the employee experience. For example, if employees find the onboarding process challenging, HR professionals can identify specific micro-moments within the onboarding process where improvements can be made. Embedding design principles into these micro-moments can help ensure that employees have a positive experience at each touchpoint.
"Sharing your goal and vision clearly with employees so that they know why they are doing what they are doing is the best way to create a delightful employee experience for your people."

-Venkatesh Naidu, CEO, Bajaj Capital
Interested in exploring further? Find out how Darwinbox can help you build a robust last-mile employee enablement strategy; book a demo today!