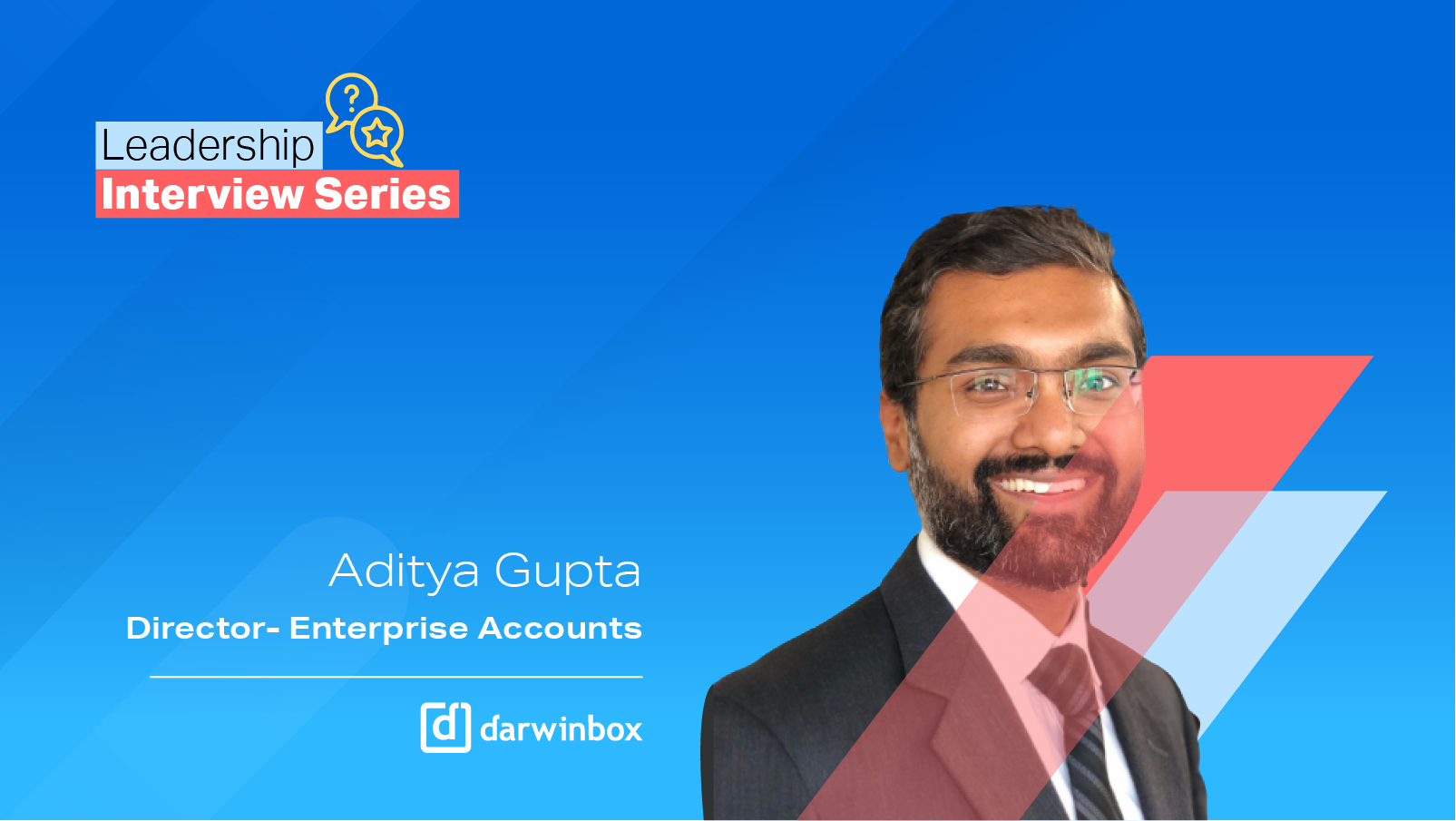 Aditya has over a decade of experience across HR consulting and HR CoE roles, partnering with clients to shape their human capital strategy. His focus has always been on scaling companies and taking them to the next level of growth.
An alumnus of XLRI, Jamshedpur, and the University of Illinois Urbana-Champaign, he has assisted senior leadership in resolving concerns around business model validation, organizational transformation, organizational design and effectiveness, work measurement, strategic work measurement, leadership development, talent Management and change management.
He is a travel enthusiast and explorer of cuisines. He is constantly exploring new things and pushing his boundaries through activities such as scuba diving and running. Family time for him is a time for relaxation and intimate conversations or play-time. In this brief chat, we hear about his ambition and vision for Darwinbox and his views on driving customer success.
Please tell us about your role at Darwinbox
I have the privilege of leading customer success and value realization for our clients in Southeast Asia (SEA). My primary role is to enable our customers across SEA execute their digital HR transformation journey, and ensuring that their people experience vision turns into reality.
Our primary markets are Singapore, Indonesia, Philippines, Malaysia, and Thailand, with my core focus being on ensuring the success of our customers, building long-lasting relationships, and ensuring sustainability of outcomes.
What is your personal ambition or dream for Darwinbox?
My aim is to, in some small way, help unlock the potential of the workforce in Asia, ensuring that we are solving the issues that are unique to the region and the countries we operate in.
We want to be focused on ensuring that we can provide a potent combination of cutting-edge technology, deep understanding of local context and nuances, and a commitment to continuous innovation to our customers. We pay special attention to specific cultural and regulatory norms of each country and ensure that HR solutions are tailored to enable the growth of these organizations in the specific market, as well as globally.
We are proud to be the youngest and, also, the only Asian player on the Gartner Magic Quadrant, and we want to work towards being the platform of choice for people leaders who want to be known for creating unique workplace experiences for their employees.
If we can help employees bring their best selves to work every day – I think we will collectively progress towards a better world 😊
Please share some of the learnings you have had that are helping you with your current role in the region?
I have been fortunate to have worked with some great leaders and clients across multiple countries in my career so far. I think the key learning for me has been that we need to be alert and proactive about changes around us, and the best solutions are designed from a place of deep empathy for the end user.
Solutions must be designed with a deep understanding of the needs and challenges facing the employees and not just what leaders want. I have seen that this understanding, combined with cutting-edge technology and data-driven insights, help organizations create truly transformative workplace practices that improve the employee experience and also drive business success.
A few other important takeaways for me have been:
Culture comes first

: It is crucial to consider the cultural context and norms of the organization, and to ensure that HR solutions are tailored to meet the specific needs of the employees of that company. "Best practices" can only take you so far, there are always better practices.
Align to business outcomes: The most successful HR initiatives are those that are closely aligned to business priorities and are built through collaboration between business leaders, HR leaders, line managers, and employees. Ensure complete clarity on value drivers and the program north star that you will track from the start of an HR transformation program.
Be sure to focus on the employee: Ensuring that we take the time to listen to employees and understand their perspectives, as well as being attuned to the context and norms is key to building great solutions. Don't solve for the leadership, or the HR or IT teams, solve for the employee and everything else will fall into place.

Implementation is just the start: A lot of organizations think implementation is the war, but its just the first battle. The best platform is only as good as its adoption. If there is no reliable data, we can kiss data-driven insights, and AI/ML, and all that fancy stuff goodbye.
Continuous innovation is indispensable: The HR landscape and technology is constantly evolving, and leaders must continuously innovate and improve proactively to have truly great workplaces for their colleagues. Data across the lifecycle is more insightful than point in time measurements.
Technology is but an enabler: The best technology in the world will not give you any outcomes if there is a lack of true leadership intent and sponsorship, and a willingness to let go of past baggage. Remember, focus on the value definition and your north star.



Is there an idea or an organization that you're highly inspired by?
One idea that has been a constant truth for me is that every country is unique. Each context is unique, and we need to truly understand each one to be able to even attempt to solve for them. A best practice is not always the "best" answer for everyone.
The second primary idea and inspiration has been focused on the employee. I often see solutions and outcomes being built for leaders, CXOs, Boards etc. but the best outcomes are always when the employee is put front and centre.
It is essential that we put employees first rather than business interests first. Even as I say this, I know a lot of businesses and leaders will shake their heads in disbelief. But really think about it: the moment you put employees first, your business will automatically be taken care of, and it will go from being just a P&L to a true legacy. I got the opportunity to see this at Tata Group, India's largest conglomerate, from close quarters. Their business and people practices ensure that the employee is put front and centre and the results and outcomes are there for everyone to see. They don't plan for a quarter, they build and plan for generations.
How do you manage all your teams across countries and what is your leadership style?
I think it has been one of my most rewarding experiences and a privilege of my role to build and grow a team across the region, scaling the team from 3 colleagues to over 120. Managing teams across countries can be challenging, but with the right approach it can be incredibly enriching as well. For me it is foundational that communication be borderless and level-less. I like to place a strong emphasis on flexibility, trust, and asynchronous ways of working. It is essential to provide team members with the flexibility to work in a way that suits them best while always driving accountability of deadlines and goals.
I try to build a culture of honest, transparent, and clear communication. Team members are encouraged to take ownership of their work and empowered to take calls if it keeps the client front and center. I believe that this builds trust and responsibility among team members.
In the hybrid world today, I recognize the importance of asynchronous work, especially when working with team members across multiple time zones. This allows the team to work at their own pace and to collaborate effectively, even when they are not working in the same place or time.
The TL;DR version is team members should feel valued and motivated. To this end, I try to create an environment where we all are encouraged to evolve every day and do something better than yesterday. When failures are not punished, when learning is rewarded, then we are able to create workplaces where colleagues feel empowered to take the right calls, express their opinions, and most importantly take pride in what they are building.
What energizes you?
I draw my energy from my family and my time with them.
Another thing that really energizes me is the opportunity to make a positive impact on people's lives. Whether it is helping companies to unlock the potential of their workforce or supporting individuals to reach their full potential. I am driven by the desire to make a difference and the opportunity to work with talented people who share this vision.
Do you have a favorite book or movie that you would like to recommend?
The Shawshank Redemption. And the line that I love is the one about: 'There is power in hope'. I remember that; that's important to me because hope lets us live another day.
The books that I would recommend are The Power of Habit and Nudge to make small shifts in our lives, because life is all about the baby steps in the right direction.
Through the pandemic, is there anything that you've realized about yourself or the world, or anything that you'd like to share that has changed in your life?
Two things:
One is the fact that it's possible to make decisions and drive outcomes on video calls!
Second, the importance of the office water cooler, so to speak, and our ability to connect with our colleagues is super important.
On a personal front, the pandemic has taught me how important it is to be my authentic self, to do the things I want to do and not necessarily the things that I have to do.
If not this career and if not Darwinbox, what would you like to do or be?
I would be a chef who owned a coffee shop on a beach.
We concluded the interview by asking him about his motto in life—
Professionally, three things are essential to me. Integrity, quality of work, commitment. And if these three are met, then I'm good.