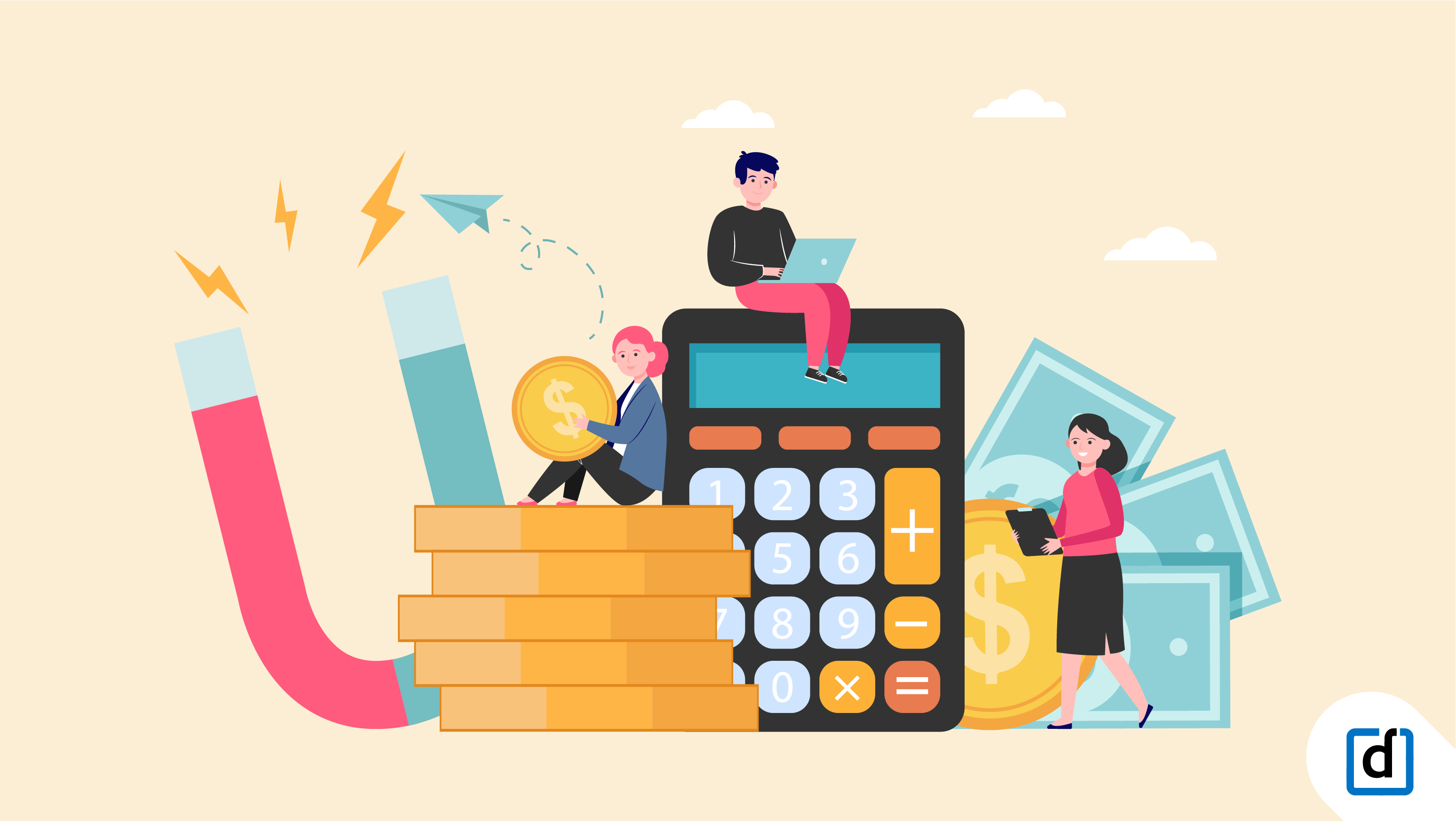 Payroll outsourcing, what is it? What are its benefits and drawbacks? Read on to get an understanding of how to choose the right vendor.
Did you know that 38% of companies outsource their payroll function?
While numerous tools and software are available to make life easier, business is becoming increasingly complex. This aspect indicates that you want to focus on increasing your market share and remaining competitive.
However, numerous tasks require your attention and monitoring. Some of them even need to be carried out regularly. This point is where services, such as payroll outsourcing, come into the scene.
More and more companies are outsourcing payroll and finding it much more beneficial. So, let someone else handle menial, repetitive tasks instead of you using up your valuable time to execute them.
What is Payroll Outsourcing?
Payroll outsourcing is the process of using a service provider to take care of the administrative and compliance functions to ensure that employees receive their compensation in a timely and efficient manner.
Advantages of Payroll Outsourcing
It saves time.
Outsourcing your payroll reduces the risk of breaching compliance.
You receive accurate and timely reports.
Local service providers are well-versed with regulations and laws.
Outsourcing frees up resources that you can make better use of elsewhere.
You can access the latest tech and tools with minimal capital investment.
Outsourcing has the potential to reduce costs.
Payroll service providers offer specialized services. Thus, you can expect better data security.
As with anything, there are always two sides to a coin. Here are some of the potential disadvantages, especially if you aren't working with a top-notch service provider:
Disadvantages of Payroll Outsourcing
There is a loss of control.
It may involve potential hidden costs (usually not an issue when the vendors are transparent).
Outsourcing with an unsuitable service provider may compromise company identity.
There is a potential risk to employee and company data (again, this will not be a concern if your provider has a trusted name).
Why Outsource Payroll?
The next question we need to answer is:
Why should we outsource payroll?
Small and medium businesses may find hiring and retaining competent accounting professionals difficult. There is also a definite requirement to have adequately trained HR professionals to ensure that payroll functions go smoothly.
Of the companies that use payroll outsourcing services, 15% of them have less than 2500 employees.
Many companies suffer massive costs in these departments and end-up employing specialists whose services aren't cheap. Another factor is that the tools required to manage payroll aren't inexpensive, and some of them need extensive training to use correctly.
Moreover, it is also easier to use the services of established professionals with a reliable system set up than having to use trial and error to find out the best way to do things.
Service providers are always up-to-date with the latest regulations and laws, making them more efficient in staying within compliance boundaries and avoiding potentially costly penalties.
When to Outsource Payroll?
The next big question that the HR department has to ask itself is, when does payroll outsourcing make the most sense for us?
As an HR professional, you need to consider a few essential factors before deciding whether or not to outsource your payroll function:
Are the number of employees high? Where are your HR resources tied up with payroll? Do these employees not have enough time to execute the other very important functions of HR?
If your company is in its growth phase, your current HR department probably doesn't have the capacity, resources, or tools to meet the requirements. If you are onboarding more employees, this may make sense for you.
Companies that work out of multiple locations have to deal with complex and sometimes opaque tax regimes and local regulations, which would be another scenario where payroll outsourcing makes sense.
Access to Required Talent
In this scenario, the HR talent or accounting specialists are unavailable. They might also come at a cost too high for an organization to bear. Payroll outsourcing is a good option in this case.
Suppose you have been facing errors within your existing payroll systems, such as failure to meet compliance requirements, inability to make payments on time, or other issues. In that case, you may consider seeking outside help.
These services are generally customized to meet the requirements of the organization. Good service providers also offer flexibility which means that they can make quick adjustments to meet their client's needs.
Here are some of the functions that be taken care of by the service provider if you decide to outsource payroll:
Maintaining payroll and carrying out employee compensation and withholding calculations
Transferring funds or issuing checks directly to employees
Calculating local and national taxes and ensuring prompt payments
Filing the required government reports
Disbursing employee benefits and bonuses
Handling employee pension contributions and other functions
How to Choose the Right Vendor?
If you have decided that payroll outsourcing is the way you want to go, the next big question is;
Who do I trust to ensure my employees receive their salaries on time and everything is taken care of?
This section will explain what you need to look for in a vendor and pick out the right vendor for yourself.
Don't take this decision too lightly. You must make sure you do the required research into the vendor and understand what they can provide and their limitations. Understand that you want a payroll outsourcing service that prides itself on how transparent they are.
Here are a few tips to help you choose the ideal vendor:
Make sure they are well-known
You must come across their name in some way, form, or manner. The context of your awareness may not relate to payroll. However, a name that sounds familiar is an important criterion. You don't want to be the testing grounds of an up-and-coming vendor.
Payroll is a crucial function, and you need peace of mind knowing that you have entrusted the right people with the job.
If you have no clue about these sorts of vendors, you may find that you have never heard of them. Find out who your competition uses and try and see if you can find out if they are happy.
Verify that they have the relevant experience
There are a lot of tool and software providers out there; the general expectation is that they also expand and add a new feature or tool to their repertoire.
Make sure they have tested their payroll outsourcing solution thoroughly. Better yet, go with someone who has the experience and the clients to have been able to work out all the bugs and have a reliable system in place.
Read their client testimonials
As it is with your customers, if a client is unhappy, they will make it known to as many people as possible. Read the client testimonials on the vendor's website and do some digging around to find if there are any negative reviews.
However, make sure that you don't read only the good reviews. If the reviews are all too good to be true, it might be a cause for concern.
A genuine client testimonial won't just say that their product is good; it will also talk about why they chose it, how it has benefited them, and why they will continue to use the product or service.
Payroll is a sensitive area. Take time to research as many vendors as possible before moving ahead with payroll outsourcing.
Their tools must integrate with yours seamlessly
There are numerous providers out there. Often, you end up using one of their tools, and it may not work well with your existing tools or may require an extensive upgrade to your infrastructure.
Make sure not to get into a situation where you have to replace all your existing tools with only tools from a particular provider. You end up investing a lot more than you need to.
The best payroll outsourcing service providers out there know the pain and effort it takes to integrate their tools with your existing tools and infrastructure. The great ones will go out of their way to ensure that you can easily integrate their product into your system and that you experience as little downtime as possible.
The quicker they can show you how great their system is, the happier you will be.
Look for accuracy in the providers' tools
Always ask the vendor for an in-depth demo. Ask them to show you the numbers that prove their system works. The best payroll outsourcing vendors rely on AI and machine learning algorithms to ensure that errors are minimal to non-existent.
This aspect is vital, whether it is making sure that your employees receive their bonuses, increments, and other benefits or that all payments and reports are submitted to the authorities and at the right time.
The last thing you want is a situation where you have to use more of your time and effort to make sure the vendor is doing their job right.
Ensure your data security
One of the biggest risks in payroll outsourcing is data loss and malicious use of data. Read your agreements and contracts carefully. If you don't want to accept a contract that states that the data garnered from your organization can be used for other purposes, you will always have a choice to do so.
One cannot state enough the importance of data security. Payroll functions deal with a vast amount of sensitive data related to both the employee and the organization.
You must have a clear picture of the security issues (if any) and opt for a demonstration of the safety features and security protocols. You should know what measures are in place, what technology is in use, and what fail-safe measures exist to ensure that you and your employees' data are safe.
The solution should be customizable
You may not require all the services that the payroll outsourcing vendor offers. You may require a few of their services and may be able to handle the rest yourself or have absolutely no need for them. Furthermore, you don't have to accept the entire suite just because they try to sell it to you.
The best vendors believe in customer success, which means they care about you. You may choose a service that works exactly the way you require it, has all the features, or only the features and services you need.
You must inquire ahead of time if you can request additional services later or stop using them when you no longer need them. The best payroll outsourcing service providers will always offer very customizable services.
See to it that you don't lose control
Earlier, we had said that control is one aspect that you may have to sacrifice with payroll outsourcing. However, this need not necessarily be the case. While the vendor will take care of everything (in most cases, AI and ML do that), they still need to hand over complete control of the system to you.
You must be in control of what happens and how it happens. You should also have the space to stop using the vendor's services when you no longer need them. However, you probably won't want to part with a vendor that proves useful.
You should experience minimal hassle
The entire point of partnering with a vendor is to relieve your HR department of one of its functions, redirecting its focus on other aspects. To successfully do this, you need to find a vendor that will do their job timely.
You can also use the other services offered by the vendor as and when you need them without it being a hassle.
Confirm that they provide service backup
Sometimes things go wrong, however minor they may be, but it should not disrupt your day-to-day activities. The best service providers go out of their way to ensure that everything is always working.
However, the knowledge that they are just a message or a call away if you need them is the assurance you need.
The service should be easy to use
Reliable payroll outsourcing service providers ensure that the HR departments of their clients are well-trained and know how to use the tools and services. You don't want to have your entire HR department train for two months to learn how to use one tool.
The service you use must be easy-to-use and be intuitive, and the information you need should be easily accessible. Having access to these functions and the payroll dashboard is a definite requirement in today's business world.
The services should be compliant
The payroll outsourcing service you use must demonstrate that they work well within the boundaries of your company's internal compliance requirements. They should also adhere to state and national compliance requirements.
This factor means following all labor and tax regulations and regularly updating the systems and tools to factor in any changes that have been made.
You should expect regular reports such as Statutory reports (TDS, ECIS, PF-ECR arrears) and so on.
The payroll service should offer actionable insights
This aspect is another critical factor. The payroll outsourcing service you choose should help your business become more efficient by offering actionable insights regularly. This strategy will allow you to make the required changes, remain competitive and continue growing.
Some actionable insights include:
Report generation
Customizable reports
Analytic reports
Conclusion
Take your time to research and vet payroll outsourcing vendors. After all, you should get value for the money you spend.
Make sure you don't rush. It is advisable to have a set of questions ready to ask them. You could use the information in this article to help you prepare those questions.