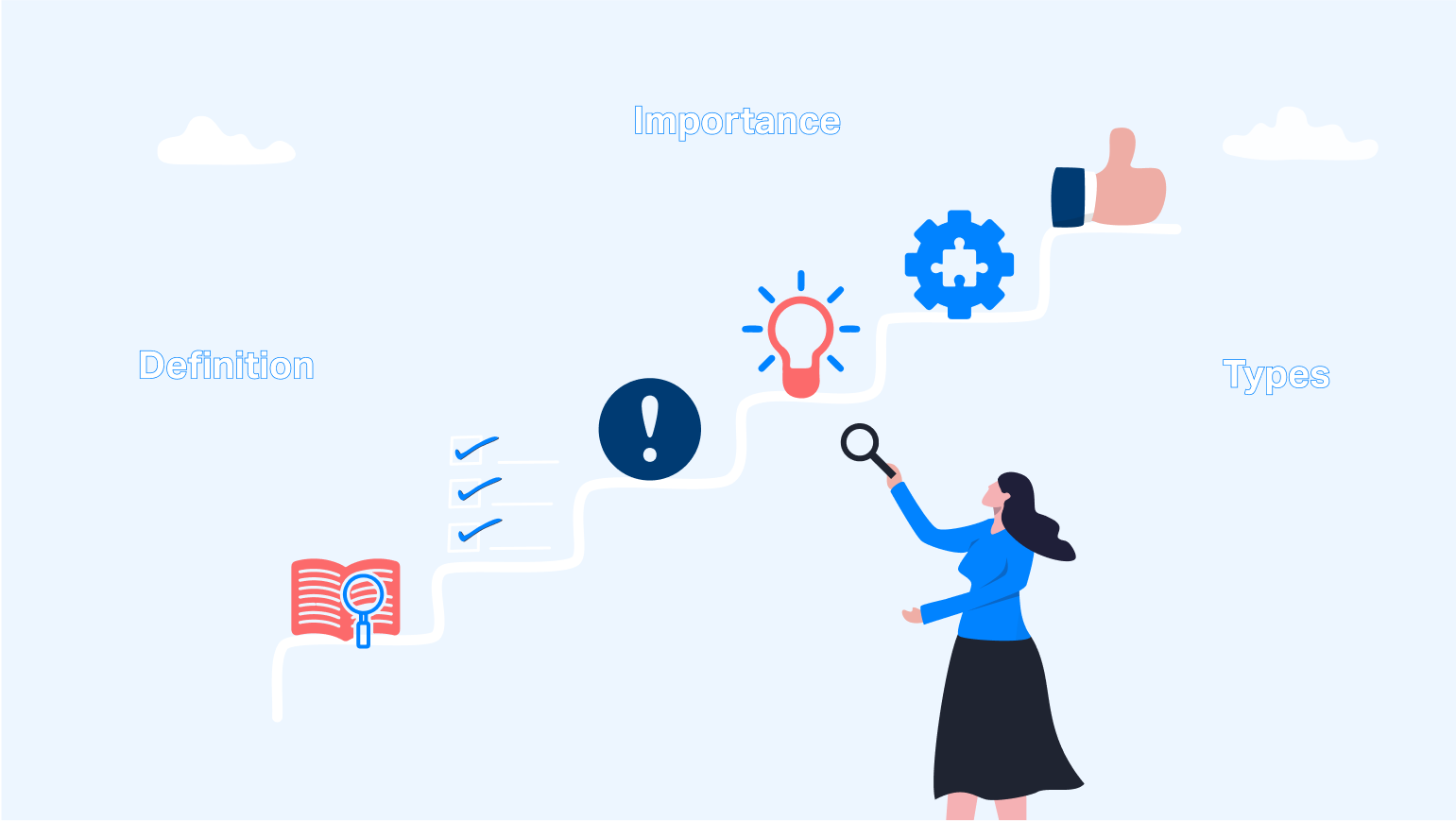 Performance management system in human resource management handles various important HR functions like goal setting, feedback, rewards, performance reviews, etc. Read on to learn about the importance, types, components, and examples of modern-day performance management systems.
Employee performance is critical to any company's success. But to enable that an employee performs to his/her potential, a company must ensure that it plays it part in providing employees with everything they need. Clear objectives and goals have to be established, the employee's tasks should be mapped to his/her skills, timely guidance and help in terms of learning and development resources must be provided, performance must be monitored regularly so underperformance issues can be identified and fixed.
Performance management systems are exceptionally useful to get all this done. HR managers can use a good performance management system to set clear performance expectations, define goals and objectives, provide timely feedback, and grant rewards based on those expectations. They can help monitor and manage performance, conduct appraisals and provide continuous feedback. Performance management systems have helped several organizations streamline and improve their performance management processes.
Table of Contents:
What is a Performance Management System?
A performance management system is a tool used by HR teams to measure and analyze employee performance. Organizations use this system to help their workforce enhance productivity by improving their performance over time. Performance management systems typically cover performance appraisals and employee development.
These systems measure employee performance and make sure it aligns with the organization's goals and vision. Performance management is critical to businesses as these tools are the best way to streamline the process and give fair and periodic appraisals to make it easier and straightforward.
What Is the Importance of a Performance Management System?
A good performance management system will help increase overall organizational performance by managing the performance of each individual to ensure that the organization's aspirations and targets are met. The system makes measuring your employees' growth, as well as their need for assistance, easier and faster.
The day-to-day HR processes are more consistent and structured when performance management tools are used. A performance management system:
Aids in efficient decision-making, particularly regarding decisions on promotions, salary, transfers, or layoffs.

Boosts employee performance by offering necessary guidance and action plans regularly.

Assists in developing better and more personalized training plans for employees basis performance review results.

Allows for faster course correction through frequent discussions of goals and priorities, the development of project plans, and the periodic assessment of progress.

Helps in developing a better retention strategy and plan for succession.
Ensures efficient communication and involvement of employees at all levels of the organization.

Promotes transparency among employees.

Enables setting smart goals that fulfil the employee's career aspirations, taps into his strengths, and meet the organization's goals.

Fosters a cordial and harmonious relationship between the employer and the employee.
Learn more: One-stop shop for your organization's performance management needs
Performance management systems have been around for a while now, and they eliminate traditional impediments to effective performance management, resulting in increased productivity, faster growth, and access to actionable insights.
Why do Organizations Need a Performance Management System?
Having a robust performance management system implies that an organization values its workforce and is ready to go above and beyond to help them improve their performance. Most companies today recognize the numerous advantages of having a performance management system and, as a result, invest in them to achieve their business objectives.
The most effective way to implement performance management is to build a system that gives HR as much relevant information as possible while not overloading them with unnecessary or redundant information. The need for a modern performance management system arises due to the immensely useful features it comes equipped with.
Let us look at some of the offerings and features of the modern performance management systems:
1. Powerful data & insights
Backed by data, today, employers can learn what motivates their people, identify potential hotspots, and provide excellent employee experiences with cutting-edge performance management tools.
2. Improvement in the frequency of feedback
With robust performance management systems, employers can ensure that the previously laborious and time-consuming feedback procedure can be automated, thereby improving the frequency of feedback that goes out in a given amount of time to go up.
3. Continuous and 360-degree feedback
Regular and ongoing feedback is now more critical than ever because 80% of Gen Y say they prefer on-the-spot recognition over formal reviews and 63% of Gen Z say they want to hear timely, constructive performance feedback throughout the year.
360° feedback guarantees that every employee is aware of their own strengths and flaws. Multiple raters, such as peers, supervisors, and external stakeholders, provide insight into parts of an individual's work that require professional development.
Learn More: The Ultimate Guide to Continuous Feedback
4. Fair performance appraisal process
Employees worldwide have long complained that their feedback is biased or unrelated to their work. However, when applied correctly, technology may reinforce a sense of fairness, eliminating any potential for manipulation in the performance appraisal process.
5. Easy tracking of employee performance
Performance management systems make it relatively straightforward to track employee performance. It enables the employees to view their current performance goals and their progress toward achieving them. This involves keeping track of specific project tasks. Managers compare employee performance to goals, and employees obtain a better understanding of where they stand.
6. Regular identification of training requirements
With the right performance management systems, organizations can build a culture of continuous development and accelerate career growth with actionable training plans that nurture and retain their best talent.
7. Automation of the performance review reporting
It is just as crucial to report on an employee's performance as it is to evaluate and measure it. Reporting performance review results back to individual managers and staff can raise the frequency and quality of performance feedback over time.
This reporting process can be automated to save money and time and generate smart analytics that can be used to calibrate ratings, build succession plans, allocate remuneration, and construct development plans.
What Are the Types of Performance Management Systems?
Long gone is the time when performance management systems were used only once a year for annual reviews. Organizations have become more dynamic in recent years, and as a result, goals change throughout the year emphasizing the need for a more open and comprehensive approach to reviewing.
Owing to how the workforce has changed in recent years, there is an urgent need for innovative approaches to employee performance management. Hence, many businesses have begun to adopt a new and innovative approach to performance management, which adds value and is more data-driven than intuition-based.
To ensure that performance management adds real value, organizations can implement a mix of traditional and modern performance management methods that have proven helpful.
Performance management systems are broadly used to measure organizational performance and individual employee performance
Let's take a closer look at the various types of performance management systems in detail:
1. Organizational performance management systems
Organizational performance management is done to align the company goals with the resources available at hand. It facilitates succession planning, tracking of progress made, and developing strategies for the future. This system focuses not only on individual employees but also on the organization's teams, programs, and processes.
a. Management by Objectives (MBO)
Management by Objectives is a way of establishing a clear set of objectives. This is done by the manager in partnership with each employee. The objectives are then addressed and re-examined at regular periods. The theory underlying MBO is that people are more motivated and productive when they clearly understand their roles and responsibilities towards achieving the organizational goals.
MBO is one of the most popular and widely used performance appraisal techniques. It aids the entire organization in having a common idea of what has to be done and how it should be done. This then becomes the cornerstone for a team that is always on the same page and strives for the same objective.
There are four main parts to this performance management system:
Goal Setting

Performance Standard

Comparison of goals

Periodic Review
b. Bell curve method
Bell curves are normal curves that are frequently used in financial and economic data analysis. They are a tool for measuring and appraising employee performance in the HR domain. The peak of the bell curve represents the mean, median, and mode of a collection of data. The Bell curve method of performance management is used especially if the top priority of an organization is to retain its top performers.
A bell curve performance appraisal system is typically used when a business wants to directly link an employee's performance to reward. Employees are classified in this method based on the ranking given to their performance. The bell curve, in general, is found to place employees at various levels of performance, as described below —
Top 20% – Top performers

Middle 70% – Average performers
Bottom 10% – Low performers
The performance management system appropriately categorizes the employees based on the performance metrics into these categories and rewards them accordingly.
c. The balanced scorecard
The balanced scorecard is majorly focused on the strategic initiatives of an organization that impact the overall performance, thus making it a strategic performance management system. All of the criteria on the balanced scorecard are viewed from a 'balanced' perspective. It depicts a balanced view of your organization or project in simple terms. It was rated as significantly or very useful by 73% of companies around the world that are currently using this method for performance management.
The balanced scorecard performance management system aims to improve organizational performance in four key areas: finance, customer, internal process, and learning and growth. Performance management systems can implement the balanced scorecard method by aligning all the above four key areas/perspectives by mapping them against the objectives and working upwards to achieve the maximum possible financial gain.
2. Individual performance management systems
Individual performance management systems ensure that the individual employee performance is aligned with the bigger organizational goal and strategy.
a. Behaviorally Anchored Rating Scales (BARS)
Behaviorally Anchored Rating Scales assess an employee's performance-related behavioral attributes. Additional statements follow each statement or question, describing the level to which the employee exhibits that particular behavior. One of its defining qualities is that it considers intangible traits of employees and maps them to a rating system. An efficient BARS evaluation system consists of the following elements:
Identifying critical incidents

: A group of behaviors or critical incidents that impact the job role are to be identified.

Creating and reallocating performance dimensions

: Various performance dimensions, such as behaviors that affect a specific aspect of an employee's role, are placed together. Those who create the surveys must also share their ideas. Finally, they must categorize these characteristics depending on what the majority believes best determines the specific areas of the job role.

Quantifiable scaling:

After that, it's time to determine how successful that behavior is and compare it to a scaling system.

The final BARS instrument:

The final BARS instrument compares the collected data to vertical scales. These can be used to compare areas where the employee has performed well and those where they need to improve.
b. The OKR method
This modern performance appraisal method has gained immense relevance in recent times. OKRs are best suited for strategy-driven organizations.
The OKR method (Objectives and Key Results Method) is a performance management tool that outlines, communicates, and measures goals within an organization, thereby allowing all the employees to work towards a common goal. However, different levels of the organization set different goals and track different metrics.
Learn More: Enable OKRs within hours and start driving results for your organization.
c. 360-degree appraisal
Another modern method of performance evaluation entails evaluating a person from every standpoint. It entails gathering input on a set of metrics from an employee's peers, subordinates, managers, and anyone with whom they may have professional interactions. It also necessitates the completion of self-evaluation by the employee. In other words, input from everyone with whom the employee is associated.
The report is then prepared using the respondents' average ratings, which may then be compared to the employee's self-evaluation. It's then used to build a strategy for them. Their performance is then evaluated on a regular basis. According to Forbes, 89% of HR executives feel that ongoing peer input and check-ins are critical to achieving desired results.
What Are the Components of an Efficient Performance Management System?
Performance management is a year-round cycle of defining goals, assessing, and rewarding results. There are five key components of a performance management system: planning, managing, developing, reviewing, and rewarding phases. Let's dive in and understand each one of them!
1. Planning
The foundation for an effective performance management process is planning. It entails the following:
Putting forth a plan for evaluation,

Establishing objectives and,

Taking part in activities that promote commitment
Planning is a continuous action in performance management that should be done with SMART goals in mind. It helps to promote dedication and understanding by tying employees' work to the organization's goals and objectives. This stage comprises sharing the vision and working together to make it a reality. When used effectively, plans created via performance management systems can be beneficial and handy documents that are discussed often and not merely paperwork filed in a drawer and seen only when ratings of record are required.
2. Managing
The next phase is action-oriented and focuses on attaining the wider business objective. This stage entails assessing and reviewing performance on a regular basis and providing continual feedback to employees as they work toward their individual goals.
It includes - maintaining a positive approach to work, requesting feedback from a supervisor, providing feedback to a supervisor, suggesting career development experiences, and collaborating between employees and supervisors to manage the performance management process.
In other words, it facilitates enhancing communication within an organization for employees to be aware of objectives and contribute to future development. Ongoing monitoring allows you to see how well your employees are meeting specified standards and make changes to any that are unreasonable or problematic. Unacceptable performance can be identified during this phase, and assistance can be provided to address such performance rather than waiting until the end of the period when summary rating levels are assigned.
3. Developing
After the employees' performance standards have been assessed, they can be trained to upskill and push for even greater results. This brings us to the next crucial component of the performance management system: Development.
Developing includes growing performance capacity through training, delivering tasks that introduce new skills or higher levels of responsibility, improving work processes, or other approaches. Providing training and development opportunities to employees fosters higher performance, enhances job-related skills and competencies, and aids employees in keeping up with workplace changes.
With the power of automation and smart analytics, performance management systems can easily track current performance and hence suggest when the employee will need training and in what form.
4. Reviewing/rating
It entails evaluating how far an employee has progressed toward their objectives. To keep the dialogue real-time, it's critical to keep the process of giving and receiving feedback easy and accessible.
Employers might use this phase to summarize employee performance regularly. This is useful for analyzing and comparing performance over time or between different personnel. Organizations, after all, need to know who their top performers are.
It's also critical to make the process of requesting and nudging for feedback simple and user-centric so that an employee becomes the process's owner. Technology has become the hot spot in an ever-changing landscape, and it can be used to enable employees to express feedback promptly and discreetly. When there is a reluctance to share critical input, people can do it safely and securely using highly configurable technologies.
5. Rewarding
The final component of the performance management system is intended to recognize all of the employees' efforts toward continual performance improvement. Rewards are more often than not tied to employee morale, and thus recognition must be made an ongoing, natural part of day-to-day experience.
When employees believe that their efforts are being recognized, they are more likely to work harder to achieve larger goals. As a result, effective businesses ensure that rewarding is a continuing process and performance management systems aid in this decision-making.
5 Examples of Performance Management Systems
Let's look at some examples of well-established companies and how they are using the modern performance management systems to ensure that their workforce is performing to the best of their abilities and assigned goals.
Even after decades of being in the market,

balanced scorecard

is considered one of the best strategic performance management methods. In a

survey conduct

ed by 2CG

, 75% use the Balanced Scorecard to influence business actions. Automotive companies like

Volkswagen, Ford Motor Company

, top banking firms such as

Wells Fargo, Citibank

, and Technology giants like

Apple

rely on the balanced scorecard to drive their strategic performance goals.

The

Management by Objectives

paradigm has become widely employed in the business sector due to the benefits it may give to firms in terms of operational effectiveness and improved relationships between diverse stakeholders.

Hewlett-Packard, Xerox

, and

Intel

are some of the most well-known examples.
Hewlett-Packard utilized MBO to build a system in which objectives were reviewed at each executive level, resulting in a system of linked goals. As part of its technique, the firm employed written plans to ensure that each employee understood the objectives and actions to attain them.

An estimated 75% to 80% of companies in India use the

bell curve

method for performance appraisal along with some other performance management system. Renowned Indian employers, including

Infosys, Wipro, ICICI Bank

, and

Aditya Birla Group,

evaluate numerous employees based on this system.




The bell curve method is here to stay until people invent a better system because it is more predictable and creates a balance of fairness between shareholders and employees.




Organizations that employ

OKR

have not only survived but thrived by focusing more on tasks and goals and moving their firm on a cohesive path, making them ideal examples to emulate.




Microsoft, LinkedIn, Google, Mozilla, Cure.fit, and other well-known companies use OKR for their performance management initiatives.

It's crucial to develop a mechanism to track your progress in addition to setting goals. Many of these businesses have also employed OKR software such as

D

arwinbox

.




The

360-degree appraisal

method of performance management is the most thorough appraisal, in which feedback on an employee's performance is gathered from all sources which come into contact with them at work. Some well-known firms that use 360-degree appraisal are

MARUTHI SUZUKI Motors and HCL

.
Further Reading
If you are looking for more information on performance management, here are three rich resources you can read:
Find out how Darwinbox can help you craft a high-performance culture where your workforce thrives with its powerful performance management system, book a demo today!