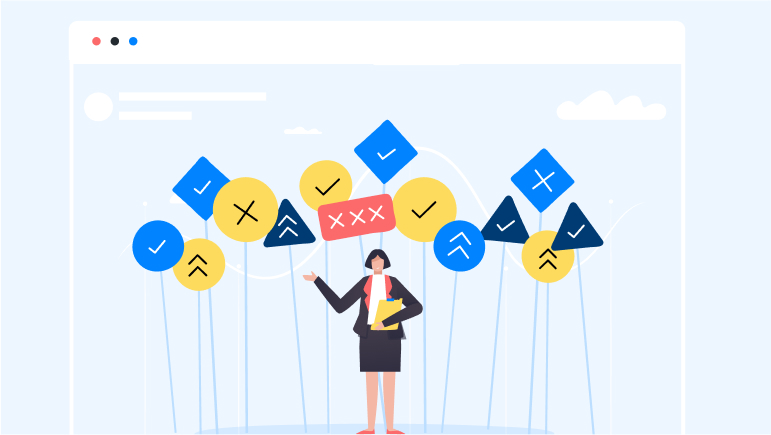 Have you wondered why performance management is so vital? What are the benefits and advantages of performance management? What are the plausible challenges and how can you prepare for them? Learn all about these fascinating questions in this article.
According to Tech Funnel, employees are 50% more likely to be engaged if they are rewarded for their efforts, and 68% of employees will put in more effort if they are recognized and acknowledged.
These numbers are compelling enough to urge organizations to find effective ways to reward their employees for improving their business outcomes. Performance management is a key tool that empowers people to do their best, while giving employers rich data, including individual performance levels, diagnosing workforce strengths and development needs, identifying the star performers, identifying talent potential, predicting attrition, etc. This data can in turn help them make informed decisions.
Businesses are increasingly recognizing that an effective performance management system delivers multiple benefits such as cost-saving and revenue generation while making employees more productive and engaged.
What Are the Benefits of Performance Management?
Although performance management is not mandated by law or any other governing bodies, we are witnessing an increase in adoption as more organizations are realizing the advantages of having a robust performance management system.
The 6 benefits of implementing a performance management system
1. Provides clarity
Performance management gives employees a clear understanding of their expectations, goals, and deliverables. It creates an amicable work environment as team leads and members are on the same page concerning deliverables and outcomes. Such work cultures, in turn, experience reduced conflict, increased efficiency, and enhanced performance quality.
2.
Enhances efficiency
Performance management tools help capture details about employees, including salaries, targets and goals, and performance. These data points enable organizations to consistently select the right employees for specific roles and promotions. They also help identify those who are not performing optimally, so that plans can be made for additional training or performance improvement plans (PIPs), etc.
3. Promotes job satisfaction
As employees gain clarity about their deliverables, and the expectations from them, it also creates opportunities for self-assessment, improved performance, and agency in defining one's career path. This autonomy empowers employees to take charge of their growth and professional development, which in turn promotes job satisfaction.
4.
Increases motivation
A performance management system identifies and showcases star performers in an organization. Such recognition helps develop a culture of excellence that motivates employees to produce their best work and put their skills to best use.
Organizations can choose to recognize and reward employees with monetary benefits, awards, or promotions. This drives home the message that the organization will reward good performance, and encourage others to strive for exceptional achievements.
5.
Enables objective decision-making
Humans often carry unconscious bias, which is hard to recognize and reduce. And while working with teams, there could be a natural tendency to favor a few. But a robust performance management system enables managers and leaders to make objective decisions while reducing biases, nepotism, favoritism, etc.
A performance management system can provide data based purely on merit and map them to expected targets and goals, thereby making the process transparent and objective. This in turn enables objective decision-making.
6. Helps plan for training needs
While all employees undergo a series of mandated training programs in every organization, some employees might need extra support or assistance in certain areas. Training sessions can be curated and tailor-made to match the needs of poor performers so that the organization can enable them to improve their output.
Based on this information, HR and learning and development (L&D) teams can effectively plan for the training needs of every individual and department. With well-thought-out performance management tools and processes, organizations can effectively manage and nurture their people. High performers can be recognized and rewarded while poor performers can be supported. This, in turn, can help organizations retain high potential employees and save costs by increasing retention rates.
Learn More: Accelerating Growth with Performance Management: Insights from Indonesia's Tokopedia
What Are the Challenges of Performance Management?
Though performance management is an essential part of people management and is widely implemented by most organizations, it is not without its challenges. Implementing a successful performance management system takes planning and seamless matching of the needs of the business to the tools available.
Following the COVID-19 pandemic-induced lockdowns, most organizations have now established hybrid work models, which include part or full work from home. This has also caused significant challenges while implementing performance management systems. With work from home and inability to meet employees in person, all of the following challenges become important and need to be addressed.
Here are 5 challenges faced when implementing a performance management system
1.
The absence of goal setting and defined milestones
It is imperative to break organizational goals down into specific milestones against decided timelines. Failing to define milestones and establish clear communication with employees can hamper performance. On the other hand, with hybrid work, when organizations define milestones and set smaller manageable goals, it helps employees take smaller steps to greater success and also helps managers effectively track progress.
2.
Using performance management solely as a measurement tool
Many leaders and managers mistake performance management as an exercise solely in success measurement, when it is actually about feedback and continuous improvement. The objective and focus of performance management should be as much on the progress and development of the employees as it is on measurement and evaluation.
3. Establishing trust
Most organizations do not take the time and effort to educate and get the buy-in of employees for their performance management system and process. This, in turn, promotes confusion and distrust. Most employees don't know how they are to be rated, and hence view the rating system with suspicion.
Educating the workforce and explaining the nuances of the performance management system in force, and being transparent can earn the trust and the support of employees, especially in hybrid work models.
4.
Untrained managers
Evaluating people is a complex task. Most managers loathe this process and aren't convinced they are proficient at it. A vital aspect of performance management is to coach managers on how to evaluate their teams. This would require training and supporting them when having difficult conversations, addressing performance issues, and solving team challenges. It also helps if organizations make these conversations more frequent versus the typical annual appraisal cycles.
5. It's an annual activity
A majority of organizations follow the traditional form of performance management that is conducted annually. This puts the focus on evaluation rather than development. Performance management is evolving and needs to be conducted at frequent intervals so companies can provide employees with timely feedback and development plans.
What Are the Advantages of Performance Management?
As we've seen, performance management is not something organizations can afford to ignore, and indeed it brings significant benefits if done well. There are therefore some tangible advantages that organizations can reap from performance management.
The 3 main advantages of performance management
1. Increase in employee engagement
An employee's productivity directly correlates to his or her engagement experience. Practices such as timely feedback, reviews, strength and weakness analysis, appraisal and rewards, all coupled with a transparent chain of communication at all levels of organizational hierarchy, help improve employee experience, and thereby increase the workforce's productivity.
Companies and organizations with greater-than-average levels of employee engagement reported 27% higher earnings and 38% higher productivity. A study by Western Michigan University found that internal feedback mechanisms helped increase employees' productivity by 5-20%. According to a report in Gallup Business Journal, the difference in productivity levels of highly engaged and disengaged employees is around 12.5%.
Performance management allows organizations to create highly productive and motivated employees by carefully cultivating the right people based on their strengths and enhancing their organizational experience.
2. Decrease in attrition rates
High employee turnover results in increased costs of hiring, lower productivity, and utilization of resources and time to train new people according to company objectives and standards of operation.
According to the latest stats from Achievers, 2020, around 26% of employees who feel inadequately recognized and undervalued are two times more likely to quit their jobs within a year. A survey published by Statista Research Department states global employee attrition increased from 8.3% in 2013 to 13.2% in 2019.
One of the reasons for increased attrition is the arrival of the millennial workforce that has significantly different motives and priorities than the previous generation of workers. A few common reasons employees choose to leave current organizations are lack of clarity in job roles, low engagement and appreciation, substandard technology or facilities, lack of growth opportunities, inadequate training and skill-building, and an undefined wage/appraisal system.
A high attrition rate suggests lower employee engagement and a mismatch between employee expectations and organizational goals. Performance management practices help organizations hire better-suited candidates, keeps them engaged and helps lower the attrition rate in the current workforce.
3. Reduction in the cost of hiring
Retaining new hires is another big concern for hiring managers. Nearly 46% of new hires fail and are let go from their jobs within 18 months of being hired. Of these, only 11% are for lack of skill, while 89% are for attitudinal reasons like lack of motivation and lack of coachability.
Even a single employee turnover and induction can cost twice as much as their current salary. There are many other costs to consider as well, including separation, exit interviews, and severance packages. Over and above this, there are costs associated with replacing an employee, including hiring a recruitment agency, advertising, screening and interviewing, and potential candidates' relocation costs.
According to the Center for American Progress research, the typical cost to replace an employee is 21% of their annual income. While the 21% mentioned in the research is more generic, Josh Bersin of Bersin by Deloitte gave another estimation, that of 1.5–2 times an individual's annual compensation.
Organizations can prevent such outlays by putting in place a comprehensive performance management system to keep employees motivated and provide the required coaching at the right time.
Learn More: Bisleri International embraces data-driven governance with Darwinbox
The Future of Performance Management
One way to reap all the benefits of performance management is to invest in a digital performance management system for employees that allow companies to manage, store, and access all performance reports, reviews and data on one platform. Organizations can completely automate and streamline their performance management and generate comprehensive results by using a digital platform like Darwinbox Performance Management.
Darwinbox gives you the power to personalize your performance management system so you can choose one or combine multiple frameworks. It enables you to provide engaging, continuous, and real-time feedback to enhance individual performance. It makes performance management an everyday process, and not a one-time event.
A robust performance management system such as Darwinbox helps actively engage your employees in their goal-setting processes and contribute to your company's overall vision.
Find out exactly how Darwinbox can help you create a robust performance management system, book a demo today!