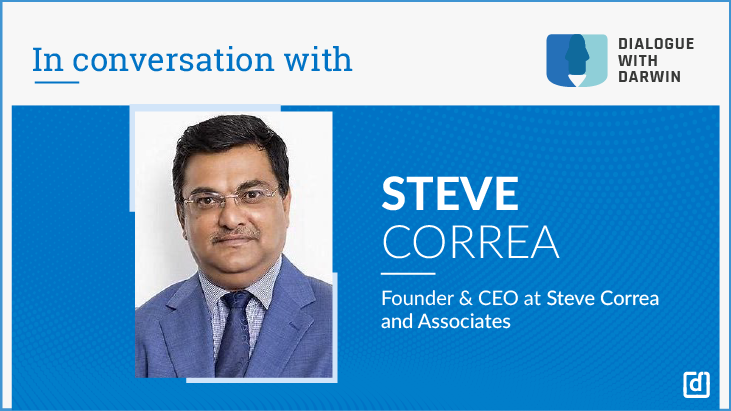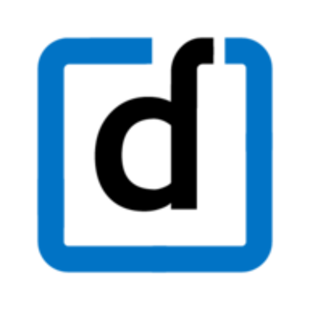 Darwinbox's flagship series of interview sessions with HR business leaders across industries. Dialogue With Darwin is a platform where we interact with some of the most respected thought leaders of the HR industry curate their learning, vision, and insight about some of the most widely discussed topics of this domain. And needless to say, it is always a pleasure to host some of the most renowned names of the HR industry for informative sessions with us with each and every new addition to the series!
For the latest episode, we are in conversation with Mr. Steve Correa - Founder, CEO at Steve Correa and Associates, Executive Coach, and HR Consultant. Mr. Correa is a person whose creative simplicity and work has been an object of admiration and inspiration for us as well as many others, who have been associated with him over the course of time through his executive coaching endeavors. He shared with us, his insightful perspective on executive coaching and how an organization can leverage its existing resources to build a high-performance culture.
Here is an account of the conversation:
1. In today's demanding business environment why is it important to invest in coaching? What is the role of the coach and what kind of expectations should one have from this exercise?
Let me start with first defining coaching. It is a reflective space, and the coach provides his/her presence as a container for what is moving within the client. The role of the Coach is to support the client in the process of meeting his objectives. His role is to help the client gain insight, commit to change and make the transformation effectively. Coaching may be done by Internal Leaders or by External Coaches, and especially for senior leaders who have experience, knowledge and subject matter expertise, the need to offer them added perspective to lead in these turbulent times is crucial.
I have been coached, coached others for over 5000 hours plus, and have sponsored Coaching. It works!
I have seen results in dramatic improvements in Leadership behavior and results from Value Survey Net Promoter Scores, 360 Feedback, and overall team climate. Not all interventions can be solved by Executive Coaching. Executive Coaching is not to be confused with internship (which allows for intensive hands-on practice), training (to acquire knowledge or skills), education programme (robust theory and frameworks and case studies), Leadership Programme, building capabilities (overall leadership skills in Business, Finance, Strategy and People Skills, Mentoring ( where experience is to be passed down) or counselling (mitigating blocks that prevent people from moving forward). They all have their purpose.
Executive Coaching works best at senior leadership levels: usually, all of these inputs have already been provided and Skills, Competencies, or Education is not an issue. At this level, Coaching offers the best response for an individual to lead from the top: demonstrating clarity, purpose, shared values and leading teams and managing context. Executive Coaching is helpful to support Personal and Organizational Transformation.
2. What importance does coaching play in enhancing the relevance and appeal of business leaders and what are some challenges? What is the role of external coaches in this aspect?
Like Golf Clubs – Coaching is one of the many skills a leader must possess.
All leaders must be able to have a rich repertoire of skills: be directive at times, create affiliation, support vision, set pace, adopt a democratic approach and also a coach-like style. These are part of the essential golf kit of a leader. However, external coaches, are experts and bring value in supporting senior leaders on their leadership journey. To summarize, the line manager needs to be a coach as one golf club in addition to many others. The external coach is the expert. This is analogous to, an MBBS, GP doctor versus the specialist doctor. While an internal line manager can coach, an expert preferably external should be brought in.
However, as a Coach there are some inherent challenges when leaders act as Coaches: they earn respect but not trust as they exercise judgment and are a part of the same family, even though they may be credible. Apart from that, they may not have the time. They would be more effective as a mentor. Although this may seem vested, an External Couch can add immense value: he has the experience, skills and can guarantee confidentiality.
3. How are leaders of today responding to the intervention of external coaches in their organizations? Does this indicate a shift in perspective from what it was in the past?
Leaders today are responding very well to being provided, external coaches. It signals that they are valued (a few years back would have been seen as 'something broken to be fixed'). They recognize that the organization is making a huge investment in them to go from 'Good to Great' and they know that this intervention is expensive, time-consuming and results take time.
One client said to me, "I think this intervention has been the best thing in my life, better than any outbound or vacation previous organization have offered me. This is like an investment in the bank and adding interest each day. I feel very valued". Someone even said, "The coach just showing up, being present and acknowledging me for my efforts encouraged me".
4. When is coaching most effective? What are the necessary elements for the coaching process to be effective?
External coaches should not be left by themselves to coach. The performance of the Coach, the eco-system interfaces, and boundaries need to be well managed for external coaching to succeed. One cannot abdicate or delegate the leadership journey to external coaches.
On techniques, there are over 100 models: but that's what it is – just a model. The purpose of Coaching is to work with the 'Whom'. The client is quite intelligent to figure out What and How with a bit of help. Executive Coaching must be focused at this level: to make the invisible, visible, the inarticulate, articulated, the disowned, owned, and the withheld acted. One can sit and guide (pardon the term) a horse with the reins, another by slight nudges, and a master coach and client should be able to work just by being together! No need for 'doing' – the client does all the work. It is the role of the coach to be a mirror, create conditions for the Employee to succeed.
5. How would you describe the ideology on which coaching works?
"Our histories cling to us. We are shaped by where we come from." Chimamanda Ngozi Adichie
Our thoughts, feelings, and actions spring from the map in our mind, patterned over many years. We respond to stimuli, with what has been learned in the past. This responding is from the unconscious, and we are not aware of why we behave the way we do.
Clearly, through coaching one realizes that the map 'inner reality' is not the territory, i.e: the outside reality. We often come to situations with a map, and while describing this, we believe we are describing reality, and wonder why other people do not see it this way too. Obviously, we tend to generalize, distort, or delete information and evidence that is not synced with our own inner reality.
"Coaching simply allows for more choices than what we think we have."
Having improved choices, we can deal more effectively with our own emotional and mental states. Choices give us flexibility, whether at the workplace or in relationships, else we may spin into a vortex of self-fulfilling prophecy.
As such, people are always making the best choices they have ( that is, the best available them). It is by improving choices, one ends up self-authoring oneself. Further people are not broken, they are perfect. What is broken is their strategy to manage situations: we need to review our ongoing strategy if we are to succeed. Failure is then a feedback mechanism, not a validation of one's unworthiness.
6. After having worked for organizations of varying scale for over 2 decades what was your calling to become a full-time executive coach?
Coaching has always been a personal passion and my experience with it has not been a recent one. I have always been inclined towards it and it has been a part of my repertoire even while in my corporate tenure. My passion for coaching stems out of my personal purpose to 'Follow my light, as I support others follow theirs'.
Through my second stint at coaching, I am more convinced than ever before: of the need to grow leaders of tomorrow! I want to now address an even wider audience, be it individuals or organizations that are grooming leaders for tomorrow.
7. If you had a chance, is there an event or action in your career path you'd have liked differently?
Nope. Each assignment was unique, awesome learning, and insightful. I am grateful to each. Some came to me by 'rowing on my oars', some by 'winds that blew on my sail'. Absolutely no regrets: I just feel privileged.
8. What are some of the best-recommended practices that you follow to maintain a healthy work-life balance?
Too much is said about work-life balance, there will be peak moments and slacker moments: make sure you find time for everything (Personal growth, family, personal finance, health spiritual, social) irrespective of what you do. Focus on the person you are with. Be in the 'here and now" and give your full attention to whatever you do.
My view of HR:
The HR function has gone through drastic changes in the last 10 years alone. HR over the years has changed itself from being just a simple "personnel" function to a strong business partner with the emergence of a slew of technologies. Now we need to prepare ourselves to be agile: Agile Strategy, Leaders, Individuals, Organisation, Technology and adopt agile Ways of Working. Today, we need to work with newer tools and technologies to face newer issues that emerge. We need to reinvent and prepare ourselves for newer times.
In one word can you answer these rapid-fire questions?