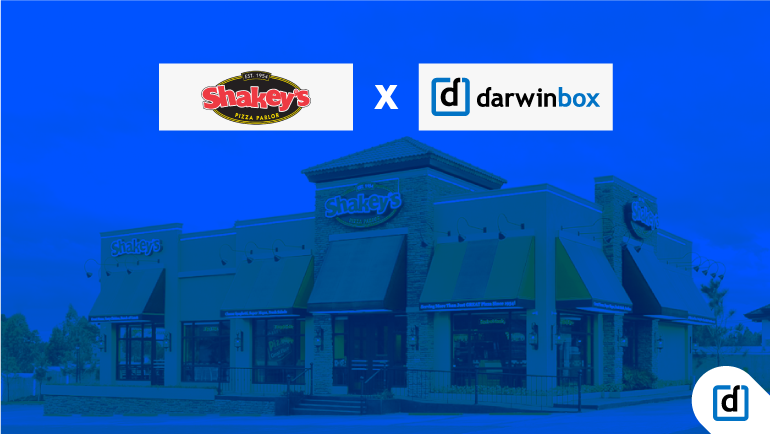 It is true that alone we can do so little, together we can do so much!
As a step towards investing in their people, one of the leading full-service restaurant chains in the Philippines, Shakey's PIZZA Asia Ventures, Inc. (PSE: PIZZA), collaborates with us to stay ahead of the curve when it comes to HR tech to bring in operational efficiency and improve business productivity. With an employee base of 1000+, Shakey's took the constructive decision to partner with an HR platform that would solve all its people's needs. Being the forward-thinking business that they are, they look at this partnership as a way of investing in their most important resource, their workforce.
PIZZA is ultimately a guest-centric business where people are front and center. When our people are well-cared for, it flows through to our guests. Guest-centricity begins at home, thus, investing in our people is a key pillar in delivering sustainable growth. Our partnership with Darwinbox is a validation to this commitment
- Vicente Gregorio, the President and Chief Executive Officer of PIZZA.
We are delighted to be partnering with an employee-centric business that not only wants to progress rapidly but also cares about its employees at the same time. This is a great opportunity to forge a long-lasting relationship of trust and build a work culture where employees are cared for. Shakey's PIZZA is certainly bringing in the right tech transformation to manage its entire employee life cycle from hire to retire.
"We are absolutely thrilled to be partnering with one of the leading restaurant brands in the Philippines. By providing PIZZA with a digital platform for all their HR needs, we are enabling an uninterrupted and frictionless experience for employees across its multiple stores, and for the company, it means improved efficiency and productivity," said Jayant Paleti, Co-founder of Darwinbox. "We have a lot to look forward to in the first phase of this partnership. With a one-stop-shop for feedback, advanced analytics, company-wide engagement surveys, amongst other things, Shakey's will find it easier to run smoother HR operations to yield momentous outcomes.", he added.
With 30 new stores already built in the year 2021, PIZZA is rapidly expanding its store networks. The HRMS implementation is going to be an important milestone and will only further accelerate their growth. With Darwinbox catering to all its employee needs, Shakey's has surely set itself on the path to transformation.
Apart from being the youngest and the only Asian player to feature on Gartner's Magic Quadrant for HCM suites for 1000+ Employee Enterprises, Darwinbox is backed by Salesforce Ventures, Sequoia India, Lightspeed India Partners, Endiya, and others. Today it serves over 600+ enterprises, 1.3 million employees across 90+ countries including JG Summit Group, Robinson's Bank, NutriAsia, Universal Robina, Delbros Group, Zalora, Straive, Aviva SingLife, Tokopedia, Zilingo, SBS Transit, MAP, Indorama, Kopi Kenangan, and global brands like Nivea, Tokio, and Axa. 
The agile and modern cloud HCM platform helps enterprises simplify and automate mundane HR processes, create superior employee experiences, deliver actionable insights to build better workplaces, and achieve their strategic HR goals faster and smarter. 
It was indeed a delight partnering with a business that cares immensely about its employee experience and we look forward to joining hands with more such dynamic and enterprising organizations.