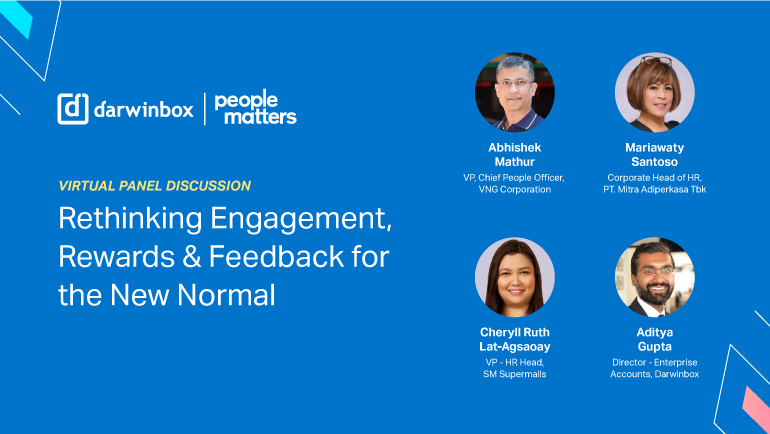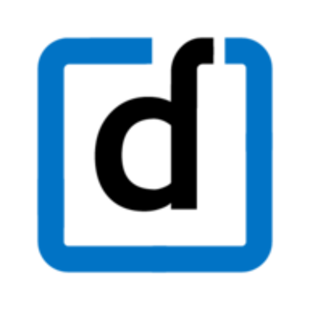 The ongoing global pandemic has forced organizations to throw out the old rulebook of how engagement, rewards and feedback should work. If businesses must get the best out of their people, this approach must be turned on its head.
And businesses in Southeast Asia are doing just that. HR leaders of many leading organizations have found the answers to questions like - "How do I ensure my employees are equally productive and engaged in these challenging times?" "How do I ensure my employee is cared for, supported and remain a strong part of the organization's cultural fabric".
Here are top highlights from a webcast organized by People Matters in partnership with Darwinbox called 'Rethinking Engagement, Rewards and Feedback For The New Normal'. The session saw HR leaders of top Southeast Asian enterprises, Mariawaty Santoso, Corporate Head of HR, PT. Mitra Adiperkasa Tbk; Cheryll Ruth Lat-Agsaoay, VP-HR Head, SM Supermalls; and Abhishek Mathur, VP, Chief People Officer, VNG Corporation discuss what it takes to build a new engagement strategy by actively listening to the employees and leveraging the digital means to reach and engage the workforce in these times.
This session was moderated by Aditya Gupta, Director-Enterprise Accounts, Darwinbox.
Here are some key takeaways from the session:
1. Unique challenges need unique engagement strategies
There is no one size fits all engagement strategy because workplace trends and challenges of COVID are diverse; both at a regional level and an industry level. For a brick-and-mortar company like MAP and SM Supermalls, what worked for their industry during the pandemic was the accelerated digitalization of the company. By launching e-platforms for the customers and leveraging their already diversified business, they were able to cater to the changing needs of their customers.
On the other hand, VNG Corporation, which is a technology company based in Vietnam experienced massive growth during the pandemic. All its four divisions namely gaming, e-platforms, digital payments and cloud services continued to attract more users and revenue and hence were able to hire a lot of new and local talent who were earlier inaccessible due to remote working conditions.
The leaders acknowledged that designing the engagement strategy keeping in mind the regional trends and challenges have helped organizations tide the crisis much more effectively.
2. Communication is key to drive higher engagement
This cannot be emphasized enough. HR leaders unanimously agreed that keeping open communication channels and finding ways to connect better through technology was absolutely crucial in building engagement and retaining employee motivation. Hosting webinars, organizing upskilling and reskilling programs, providing material resources to create better remote working environments, townhalls with senior leadership, virtual lunches and coffee sessions etc were some of the initiatives taken by organizations to maintain regular connect with their employees.
Apart from these, leadership involvement was also a critical aspect to driving higher engagement. "One of the first steps that leadership should take is to transform the grand business priorities into smaller, functional priorities which could help streamline business and the employee needs", said Cheryll Ruth.
3. The changing role of managers as the new HRs
While empathy is a key skill for HR leaders, the pandemic and remote work made it abundantly clear that this skill, combined with authenticity, was also critical for managers to develop if employees had to excel. Managers cannot just focus on their team's performance anymore but also interact with them with empathy, authenticity and by actively listening to their concerns. One-on-one in-depth discussions are crucial, especially mentor and mentee online interactions.
According to Mariawaty Santoso, "along with soft skills, it is essential that managers and those in leadership positions have high digital literacy, analytical thinking and are data driven in a fast-paced environment".
4.The role of technological innovations
While Zoom meetings and MS Teams tend to be the norm, companies are also innovating new strategies to enable smoother onboarding and feedback mechanisms. At VNG, fresh hires are introduced to a buddy system whereby their buddies help them assimilate into the orgnizational culture as seamlessly as possible. The buddies help the new employees navigate the new arena as well aid them in building new connections at the workplace.
SM Malls, in addition to the buddy system, launched a new SM Life app to enable contact tracing for the safety of their on-field employees. To make the employees further involved, they also introduced an Idea Bank where employees can offer ideas for internal development of the company. For maintaining a culture of positive feedback, an internal customer feedback mechanism has been introduced gauge how the workforce is servicing one another.
Watch the full webcast here to find out how the leaders answered some of the most imperative questions facing the HR leaders today.