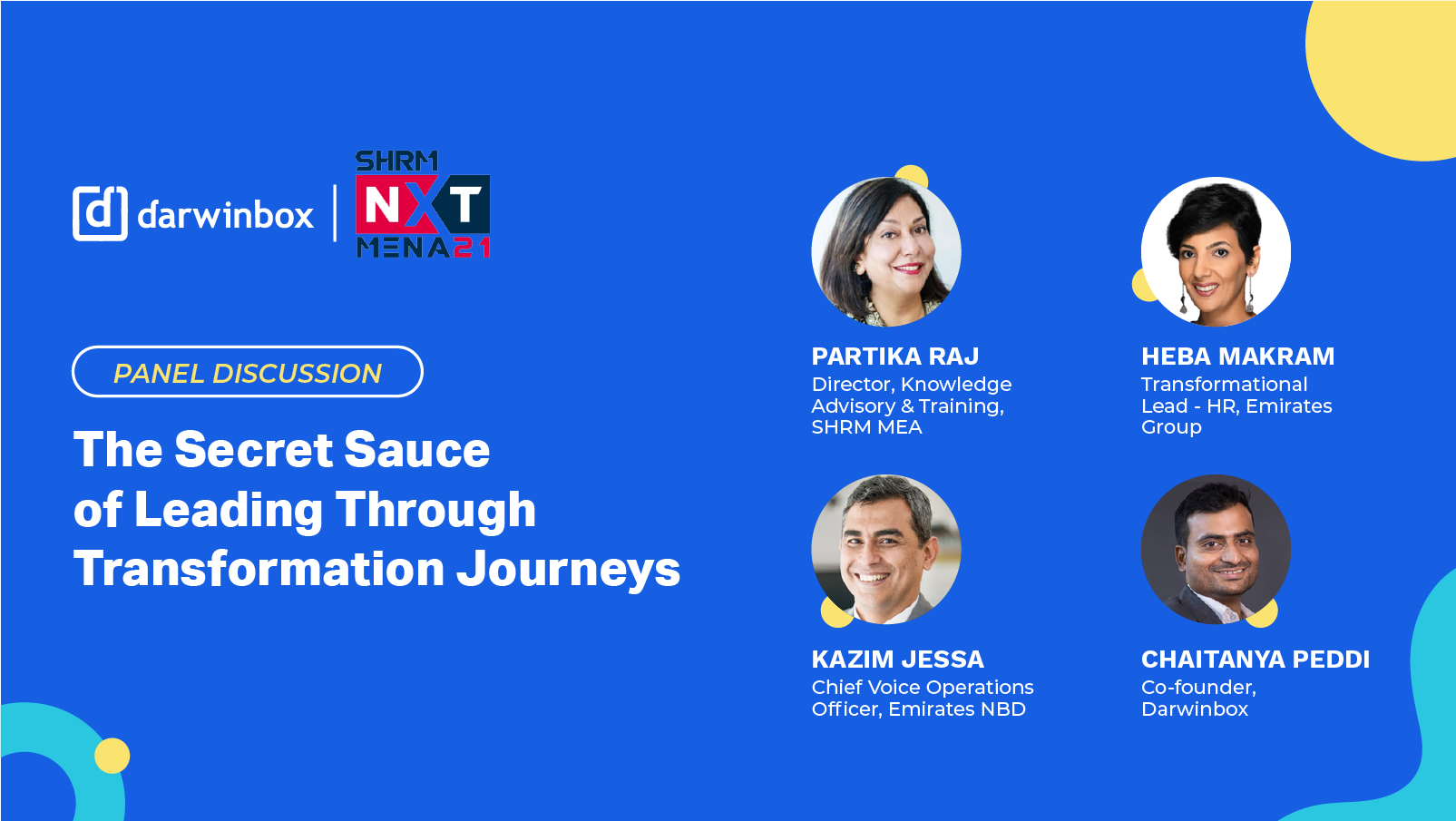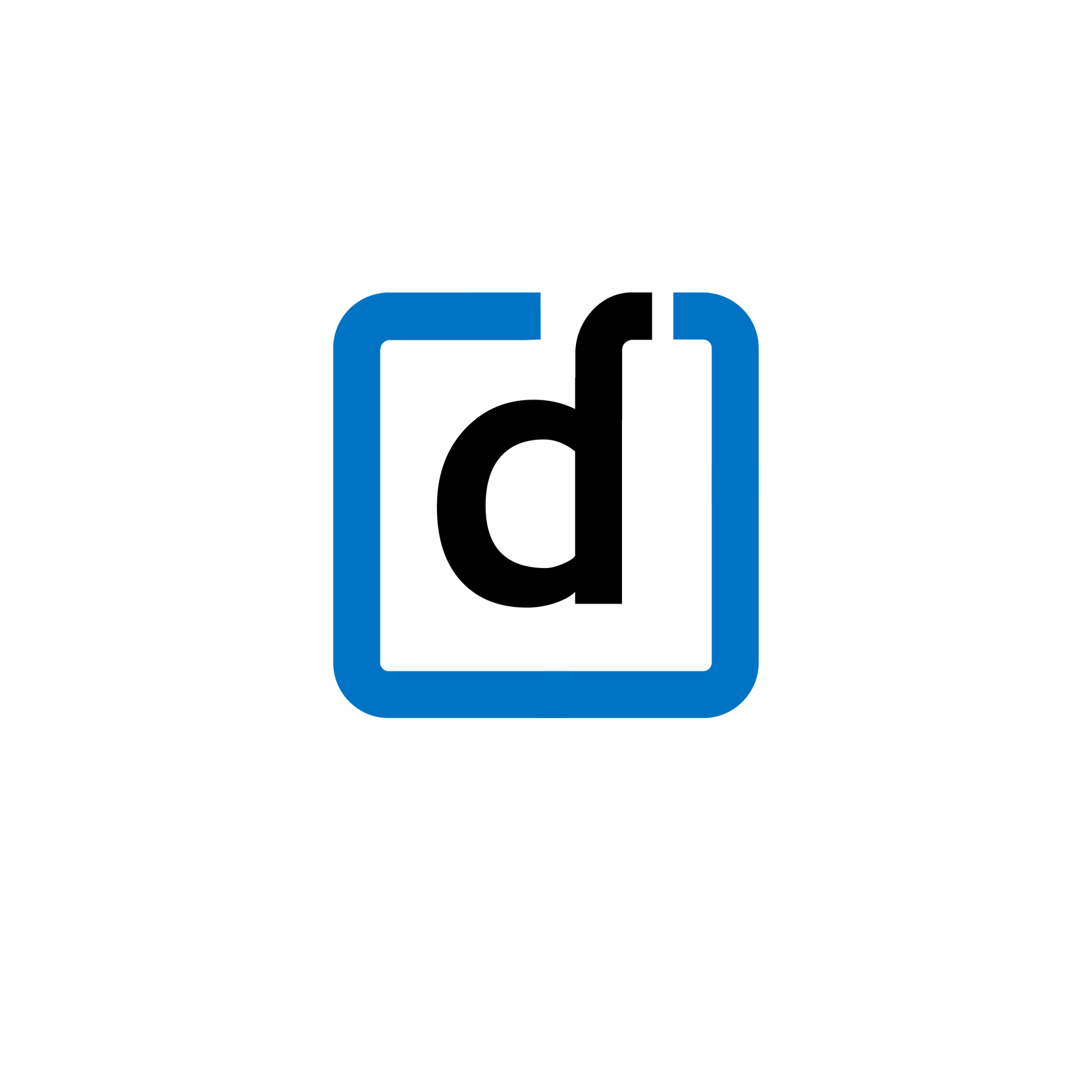 Over the years, HR has largely been transactional and not relational as organizations seek to accomplish significant change faster than ever. The reality is that approaching transformation efforts as if it is a journey, can shape expectations, ensure adequate mobilization of resources and lead to its careful planning and implementation.
To understand this further, SHRM NXT MENA 21 hosted a panel discussion in partnership with Darwinbox. The panel comprised of Kazim Jeesa, Chief Voice Operations Officer at Emirates NBD, Heba Makram, Transformational Lead-HR of Emirates Group, Chaitanya Peddi, Co-Founder of Darwinbox and moderated by Partika Raj, Director, Knowledge, Advisory and Training, SHRM.
Here are the session highlights:
The undeniable role of HR
"When organizations go into a transformation, they are actually transforming with the people and through the people. But before an organization even goes into a transformation, they must take a step back and transform their HR", said Heba Makram, Transformational Lead-HR of Emirates Group.
It is critical for organizations to decide which path they want to tread on. Do they want to continue being an administrative function, an operational department, or do they want to become change agents to support the organization during their transformation journey? Because both require having two different mindsets.
It is a no-brainer that in today's fast changing world, HR functions will have to adopt the latter if businesses have to survive. But once that choice is made, the second most important thing businesses will have to do is to let go of the legacy processes and systems. It would be hard, but necessary.
According to Heba, "transformation is not about clocking incremental change. Transformation is actually about turning things upside down in your company and within your own function and come up with new ways of seeing the world".
HR Tech Shaping The Org Culture
No matter the size, type, nature, and geography of any business in the world, HR is the only system that is used by everyone in the organization. From the CEO to the last level person. And so, the HR system of the organization becomes one of the tying factors and has the potential to lend itself to building and upholding the org culture.
So, it goes without saying that having a robust, digital-first HRMS is key to any business transformation. Having a central system of records and then a central system of engagement is crucial for large enterprises and while it sounds simple in concept, is quite tough to translate it into reality. But the third most crucial element is adoption. That is the proof of the pudding. Your HR tech is only as good as its adoption and usage by your employees.
"That would indicate if you've done a successful digital transformation or not. So, when your people are adopting the HR tech, that is when you have successfully digitalized data across employee life cycle from hire to retire", said Chaitanya Peddi, Co-Founder of Darwinbox. "The more mature your HR tech is, the higher the adoption rate which impacts positively on how your employees see the HR function and the larger org culture", added Chaitanya.
Crafting The Transformation Story
What could really motivate everyone in the org, from CEO to the back-office guy to embrace digital transformation whole heartedly? According to Kazim Jeesa, Chief Voice Operations Officer at Emirates NBD, customer centricity is pivotal to make the entire org rally behind the goal of transformation.
"I personally feel that that organizations which, on a regular basis, have a lot of metrics that reward customer centricity actually benefit from transformation programs, which focus on customer experience as the ultimate goal", he added.
Getting On Top Of The Game
COVID-19 was a wakeup call for most businesses on how crucial the HR function was for their survival. Suddenly, the HRs were on every CEO's speed dial and for good reason. It was a people crisis, and they needed their people managers to help them navigate it. And this trend is here to stay. So how can HR professionals really upskill to support business transformation?
According to Heba Makram, the HR function will continue to experience rapid transformation in the new world of work. HR professionals would need to be more tech savvy. "They will have to understand technology and not be uncomfortable by it because a lot of the mundane tasks of the HR will no longer be done by humans. They will be automated and will be handed over to a system that can execute and do all of that. And we need people who are not shy to play with technology and develop that", she said.
"If we don't have people who understand data, can play with data, can manipulate data and can use the data to make the right decisions, whether it comes to supporting the business or supporting the people, then we are setting up ourselves for failure', she added.
Best Practices For Successful Transformation
According to Chaitanya, the key to success in any digital transformation is having the right project plan. While it may sound simple, it is extremely easy for larger enterprises to get lost while attempting transformation without a proper plan of action. And you cannot expect change to happen in a month. It is a continuous process that must be relentlessly pursued by everyone in the organization.
This can however be aided and simplified by using a robust, advanced, and cloud-based HRMS. And to evaluate the best one for your org, you need to ask the right questions to the right people.
"When we talk about analytics, it makes an enormous difference if you go to your business heads or managers and ask them what they expect out of their HR system. Because ultimately, they are the users.
So, getting their perspective will play a significant role in selection and evaluation of the right technology", Chaitanya said.
Additionally, it is critical to deploy the right team with a dedicated focus on maintaining the tech systems. And in today's day and age, they need not be IT people specifically. "It is not only the job of the implementation partner to maintain your systems. Eventually the HR needs to maintain the system. On cloud-based environments, everything is self-manageable. So HRs can actually do the configurations, create their own systems, create their own dashboards, and have a completely DIY HRMS", Chaitanya added.
Conclusion
The SHRM NXT MENA was a delightfully insightful session for all attendees, and we have tried to capture the essence of it as best as possible. But the discussion was strewn with more valuable golden nuggets and interesting perspectives that you can watch in this complete video below. Watch Now>>