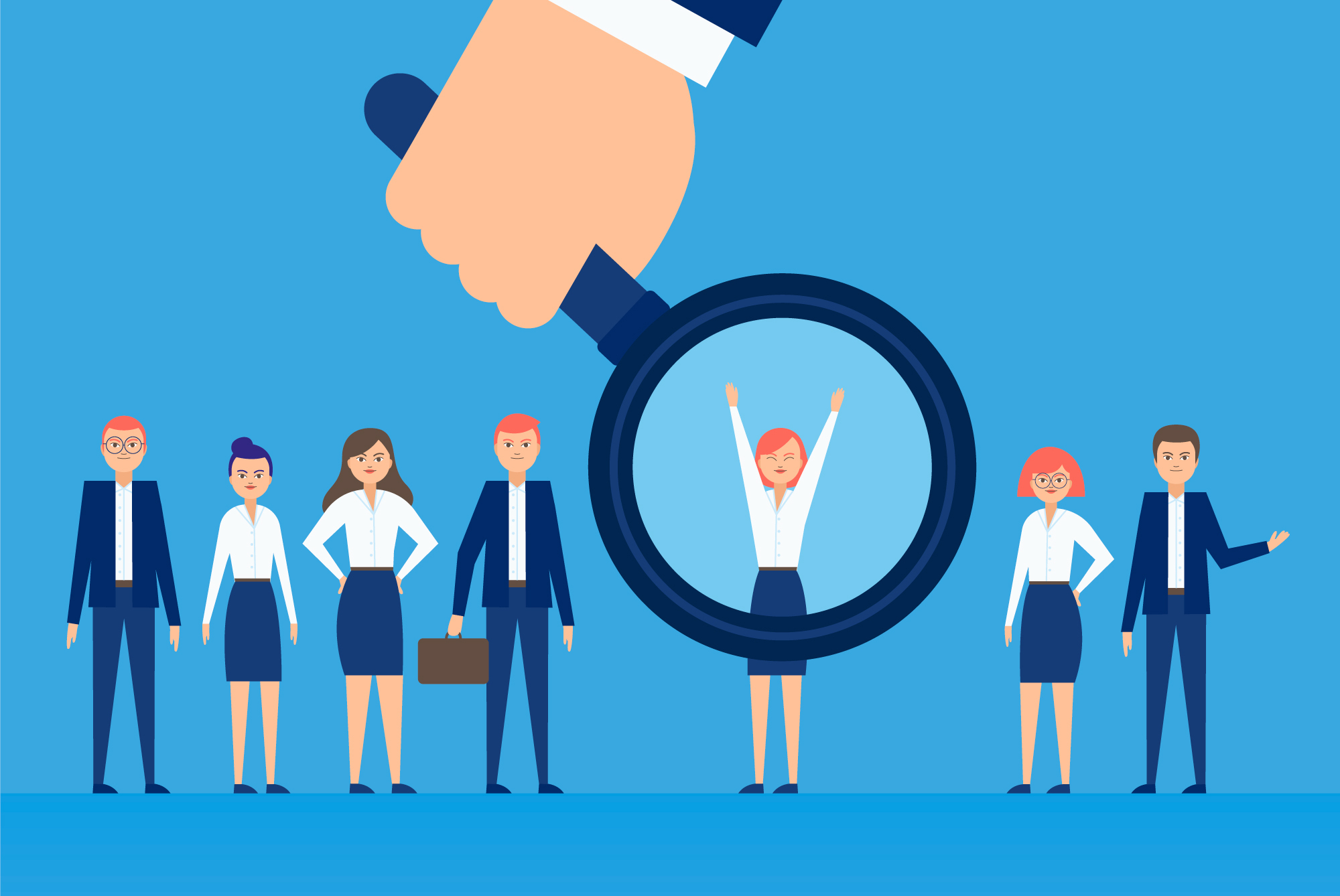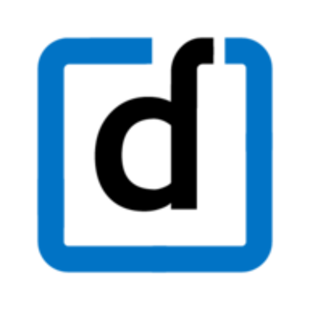 Banking, Financial Services and Insurance sector, one of the key pillars of the Indian economy are transforming rapidly. And it is this growth that presents challenges and opportunities alike. At this stage, what can potentially give us a headstart is the way in which we acquire, groom, and leverage our talent. Thus, HR's role becomes key in supporting growth, as well as paving the path ahead.
Though there are a lot of larger macro trends in this space, we've put together a list of talent priorities, focussing on those trends which have the maximum impact on HR. After a deeper discussion and debate, represented here are the priorities in the order of importance as ranked by the HR leaders who attended the conference.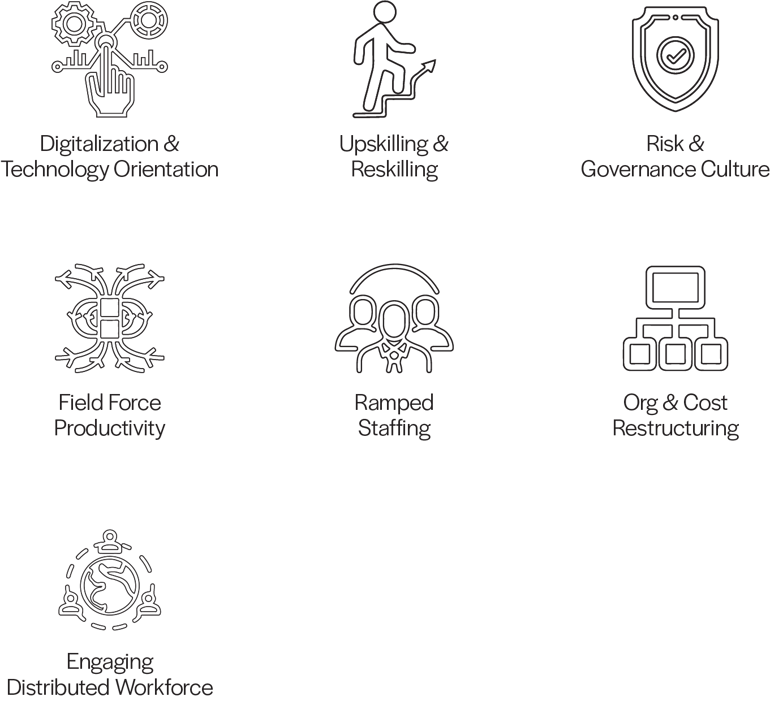 1. Digitization & Technological Orientation
Digitalization - Enabler of multiple strategic initiatives
Digitalization has become a sector-wide catalyst in transforming the customer experience. Similar impact has been observed in the HR function within the sector as Technology has become the common enabler for all talent priorities. Thus, making technology orientation or the ability to work with technology one of the most sought after core competencies for every role in this sector going forward.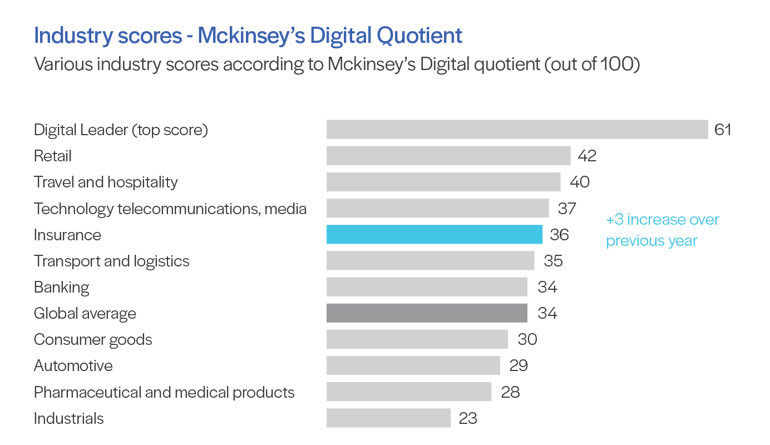 ROI from Digitalization
Cost Efficiency
Improved Productivity
Better Compliance & Adherence
Enhanced Customer Experience
Agility in Business Transformation
Attracting a digital talent pool and skilling the existing workforce to leverage the power of technology across processes is a key talent priority in BFSI. Within BFSI, Insurance as a sector has been the flagbearer of technology adoption but at the same time has more scope to grow in comparison to other sectors.
2. Upskilling & Reskilling
Changing Nature of Work and the Advent of Technology
Be it the increasing complexity and variety of financial products, or the adoption of technological ways to deliver the services, the skills that are needed to excel in this sector are ever-evolving. Like banks, credit unions and insurance firms become more comfortable with a faster pace of innovation they will look to invest more and more in talent who can drive this strategic transformation.
On the other hand, there are also skills that are bound to go extinct with the advent of technology that will automate most of the mundane repetitive tasks, thus, requiring HR function to reskill a major section of the workforce.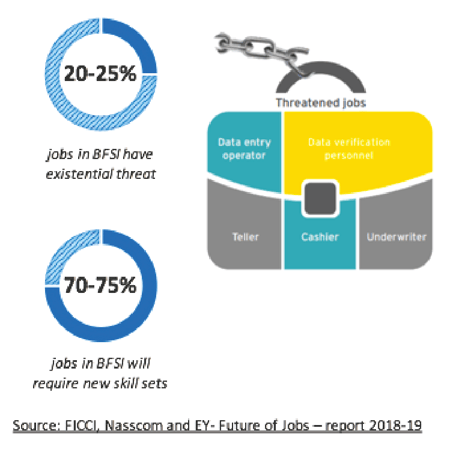 Imminent trends driving the need for upskilling
Losing rule-based jobs to RPA & knowledge-based to AI: Potential substitution of many low- and middle-income jobs that could result in heavy job-cuts.
Growing role complexity: The basket of offerings is growing and products per customer increasing, roles have become more consultative & complex than before.
Gearing to work with technology: Ability to work with technology will no longer be a preference but will become a mandate.
3. Risk & Governance Culture
Driving Compliance as a Culture for better Risk Governance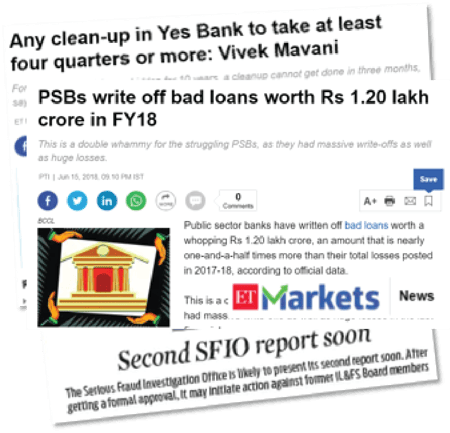 As organizational risks continue to evolve and grow, bank boards need to step up their efforts to provide effective stewardship to anticipate and combat those threats. Recent financial crises such as IL&FS, the YES Bank scenario and multiple write outs in PSUs all point to the systemic failure in risk and governance compliance practices. HR, as the custodian of culture in a company, needs to inculcate a risk and governance culture mind-set in their organizations.
Systemic failures of risk governance: As scrutiny from regulatory bodies are on the rise multiple flaws have surfaced.
Need to drive compliance as a culture: Despite strong governance policies, non-adherence has led to issues in the past.
4. Field-Force Productivity
Enhanced productivity to drive sustainability
By virtue of the nature of the business, the BFSI sector is very field force and front-line intensive. With the rising competition, dipping margin profiles and the traditional cost structures that exist, there is a need to ramp up field force productivity to ensure a sustainable business model. Be it identifying ways to retain field force employees for a longer tenure to improve their contribution, ramping up new hires faster or leveraging technology solutions to drive efficiency, HR will play a critical role in making businesses sustainable.
Why Focus on Field Force Productivity?
Margin profile dipping: As negligible profits realized from underwriting. Only investment income to the rescue. Field force efficiency is critical to keep costs in control.
Scope for improvement: A wide gap in productivity compared to top-quartile firms (INR 1.5 to 3 Lakhs vs INR 5+ lakhs per sales rep)
Half the field force is not contributing: As a large chunk of the workforce is OFO (one-foot-out) & OFI (one-foot-in).
5. Ramped Staffing
Accelerating hiring and ramp-up to meet business needs
As a result of acute attrition, aggressive growth plans and seasonal demand, a business head from any BFSI firm would say that their business unit is only 75% staffed, thus stunting their ability to achieve their goals. The BFSI sector has one of the highest attrition rates in India. 3 out of the top 5 sub-sectors in terms of attrition are from BFSI, especially from sectors that have substantial field-force with almost 100% attrition. Hence, there is an urgent need to combat attrition and ramp-up staffing to expand the talent pool in this sector in order to run the business at full capacity and avoid any handicap.
One of the highest attrition rates: Leading to the shortage of workforce at all times. 40% of the workforce is either OFO or OFI at any given point in time
Seasonality demand: 30-40% of the insurance sales happen in just the month of March, making case for more staff to support.

6. Org & Cost Restructuring
Agile & Future-ready Org structure
The defining characteristic of the BFSI sector in India from an org. structure standpoint has always been the branch model. However, with tier-one, tier-two markets being fully penetrated, the frontiers of growth are slowly shifting to tier-three and tier-four markets. This in part is due to the huge amount of disruption happening in this space, with virtual offices and innovative staffing models on the rise. Traditional companies need to move away from the legacy style of operating & revamp their structures in order to continue business.
Long-standing branch structures may not be viable: For the next frontier of penetration even though the sector has historically expanded in this model.
Disruption by new competition demands new cost structures: With digital-only insurers, marketplaces taking lead and digital-only banks not being far in the future, org. structures may need to change.
7. Engaging Distributed Workforces
One Organization, One Experience
Widespread geographical presence is characteristic to organizations in the BFSI sector, making it difficult to engage and influence employee behaviour across locations. Also, given the high attrition, it is inevitable for organizations in BFSI to rethink the way they deliver one experience to retain employees. From the way the hiring process is run in one city vs the other to how employees interact with leadership to discuss their career growth, critical talent initiatives can only be successful when delivered the same way in all locations.
In addition to driving consistency in experience, it is also HR's priority to build agility in transformation. Once again with a workforce spread across, it is important to identify how a critical policy change or an additional training course is disseminated to remote teams digitally.
Building consistent culture & experience: Ability to retain by delivering a consistent employee experience
Communicating policy updates: Need to reinforce policies and processes for a widespread workforce
Delivering learning needs: Changing job dynamics demand to learn on the go for roles across locations.
For more such insights from CHRO's of leading organisations like Bajaj Finserv, SBI Life, Reliance Capital, Tata Capital, Kotak Life & General, Karvy, Bharti Axa Life & General, etc.
Download the complete docket of the second edition of Darwinbox's 'CHRO Dialogue' on 'Excellence in BFSI through Talent and Technology', here.