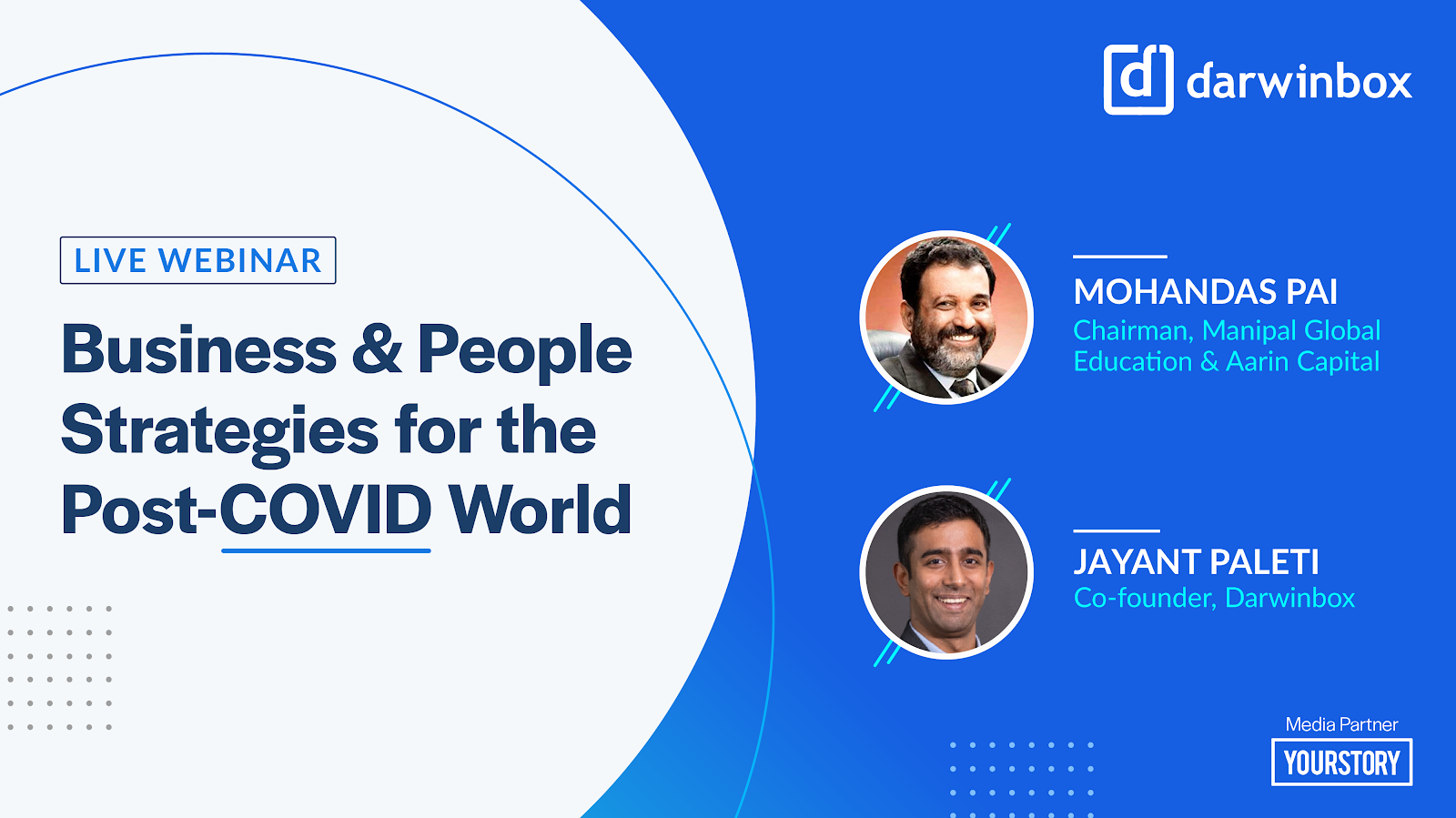 Last week Darwinbox hosted a webinar with the iconic leader Mr. Mohandas Pai, on Business & People Strategies for the Post-COVID-19 World. Mr. Pai, a man who has led Infosys through two global crises before (Y2K and the 2008 recession) shared his insights on what organisations and leaders can do in order for them to ensure business continuity and build organisational resilience to prepare for the roller-coaster that awaits us in the next few quarters.
We've put down the key highlights from the session in this blog:
The Crisis of the Generation:
The speed, depth, and global reach of this COVID-19 crisis is unlike anything we've seen before. These are unprecedented times, and some are even calling this the crisis of the generation, if not the century. And so there is no standard operating process in place, no playbook that can be followed. But one thing is for sure that while an immediate defensive strategy for organisations is of paramount importance, it also comes with a warning to not only plan for the present but also prepare for the future.
The Globalisation of Supply Chain:
A pandemic that originated in Wuhan, China, has now reached every single country in the world. And so one of the biggest realisations organisations globally have had during this crisis is the dependence of their supply chain on China. From America to Europe and other corners of the world, they all receive various goods including medicines and medical equipment from China. What we will see in the coming future is the need for organisations to adopt a 1+1 supply chain model, one in China and one somewhere else, so as to diversify their supply chain.
Digital Economy To Dominate the Future:
While we have seen the digital economy steadily rise in the past few years, what this pandemic has done is pushed the growth even further by showing us how dependent we really are on digital tools and platforms. People between 30-60, who are the decision-makers, are now going to be forced to reorder their lives and do everything online. Which, in turn, means that after the lockdown when they come back to running their businesses their mentality and attitude too would have changed. Thus, giving rise to new business models with a digital framework or backbone.
Effect of the Crisis on the Global Economy:
While no one can tell for sure what the exact damage this crisis will cause, one thing all economists know for sure is that it will have severe negative impacts on the global economy. In fact, for the first time, there is forecasted to be a negative GDP growth. And so all around the world when this ends, the economic conditions are going to be very poor. Interest rates globally will remain low. There will be surplus liquidity and lots of capital sloshing down, and a lot of surplus capital being pumped into the economies by deficit financing in all these countries.

What companies in India can do to brave the storm:
Reconfigure Business Strategies to ensure business continuity
Rethink their internal processes & workforce to be more productive, flexible, and digital
Bring down fixed costs by relayering their management structures
Ensure their business model is global
Accelerate and invest in automation
HR's role in planning for the post-COVID world:
Developing a sound communication strategy
Cost containment by cutting down fixed costs
Incorporate new ways of working
Work with leadership for strategic planning of the workforce
Invest in reskilling and L&D
Accelerate digitalisation and automation
How business and HR leaders can build a resilient organisation:
Be on the lookout for change and be open to innovation.
Ensure your org is well capitalised & create an economic model of surpluses
Create a flexible workforce and lower fixed costs
Be quick to adapt to changes
Larger trends that will be seen post-COVID:
The boom of the gig economy
Investments in building a strong remote workforce
Acceleration of digitization and technology adoption
Higher investments in automation
Diversification of Supply Chains
While we've covered all the key points from the conversation in this blog, make sure to watch the full webinar here, to get an in-depth understanding and more valuable information from Mr.Pai himself.