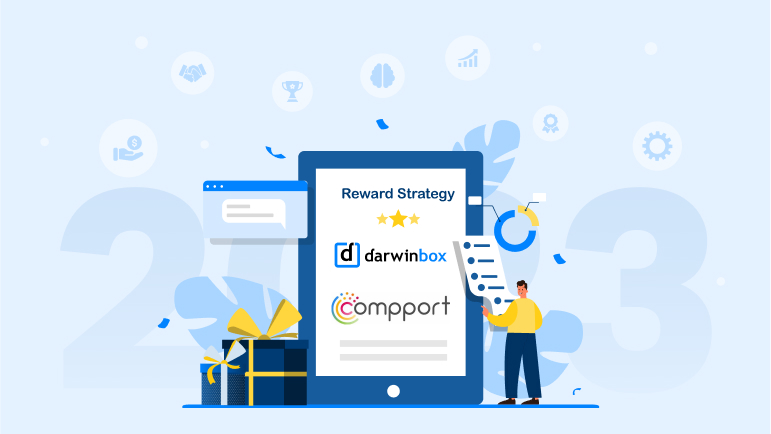 One of the most fundamental and far-reaching touchpoints and potentially one of the most sensitive for employees is total rewards. However, reward design and implementation elements suffer from a lack digitization. This article explores how reward systems can be automated to create great efficiencies.
19% of employees, or 5.4 million people, are expected to look for a new job with better benefits or a higher salary in 2023. This is according to a study done by Unum and Censuswide. This raises the need for companies to evaluate how they plan to attract and retain employees without resorting to unrealistically increasing salaries.
A great way to accomplish this is by crafting a robust reward strategy. A well-designed reward program can play a crucial role in boosting employee motivation, engagement, and productivity and breathe new life into your workforce. Before we dive into how to craft a reward strategy, let us look at a few trends that are transforming the way reward strategies have been configured in organizations so far.
5 Trends That Are Transforming Reward Strategies in Organizations
1. The baseline of compensation has moved
COVID-19 and other recent events and trends have led to changes in pay for all kinds of employees, from interns and low-wage workers to people who work from home and executives. Some companies are changing the pay of their top executives based on environmental or social metrics, while others have brought back the idea of localized pay because more people are working from home.
In a survey from December 2020, 78% of companies said they plan to change how they use Environmental, Social, and Governance (ESG) metrics in their executive incentive plans over the next three years. The bottom line is that different organizations are taking or planning to take different actions when it comes to compensation, disrupting the norms and standards.
2. The Great Resignation has caused chaos
As attrition rates went up during the great resignation, organizations took unusual steps in terms of compensation to retain and attract talent. This includes salary revisions, corrections through the course of the year, faster promotions, deferred compensation plans, joining bonuses, and more frequent promotion cycles. Because of all these changes, the upcoming revision cycle becomes an extremely interesting one because there is no framework to go by or any standard call to take. This makes coming up with a reward strategy a complex and challenging task.
3. Salary growth based on market and potential
An emerging trend is configuring the future pay of an individual on the basis of their potential or the market worth of their role, rather than on the basis of merit, which essentially is a metric based on the performance of the previous year. A few organizations are beginning to ask the question, why would you decide somebody's compensation by looking at the performance of the previous year? They believe that performance should be used as a lever to differentiate bonuses and not salaries. While this is a practice followed by very few organizations, it is positioned to gain prominence going forward.
4. Use of analytics
The use of analytics in a reward strategy involves leveraging data and insights to inform and optimize various aspects of employee compensation and recognition programs. Analytics can be used to evaluate the effectiveness of existing programs, identify areas of improvement, and make data-driven decisions about the design and implementation of new initiatives. For example, organizations can use data on employee engagement and satisfaction, job performance, and demographic information to determine which types of rewards are most valued and impactful.
5. Short-term and long-term view for total rewards
In addition to long-term incentive plans, organizations are deciding that they need to show some recognition to employees in the short term as well for them to feel more motivated. While long-term incentive plans traditionally include forecasts regarding employee compensation, bonuses, stock options, etc., there is a movement to provide short-term compensation to keep employees engaged.
Learn More: Simplifying Total Rewards Strategy for 2023
Now that we have seen why there is a need to reassess and transform the way a reward strategy is configured in organizations, let us move on to how. How do you transform rewards? How do you move away from the day-to-day operational, mundane Compensation and Benefits tasks and become more strategic with respect to the way you plan and deliver rewards? The answer is quite simple. You do that through people and technology – by allowing people to set the strategy and technology to take action.
This is precisely what Compport enables you to do. Let us dive into what that means.
Unboxing Compport and Its Capabilities
Compport is a one-stop, integrated SaaS solution to manage all your compensation plans, namely annual/ad-hoc salary reviews, bonus plans, sales incentives, long-term incentive plans, instant rewards, the candidate offers, and total rewards statements. In fact, you can automate your entire compensation lifecycle using Compport. Let's find out how:
1. Salary Management
Automated annual merit cycle, ad-hoc salary review, merit and promotion processes aligned with organizational compensation policy/budget, mid-year revisions, corrections, or promotions.
2. Bonus Management
Design, budgeting, simulation, and launch of variable pay performance schemes.
3. Compensation Letters
Seamless inputs to compensation letters for: bonuses, salary increments with various configurable functionalities like different languages, performance levels, functional groups, business units, types of employees, etc.
4. Long-term Incentives
Design, launch, and communication of long-term incentive plans – stock and/or cash-based.
5. Sales Incentives Management
Streamlined sales incentive programs: Integration of business and HR data to help execute sales incentives, along with an employee view that includes past performance, past payout, current performance, and forecast of sales incentives.
6. Total Rewards Statement
Showcase to employees the true value of their pay, benefits and rewards package.
7. Pay Equity Management
Link internal and external market data to compensation decisions, analysis, and fixation of pay equity gaps.
Darwinbox x Compport: Agile Value Creation
With the partnership and integration with Compport, Darwinbox has doubled down on its capabilities in Compensation Modelling and Sales Incentive Planning, to empower users with more equitable, powerful, and intelligent compensation programs.
Right from automating all elements of compensation, including salary increments, bonuses, sales incentives and long-term incentives, Darwinbox now provides you with an end-to-end compensation management suite, efficiently resulting in higher employee engagement, productivity, and revenue.
Let's explore the two functionalities on Darwinbox in depth:
Compensation Modelling

Compport's Compensation Modelling is a one-stop compensation calculation engine that offers built-in analytics to make compensation decisions smarter and more equitable. It allows for the simulation, comparison, and launch of compensation plans in a multi-geography, multi-currency, or multi-language environment.

It provides the following features under one umbrella:
End-to-end merit process

Ad-hoc salary reviews

Location-based pay reviews

Interim/anniversary reviews

Promotion/progression cycles

Annual bonus/incentives

Long-term incentives

Compensation documents

Total Rewards Statements

Salary structuring




Sales Incentives Planning



Enabled with a multi-layered formula builder to create deep data linkages and strings of formulae, this

function

delivers

accurate

incentive calculations. It provides schemes for recurring calculations on a monthly, quarterly, and semester-wise basis

. All you need to do is

provid

e

the achievement details or link Compport with

your Sales management/CRM system. It can be used to configure a variety of capabilities, including:
Data-backed target setting for teams

Real-time simulation capabilities for incentive payouts

Intuitive and multi-dimensional analytics

User-driven dashboards

Access to analytics/ dashboard can be given to leaders/ managers for their scope

KPI-wise incentive trend

Payout range

User-controlled mail reminders
Darwinbox x Compport: Efficiencies Created
With best-in-class security and compliance functionalities, a consumer-grade user experience, and extraordinary efficiency, Compport's integration with Darwinbox allows for the enablement of competitive, fair, and equitable pay practices. This also helps with talent retention by enhancing trust and satisfaction among employees. It is a single source of truth for employees with comprehensively transparent, trustable, and actionable data. It also allows employees to share expectations and feedback on reward strategies, making the process of rewards a two-way street. Darwinbox clients like Yes Bank, TVS, and SBI General have implemented the Compensation module via Compport to deliver a seamless rewards experience for employees.
Head to this webinar to find out more about how Compport is creating value and transforming rewards.
Find out how Darwinbox x Comport can help you craft a world-class reward strategy, book a demo today!