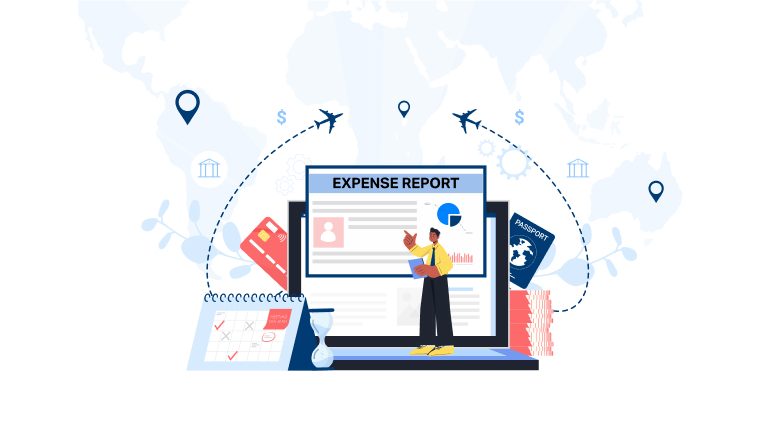 The next few years are expected to bring a boom in business travel. To keep pace and provide employees with a stellar experience -- while staying on budget -- you need a travel and expense process that works. This article explains the 11 steps to design this process, 5 do's and don'ts, and the 5 factors that your travel and expense process must address.
As companies return to their pre-pandemic mode of operation, the travel and expense process needs special attention. Business travel typically contributes to a big chunk of your operating expenses, and it is important to manage it properly, both for budgetary as well as taxation purposes.
In 2023-24, business travel is expected to be back in full swing. Therefore, this is a perfect opportunity to evaluate all facets of your travel and expense strategy, whether that entails constructing a new system or enhancing existing policies.
What is the
Travel and Expense Proces
s in an Organization?
Travel and expense management is the business function involved with documenting the expenses incurred by employees undertaking business trips. Consider this management style as a "umbrella or canopy phrase" encompassing a wide range of responsibilities:
Aligning company objectives with travel

Developing and implementing a corporate travel strategy
Keeping a close eye on expenses and examining expense reports

Developing approval processes for trip requests

Ensuring the security of passengers

Reimbursement of workers' expenses

Reporting business travel costs on tax returns
Auditing cost reports for compliance
How you handle these expenses is critical for achieving a return on investment, fulfilling the key performance indicators (KPIs), and preserving the financial health of your organization.
A travel and expense policy is the cornerstone of travel management. When policies and procedures are standardized, employees are aware of what to anticipate. They are held accountable to a benchmark that motivates them to be trustworthy and efficient.
Travel may be stressful, but by reducing the pressure with simplified guidelines, you can empower your workers to focus on meetings with clients, industry networking, and lead generation. Companies that do not adhere to best practices for streamlining travel and expenditure approvals risk upsetting their employees. They may fail to achieve their objectives and lose time, in addition to exceeding their budgets.
Learn More: Travel and Expense Management: Definition, Significance, Benefits, Key Features & Best Practices
The Need for a Travel and Expense Strategy
While technology helps travel and expense administration, it will not resolve all of your concerns. Efficient systems are only as good as the management of your processes, and therefore the travel and expense strategy will also follow suit — its efficacy depends on your overarching management principles.
Consequently, you need straightforward approval hierarchies and well-defined reporting criteria. In conjunction with real-time spending management, this will aid in compliance with regulations, error-free financial planning, and steady cash flows. In addition to being critical for tax filing, accurate cost records help you to distinguish between deductible and nondeductible spending.
Optimizing your travel and expense management strategy is a sound business decision. It yields not just more income as you stay within budget, but also enhances employee experiences. The following are the steps that you will typically see in a well-defined travel and expense process.
Example of What a
Travel and Expense Process
Looks Like
The complete travel expense management process may be somewhat lengthy, with the trip itself serving as its focal point. Here's a typical process flow, and can differ from organization to organization.
Request submission

: The traveler submits a travel request to their supervisor using the T&E system. The travel request notifies the supervisor of the date, location, and objective of the trip, as well as the necessary transportation and lodgings, the desired advance, and the projected expenditures.
Preliminary approvals

: The manager has the choice of approving, returning, or rejecting the request. If an employee requests and is granted an advance, there are numerous payment alternatives available, such as cash advance by cash drawer, cheque, wire transfer to the individual's account, or prepaid cards.

Information sharing

: The paid amounts for advances are forwarded to financial accounting for posting.

Travel booking

: After a trip request has been accepted, the traveler decides the relevant travel services (airline, accommodation, car rental, rail) and books these online using the T&E system. If the reservation is made using an independent reservation system, it needs to be linked to the company's travel and cost system.

Compliance check

: When services are identified and purchased, the system verifies that they conform with the company's predefined travel regulations. In addition, it applies to any current company-specific pricing and rebate arrangements.

Booking approval

: The trip itinerary is sent to the relevant management for approval. T

Expense reporting

: The business traveler finalizes his or her travel expense report after the trip, including all required documentation and details. In certain T&E software systems, the business traveler will gather data in real time via a smartphone application or a corporate card.
Policy enforcement

: The framework uses all legislative and company-specific standards from the software's policy section and verifies the entries' conformity with these specifications.

Validation for reimbursement

: The expenses department verifies the trip expense report and the original receipts and documentation. The trip expense report is then forwarded to the supervisor for approval, who will subsequently authorize payment.

Settlement

: The T&E software system is updated as soon as the travel is authorized. The system calculates the travel expenditure results, including the amount to be reimbursed, based on the trip arrangements specified for the relevant traveler. Depending on the nature of the transaction, the system will dynamically choose between diem/flat rate payment and reimbursement based on individual receipts.
Records preparation for audits

: The travel expense estimates are matched to the selected payment method. The records are subsequently made accessible to the relevant business system (accounting,

payroll management

, etc.) with the relevant supplementary data.

Fund transfer

: Reimbursements are made via cheque, payroll, wire transfer to the individual's account, etc.

Final documentation

: The travel expense findings are always sent to the finance team for posting/publication. The business traveler gets a travel expense report with relevant trip data and accounting outcomes.
Learn More: How To Create a Travel and Expense Policy [With Template+ Industry Examples]
5 Factors Your Travel and Expense Management Process Needs to Address
Before you can establish a travel and expense process, you need to clarify why there is a need for one. Which are the business problems that the process will solve? What are the benefits that you – your employees as well as HR and accountants – stand to gain from implementing a structured process? Typically, there are five reasons or use cases for travel and expense process implementation:
To remove complexities and errors around maintaining receipts
Typically, organizations require their employees to provide receipts with every expenditure claim in the expense reports so they can be verified. It helps financial teams during audits and is essential for compliance. However, receipts might come in a variety of forms (paper, electronic, etc.), creating complexities.
Employees and finance teams find that managing various receipts are cumbersomeHowever, T&E apps offer expense automation in a digitized travel and expense process. Powered by AI and optical character recognition (OCR) technologies, the arduous expense report process is automated, resulting in improved risk mitigation and a reduced turnaround time. You will be able to address inaccurate and redundant entries that the system detects and reports.
To make the approval process faster and more efficient
T&E management activities are time-consuming. It is tiresome for employees and finance teams to guarantee that expenses are submitted and reviewed on time.
Discrepancies or ambiguity in the approval stages result in several rounds of processing. As a result, the procedure is drawn out over an extended period of time, making it tedious and unpleasant. In addition, tight deadlines for finance teams might result in missed claims and verification errors.
Modern cost management software is integrated with OCR technologies that allow finance teams to scan receipts, extract vital data, and have digital expense reports automatically populated.
With this, the probability of mistakes is minimized, the process is accelerated, and there's far less dependence on manual intervention, leading to a vastly improved employee experience.
To get insights into travel costs so you can optimize spending
Data and insight into travel expenses is necessary to ensure that organizations adhere to their budgets. In a fast-moving business, the availability of high-quality data reports in real-time is essential for making smart decisions.. Companies can handle this by incorporating a T&E management system into their organization's travel and expense workflow. This will offer you sophisticated business intelligence (BI) reports and intelligent dashboards for generating insights. You can also rapidly discover fraudulent and duplicate receipts.
Remember that cost optimization will only be successful if the organization is able to detect fraudulent spending, identify income loss, and finally address process flaws.
To reimburse employees on time
In a conventional travel and expense process, employees continually delay expense reporting duties because they can be time-consuming, and as a result, reimbursements can be delayed.
Missing receipts, rules breaches, inaccuracy, and errors resulting from this stage result in a slowing down of the entire cycle.
A revamped T&E system can assist your finance teams in implementing new controls. Introducing validation criteria during expense submissions, for instance, can prevent further rejections. You may also set up automatic alerts for pending/unsubmitted reports.
To prevent policy violations and/or fraud
The absence of specific and extensive travel and expense guidelines is a major contributor to out-of-policy expenditure and policy breaches. Undefined travel and spending guidelines result in a slower turnaround time, an increase in reporting mistakes, the possibility of out-of-policy charges, and a rise in workload for finance.
As you establish an organized travel and expense process, you will develop exhaustive policies. You may pre-configure these rules on the digital platform based on your current work positions and other characteristics such as expenditure type, location, currency, etc.
This will assist you in establishing a compliant approval system, integrating your travel and spending rules into your organization's structure.
Learn More: How To Detect and Prevent Expense Fraud
How to Set Up the Most Optimal
Travel and Expense Process
for your Enterprise
Here are the steps you need to follow when designing and establishing a well-defined travel and expense process.
Analyze your travel requirements
The process starts with taking stock of your travel requirements for the quarter, the year, and the next five years. Contact your customers and others within your sector to assess what travel/business trip modifications may be necessary. Then, start brainstorming and ideation to configure your travel strategies.
Also, if feasible, review your historical trip data to determine which behaviors you can maintain. For example, certain employees will always be required to travel to attend networking events, but smaller groups can interact with customers one-on-one, while others participate via videoconferencing.
Evaluate your culture and the T&E process it can support
Imagine a company using 50-page T&E policies written by financial specialists without ever trying to determine if the organizational culture would support these. For organizations just starting to define their processes, you will need to be especially attentive to culture.
Interviewing and interacting with various key stakeholders is essential for knowing how things are performed and how salespeople, executives, and trip organizers, among others, are likely to respond to new guidelines. This cannot be an academic endeavor. It must represent and gain the support of the individuals who will be required to follow it.
That's why Netflix has a five-word travel and expense policy, perfectly in line with its culture of empowerment and accountability.
Create/revise your travel and expense management policies
Remember that your guidelines should neither be harsh nor too permissive. Employees are stifled by strict restrictions, while lax standards result in waste. Ultimately, more flexibility enables your organization to make exceptions and concessions when anything goes awry.
Even if you have a general notion of what the guidelines should cover, you should ask workers what they would find most convenient. Collecting the team's views on the regulations gives them a feeling of ownership. Employees will appreciate having a say in the discussions, and they'll be more inclined to adhere to rules they helped establish.
Define the approval process flow
A rational approval process will save time and resources – particularly for the finance office. If possible, set the processes such that supervisors will have to approve things just once, while higher-level executives authorize more expensive costs.
You should create approval processes in collaboration with other members of your organization, particularly auditors and administrative personnel. The more open your approvals are, the fewer mistakes your employees will commit and there will be a reduced window for fraudulent expense reporting.
Partner with the right travel vendors
Is your business online-focused or "high-touch"? Is it essential that you establish a pre-trip approvals system? These are a few factors to consider while selecting trip operators in your area. For instance, if your company is a financial institution whose workers are frequently traveling, they may prefer to deal with a booking agent who remembers their names and, therefore, can create intricate, individualized itineraries. If, on the other hand, your company's travel requirements are much less complex, an online booking service may be an appropriate alternative.
Consider if your employees are dispersed across multiple marketplaces. Then, working with a travel provider with specialized market knowledge or industry experience may be critical for your travel and expense management.
Connect the "travel" part with the "expense" element
You must introduce a solution that addresses both travel and expenses. Around half of the T&E expenses comprise airfare, accommodations, and ground transportation, all of which may be booked via a professional tour operator or online booking tools.
Meals, cabs, travel, tolls, parking, and incidentals are often entered directly into the expense system. If you work with a tour operator but do not have robust expense systems, or vice versa, around 50% of your spending will lack adequate procedures and controls.
Consider using an integrated travel and expense management platform that includes everything from booking to approval. This will vastly simplify the travel and expense process.
Check your travel provider's value proposition
When selecting a travel partner, it is important to have access to the lowest feasible prices. The term "price" encompasses more than just travel agency fees, which generally represent only 3-5% of a company's overall travel expenditure.
For instance, if employees find that they are able to book cheaper flights and hotels through agencies outside the "preferred" partner you have as part of your travel process, they might start ignoring guidelines and company rules. This can disturb and harm the entire T&E process, and also negatively impact employee experience.
Crucial to your travel and spending process is assessing vendors thoroughly to make sure they provide the travel information you require, based on your important markets and destinations and are the ideal partners your employees can work with.
Automate travel and expense management
Automating your processes is the key to establishing a solid travel and expense system.
Given the dynamic business travel landscape, businesses shouldn't rely on manual processes. Thankfully, an increasing number of organizations are using automated approvals backed by contemporary T&E software.
When looking for software, ensure that it is compatible with the applications you currently use. This will enable you to automatically generate cost reports and reimbursement forms using data from accounting and human resources systems.
The program should notify users of abnormal behavior that may be indicative of fraud or noncompliance. One also needs a system that provides comprehensive spending reports that are simple to analyze and reveal possible cost-cutting opportunities. 9. Include analytics in your travel and expense process
Travel analytics are an essential and powerful element of your program. Remember, it is only after the journey has been completed, expense reports have been submitted, the data has been analyzed, and insights have been taken into account to optimize the process, that travel management is considered complete. Let's assume that after a year of implementing your new program, it becomes evident that your organization must drastically reduce travel expenses. Your travel analytics may reveal where the excess is — how much is being spent on revenue-producing travel (i.e. sales and client meetings) as opposed to non-revenue creating trips (i.e. internal meetings) — and you can rework your strategies accordingly.
You could also use travel analytics to discover cost-effective solutions to enhance the travel experience of employees.
Ensure employee safety
Any choice you make about travel and expense management must be based on the welfare of others. Caring for your workers requires risk management and reassuring them that their safety is paramount at every stage of the travel and expense process. Demonstrate their value by enabling employees to travel inside their comfort zones and adding safety measures into company travel policies. For instance, you may allow individuals to work remotely for a week after a tour, or you could update your travel insurance coverage.
Gather feedback and improve continually
It is one thing to plan, but quite another to carry out the plan. When you implement your guidelines and approval processes, you will definitely encounter problems. Encourage your team to discuss issues freely so you can determine how to adjust and enhance policies.
Occasionally, addressing a problem requires more work than just adjusting a software parameter or ensuring that two supervisors authorize spending beyond a specific cost level. Regularly examine your rules and processes for optimization opportunities.
Learn More: How To Automate Travel Expense Reporting in Enterprises

5 Do's and Don'ts to Remember for Your
Travel and Expense Process
Now that we have explained the 11 steps needed to set up a travel and expense process, here are 5 best practices that can make your process even better:
DO write your policies so they're easily readable/skimmable
Policy compliance and adoption is unquestionably the most unpleasant aspect of recording processes, yet it is unavoidable. Regardless of whether the policy represents the most vital aspect of your employment, the majority of employees will eventually forget it exists.
So, you must write for skimmers. Long preambles and CEO introductions are not helpful. Include a list of contents, bulleted points, schematics, and tables that direct the reader's attention to any crucial data, as well as clear headers and specifics that are highlighted in bold.
Also, ensure that the policy is referenced often within the organization and is clearly accessible, such as on the booking site. For the travel and expense process to be successful, the policy should have short phrases, basic language, and no terminology that employees must look up in a dictionary.
DON'T encourage last-minute bookings
Scheduling ahead should always be the top priority for business travel, since it is one of the most effective strategies to save travel expenses. It applies to both travel and accommodation, therefore you should urge your personnel to submit their trip requests in advance. This should be incorporated in the travel policy with a few permissible exclusions, and last-minute reservations should be discouraged unless there is an emergency.
DO keep the "bleisure" phenomenon in mind
This is a minor detail, but employees will worry a great deal about it. What are the guidelines for adding on additional personal time while traveling for work? This phenomenon is called business+leisure or bleisure in travel and expense management, and it cannot be avoided.
As a result, one should outline the regulations in the travel and expense records. As an increasing number of business travelers add leisure days to their visits, it might be prudent for your employer to establish standards that educate travelers about their responsibilities.
In reality, this involves clarifying the extent to which the employer will continue to pay for flights, lodging, and other expenses. If you are capable of accommodating it, offering employees bleisure travel is a nice gesture that need not be costly.
DO insist on a deadline for expense claims
To maintain order and governance in your financial records, you need to have a defined timetable for employees to submit expense claims. This must include how promptly an employee should file a claim for an expense and how quickly he or she should expect to receive compensation from the organization.
HR personnel and accountants must be fair to employees in this situation. After all, these are business expenses, and you do not want team members to incur personal costs if they exceed the deadline. You must also provide them with an incentive to submit their documentation as promptly as possible, like a clear deadline.
DON'T be rigid with your

travel and expense process
While urging employees to adhere to the travel policies, one should be flexible and allow exceptions — in order to streamline the approval process. Occasionally, certain business trip expenses may fall beyond the guidelines, such as unanticipated travel arrangements. However, despite not complying with your travel guidelines, the individual may be able to locate cost-effective alternate modes of transportation or accommodations. That is why it is important to make room for some exceptions.
A streamlined travel and expense process hinges on a powerful T&E platform. Find the best platform to support your business travel needs. Ask for a Darwinbox demo today!