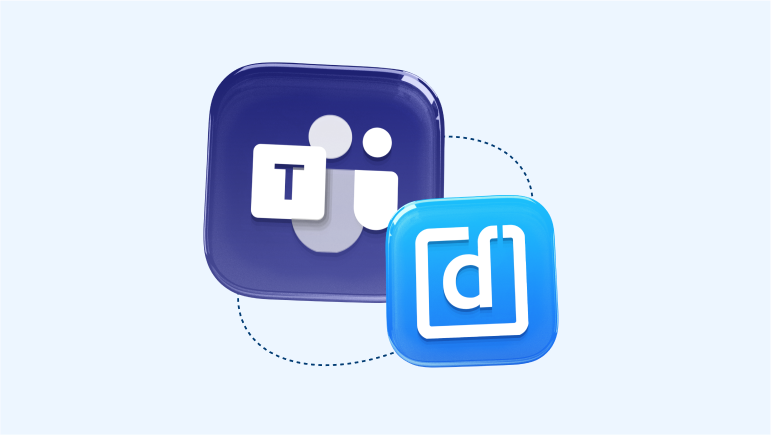 Introducing the simplest way to boost your team's productivity – Darwinbox is now available on Microsoft Teams.
We're bombarded with messages, notifications, and alerts, all the time. Constantly. From work, and our personal lives. There's always something coming at us, and we invariably use too many apps and tools to manage parallel lines of conversation across multiple devices.
HR teams today aim to provide employees with frictionless, smooth experiences, and integrate HR into the flow of work.
That's just what Darwinbox has for you.
Darwinbox is now on MS Teams, enabling employees to handle their work effortlessly and efficiently on the MS Teams app. Whether it is accessing information or completing tasks such as attendance, employees can handle it on one app. Employees will be able to, for instance, wish colleagues on their birthdays, or apply for leaves directly from their MS Teams tab, and the information flows directly into Darwinbox.
With Darwinbox on MS Teams, you're bound to see employee adoption rates skyrocket, and help make work easier, more productive, and more meaningful for your employees. HR leaders will be able to customize employee service delivery and set up custom intents unique to the organization.
Employees will be able to:
Stay on top of notifications

: Act on requests, get notifications on updates, etc.
Complete tasks swiftly, easily:

Raise requests for attendance clock-in, apply for leaves, etc.

Access key information:

Find colleagues, access HR documents, check leave balance, etc.
For example, an employee will be able to share employee recognitions through the MS Teams app, or can apply for leave directly from the MS Teams tab.
With hybrid work becoming the norm in most workplaces, employees will have to be more deliberate about communication and collaboration across channels, and the barrage of notifications is only set to increase. Irrespective of the need for collaboration, Darwinbox and MS Teams together will be able to deliver exceptional experiences to employees wherever they are.
To learn more about how you can provide your employees with a distraction-free workplace, schedule a demo today!