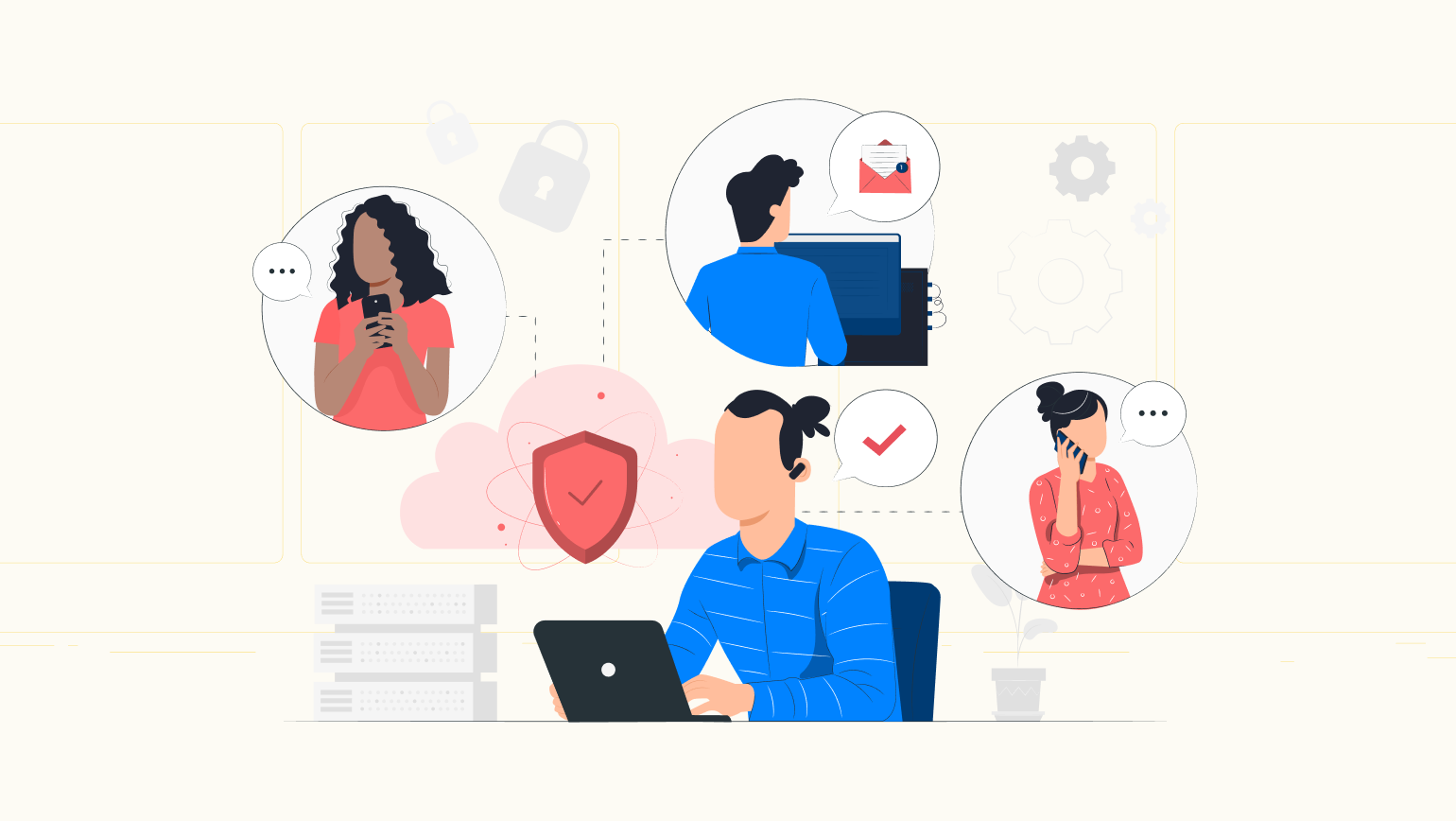 Today, communication, in the world of work, is more of a way to drive collaboration and bring value to business operations. It is no longer just a transactional activity that greases the wheels of business as usual. How does one ensure effective communication within the workforce? Read on to learn about all the various types of employee communication tools you can adopt in 2023 to ensure effective communication and maximize business outcomes.
Workplace communication forms the foundation for productivity, collaboration, engagement, and a healthy employee experience. The kind of technology we use for communication and collaboration can significantly impact the quality of communication in the company.
With the world of work going through constant change, we have had to switch from one tool to another for communication to accommodate working in real time, working in a remote environment, and now working in a hybrid one. We have gone from watercooler conversations and conference room meetings to breakout sessions on Teams and texting on Slack. However, the essence of this exchange of information stays the same. Communication still remains the root source of collaboration and engagement.
Why Is Employee Communication A Major Concern in 2023?
We know that communication is the foundation for a harmonious workplace, but did you know that it can potentially make or break a business? Here are some notable facts that employers and people practitioners must take note of:
86%

of workforces cite the lack of communication as the main cause of business failure.

Workplaces that facilitated effective internal communication improved productivity statistics by as much as

25%

.

Of

97%

of employees cite that communication with their coworkers helps nurture their efficiency at work on a daily basis.
Communication barriers among coworkers at their job accounts for business losses of up to

$37 billion

a year.
Key Benefits Of Employee Communication
There are numerous benefits of enabling effective communication among employees. The most commonly heard are that it improves collaboration and facilitates employee engagement, but do you know about the effects it has on productivity?
Here are some of the lesser-known benefits of investing in tools that facilitate employee communication:
Improved productivity

: Good, transparent communication helps employees understand their roles and responsibilities and enables them to work more efficiently and effectively.

Increased morale

: When employees feel informed and included, they are more likely to feel valued and motivated.

Stronger teamwork

: Effective communication can help build trust and cooperation among team members, leading to better teamwork and collaboration.

Better decision-making

: Sharing information and soliciting input from employees can lead to more informed and effective decision-making.

Richer company culture

: Open and transparent communication can help create a positive and inclusive company culture.

Improved problem-solving

: When employees are encouraged to share ideas and concerns, they can contribute to the identification and resolution of problems.

Greater innovation

: Encouraging open communication can help foster a culture of innovation, as employees feel comfortable sharing new ideas and suggestions for improvement.
Learn more: What You Lose By Not Engaging Your Employees
Key Elements of an Effective Communication Tool:
When you are looking to enhance communication at a workplace, several kinds of communication tools can be used to make sure that the team is always well-informed and on the same page. However, to look for the communication tool that will cater to all your basic needs, you must use this checklist to look for the key elements that it must have. For instance, it should have:
Easy Accessibility to Data
An ideal communication tool is one that help the user look up specific conversations or messages. These tools ought to allow you to conduct searches using keywords, names, dates, tags, categories, and even attachments. This would make it possible for users to quickly find the data they need without having to rummage through disparate applications.
A Streamlined Framework
Users should be able to organize the data in a communication tool however they see fit. Many communication tools enable the creation of channels, tags, and even custom fields to support the organization of information. When the presentation of information can be managed and the data can be accessed using sort and filter options, employees are able to find what they need quickly and more efficiently.
Multilingual Assistance
Support for multiple languages is frequently overlooked in communication tools. However, it might be a crucial feature for companies with employees and/or clients who are dispersed across the globe. Tools that are available in multiple languages promote an inclusive workplace and allow users to use the platform in their own language.
A Working Dashboard
With a dashboard to help get a birds-eye view of who is working on what, communication tools can help teams keep up with events in real time. This feature is essential for keeping everyone up to date on recent project developments and activity across teams and on the same page.
Timely Notifications
The ability to receive alerts about specific conversations or messages is an essential feature of communication tools. This ensures that no important details are missed and allows users to stay up to date on a project's most recent activity.
Networking Capabilities
The ability to share information with people outside of your organization is one of the main advantages of communication tools. With this feature, you can easily contact potential clients, customers, partners, and other stakeholders.
File Sharing
Because businesses frequently use multiple tools for internal communications, a file-sharing feature is a necessity. If teams have the ability to share PDFs, images, videos, and other types of files on the fly, working on projects will be much easier.
Active Tracking
The capability to track activity gives employees the ability to see the history of everything that has been done in a project. Viewing the activity history when working on multiple projects can also be helpful as it serves as a bookmark for employees to refer to when they are working on a similar assignment.
Security Measures
Security has a significant impact on where your information is stored. If you use a communication tool with advanced permissions and security, you can feel confident knowing that your data is secure.
Mobile-friendliness
Having mobile access to your communication tool is not just a big plus but a necessity in the new world of work. Mobile apps allow users to continue working on projects and staying connected even when they are away from their physical or virtual office. It can help teams in being informed of any urgent updates or notifications as they happen.
APIs for Integration
If communication tools are integrated with HRMS tools or task management software platforms, it helps teams increase project visibility and makes work more fluid. While doing this, it is crucial to consider your team's needs when selecting your communication medium. Some tools already come with integrations, but you might need to use third-party software with others. This can include creating seamless integrations with CRM platforms, accounting software, HRMS platforms, and project management tools.
The Most Effective Employee Communication Tools You Must Implement
Without any further ado, let's cover all the employee communication tools that are going to help you put effective collaboration in full effect this year:
1. Messaging and Chat Platforms
Over the last few years, the way we communicate has changed. Thanks to messaging and live chat tools, teams can communicate in real-time whether they are across the globe or in the same room. Tools for messaging and chat enable the rapid exchange of data, files, and links, and also allow workers to have casual conversations.
2. Intranet Connections
Intranets are private networks that are only accessible to an organization's employees. They give teams a forum for communication while keeping them informed of company news and announcements. These platforms make for a great way to enable internal social networking. This helps employees share achievements, show gratitude, and keep one another abreast of every monumental milestone achieved. For instance, Darwinbox offers an in-built social networking solution, Vibe, that acts as a bulletin board for updates and announcements, a community to help people come together and share interests, and a platform for people to give feedback and celebrate achievements.
3. Collaboration Tools
The ability to collaborate on documents is crucial in a productive and result-oriented work environment. Teams/employees can work on the same document at the same time using document collaboration tools. These tools allow coworkers to see each other's edits as they happen. These tools and platforms can be used for brainstorming sessions, document writing, design work, or group presentations.
Learn more: The Importance of Workforce Collaboration in 2023
4. Knowledge Management Tools
In the age of information, it's important to be able to manage and share company knowledge, while maintaining a single source of truth within the organization. Knowledge management tools help teams to organize, store and share information while minimizing time wasted. These tools can be used to share as well as store a variety of information over the airwaves and make the process of accessing information more streamlined while helping the team keep data organized.
5. Project Management Software
Project management tools help teams to visualize assignments and consequently plan, track, and execute projects. These tools are used by teams of all sizes for all kinds of initiatives no matter how big or small. Project management tools help keep the team abreast of available information, the direction of the project, the status of assignments, and the achievement of key milestones.
6. Voice and Video Conferencing Tools
Voice and video conferencing tools allow team members to communicate with each other without being in the same physical space. With dispersed teams that are also working cross-functionally, it becomes more important to bring clarity to communication which becomes easier with voice and video conferencing tools. These tools can be used for team meetings, training sessions, or one-on-one consultations.
7. File Sharing Platforms
In a digital workplace, it's important to be able to share files quickly and easily. File-sharing tools allow employees to share documents, photos, videos, and other types of files with each other. By keeping these files secure, these tools also help empower administrators by providing them with the choice of selective access. These tools can be used for both active collaborations and for simply sharing information.
8. Marketing Communication Tools
Marketing communication tools help teams to create and manage marketing campaigns. They can be used for a variety of purposes, such as email marketing, social media marketing, or content marketing. Allows marketing teams to track results and measure messaging and campaign success.
9. Customer relationship management (CRM)
CRM software platforms aid businesses in managing and upholding customer relationships. Communication tools of this kind can be applied to the sales, marketing, or customer service sectors. These enable businesses and organizations to monitor customer interactions and data and help positively raise client satisfaction.
Learn more: 10 Key Reasons Why Internal Communication is Important
Tips For Building Your Communications Plan
Now that you are familiar with the basics of internal communications tools, it is time to begin developing your strategy. Keep the following in mind as you create your plan:
1. Design a Result-driven Communication Plan
To put an effective communication plan into motion, you should decide which areas you want to work on by improving communication Do you want to increase employee engagement, or do you want to improve departmental communication to ease the flow of information?
Set an objective and choose the right channels to promote the kind of communication that will serve your goals and bring your team together.
2. Bring Focus on Feedback and Innovation
Find out from your staff how they believe internal communications could be made better. What instruments or techniques would they like to see used? What do they believe is effective and what do they believe needs to change? After you've made changes to your internal communications strategy, you can also seek feedback. This will make it easier for you to determine whether the changes are having the desired impact.
3. Ensure Regular Communication
Once you put the new strategy in place, it is important to be consistent about being in touch with the employees. This might be accomplished through weekly or monthly updates/stand-up calls, corporate-wide communications, or simple daily check-ins.
It is essential to keep the company informed of any modifications or updates to the plan and ask for feedback on how things are going. Since internal communication is a continuous process, make sure to regularly review and update your plan.
4. Give Employees Regular Training
It's important to provide employees with the resources and training materials on how to adopt and effectively utilize the communication channels and tools that are being established for internal communications.
Improve collaboration, engagement, and the overall employee experience by implementing an HRMS that establishes a single source of truth for your enterprise. Schedule a Darwinbox demo today.