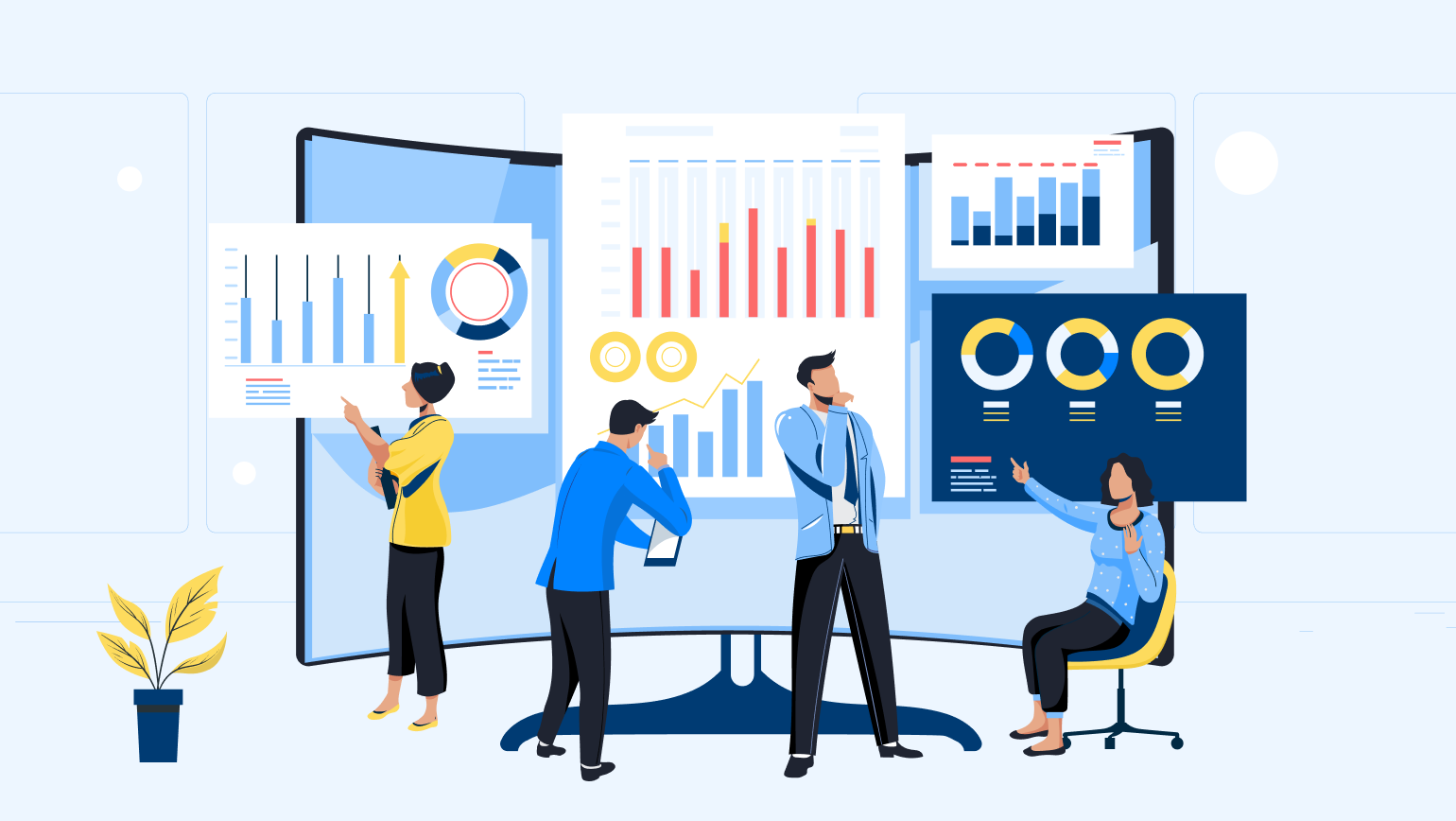 People analytics brings together HR data and organizational data to help businesses solve critical problems and work better. Learn everything that you need to know about this rapidly emerging field, right here.
Table of Contents
What Is People Analytics?
People analytics is an emerging discipline that is quickly establishing itself as the go-to tool for business leaders to solve complex business problems. Consider the example of IBM, which used a combination of people analytics and artificial intelligence to save millions of dollars in employee retention costs.
The IBM Case Study – The Power of People Analytics
For any organization, employee turnover is a major area of concern. With the cost of replacing a skilled employee estimated to be anywhere in the range of 30% to 400% of their annual salary, it's not very hard to see why. IBM was no different.
To find a solution to the ever-present problem of employee attrition, the IT giant turned to people analytics and artificial intelligence. They fed the algorithm a rich diet of existing employee data, including job tenure, commute time, overtime, time taken between promotions, peer promotion, etc. The result was that in 2019, IBM's artificial intelligence algorithm could predict which of their workers were most likely to quit the organization with a remarkable 95% accuracy.
This data helped IBM accurately predict employee attrition rates, revamp its talent management strategy, address its employee turnover rate, and put a well-thought-out hiring plan in place. The outcome of the exercise was that IBM ended up saving approximately $300 million in retention costs, according to former CEO, Ginni Rometty.
Definition of People Analytics
Not so long ago, business value was defined as tangible assets like capital, real-estate holdings, stock inventory, etc. These assets could easily be recorded on the balance sheet. However, business has changed over the last century, and so have the drivers of business value. For the business giants of today like Google or Meta, their business value would be correlated with their highly skilled workforce.
However, this presented a new challenge. These new drivers of business value were intangible and everchanging, which made it very difficult to track their real value at any given point in time. To capture the true value of these intangible assets, organizations began relying on data to improve business performance.
People analytics can be defined as the method of collecting and analyzing organizational and people data to gain insights and solve people-related business problems. A few of the uses of people analytics include improving employee productivity, identifying and closing skill gaps, recalibrating hiring strategies, and optimizing the overall organizational strategy, among others.
What is the Difference Between People Analytics and HR Analytics?
You may have come across many websites and source materials that use the terms 'HR analytics' and 'people analytics' interchangeably. While this is quite popular, it is not entirely accurate.
HR Analytics: HR Analytics refers to the process of measuring metrics that fall exclusively within the domain of Human Resources.
People Analytics: Unlike HR analytics, the scope of people analytics is far more holistic and transcends the HR department to include data from teams such as marketing, sales, customer service, and finance among others.
To explore the differences between HR and people analytics in detail, read our blog where we expound upon the topic.
Why Is People Analytics Important?
To comprehend the importance of people analytics, let's understand its origins and how the discipline has evolved over more than a century to become perhaps the most vital business function of our times.
The Evolution of People Analytics – 1911 to 2022
1911 (Conception)
The first step towards people analytics was probably taken by Fredrick Winslow Taylor, one of the key figures in the history of modern HR and the father of scientific management, on which modern HR is heavily based. In 1911, Fredrick Taylor published his revolutionary book, 'The Principles of Scientific Management'. In his book, he argued that organizations could drive efficiency and maximize productivity by quantitatively measuring everything that employees were doing.
1990s – 2000s

It wasn't until the early 21st century that HR analytics – the forerunner of people analytics - emerged as an independent discipline with a dedicated department and assigned professionals. In the beginning, these early teams consisted of a minuscule number of employees confined to administrative tasks like putting together specific reports such as annual employee engagement surveys, the impact of training programs on candidates, etc. Even the tools being used were relatively basic such as spreadsheets.
2008 – 2010
However, it was only when the global financial crisis of 2008 hit that organizations really began to understand the value of analytics. With their survival at stake, organizations felt the need to measure the efficiency and effectiveness of their strategies. Teams that could deliver these insights to leadership became critical to the success of their business and helped organizations flourish in the post-crisis era.
Established companies such as Microsoft and Google began harnessing their expertise in complex predictive analytics to create a consistent employee experience. In fact, organizations were finally using running sophisticated analyses on employee data to enhance their competitive advantage.
By the mid-2010s, most multinational companies had a dedicated people analytics team whose role had moved from reporting to utilizing analytics to create financial value for their organizations. However, even in 2010, most people analytics teams found themselves relegated to a reporting-only role.
2015 – 2020
Between 2015 to 2020, with the rise of executive expectations, the people analytics teams evolved to being expected to help chief human resources officers (CHROs) modernize the workforce based on evolving market demands. With the backing of senior executives within the organizations, people analytics morphed from being a supporting function within the Human Resources team to a core component of business strategy. With the change in role came an increased budget, access to cutting-edge technology, the newest models, as well as new talent. By 2017, a report by the Corporate Research Forum, Strategic Workforce Analytics, revealed that 69% of organizations that employed over 10,000 employees had a dedicated people analytics team.
2020 – 2022
The year 2020 was pivotal for people analytics teams across industries. The COVID-19 pandemic and the subsequent public health crisis forced organizations to reinvent the way they work almost overnight. As the global markets headed towards an unknown future, leadership increasingly relied on their people analytics function to act as a compass. Required to generate data and information on things like remote working, infections, employee absenteeism, and mental well-being, people analytics was now playing a critical role in educating leadership and helping businesses shape their daily operational decisions as well as their long-term strategy.
At the same time, important social movements such as Black Lives Matter, hot on the heels of #MeToo movement exposed the vulnerability of minorities and brought the focus of society back towards issues like racism, diversity, gender pay gap, and income inequality. The renewed focus on these social issues alongside the gender pay gap, a stagnating workforce, the advent of 'The Great Resignation', and the subsequent intensification of the talent war was among many other factors that forced CHROs, COOs and CEOs to revamp their workplace policies. The metrics and data proved an invaluable tool in analyzing trends and strategizing for an effective solution.
The subsequent intensification of the talent too played a vital role in firmly establishing the value of people analytics. In fact, this demonstrated the power of data in eliminating bias, boosting performance, and ushering in the sense of diligence that is fundamental for the success of their organization. Read our detailed blog here to learn more.
How To Use People Analytics Effectively
People analytics can help organizations identify recurring patterns in employee behavior, determine areas of improvement, and make a coherent and sustainable evidence-backed plan of action to improve organizational performance. Be it hiring during a tight labor market or working through an organizational restructuring, people analytics can help you make the right decisions and help your business emerge stronger.
Some of the steps for setting up a people analytics process are:
Defining data sources

: Some examples of data sources are HRIS, applicant tracking systems, sales CRM, finance tools, etc.
Setting up infrastructure:

Establish a data infrastructure to collect, analyze, manage, and store the data.
Adhere to legal constraints:

Consult with legal counsel to understand local data regulations and create a water-tight framework to safeguard your data.
Do a test run:

Test the viability of your people analytics setup by testing actionable insights against a few hypothetical scenarios. Implement changes if necessary and repeat.
Read our ultimate guide to building a winning people analytics strategy here.
Learn More: People Analytics: A Step-By-Step Guide To Using Analytics in HR
4 Top Benefits of People Analytics
The discipline of People Analytics continues to be in the spotlight. In fact, a study by HR expert Josh Bersin indicates that as many as 69% of companies are in the process of building a people analytics database. Just to put this in perspective, in similar surveys conducted previously the number used to be around 10-15%. An almost 4-fold jump. So why are organizations lining up to invest in people analytics?
Here are 4 benefits of integrating people analytics into your business strategy:
1. Better talent acquisition
The talent war has intensified. 75% of employers have admitted to facing a hard time finding qualified candidates, according to a 2022 study published by Manpower group. People analytics helps you evaluate candidates based on their experiences, correlate this data with what the role requires and draw up a list of the most suitable candidates from a pile of resumes. Because the whole process is automated, this also eliminates any bias and ensures that only the right talent is hired for the right job.
2. Improved Employee Retention
It's no secret that talent is in short supply and replacing a skilled employee is significantly. In such a scenario, employee turnover expands from being an HR issue to a critical business issue. People analytics can help your organization identify the areas of improvement, flag relevant issues and bottlenecks, etc. This data can then be paired with Artificial Intelligence to create a potent algorithm which can help save millions in revenue. Recall the IBM story at the beginning of this article where you saw how the IT giant saved $300 million by relying on people analytics and artificial intelligence? That's a great example.
3. Enhanced Employee Experience



Employee experience is an emerging field of human resources focusing on your staff and the quality of their experience while working in your organization. Spanning the employee lifecycle from hire-to-retire, people analytics can help you synthesize data collected from pulse surveys, etc. to analyze employee sentiment, evaluate their sense of belonging with the organization, identify any problems and solve them, enhancing their overall employee experience.
4. Identification and Closure of Skill Gaps
Any organization is a mix of best performers, average performers, and others. Among the various factors influencing employee performance, skill gap is a major one. In fact, according to a report published by McKinsey in 2021, an astounding 87 percent of companies indicated that they are aware of existing skill gaps within their organization. People analytics can help organizations pinpoint and bridge these skill gaps leading to better business performance.
Learn More: Unveiling Darwinbox Atlas: The All-in-One Reporting & Analytics Engine
5 Common People Analytics Challenges
Nothing is perfect. While people analytics has created a niche for itself among business leaders, there are multiple challenges that organizations encounter, especially during the initial days of implementing the model. Here are 5 common people analytics challenges your organizations may face:
1. Lack of Trust in Data
It's human nature to trust gut feelings over cold hard data. Business leaders are no different. While most business leaders know better, there remain business leaders and executives who would choose their gut feelings over software.
However, in today's ever-evolving business environment, adopting an approach that is not evidence-based is like playing Russian roulette with your business strategy. In the course of time, this may lead to unfavorable outcomes for your business. It is important to bring everyone to the table at the outset and assuage any doubts so everyone is on board.
2. Fragmented or Missing Data
According to a survey carried out by Deloitte in 2017, only 39% of business leaders believed that their organization had "very good" or even "good" quality of data which could be used for people analytics. In fact, when it comes to people or HR data, many organizations use assorted systems and platforms that are often not configured to operate together properly. Often there is no central storage for employee data and sometimes even the format of storing the same data may differ significantly across systems.
User adoption or employees not using the system/s properly is another challenge which contributes to missing data. Some of the common reasons behind the widespread lack of user adoption are improper implementation of the system, poorly designed user interface, cumbersome login process, etc.
Organizations can easily overcome such challenges by investing in an end-to-end HCM suite like Darwinbox which is both flexible and configurable. It comes equipped with a plethora of modules and the consumer grade intuitive interface sends employee adoption rates soaring.
3. Not Asking The Right Questions
Metrics are only as good as the actionable insights and business outcomes they deliver. This maxim is true for people analytics as well. If you're embarking on a people analytics mission without adequate clarity on the starting line, finish line and the end goal, you may end up completely lost in the sea of data. The objective of people analytics is to help you get specific answers to specific questions. Pro tip: Begin by clarifying the questions and gaining clarity about expected outcomes.
4. Challenges of Storing Data
Simply collecting people data isn't enough. You also need a robust data governance framework with clearly laid out parameters to ensure that the data is stored and used responsibly. This includes policies on data integrity, security, privacy as well as access. Storing something as sensitive as people data is a critical challenge that can have a significant impact on your people analytics, your organization's reputation, data security, employee security and even on the bottom line of your company.
5. Lack of Proper Tools
With the growing demand for people analytics across industries, a plethora of tools are available in the market. However, to give your business the boost that you want, you need to have the right technology in place. Some of the things you should bear in mind while shortlisting people analytics tools include the scalability of the system, user friendly interface, the ability to store and manage data effectively, configurability and customization, and most importantly, reliable aftersales support. Darwinbox's HCM suite includes Darwinbox Atlas – the all-in-one reporting and analytics engine designed for fast growing organizations of tomorrow. Read more about it in our blog.
Learn More: Top 10 HR Analytics Tools for Organizations in 2022
4 Key Best Practices for Implementing a Great People Analytics Strategy
People analytics strategy is all about the art of planning what people data is collected, how the data is analyzed, and deriving insights based on the analysis to make crucial decisions to solve business problems.
Here are 4 key best practices that will help you create a great people analytics strategy:
1. Ditch Intuition for Data
We're living in the age of data and analytics. The insights provided by data points eliminate the need for intuition-based decision-making. Instead, a data-based approach introduces precise and unbiased decision-making, which goes a long way in strengthening not just the performance but the very foundations of a business.
For example, by using objectives and key results (OKRs) you can easily measure the individual, team, or departmental performance with clear insights on what's working and what isn't. A careful analysis of the data with the right people analytics tools like Darwinbox can help you translate the data points into easily actionable insights, which can help you bring in a fundamental transformation in your talent strategy.
2. Manage Your Data Effectively
Precise data is at the core of the people analytics-based approach. Even a tiny deviation can have far-reaching consequences in the long run. Therefore it's imperative to define policies that clearly outline responsibilities for managing and storing data while commissioning an effective and compliant data management process.
It's essential to remember that data management for people analytics goes beyond HR and requires close coordination between multiple stakeholders from other departments, including IT, finance, sales, marketing, and others. Due to the sensitive nature of these data, you should also involve cybersecurity and legal counsel to set protective measures.
3. Use Data to Create Actionable Insights
It's not enough to generate data. Use the right people analytics tools to translate your data into a story. People analytics tools like Darwinbox's Atlas can help you bring together data from multiple sources. It can also help you use AI-based predictive modeling to identify trends, risks, and opportunities, empower managers with personalized and consumable insights while also helping you configure persona-based access controls and security.
4. Ensure Data Compliance
Data is sensitive. Almost all industries are subject to stringent data regulations by local and sometimes even global authorities. To ensure that your data collection, storage, and analyses are within compliance standards and guidelines, you should set up an internal vetting process. It is advisable to form a committee with other stakeholders to oversee and ensure data compliance. This committee can design policies around data governance to prevent misuse or breaches.
For a detailed read, check out our blog, 'The Ultimate Guide to Building a People Analytics Strategy.'
7 People Analytics Metrics HR professionals Must Track
If people analytics is the compass that shows your business is moving in the right direction, the metrics are the milestones. The right metrics can help you track your progress or course correct as required. However, it's essential to know which metrics to follow at any given point in time. Here are 7 people analytics metrics that you should monitor:
1. Employee Turnover
Employee turnover or labor turnover measures the frequency with which employees of an organization leave their jobs either voluntarily or involuntarily.
2. Employee Absenteeism Rate
Absenteeism or absence rate is an individual's unscheduled absences from work.
3. Time to Hire
The 'Time to hire' metric helps you track the time between a candidate applying for a job and the final employment offer.
4. Revenue Per Employee
Revenue per employee is the total revenue generated by your business divided by the total number of current employees.
5. Diversity, Equality, and Inclusion
Diversity, Equality, and Inclusion or DEI metrics help HR monitor the company's approach towards inclusive practices.
6.

Employee Engagement
Employee engagement metrics can help you monitor employee sentiments and help you raise a flag early on in case of an issue.
7. Employee Performance
Employee performance metrics can help identify skill gaps, plan training sessions, identify great talent, and ensure that all employee activities are aligned with the larger business objective.
For a more comprehensive list of people analytics metrics, read our blog here.
5 People Analytics Trends to Watch Out For In 2023
With many exciting activities happening with people analytics at the epicenter, let's look at the top people analytics trends you should catch up on.
Here are the top 5 trends to note:
1. Greater Emphasis on Diversity, Equity & Inclusion
We are more conscious than ever of issues such as racism and social injustice. As such, there's an ever-growing emphasis on diversity, equity, and inclusion initiatives in the workplace. Rather than empty promises, employees today want to see those promises to be put into action. They want employers to create a real difference in society. People analytics can empower businesses to gauge the current state of DEI across their talent lifecycle, identify the issues and plug the gaps.
2. Preparing for a Post-COVID World
CHROs across the industry increasingly rely on their people analytics team to create a strategy for a post-COVID workplace. While insights on remote employee performance are being analyzed to identify trends, organizations are also sending out pulse surveys to measure the wellbeing of their employees. Meanwhile, HR leaders are also scrutinizing attrition and employee engagement data to identify issues and strengthen inter-team relationships. These metrics are slated to play a key role in designing policies that will shape the workplace of the future in a post-COVID world.
3. Using Data for Storytelling
The human mind is programmed to respond better to stories than bare facts. Storytelling with people analytics is about successfully communicating insights from a dataset using narratives and visualization. There are three steps for compelling storytelling:
a) Analyze the data: Create a thorough analysis of accurate and complete data, which will serve as the foundation for the story.
b) Build a narrative: Write the insights extracted from the data, the context, and the actions you recommend, creating a narrative for the story.
c) Create visual representations: Visualize the data to communicate effectively with the audience through charts, graphs, diagrams, pictures, or videos as required.
4. Greater Focus From Senior Leadership
The people analytics field is attracting increasing recognition from senior leadership of organizations. The primary reason for this is the fact that growth, productivity, revenue generation, etc. are closely tied to the workforce. As a result, more business leaders are turning their attention towards metrics such as retention level, employee engagement, staffing, etc.
5. Privacy Will Be in Greater Focus
As the user base for people analytics grows, there is a genuine concern about data privacy. Businesses are expected to ensure that access to sensitive data remains closely guarded. As such, there is a growing demand for analytical tools with built-in privacy controls.
Key Takeaways
Organizations are striving to keep pace with the ever-evolving business environment and labor market. This quest has led to a growing realization among HR leaders that traditional HR roles may no longer be enough to surmount upcoming challenges.
Questions such as 'What is the future of work?', 'How can organizations be more inclusive, diverse, and equal?', etc. are keeping CHROs on their toes. The only way to answer these burning questions is through actionable insights based on quality data generated by robust people analytics.
Find out how Darwinbox can help you redefine your talent strategy with People Analytics, book a demo today!