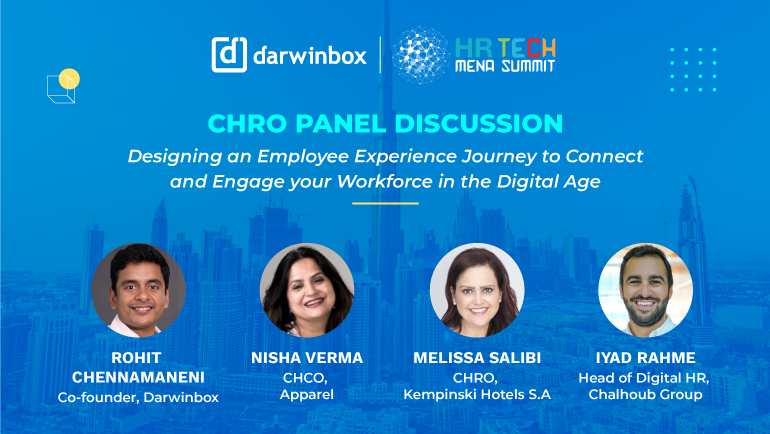 We are in the age of the 'experience economy', and in many ways experience is the deciding competitive factor.
Employee experience is as key to the success of an organization as customer experience is. Employees are, after all, ultimately responsible for creating your organization's customer experience. The way they work, and the effort they put in, depend a large part on the experience journey that an organization designs for them.
This employee experience journey consists of a lot of players and moving parts, with different nuances from industry to industry, but certainly what is common is that it must be built on a strong tech foundation. While experience is people driven, tech remains a force multiplier and often a delivery mechanism of that experience.
Never has this been more pertinent than in our post-pandemic world, with businesses the world over accepting that remote working or hybrid working is here to stay.
A group of HR leaders gathered at HR Tech MENA to talk about designing an employee engagement experience for the Digital Age. On stage were Iyad Rahme, Head of Digital HR, Chalhoub Group; Nisha Verma, Chief Human Capital Officer, Apparel; Melissa Salibi, Chief Human Resources Officer & Member of the Management Board, Kempinski Hotels S.A.; and joining virtually was Rohit Chennamaneni, co-founder of Darwinbox. Here are the highlights of what they had to say.
Meeting
post-pandemic
challenges with tech
"Engagement" has been a topic among HR professionals for a long time, even when everyone was working in offices. Now, of course, the set of challenges has multiplied.
How can we keep employees engaged when they are not meeting anyone? Yes, tech is the answer, but the HOW element is very important.
The way to go about it is by determining what needs to be solved for. Identify every touchpoint between the organization and the employee and look at them as problem statements. Figure out the issues for each one, and then you will be able to plot out a solution.
Using tech to instil culture
Since many employees have joined organizations remotely, and many more will continue to do so, the tenured employees of an organization become its culture bearers. They can still help to instill the company culture in new recruits.
It's important how HR practitioners support managers and leadership to do this.
For example, let's take the example of a "culture of gratitude". A rewards & recognition program becomes a way to openly and publicly put people in the spotlight for great work that has been done. A centralized system for such a program means that recognitions can be made without a governing committee or approval process, and anyone can recognize someone in any branch, office, city, or country sitting from their home. Organizations can see a lot of leaders and future leaders come to the fore through such a program.
HR must partner with Business and Tech to ensure adoption
The employee experience spans even beyond hire and retire—the first contact with an employee is even before they fill out a job application, and after separation it could be engagement in an alumni community, for example. So, the importance of adoption of the experience cannot be understated.
To really bolster adoption of the employee engagement journey, HR must involve the leadership and tech team from the very beginning. This is when the best solutions come to the surface.
Setting boundaries going ahead
The initial days of lockdown and work-from-home were a trial-by-error experience. There were many light-hearted moments of colleagues' and business partners' home lives seeping into our work life by way of, for example, children and pets interrupting calls. Being casually dressed for an official meeting was no longer taboo. Many boundaries had blurred.
However, the mindset has shifted from "getting back to office eventually" to preparing for the long haul as a hybrid workforce. Going forward, some of those boundaries need to come back.
This might entail individuals taking a personal effort to reduce disruptions, or perhaps setting some clear meeting etiquette. For example, a camera-off meeting might be fine between a manager and reportee, but if the meeting is with an external vendor or partner, it might make more sense to have cameras on, to wear a proper shirt, and whatever else is required to present a wholly professional image.
One way to prevent the extent to which boundaries blur is to make time for the informal meetings (within your team or across teams). A quiz night, a wine-from-home session, or something in that vein. Give people that opportunity to interact in a casual manner, and that will help create a clear demarcation of expectations in their mind.
Design employee experience to elevate individuals professionally and personally
It is worth reiterating: culture is very important. And you need to keep in mind the culture you are promoting and building for the future.
For example, Millennials and Gen Z have a very different outlook on their careers compared to their predecessors. It's not just about their job, it's about growth, it's about things like sustainability. So, does your employee experience accommodate sustainability? How does that fit into the organization's ethos? Are you giving employees a clear and transparent career path? These are the kind of questions that leaders need to be asking when thinking about employee experience.
Leadership must be trained on the art of instilling culture in a hybrid workforce and be given the tools to do it. HR leaders must have open, bilateral talks with business leaders about this, and gather what insights and recommendations they have as well.
A common theme that ran throughout the panel discussion was that while everyone is gung-ho about digitizing HR for the convenience and empowerment of employees, in no way should the human be taken out of Human Resources. The system should never replace the relationships we have in our organizations.
Businesses have opened their doors to talent from across the world, one of the silver linings of the pandemic. So, workforces are getting more and more diverse. There are no one-size-fits-all solutions anymore. Personalized HR is the way forward. And the magic word here is: choice.
If we can give a choice to our employees in how they want to remain engaged, how they want to work, and how they want to build their careers, then we've hit the nail on the head. They can then take ownership of the path they want to take.
Ultimately, building a rewarding employee experience is about recognizing an employee's individuality, and giving them the tools to not only make the business win, but to grow into the individual they want to become. In designing the employee experience journey, HR practitioners can always use this mantra a guiding light.