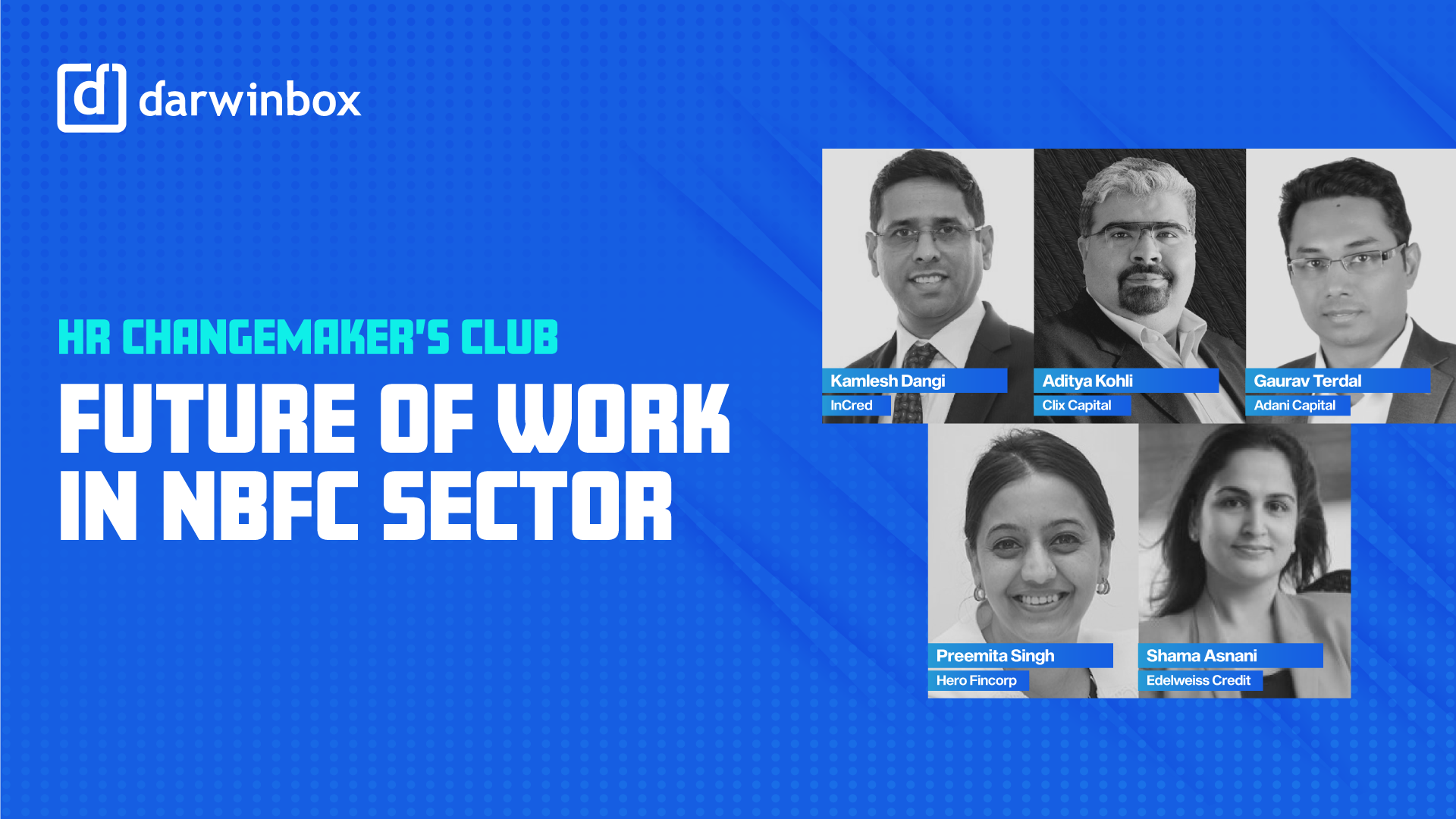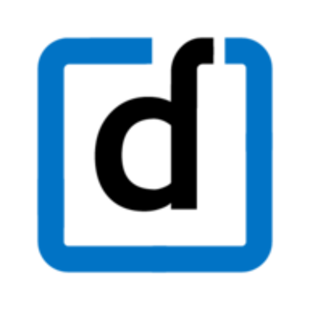 The global pandemic of COVID-19 has brought about considerable damage to the global financial markets, including India. Businesses across sectors including ones that are critical to NBFCs such as manufacturing, auto, and retail have significantly been hit and may take some time to bounce back. However, the financial impact is not the only challenge, the world of work is changing, and NBFCs across the country have had to make some significant changes to adapt to this new normal.
To get a better understanding of these challenges and the solutions that have been implemented to overcome them, Darwinbox recently conducted a panel discussion with CHROs from some of the country's top NBFC firms. Let's take a look at their perspective on the future of work in the NBFC sector
Immediate Impact
Investments in Online Learning
The current situation of conducting business from home has revealed the importance and need of upskilling employees within the organization. Through investments in online learning programs, HR teams have not only focused on training employees on the latest technological tools but also honing and developing their people skills.
Moratorium Effect
Most customers in the market do not understand the meaning of moratorium since most believe it to be a waiver of some kind. Gaurav Terdal, CHRO, Adani Capital shared a great example during the session, "For a loan of about 10 lakh rupees, you are offered a six months moratorium. You end up paying about two and a half lakh rupees, which is about 20-25% more than what you end up paying for not paying for six months. This could look like a waiver for six months."
He stresses that educating the customers in that sense was an intensive exercise for Adani Capital. Further adding that the immediate effect of the moratorium is difficult to assess as of right now and can only be possible 6 months after it has been applied.

High Levels of Workforce Management:
Organisations have started implementing Pyramid Management, making it easy to distinguish between jobs that could actually be performed from home. This formation helps to align employees with their compensation, amongst other benefits. It also helps employees understand their KRA's clearly, so they can work accordingly.
Moreover, Pyramid Management is especially helpful when teams need to understand and focus on improving the organisation's internal culture by shedding light on the importance of taking care of those at the bottom of the pyramid who perform the majority of the day-to-day execution.
Culture Building & Gaining Employee Trust
Employees are noticing the way companies are building their cultures around them. Unlike in the case of newer business, already established firms have a set culture in place which will now be significantly impacted because of the changes in the way we work.
This is the right time to build a better culture, one that is employee-centric and looks after the needs of the employees while also engaging them. Be it through salary advances, daily engagement sessions with organisation leaders, or even employee recognitions and rewards etc., investing in building your company's culture will ensure your employees do not lose their trust in the firm even during such trying times.
Rise of the Millennials
The working scenario of today requires dealing with technology a lot more than before. Millennials, who are adept with the constant changes in technology, are comfortable working from the comfort of their home and have volunteered to continue working from home even post the lockdown. With access to data and analytics tools and other cutting edge software, there has been an increased contribution from their end in these times.
Predicting Permanent Changes
Work from Home the New Norm
Work from home was previously something most companies were biased about since it was believed that it did not bring in much productivity. With remote working proving that meeting people physically might not be as important, the level of bias has gone from 80% to 40-50% now. Moreover, more than 70% of the workforce is opting to continue working from home even after the lockdown.
Output Focussed Organizations
Since work from home is gaining acceptance as the new norm, it is important that NBFCs center their attention towards being an organization that is focused on output and productivity. This can be achieved by realigning employees with their compensations, adjusting the KPI and KRA's of the team, and keeping track of these changes made, in order to understand its impact and make further adjustments if required.
Continuous Engagement
Gone are the days when employee engagement was a one-off yearly exercise. Regularly engaging your employees is a much better way to track their performance and improve productivity. Further, regular performance reviews and investments in employee rewards and recognition programs can also ensure they remain engagement and motivated towards their work.
Shift from Branch Expansion to Consolidation
This pandemic has shown us that NBFCs should look at making use of existing branches that are already in operation rather than investing in opening new ones. Shama Asnani, CHRO, Edelweiss Credit says that "Branch consolidation is the only piece that we are going to be working on more proactively as the next phase of growth, since there are three ways of working that we are going to be defining - One is work from home, one is work from the office, and one is work from the field."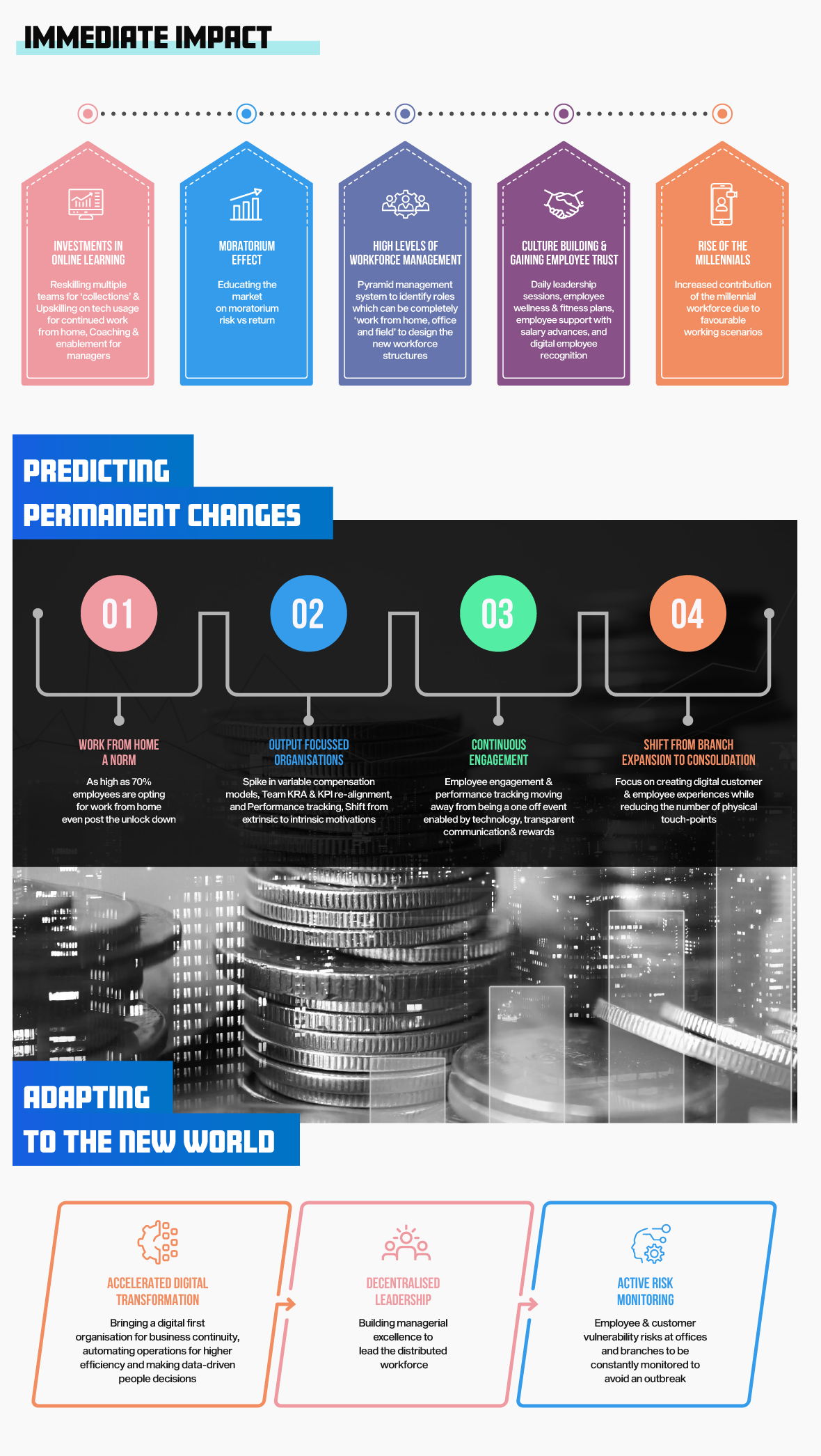 Adapting to the New World of Work
Accelerated Digital Transformations
Since work from home has become a norm, and most of the business is taken care of digitally, NBFCs are working towards making significant investments in their digital transformation. This has already been showing results in understanding the customer's preference in operating things digitally. Since they have been prodded earlier to make use of digital channels, it is now easier to understand if they have gotten used to accessing them.
Providing Tech Support
No matter the many changes in way of working, productivity is still a priority for most NBFCs. Employees were provided with laptops and internet connections so that productivity is at its best even while working from home. Multiple checks were made beforehand to tackle every possible scenario and ensure seamless connectivity.
Decentralized Leadership
Working from home brings with it its own set of challenges, and thus NBFCs are preparing their leaders to deal with these issues with a different approach. Instead of simply following the hierarchy, leaders are now being trained on ways in which they can ensure their teams perform effectively from home. Leaders are being groomed to adapt to the new form of leading their team be it through informal coffee conversations or storytelling sessions with senior leaders, etc.
Active Risk Monitoring
During this period of moratorium and other ongoing changes such as the shift in conducting businesses online rather than offline, it is important for NBFCs to actively monitor the risks associated with the same. Kamlesh Dangi, CHRO, Incred, in this context says, "We would want to wait and see where the risk is much higher. Our risk models are all digital AI-based. It requires a lot of new data to be fed in to be able to get a real sense of what's happening."
Conclusion
It is evident with the way things are progressing the world of work as we know it is completely changing. The concept of 'New Normal' is one that did not exist previously and the NBFC sector on the whole will need to make significant efforts to alter and adjust themselves to bounce back and come out stronger.