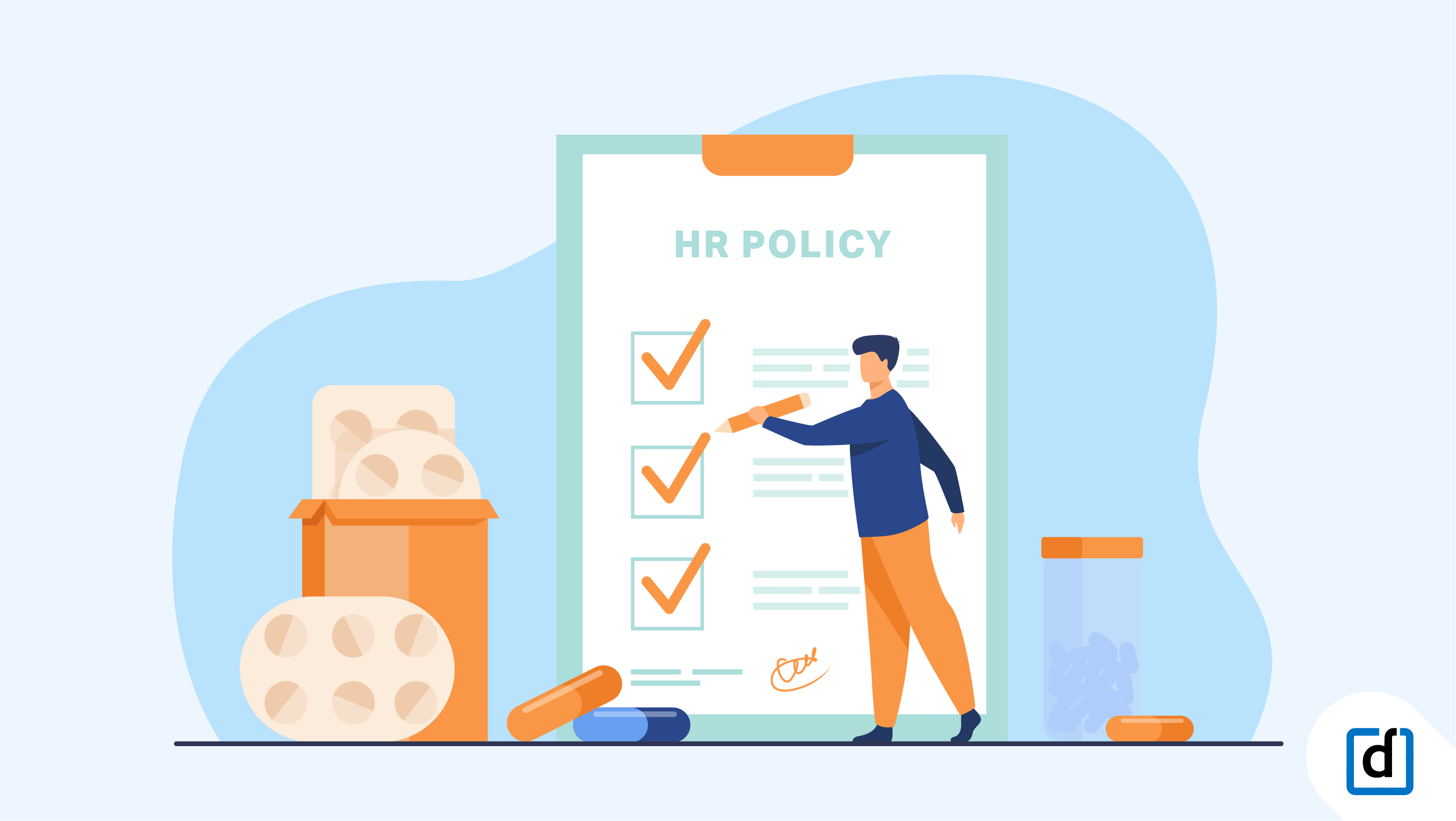 HR policies are essential for the smooth functioning of any organization. They streamline work and ensure that employees, HR and management are all aware of their roles and responsibilities within the organization. HR policies aren't meant to keep employees in check; they are a vital tool in ensuring their wellbeing.
What are HR Policies?
HR policies are guidelines for every function of HR. This includes:
HR Planning
Recruitment
Talent Management
Learning and Development
Scheduling and Attendance
Career Growth and Transitions
Payroll and Benefits
Rewards and Recognition
Health and Safety
Employee Wellbeing
Administration
HR policies essentially determine how the human resource capital will work and what the company expects from its talent pool. HR policies act as a rulebook to prevent issues from arising in the future.
HR managers and organization management come together to form and review HR policies that work best. They need to be reviewed periodically to accommodate changes in legislature and emerging trends in the workplace.
Why are HR policies important?
HR policies allow organizations to run and manage their human capital effectively. They also help ensure that HR regulations are adhered to. Effective HR policies provide structure when addressing issues related to the workforce and HR laws.
HR policies help companies in the following ways:
Ensure that all employees are treated fairly and equally
Ensure that compensation and benefits are fair and issued without bias
Allows a structured way for employees to address issues in the workplace
Align employee skills with L&D to achieve organizational goals
Safeguard companies and employees from liability
Use policies as a standard tool, thereby saving time and effort
Make requests easy as policies are clearly outlined
Improve employee experience during onboarding and throughout their careers
Have clear strategies to retain employees
Keep employees engaged, making them more productive
20 Must-Have HR Policies
HR policies have to be developed carefully, and HR teams have to consult management and get their approval before the policies are finalized. Although they do need to be updated every so often, the foundation of the policies is likely to remain the same for a very long time. HR policies play a major role in defining the work culture of an organization.
HR policies are also a reflection of the company and its management. HR policies are internal rules; however, they have to comply with the laws of the region the business is located in. For international companies, that may mean following regulations in multiple regions.
Other than labor laws, industry laws also have to be considered when drawing up HR policies.
While the list of HR policies could be much longer than this one, here are 20 policies that should be implemented in your organization.
Recruiting and Hiring Policies
There are multiple reasons to have solid recruiting, hiring and onboarding policies. Let's look at the benefits:
a) Improves employee experience
Having a streamlined and structured recruiting and hiring process defined by good HR policies helps ensure that candidates have a pleasant recruitment process. This goes a long way in creating a desirable workplace that attracts top talent.
b) Makes the process easy for HR teams
Hiring can be a cumbersome and extremely labor-intensive process. Clearly defined requirements and rules make the HR executives' and managers' jobs much easier. They know what kind of employees you are looking for, what they can offer the employees, and how they will hire them.
c) Administrative processes become much easier
A variety of time-consuming tasks become simple, for example, finding the right forms for leave applications, travel reimbursements, etc.


Employee Contracts
Employee contracts are crucial, which is why they should be very clear. They should explain what is expected of the employee, their role within the organization, and the extent of their responsibility. They should also have clear clauses about resignation or termination.
Employers must remember that contracts aren't about power play. They must be fair to both the company and the employee. If there are any specific employee requirements, these should be clearly defined in the contract.
Code of Conduct Policies
Employee conduct goes a long way in creating a conducive and healthy work environment. Therefore, a clear code-of-conduct policy is a must. It should include any consequences of negative conduct. Ensure that there is no ambiguity in these matters so that everyone is on the same page.
The code of conduct section of your HR policies needs to be extensive and extremely detailed. It must cover all forms of potential issues, from tardiness and sexual harassment to customer management.


Non-Discrimination and Anti-Harassment
While this does come under the purview of the code of conduct, these policies need to be established specifically to target biases and issues that may be prevalent in the region your business is operating in.
There are many issues in this section of HR policies that are common around the world. However, there may be specific issues in your region of operation. For example, in certain parts of India, there are prevalent discriminative practices concerning caste. Therefore, keep local legislation in mind when creating these policies.


Sexual Harassment
Once again, this policy also comes under the purview of the code of conduct. However, there needs to be a very clear section for this. Sexual harassment is a serious issue, so much so that it must be a key part of employee orientation.
Sexual harassment policies are usually zero tolerance, although it is advisable to have investigation methods to ensure that this policy isn't misused.


Employment Classification
After the worldwide pandemic, work structures have changed. Therefore, lay down clear policies relating to full-time employees, part-time employees, interns, and so on.
This is also where you specify the benefits and remuneration that each class of employees receives. Common classifications include full-time, part-time, exempt and nonexempt employees. These classifications help dictate eligibility for employee benefits and overtime pay.


Safety Policies
HR policies have to consider employee safety. General health and safety policies have to be outlined clearly. It is also important to make sure that industry-specific safety policies are put in place.
These policies also have to account for accidental injury at the workplace, injury due to negligence, etc. A very important aspect of this policy is to ensure that safety policies are cascaded to employees so that they understand them fully. Employees should know what to do in the event of a work-related injury and understand the liabilities involved.


Reasonable Accommodation
These HR policies refer to specific requests from employees to the employer to ensure a certain level of comfort at the workplace. These could be bathroom facilities for differently-abled individuals or even something like a prayer room.
A clear-cut policy has to be made to accommodate these requests, yet the policy must also define what is reasonable and what isn't. This is another HR policy that needs to be in tune with regional laws and regulations.


Disciplinary Action Policy
It isn't easy to account for every issue in the workplace; however, they can be categorized into various severities. Outline clear policies that dictate disciplinary action for specific behavior and actions. Set rules that workers can follow and make sure they are well-informed about these rules.
The severity for being late once versus harassing another employee has to be different. It is also important to have escalation matrices for repeated acts and continued offences and how each event will lead employees closer to termination.
Certain incidents call for employees to be terminated immediately; this has to be woven clearly into policies and communicated properly. It is also imperative to know the local regulations regarding severance pay and notification of termination, etc.

Compensation and Benefits Policies
These policies need to cover every sort of benefit that employees receive. This includes salary increments, bonuses, allowances, and other benefits that employees receive.
This policy should have detailed information on how these benefits and remuneration are paid out and the conditions that the employee has to meet to receive them.

Workplace Attire Policies
Workplaces are becoming more relaxed these days. However, it is advisable to set a basic requirement for attire at the workplace. This policy should also outline the various leniencies for weekends and special occasions.
If attire is part of the safety requirement, this policy should be strictly enforced.

Schedule Adherence Policies
Other than specifying minimum and maximum work hours, this policy should also be clear on the types of leave, including earned leave, leave that can be carried forward, maternity, and special leaves as well.
This policy also needs to mention break policies and both planned and unplanned leaves. This is an important HR policy to ensure that workers are productive when they are at work.


Employee Referral Policies
Employees could always use a little added income. If that comes in the way of helping your company hire great talent, it's a win-win for both parties. Include detailed information about referral policies.
Ensure that employees are aware of the duration new hires must stay at the company before they get their referral bonus.

Expense Policies
Make sure that employees are fully aware of what expenses can be claimed and what cannot. Outline the procedures that employees need to follow to receive their reimbursements, such as submitting receipts.

Work from Home / Hybrid Work Policies
This is an important aspect today and a policy that many companies did not consider relevant until the global pandemic. Create a clear outline of the productivity goals and set clear compliance regulations to safeguard company, employee and customer information.

Feedback Policies
This could also be termed transparent communication. It is important to let employees know that they have a voice and that the organization cares about what they think.

Company Communication Regulations
While this depends on the compliance risks involved in your business, it is best to have a policy in place about how emails or work-related communication is carried out. For example, it may be important for your organization that your employees do not contact customers using their personal cell phones or emails. Company documents may have to be safeguarded from different levels of employees.
All these need to be identified and put into a clear policy that is communicated to the employees.

Grievance Policy
This policy may depend upon where your company operates. Employees must have a clear method of communicating their grievances to the relevant authorities. In some cases, the complaints may have to be anonymous to ensure that employees are safe.
In India, section 9C of the Industrial Disputes Act, 1947, states that any employer with more than 20 workers must assemble a Grievance Redressal Committee.


Using Company Property
With work from home becoming commonplace, it is important to have clear policies for employees who use company property. This could be something as small as a USB drive, laptop or a company car.
Clear policies of use and collection and return documentation have to be put in place. Remember, employees, are using the equipment to work for your organization. They should not feel like the equipment is an added liability. At the same time, they should be incentivized to take care of the property.
Some companies that offer employees company vehicles offer rewards such as upgrades to newer models if the vehicle is kept in a certain condition.

Employee Exit Policies
While HR policies are created to help retain employees, some will inevitably leave. Ensure there are clear procedures to collect feedback, conduct an exit interview, and ensure the process is seamless.
Conclusion
Well-outlined, clear HR policies help employees, HR teams, and management work cohesively. Keep in mind that these policies are created to ensure that everyone is on the same page and that the company goals remain a priority. Don't forget to keep your HR policies up to date with changes in your industry and any updates in legislation.