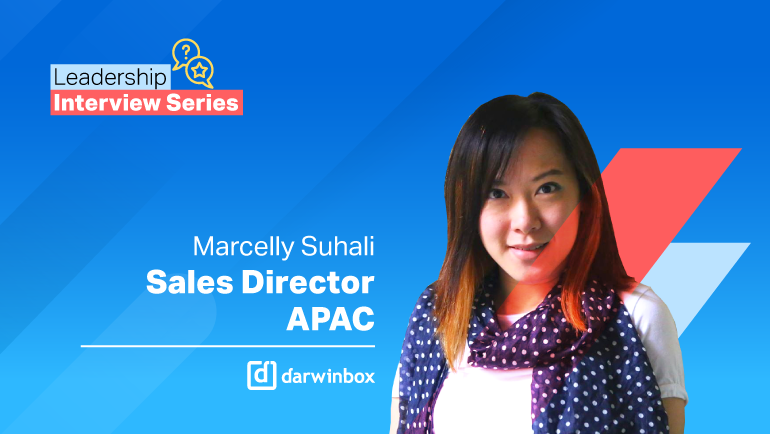 The world of work is in a state of constant flux and the pandemic has accelerated this change manifold. Businesses cannot afford to not embark on an HR digitalization journey and risk being left behind. Consequently, the APAC region is full of these digitalization stories and is, in fact, a leader when it comes to how many companies have embraced HR digitalization.
However, this has also meant that navigating such a mature market to secure wins is that much more challenging and needs a strong and experienced captain at the helm to steer the ship through. Marcelly Suhali, Sales Director APAC at Darwinbox, is one such expert navigator who has been charting the seas for 17+ years now and is spearheading APAC growth for Darwinbox. She is an Oxford University and a National University of Singapore graduate and has worked with ST Engineering, Walton Global, and SSON in her previous stints.
We got in a candid conversation with Marcelly to glean some golden nuggets of insights into HR digitalization in the APAC region and her growth vision for Darwinbox.
Here are the excerpts:


Darwinbox: As APAC continues to lead the pack in digitalization, what are some of the HR areas that you are seeing accelerated adoption in? Where is it that organizations lack or need to prioritize?
Marcelly: A welcome change that I see is that more and more organizations are truly recognizing that their people are their most important assets and paying more attention to their holistic growth is key to driving business outcomes. The leadership, of course, knew this before but the pandemic only cemented that theory and proved how talent management was a crucial aspect that they could not overlook anymore.
Enterprises have realized that holistic talent management means going beyond just managing performance and productivity. This means designing creative strategies to engage employees, actively listening to their needs, and accurately reading their pulse. This also means fostering a culture of recognition by building gamified programs and ensuring seamless integration between rewards, recognition and the redemption marketplace.
Organizations have also started to invest additional efforts in looking after their people's overall wellbeing. The pandemic has shown how important it is to be mentally and physically strong to be able to cope with adversities. According to a Pew Research Center report, almost two-thirds of companies are worried about the mental and behavioral health of their workforce. So, companies are investing in psychologists, resilience tools, mindfulness, and many flexible work benefits to help people recover.
And last but not the least, organizations are also finding ways to stay agile and adapt to the new normal to tackle the Great Resignation phenomenon of 2021.
Darwinbox: We recently made our debut in Gartner's Magic Quadrant for Cloud HCM suites for 1000+ Employee Enterprises. What makes it uniquely positioned to cater to large organizations?
Marcelly: Firstly, yay to us!
While we have a long way to go, this achievement certainly puts us in the league of the big shots and validates our efforts to become the best at what we do.
What makes our position unique is that we are extremely good at solving two crucial requirements - one is that we have a very powerful back engine which is exhaustive yet super configurable, catering to the most complex org requirements. At the same time, we have a very user-friendly front-end, a consumer-grade UI and several new-age features that you would not find in a lot of work tech platforms like a voice bot, universal search bar, super light mobile app etc.
So, we have what large organizations really need - a system that can easily cater to their ever-changing needs, yet deliver a platform that their employees love using regularly for everything HR, thereby driving higher user adoption. We are so configurable that we can take the shape of the organizations we work with. I think the fact that we are super scalable, have water-tight security features, are built with a mobile-first approach, and can seamlessly integrate with third-party systems gives us an edge over others.

Darwinbox: As you spearhead APAC growth for Darwinbox, what are your key tenets for success for yourself and your team?
Marcelly: Should I really give away the secret? (Laughs)
Well, I would say there were several factors that helped us achieve this tremendous growth.
Our spirit of excellence – Our people have a habit of giving their best in everything they do. Be it clinching a deal or ensuring clients' satisfaction and going above and beyond the call of duty to do that

.

Relentless pursuit of learning – Not only do we never stop learning, but we are actually very excited about it!

Ability to think out

-

of

-

the

-

box

–

We

take

risks, welcome new ideas, bend norms and have so much fun finding awesome solutions every

day.
Darwinbox: Darwinbox is your second-longest career stint with a company. What, in your opinion, is the must-have ingredient in orgs today to retain their best talent?
Marcelly: There is so much talk about employee engagement and employee experience these days. While these are necessary conversations and initiatives, especially in the new world of work presented by The Great Resignation, the reality is people are disconnected from the company and its vision more than ever. And it's not just because of the remote work model, that definitely adds complexity to the engagement dynamics, it's more about the org culture, the leadership and everything that stems from it.
I think one major trend that I see in Darwinbox is that Darwinians are naturally aligned to and utterly excited by our big vision and mission, which is to create an amazing enterprise HRMS from Asia for the world, competing with the legacy systems to make work better for our customers while creating a positive impact.
So, I believe the one must-have ingredient in organisation is to retain their best talent today is people's connection to the organization's vision and mission, along with the other usual ingredients like offering a good pay package, avenues for engagement, especially in the new hybrid mode of work, career progression etc.
Darwinbox: Any lessons you can share from your switch from Engineering to Sales that can inspire people to pivot to their dream career?
Marcelly: Switching from Engineering to Sales was no easy feat. However, it was an even bigger challenge for me to switch from investment sales to enterprise SaaS sales.
Joining the tech world has always been my dream because to me it is exciting and ever-evolving. I love solving problems and I find the tech world to be very solution-focused having a major role to play in the overall world advancement.
I had no HR or tech background when I started with Darwinbox, but I am grateful to the leadership that entrusted me with this opportunity. I have grown here in the last 2 and a half years, and I believe the gamble has totally paid off. (chuckles)
If I had to distil the success of my switch down to the key attributes, I will say it's courage, deep passion, a can-do attitude, and the direst thirst to learn.
In today's information economy, ignorance is a choice. We are at the best time in human history, where opportunities brought about by digital (and otherwise too) are aplenty. It's merely now about putting your dreams into action. So, what I am saying is that pivoting to your dream career is totally possible if you are willing to learn and go the extra mile!
If you want to hear more from people working in various areas, check this space for our full collection of interviews.