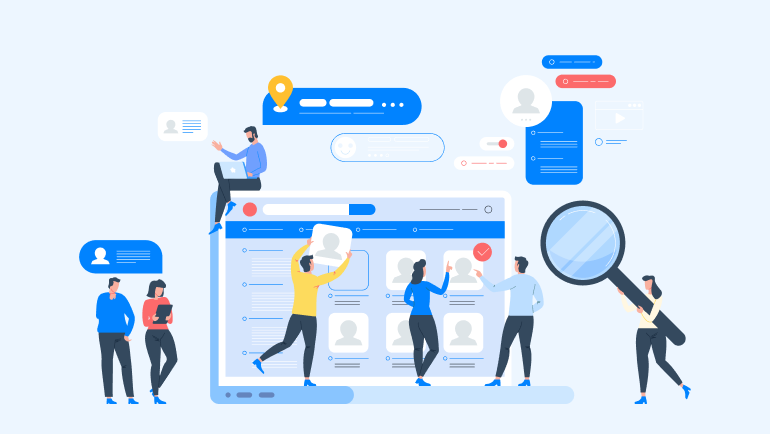 HR service delivery is about enabling employees to carry out their day-to-day functions effectively by providing seamless HR support as and when required. This article will help you understand everything you need to know to deliver outstanding HR service, including the tools, models, and technology.
Table of Contents
What Is HR Service Delivery?
In any organization, employees require various forms of support throughout their employee lifecycle to perform at their best. This support can range from simple query resolution involving payroll, checking leave balance, etc., to complex issues involving multiple departments. The collection of tools, processes, or methods via which employees seek the required support is what HR service delivery is all about.
HR service delivery is the bedrock of employee experience or EX. Organizations have progressively discovered that happier employees lead to better productivity. There's a growing emphasis on improving HR service delivery to deliver a delightful employee experience.
While in a smaller company, employees can just walk up to their HR representative to get a resolution, larger companies employ much more complex models, often involving multiple personnel, different technologies, and even whole departments at a time. The complexity of the HR Service Delivery model is directly proportional to the size of the organization as well as its commitment to providing a wholesome employee experience.
Learn More: Employee Experience Strategy: Definition, Advantages, Steps To Build, Best Practices
Know The Various HR Service Delivery Models
The history of HR and HR Service Delivery is intertwined. Once the correlation between employee welfare and productivity was established, almost every organization created a dedicated HR department. Back in the days, when companies had a single location with only a handful of employees, the practice was to have dedicated HR teams within the premises. In this traditional model, employees could directly interact with their HR representative and resolve their queries.
Traditional HR Service Delivery Model
As businesses began to grow and branch out, sometimes across multiple locations and even geographies, HR Business Partners came into the picture. The HR Business Partners or HRBPs were generalists with deep knowledge of people as well as the business whose role was to keep the company's people strategy aligned with the overall business strategy. The HRBPs were, in effect, an extension of HR, located across different locations. Each HR Business Partner was given the responsibility of a specific department or geography or business entity. However, the service delivery model itself remained largely manual, consisting of hand-filled forms, phone calls, emails, and of course, face-to-face interactions.

Ulrich's HR Service Delivery Model – The Three Components
Organizations began moving away from the traditional HR generalist-based model to a more complex multi-tiered model. While the traditional HR service delivery model revolves around HRBPs who interface with the business and employees at a local level, the multi-tiered service delivery model is based on the management guru and co-founder of the RBL Group, David Ulrich's model, where HR Service Delivery is centralized and handled through three subsets, consisting of groups of HR professionals with unique skillsets.
1. Shared Services
HR Shared Services refers to a centralized HR hub that helps in administering the day-to-day operational and administrative functions of HR. The shared services team often acts as the first point of contact for employees and managers. Reachable by either phones or dedicated helpdesks, the shared services team helps HR departments deliver their services in a faster and more effective way while allowing other HR departments to concentrate on strategic initiatives.
2. Centers of Excellence or CoE
Centers of Excellence are made up of specialist HRs who can handle complex queries and undertake initiatives like implementing policies and undertaking programs to streamline areas such as compensation and benefits, learning and development, performance management, recruitment, etc.
3. HR Business Partners
HR Business Partners or HRBP are professionals who have a deep understanding of business as well as people. They work closely with business leaders and line managers to make sure that HR policies and procedures are in line with the overall goals, aims, and needs of the organization. HRBPs manage crucial strategic initiatives such as succession planning, recruitment, etc.
Learn More: ARBM Joins Forces With Darwinbox To Strengthen HR Service Delivery and Employee Experience
The Emerging Role of Technology
While the traditional model of HR Service Delivery can still be seen in smaller companies, larger companies had to change their approach. As businesses began to grow, they soon realized that the manual mode of service delivery was not scalable and was also extremely inefficient to the point of being detrimental to the employee experience. For example, imagine thousands of employees trying to communicate with a few HRBPs for queries ranging from a simple leave approval to something as complex as employee harassment, via phone calls, email, or face-to-face meetings. Not an ideal situation to be in for either the employee or the HRBPs.
This was when organizations began digitizing HR Service Delivery with the help of dedicated software, also known as HRIS or Human Resources Information Systems which later evolved into Human Resources Management System/Human Capital System or HRMS/HCM. These HRMS/HCM came equipped with specialized tools like helpdesks, employee record management, case management, etc. helped businesses greatly scale up their HR Service Delivery while at the same time empowering the HR to deliver a better service to employees.
However, the pandemic expedited the digitization and reformation of HR Service Delivery. 2020 was challenging, with many employees confined to their homes and facing uncertainty in their personal and professional lives. HR played a crucial role during this period as they resolved queries and provided much-needed support to employees and businesses as they transitioned into a new world. The only way HR could deliver its services seamlessly and at scale was by adopting cloud-enabled digitalization.
With mobile-first millennials and Gen Z becoming a significant fraction of the workforce, service delivery software underwent a significant evolution. While businesses still want an end-to-end system that could meet their needs, the focus of product design is shifting from the admin end to end users or employees. Today, thanks to the cloud revolution, clunky HRMS/HCMs are being rapidly replaced by flexible, configurable, agile, and mobile-first systems that boast intuitive and consumer-grade interfaces that could easily give most e-commerce platforms a run for their money in terms of their user interfaces (UI) and adoption rates.
Exploring The Tiers of HR Service Delivery
With time, businesses realized that HR queries were not of a uniform nature. In fact, the levels often varied from a simple query like updating one's attendance, which could easily be resolved by an FAQ document to much more complex queries like harassment complaints which may require the involvement of multiple departments and specialist support. Based on the complexity of queries, HR service delivery can be divided into multiple tiers.
Here's how it works:
Tier 0 – Tier 0 can be classified as relatively simple queries about leaves, attendance, policies, etc., which can be resolved by the employees themselves via self-service tools without any HRBP intervention. The vast majority of HR queries belong to Tier 0.
Tier 1 – If an employee cannot find what they are looking for in the self-service option, they reach out to the next level of support. The usual method is to create a case on a dedicated helpdesk. Once a case has been raised, a ticket number is generated through which employees can track the progress of the case. Meanwhile, the case will be routed to Tier 1 support, which tends to be the HR Shared Services team. Tier 1 support can either resolve the case on their end, which is the case much of the time, or, depending on the complexity of the query, may decide to escalate the case to the next tier or Tier 2. Meanwhile, the case details will be updated with appropriate comments and the employee will be notified via a system-generated email.
Tier 2 – Tier 2 support usually consists of specialists or subject matter experts (SMEs). They come into the picture only when Tier 1 support feels like a specialist intervention is required. A good example of this can be a complex query about taxation. Resolving such queries requires an in-depth knowledge of tax laws and processes. In such cases, the Tier 1 team will route the query to a tax specialist within the HR department.
Tier 3 – Tier 3 support is reserved for particular cases of Employee Relations (ER). Cases such as sexual harassment, unfair ratings, or other forms of employee grievance are good examples of the type of cases that may require strategic intervention and perhaps even the involvement of multiple departments before delivering satisfactory redressal. These are the type of cases that are handled by Tier 3 support.
What Are The Benefits of HR Service Delivery
Let's have a look at why companies should prioritize investing in a modern, state-of-the-art HR Service Delivery model. The long and short answer is that it benefits everyone, right from employees, HR staff, and management – all the way to the company's bottom line.
How? Let's have a look.
1. Elevated Employee Experience
Modern cloud-based mobile-first HR technology has revolutionized HR service delivery while enhancing the employee experience. With a wide range of tools, including a dedicated knowledge base, chatbots, a helpdesk, and resources available, employees can have most of their queries resolved almost instantly.
Cloud-based platforms also give employees the ability to access any resource from anywhere at any time. In the current scenario where hybrid work is prevalent, this becomes a distinct advantage over any on-premises solution.
The proliferation of modern technology like AI and ML in the HCM space has also allowed HRs to introduce the concept of personalization, which adds a whole new layer to the employee experience. Rather than a generic experience, the modern HR Service Delivery model leverages technology, especially data, to create a customized employee experience tailored for individual employees in a way that was nearly impossible a decade ago.
Not only does this act like a great engagement point, but it contributes greatly towards employee delight and goes a long way in helping businesses establish themselves as an "employer of choice" in the job market. Modern HCMs are also designed to be extremely user-friendly and intuitive.

2. Better Utilization of the Capabilities of HR
Modern technology has enabled HR Service Delivery to automate a vast number of manual tasks. Thanks to advancements in technology, the HR department is no longer tied up in resolving mundane queries. Instead, the time freed up has allowed HR to focus more on strategic initiatives that truly matter to employees, such as employee development, recruitment, compensation planning, succession planning, and more.
Technology also enables HR teams to meet Service Level Agreements or SLAs while delivering stellar employee service consistently for each employee interaction. This ability to perform at their peak while simultaneously being able to contribute significantly towards activities and projects with tangible business impacts goes a long way in creating a sense of job satisfaction among HR professionals. This pays rich dividends when it comes to recruiting and retaining top HR talent.
3. Better Cost-Benefit Ratio for Companies
The benefits of investing in a modern HR service delivery setup are not just limited to employees and HR. The organization as a whole stand to benefit significantly from this investment.
The upfront cost of setting up a highly sophisticated HR service delivery set up including software, systems, and other tools may appear significant in the short term. However, the efficiencies they bring by streamlining and automating business processes help significantly upgrade your HR service delivery while making the process more efficient through automation. At the same time, the elevated employee experience means that the morale amongst the workforce remains high which in turn translates into a boost in productivity and thus the company's bottom line.
The modern HR service delivery setup can also help you connect with your employees at a whole new level. With the help of data, you can now spot trends and gain a better understanding of the likes and dislikes of employees. This, in turn, will help you create tailor-made strategies and help you keep your employees engaged and motivated.
The Various Tools of HR Service Delivery
The ultimate objective of any HR service delivery model is to be able to provide the optimum support to any employee whenever they need it. Here's a list of tools that often come in handy to facilitate various HR processes.
1. Knowledge Bank
The knowledge bank or knowledge base is a virtual and centralized collection of all the historic queries, how-to's, FAQs, etc. With the knowledge banks in place, employees can quickly and easily resolve most of their queries without having to wait for HR. Not only does it reduce manual work for HR but with its instant accessibility, the knowledge bank also creates a positive experience for employees.
2. Employee/Manager Self-Service Portals
Employee/Manager Self-Service portals (ESS/MSS) often act as the first point of contact for employees. A fully automated resource, the self-service portals allow employees and managers to access and manage a variety of HR-related tasks including but not limited to requesting paid time offs, approving requests, updating personal information, and more.
3. Case Management
Employees may often have very specific and personal questions which may not always be found in knowledge banks or self-service portals. This is where the case management process comes into play. Often bundled with the employee helpdesk, case management enables employees to ask specific questions which can then be redirected to the shared services team who can either resolve it on their end or escalate it further if the case requires a specialist's intervention. The biggest advantage case management has over regular email is that, unlike emails, cases come with ticket numbers which make tracking progress easier, resulting in a degree of transparency difficult to achieve via traditional methods.
4. Business Process Automation (BPA)
Business Process Automation is just that: using advanced technology including AI and ML to automate repetitive manual processes. HR software often allows you to create customized workflows for the purpose. Some solutions even allow you to create custom workflows straight out of the box requiring zero to minimal technical intervention. The advantages of Business Process Automation are reduced costs, better efficiency, and increased employee satisfaction. Some examples where BPA can be deployed are employee onboarding, employee offboarding, employee training, payroll, etc.
5. Pulse Surveys/Voice of Employees (VoEs)
You may often wonder what employees are feeling at any given point in time. This is where pulse surveys and voice-of-employee surveys come into the picture. These surveys are a great way to gather opinions, feedback, complaints, and suggestions from employees. Besides being a treasure trove of data points for improving employee experience, these surveys also act as employee engagement/retention tools by letting employees know they are being heard. In fact, a survey revealed that 90% of participant employees are more likely to stay at a company that actively collects and acts upon feedback.
HR Service Delivery Best Practices
For most employees, service delivery is perhaps the only contact they will have with the HR department, apart from perhaps the brief introduction to the recruitment team. HR Service Delivery plays a crucial role in shaping an employee's perspective towards the organization and employee experience. Organizations should prioritize streamlining their HR Service Delivery as much as possible.
Here are a few best practices to follow to deliver memorable HR Service Delivery.
1. Be Aware of the Big Picture
The first thing HR leaders need to do while designing the HR service delivery model is to be thoroughly aligned with the overall business strategy. A few pertinent questions to ask at this stage would be:
Which HR services are being offered?
How will the services be delivered?
Who within HR will be responsible for delivering the services?
Does the designated professional have the required skillsets, or do they need to be trained further?
What processes, technologies, and tools will we require to deliver the best service?
2. Choose the Right Technology
In today's digital world, technology plays a key role in shaping experiences. Buggy, badly designed software with complicated interfaces not only fails to deliver an optimum service but often creates more complications as employees are forced to look for ways to bypass the system. This in turn may create chaos and force you to go back to the drawing board. Instead, you should choose easy-to-use, easy-to-configure cloud-based software, which is easily accessible across geographies and devices, especially mobile devices. This is an important factor considering the prevalence of hybrid work.
3. Account For Scale
The most challenging part about delivering HR services, especially if you are a start-up or have plans for business growth, is scalability. Therefore, it is important to have a clear idea of your organization's long-term and short-term growth plans as your model depends on these crucial inputs. It is based on these growth plans that you will account for costs, assign roles, choose technological platforms and more. If your HR Service Delivery model fails to account for scale, not only will you have to go back to the drawing board but it may also cost your business significantly, both in monetary terms as well as from an employee experience point of view.
Key Takeaway

While we've tried to cover HR service delivery in great detail, if we had to sum the whole thing down to a single takeaway it will be this - at the heart of it, HR service delivery helps businesses effectively leverage their most valuable asset – their human capital. You might have hired the best talent however if your HR service delivery setup is not up to the mark, you're simply holding your employees back from giving their best. We hope our comprehensive guide will help you build a strong case for investing in a robust HR service delivery at your organization.
Find out how Darwinbox can help you upgrade your HR service delivery model, and help you craft a winning employee experience. Book a demo today.