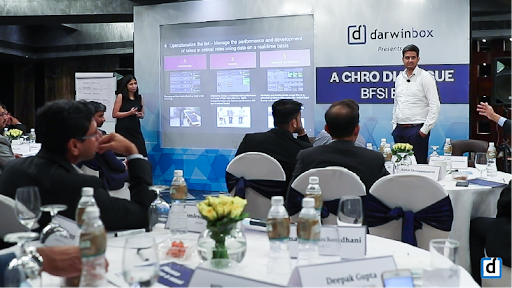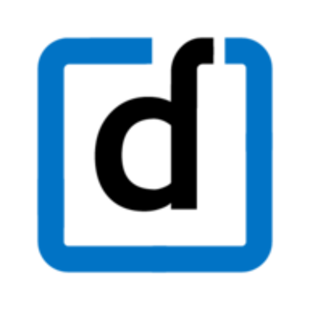 Darwinbox conducted a workshop on "The Talent to Value Approach" which talks about how critical talent management and redesigning is essential for the growth of an organisation. McKinsey & Company as knowledge partners presented case studies that set the context for the session and provided for a rich and engaging discussion. The session saw active participation from all attending CHROs and was packed with real-time insights and learnings. Below is a brief documentation of the workshop's key discussion points.
Cracking the Talent Management Code:
Talent management is regarded as the most challenging aspect and is assigned the highest priority by CEOs. In a survey conducted during the event, respondents stated the critical aspects of talent management as indicated below in decreasing order of priority:
Leadership Development & Succession Management
Talent Acquisition & Retention
Strategic Workforce Planning
Employee Engagement Organizational Design
Paradoxically, despite all the clarity, only 32% of the participant organizations said that they have high confidence in their strategy and vision towards effective talent management. It's a scenario that is most prevalent and needs to be addressed by the people function to drive maximum value from the organization's most critical resource – Talent!
"Just because someone is perfect for a role, one can't curtail their growth opportunities. If they are suited for something better, we must move them there and find a person to map the old role. Ring-fencing people does not work; they may have the skill sets required for one role, but they also have to be enabled to move into a role where they can add more value. This is how organizations can link talent to value." Anant Kasibhatla, Expert Engagement Manager, McKinsey & Company
Human Capital Reallocation as the solution:
Research says organizations with >49% of their financial capital being reallocated generate 2 times the return as compared to their dormant counterparts. It seems only intuitive to apply the same principle to the Human Capital space. The CHRO must lead initiatives to ensure mobility of talent and capabilities which are central to every mission-critical project of the organization.
What is Talent to Value Approach?
While every role in the organization has a part to play, a few roles can have a disproportionate impact on the destiny of the organization! Talent to value approach can help organizations identify these roles and make sure they are optimally leveraged.
<1-2% of these critical roles will help deliver 80+% of absolute and incremental value in the organization over the next 3-5 years.
Traditionally, the magnitude of value and impact created by a person is assumed to be directly proportional to their position in the org hierarchy. Whereas the talent to value approach puts emphasis on the value created through a particular role irrespective of their position in the organization hierarchy.
"In the Talent-to-Value approach what we need to develop first, is role clarity; five people playing multiple roles which carry the future of the company, cannot succeed. Stripping apart people's roles so that they can focus on main matters is a huge win which can be brought about by performance interventions and incentives being linked to actual behaviours. One of the CEOs I worked with decided he was not the right person for the role as the need of the hour was critically operational, so he stepped up to become a chairman and hired a CEO. This was an interesting value-creating experience for the company which all leaders must take note of." Mrinalini Mirchandani, Partner, McKinsey & Company
Do's and Don'ts of identifying critical roles in the organization
Measuring the Gains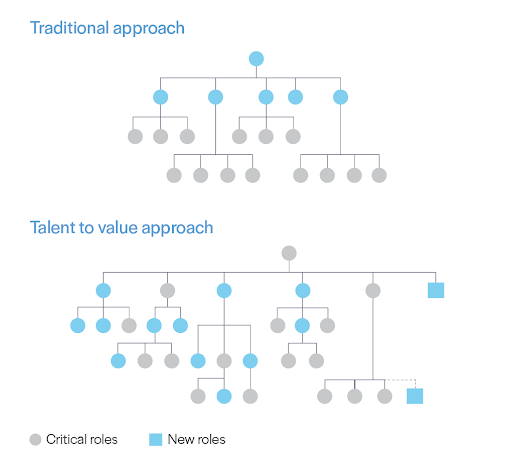 "Talent to value is all about how we develop and manage people across levels, who drive value creation for our organization. This way we create engagement, provide challenge and build retention of these people. The culture shifts towards increasingly talking about value and the people who deliver that. Top talent is no longer linked to the levels within an organization, it is an integrated list of most value-adding role-holders across the spectrum."Anant Kasibhatla, Expert Engagement Manager, McKinsey &Company
As a result of its non-intuitive, impactful insights, the talent to value approach allows organizations to achieve value through:
Heightened strategic and role clarity.
Redesign of org structure for value.
Surgically targeted cultural interventions.
Assigning stakeholders to each element of strategy.
Ensuring leadership fit & identifying successors for a role.
For more such insights from CHRO's of leading organisations like Bajaj Finserv, SBI Life, Reliance Capital, Tata Capital, Kotak Life & General, Karvy, Bharti Axa Life & General, etc. Download the complete docket of the second edition of Darwinbox's 'CHRO Dialogue' on 'Excellence in BFSI through Talent and Technology', click here