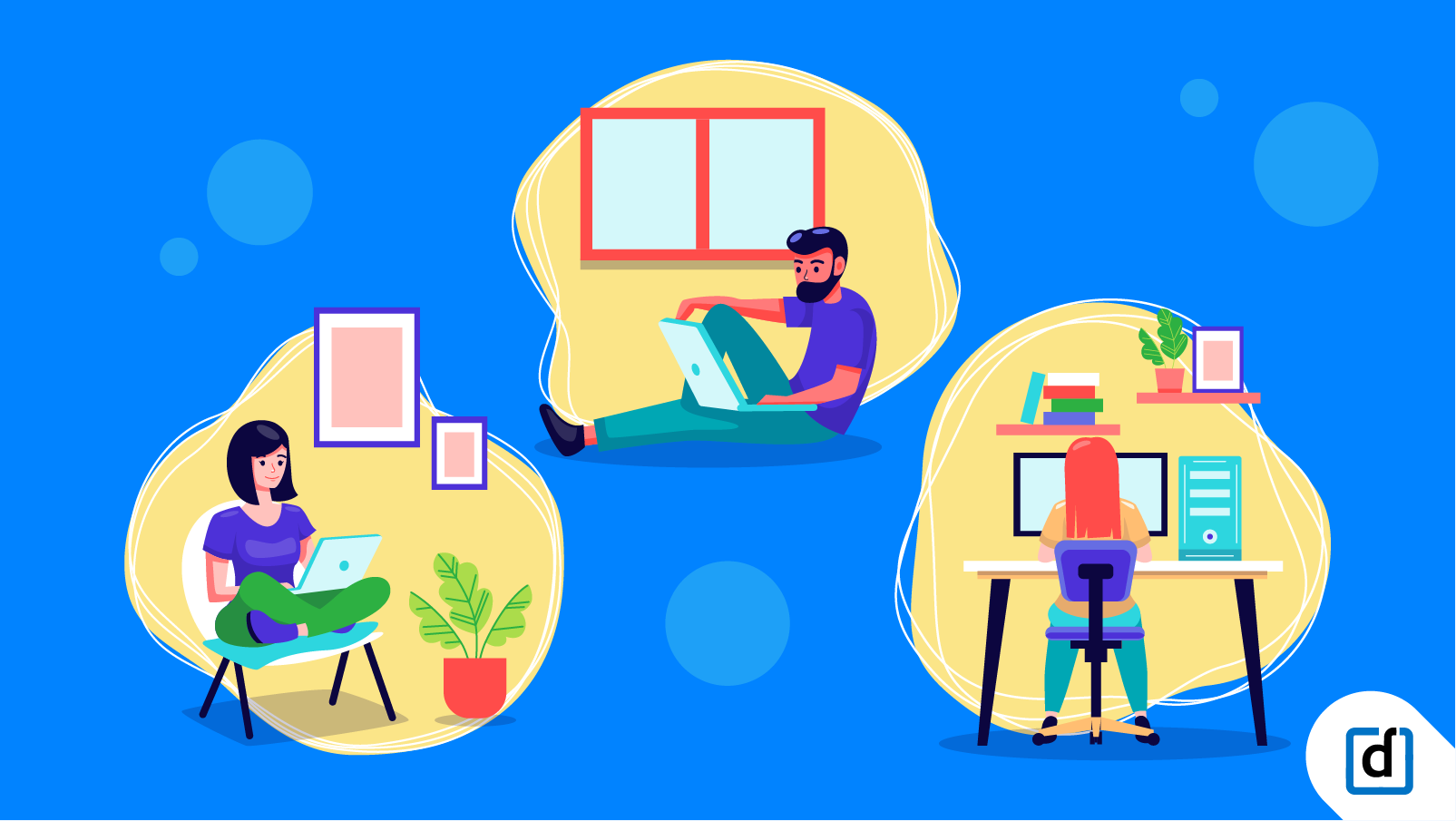 "Work from home", "flexible working arrangements", "remote work" are just some of the terms we usually hear when people refer to telecommuting. This practice has been around since the early 1800s, yet it's caused quite a stir in recent times, especially in the last year and a half.
Looking back at the history of Telecommuting
During the 19th century, working from home was commonplace. Carpenters, weavers, blacksmiths, and other such occupations usually had space at their home or near their residence to ply their trade. Back then, working from home made complete sense.
Then, many major changes occurred in rapid succession.
The Industrial Revolution created a dramatic shift in the way people work.
Wars altered the nature of workplaces as women found themselves in production jobs traditionally done by men.
In the 20th century, local governments the world over began endorsing zoning laws that separated residential areas from commercial and industrial sectors, which further separated work and home activities.
Now we are in the fourth, and on the brink of the fifth, industrial revolution. Today, remote working is considered a norm, largely due to the COVID-19 pandemic, which changed the way employees and businesses think about work and employment.
Telecommuting in pandemic times: The New Normal
In the Philippines, according to an Asian Development Bank survey, 65.9% of businesses are still temporarily closed after the quarantine, 29.1% are open but have limited operations, and 1.1% are permanently closed. Only 4% of the companies surveyed have opened after the quarantine eased up.
And in EY's "2021 Work Reimagined Employee Survey," featuring SEA nations including Singapore, Malaysia, Indonesia, and the Philippines, some findings were:
Only 15% of respondents would prefer to work from office full time.

The majority would prefer to work anywhere (32%), work remotely full time (29%), or in a hybrid work arrangement (23%).
In Indonesia, 85% of workers demand flexibility post-pandemic in both work location and in working hours; 54% are even willing to leave if such demands are unmet.
According to Tan Lay Keng, EY Asean People Advisory Services Leader, "The COVID-19 pandemic has caused a major shift in where we work, when we work and how we work. Employers that promote hybrid work arrangements and provide the flexibility for employees to work anywhere and anytime, are ahead of the curve. These employers are likely to have better employee attraction, retention, and satisfaction in the long run, which could positively impact business... By investing in collaboration technology, providing employee benefits that supports home office set up, and building a strong teaming culture, these employers are likely to be more successful in this new normal."
Increasing demands on technology investments
A lot of organizations were simply not ready for the pandemic.
In countries like the Philippines, many organizations are still using outdated HR technology or manual HR Operations, which becomes especially cumbersome for those companies with headcounts in the thousands.
An enterprise-grade tech solution is absolutely essential to support and enable the HR Department in day-to-day HR Operations, especially when adopting a telecommuting paradigm. Implementing a great employee experience will also improve engagement and performance across the organization, creating major downstream effects in employee motivation, happiness, and retention.
How to prepare and implement Telecommuting in your workplace
Telecommuting is here to stay. And with the world becoming increasingly digital and decentralized, perhaps the pandemic only hastened what would inevitably have happened anyway.
The question is, does your organization have the processes, policies, and tools to empower your workforce for this new paradigm? The following are just some of the most urgent things that organizations need to be doing today.
Establish circumstances in which telecommuting is allowed and identify the departments or positions conducive or not conducive to working from home.


There are companies whose industries may have some challenges implementing a full work-from-home setup. Figure out the departments necessary to be on-site and those that may work remotely.

Identify and set up the tools needed to implement telecommuting with minimal supervision.


Many enterprises using Darwinbox across Southeast Asia monitor their Time & Attendance with

mobile check-ins

with

geo-tracking, geo-fencing,

and

facial recognition,

as well as

single sign-on

(SSO) for security purposes.




Still other companies prefer to record the IP addresses of the employees' devices. What a massive drain it would be on resources if there wasn't a system capable of handling this!

Develop, implement, and communicate a

Telecommuting Policy

to your employees.


Ensure that employees receive, read, and sign off on it. By the way, you can use Darwinbox to manage all

sign-offs digitally

.

Don't neglect

employees' professional development

. Ensure that employees have access to learning and skill-improvement programs.


Many clients of Darwinbox are also using the system to implement a rewards & recognition program to encourage employees to recognize each other for great work.

Develop a plan for regular engagement activities to keep your employees in the loop.


Block time for informal engagement, create a space in

the

organization's social network

, and find fun ways to keep employees interacting without boundaries of seniority. Darwinbox tools like

Vibe

and

Pulse

can help.

Perhaps most importantly: even if your employees are at home, pay them on time, lest they lose trust in the organization.


The Philippines has one of the world's most complicated attendance and payroll computation. Manual computation is a major time sink and very risky.


Darwinbox can integrate with different payroll systems to ensure timely and accurate payment of employee and ensure compliance with local laws.
In short, telecommuting and technology are tightly interconnected.
And now that workforces across the world have gotten a taste of work-from-home, they have made it clear that most of them would rather not go back. After all, we saw that business continuity is possible without physical proximity, and that can't be unseen.
Organizations would do well to accept this as the new paradigm and start shaping their policies to accommodate for this if they haven't done so already. And your enterprise applications should either enable telecommuting or integrate with software that make it possible.
The last thing we want to do is create a surveillance organization, where employees are monitored during work hours. Instead, employees should be empowered with a superb employee experience, self-service, rapid grievance redressal by HR or other departments, and opportunities to engage with their telecommuting colleagues in professional and casual contexts.
Darwinbox provides a host of capabilities that span the entire employee lifecycle, from hire-to-retire, from standard payroll to employee engagement via corporate social network or a rewards and recognition program. Not only will it enable an organization to serve employees as they work from home, but in the spirit of telecommuting, we can implement Darwinbox entirely remotely—we have completed more than 200 such implementations since the first lockdown.