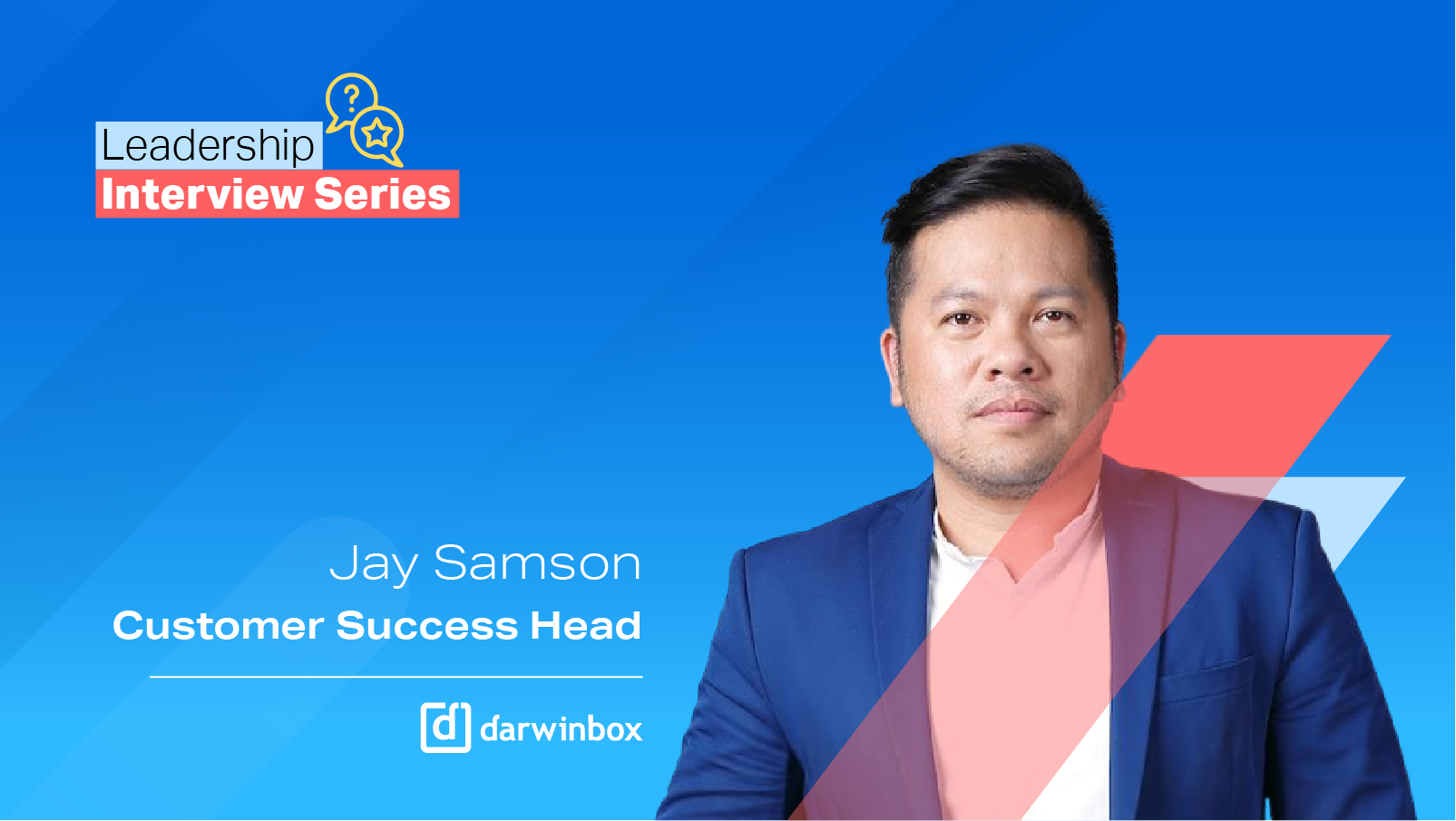 He would be a life coach if not a Customer Success Director.
His journey in Darwinbox started with 3Rs (Reflect, Reinvent and Recalibrate). We are delighted to welcome Jay Samson, the Director of Customer Success in the Philippines for Darwinbox, to this Leadership Series interview. Jay has been a solutions architect for over a decade and operates as an entrepreneur. He believes in open communication and is an out-and-out people person.
Previously, Jay served as an Associate Director in Accenture and a Resident Liquid Studio Executive, spearheading innovation initiatives and a new way of working. He helps customers realize the art of the possible in enhancing digital transformation for their organizations, in both the private and public sectors.
He has more than 10 years of experience in the office automation/print industry, encompassing both post and pre-sales activities such as design, strategy, implementation, delivery, scoping, resource allocation, and both hardware and software recommendations in delivering outsourced services. He has worked extensively across the Asia Pacific on large global clients.
He is a strong proponent of design thinking, and he continues to help streamline processes in Darwinbox, leveraging Agile and Lean Six Sigma methodologies for efficient optimization. Currently, he is working on a framework that will elevate the ways the Account Management team works. Such a framework will enable them to think and act as an advisor to clients.
A lesser-known fact about Jay: In 2014, He led a group of young professionals in starting a company whose vision was to provide pure, clean, accessible drinking water in the Philippines and the company is still thriving.
We caught up to get more insights from Jay. Here are some excerpts from the interview.
Darwinbox: How has your journey been so far in Darwinbox?
Jay: My journey in Darwinbox has been very colorful. Nine months in, I must say that I have followed the following 3Rs (Reflect, Reinvent and Recalibrate). Being new to the startup scene, I have recalibrated my expectations and reflected on things that I must learn and unlearn so that I am able to blend in better; reinventing oneself is a must.
Darwinbox: Tell us a bit about your previous experiences and how that is helping you with your current role at Darwinbox.
Jay: Let me share a bit of my background: for more than 10 years, Solution Architecture has been my core skill, and as such, I operate like an entrepreneur. Marrying these core skills with a human-centered approach and a dash of agility allows me to build relationships with my clients – both internal and external. Relationship-building and open communications are integral to successful customer engagement. Being the Customer Success Director in SEA, I believe in the mantra of helping our customers succeed effortlessly. How do I do that? I experiment with different customer-centric techniques, leveraging core skills and experiences, curated specifically for our customers.
Darwinbox: Darwinbox is absolutely focused on customer-centricity, and you are at the heart of that, what are some of the things we do differently for our customers? Would you like to share an anecdote or example?
Jay: I am a big proponent of human-centered thinking/approaches because it enables us to create an effortless experience for our customers. We use such thinking/approaches from the day we start our engagement in the opportunity stage to the point we are co-creating expansion in the client portfolio. We have created success plays in every stage of our client journey; such success plays are crafted with the intent to put the client at the heart of the engagement. This allows us to understand our customers better and promotes collaboration.
Darwinbox: What is your vision for Darwinbox in the Philippines and overall?
Jay: My external North Star for Darwinbox in the Philippines, is that in 2-3 years' time we become a household brand in the country. When we achieve this, it will translate into improving the employee experience and uplifting HR professionals in the country. As for the internal North Star, I envision the ways of work, and thinking/mindset that will become the standard in the firm. Once we are mature in our capabilities, we will start to create new career paths for our people and ultimately groom a new breed of HR consultants that are techno-functional experts with a business agility mindset.
Darwinbox: What is your leadership style? Tell us a bit about your daily routine at work and with your team.
Jay: I am a servant leader that operates as an entrepreneur, always looking for how to improve things that are within the realm of practicality and relevance. As for routine, I always seek meaningful conversations with my people and block time for them to reach out to me about anything. Such a practice allows me to build a deeper relationship with my team, providing me valuable insights into what is happening on the ground and getting the pulse of the team. I also promote a learning culture, wherein I started the "Thursday Thinkers" program where I provide learnings to the SEA Customer success team.
Darwinbox: What energizes you at work and outside of work?
Jay: I am a student of life; I see every day as an opportunity to grow. This thought energizes me as I know every day I will learn and share learnings with the people and organizations that I connect with.
Darwinbox: What is your view of hybrid work?
Jay: One of the things I observed during the pandemic, is that we are malleable creatures, we adapt to the situation. This might become controversial as others see hybrid work differently. Looking back even before the pandemic, global organizations have been experimenting with hybrid and I think COVID-19 enhanced this. However, I don't think that hybrid work will be the default in the future, even when the dust has settled and COVID will just be a regular flu. People would be willing to go back to the office on a certain frequency. This is because of the valuable insights to be garnered when we work with people face-to-face.
Darwinbox: What is that one realization you had after the pandemic?
Jay: One realization with this pandemic is that there are changes good and bad; changes that we usually won't see happening in a decade, happened in weeks. The pandemic became the catalyst to innovation, that is not just for technology but also for us humans. In these uncertain times, we should all reflect, and recalibrate to ensure we are reinventing ourselves to stay afloat.
Darwinbox: What is that one dream or goal you have in life?
Jay: This has been my life goal/purpose – to leave a legacy and help make the world better. By learning, unlearning, and being a valuable human being.
Darwinbox: If not at Darwinbox, what would you do as an alternate profession?
Jay: Life coach 😀
Read other stories from the Leadership Series here: Darwinbox Blog - Leadership Interview Series