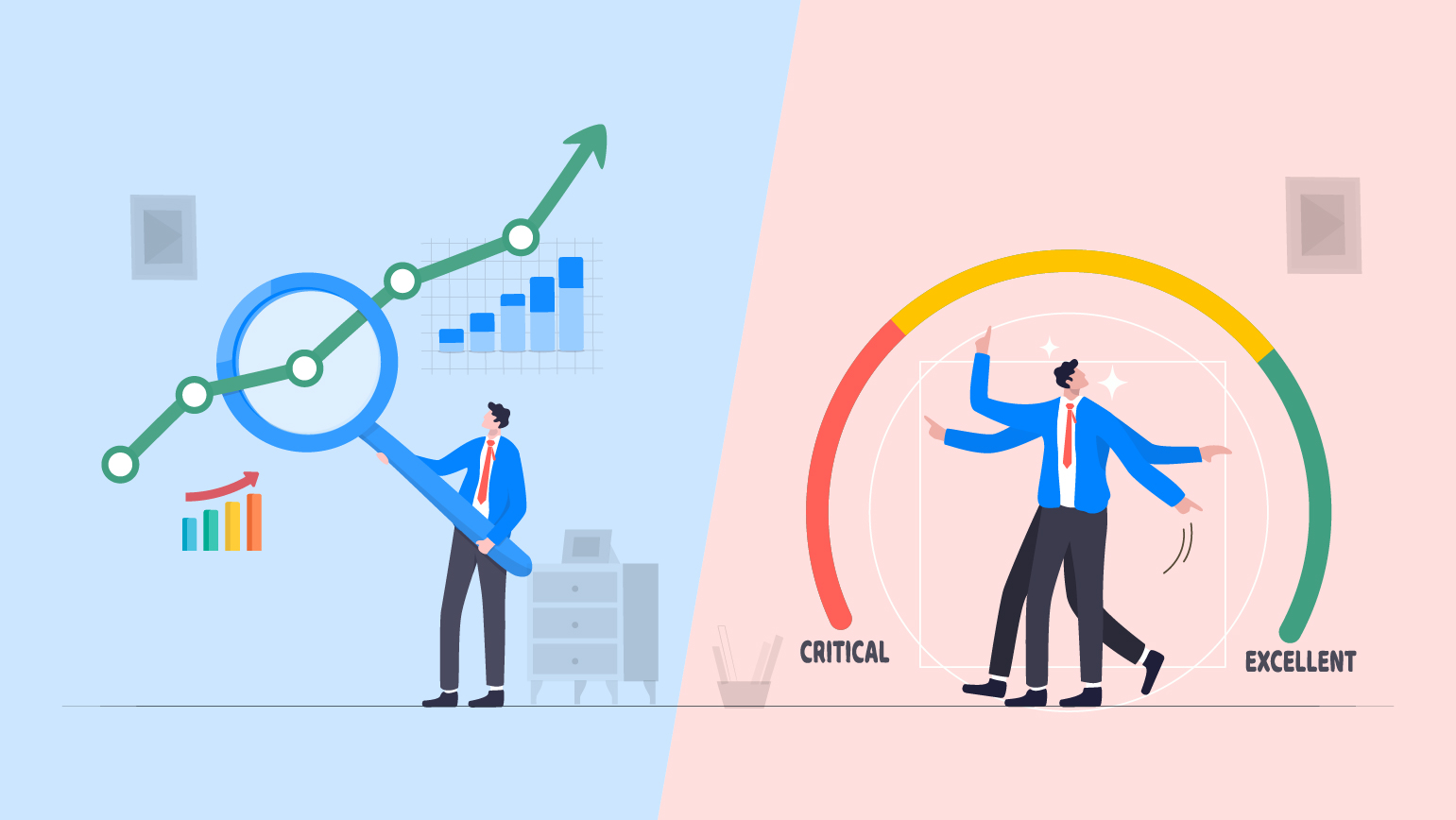 Appraisals are essential to the success of an organization, but it is vital to understand the difference between performance management and performance appraisal to achieve genuine and sustainable growth. This article explains 20 differences between performance management and appraisals.
Performance management has evolved significantly from simple annual reviews into a continuous process where team managers and HR departments work with employees to improve capabilities, outcomes, and engagement at work.
According to Gartner, performance management and performance appraisal models are becoming more complex to accommodate nuanced business needs. Over the next few years, there is likely to be a general transition away from annual, single-rater reviews to project-based reviews and compensation; greater empathy in performance ratings; and an increased focus on measuring team performance. Regular focus on performance management with frequent engagement can increase productivity compared to the annual appraisal method (66% vs. 35%), more motivation (65% vs. 35%), and an increased likelihood of company goals being met (64% vs. 39%).
To achieve these benefits, it is important to understand the meaning of performance management and performance appraisal and the differences between the two.
See more: Performance Management: Definition, Meaning, Importance, Scope, Objectives, Elements & Role
Performance Management vs. Performance Appraisal: Definition
The biggest difference between performance management and performance appraisal is apparent from their definition.
Performance management is the holistic process of aligning employee activities and outcomes with current and future business goals in a manner that is resource-efficient and sustainable. It includes all the strategic and tactical decisions that optimize the value to be gained from a company's employees.
Performance appraisal is the act of evaluating or reviewing an employee's performance across a predetermined period (typically six months or one year) to arrive at decisions such as learning needs, compensation, and work assignments. Performance appraisal management is part of the larger performance management umbrella, usually applicable where compensation, benefits, etc., are reviewed annually.
When discussing performance management vs. performance appraisal, it should be remembered that the latter is a component of the former, and cannot exist in isolation. Despite being interconnected, there are some key differences between performance management and performance appraisal.
See more: 40+ Best Performance Appraisal Comments: Tips and Samples
Top 20 Differences Between Performance Management and Performance Appraisal
1. Appraisals are corrective; performance management is future-focused
A key difference between performance management and performance appraisal is that the former is reactive in nature, while the latter is proactive. This means that appraisals aim to detect performance issues and rectify them, whereas performance management makes interventions that will improve performance in the long-term. This may or may not address past issues, but creates an environment more conducive to productivity.
2. Appraisals are periodic; performance management is an ongoing process
A drawback to performance appraisals is the infrequency of the process. Appraisals take place only once or twice a year, which makes it difficult to implement corrective measures. Performance management, on the other hand, is an ongoing process, requiring frequent one-on-one interactions with employees.
3. Appraisals are conducted by superiors; performance management brings 360-degree views
Typically, a team leader, business unit head, HR manager, etc., conducts an employee's appraisal. This approach often excludes other aspects of performance that influence an employee's peers such as the ability to resolve team conflicts. That's why performance management incorporates 360-degree perspectives from one's peers, reportees, as well as superiors.
4.
Appraisals glean insights; performance management applies them
The primary objective of performance appraisal management is to offer insights into an employee's work patterns, identify any gaps that may exist, and reward his or her achievements. Performance management aims to apply the insights gleaned from reviews, assessments, learning tests, project outcomes, etc., to improve employee capabilities. This can also be achieved through non-compensation tactics, such as providing mental health benefits.
5. Appraisals are quantitative; performance management uses both quantitative and qualitative data
Most performance appraisal systems are heavily data-driven, with strict indicators that determine what will and will not be measured. For example, attendance, ability to do overtime, average daily output, and customer satisfaction scores may be used to evaluate an employee and fix appropriate compensation. On the other hand, performance management incorporates non-quantifiable information, including employee behavioral data, subjective feedback, and long-term trends. This makes it more accurate, but harder to quantify numerically.
6. Appraisals are directly linked to compensation; it is only one part of performance management
The most obvious difference between performance management and performance appraisal is that the latter is directly linked to compensation and pay hikes. Performance management does not try to deliver iron-clad, quantifiable data on a person's performance.
7. Performance appraisal management is done for individual employees; performance management can apply to a team or business unit
The appraisal process applies to individual employees. Typically, a person submits a self-assessment, receives a manager's review, and undergoes an HR evaluation to understand their "compensation worthiness." Performance management is a much more holistic process that takes more than an individual employee into account. It can apply to a team, a business unit, or even a timebound project (a growing trend as per Gartner).
8. The HR and finance departments drive the appraisal process; performance management involves multiple stakeholders
The HR department usually owns the appraisal process, with some help from the finance team to ensure the fiscal viability of final decisions. On the other hand, team leaders and project managers play a central role in performance management. They help finetune employee capabilities, as the need arises, to help achieve company goals.
9. Appraisals help achieve employee efficiency; performance management helps achieve company goals
The ultimate purpose of appraisals is to optimize the cost to company (CTC) and achieve maximum value from an employee by ensuring retention, productivity, and appropriate compensation. Performance management is more comprehensive and looks at the long-term picture. For example, an organization may initiate an upskilling program, instead of only reviewing employee wages, if that is more suitable for its long-term goals.
10. Appraisals are more rigid and rules-based; performance management is more flexible
The performance appraisal system is rigid and rules-based, usually guided by a document, template, or codified rules. The parameters for measuring performance are clearly mentioned, and raters cannot work outside the parameters. Performance management offers greater room for flexibility and can incorporate new data sources. It can be easily reimagined for teaching new skills and reapplied to different business units.
See More: Types of Compensation: Explained
11. Appraisals involve a top-down conversation; performance management requires two-way communication
Since appraisals are typically conducted by managers and superiors, it is a top-down process. Employees submit documentation, undergo assessment, and the leadership/middle management decides on compensation change. Performance management involves a two-way feedback system where employees also share their opinion and give honest feedback.
12. Appraisals rely on a strict rating system; performance management is more fluid
During performance appraisal management, employee performance is rated according to fixed parameters – usually on a scale of 1-5 or 1-10. The cumulative score determines the outcome. The performance management process is more layered. Here, an employee's performance is observed over a period of time and is given feedback continuously to bring about meaningful change, with or without ratings.
13. Performance appraisal management is an operational task; performance management is more strategic
This is a fundamental difference between performance management and performance appraisal. An appraisal is a task that is executed once a year, but performance management involves strategic decision-making by senior leaders, which often changes the course of an employee's career as well as the company's growth trajectory.
14. Appraisals result in immediate decisions; performance management decisions have a longer lead time
As a corollary to the previous difference, the results of a performance appraisal are visible sooner than with holistic performance management. This is because the latter involves many moving parts such as upskilling, engagement, rewards, and benefits. Performance management results in small, incremental changes that lead to positive future outcomes.
15. Appraisals are mandatory for every business; small businesses can do without a full-fledged performance management process
While performance management is beneficial for businesses of all sizes, SMBs and startups can function without it in their early years of growth. When a company comprises less than 50 members, a formal performance management strategy may not be necessary. Appraisals, however, are indispensable. Performance appraisals ensure that remuneration is in line with effort.
16. Performance appraisals are fixed and stressful; performance management is slow and adaptable
This difference between performance management and performance appraisal may not apply to every organization; however, a conventional appraisal system may lead to employee stress and can negatively impact mental wellbeing. It condenses work outcomes into a single "do-or-die" annual event, whereas performance management aims for slow and gradual change.
17. Appraisals can function exclusively offline; performance management relies more on technology
Unlike performance management, the performance appraisal process can be entirely paper-based and manual. All one needs is a rating system and a way to score and record employee performance. On the other hand, performance management relies on advanced technology systems like rewards and recognition tools, online feedback channels, e-learning systems, gamification, etc. Companies may even leverage advanced people analytics to understand performance patterns better.
18. Appraisals do not factor in employee engagement; performance management prioritizes engagement
Employee engagement is a central factor in performance management, but is not really considered during appraisals. Companies try to boost engagement so that employees are more involved with their work and productive in difficult scenarios, with or without a change in compensation. Appraisals only consider engagement if it impacts work.
19. Appraisal systems are guided by definite rules; performance management processes are more fluid
Performance appraisals are rule-based and employees are made aware of the cause-and-effect correlation at the beginning of the year. For example, a business development executive may be assigned a specific sales target as a key result area (KRA), and he/she knows that it can influence appraisals. In contrast, performance management covers multiple responsibilities, which are gradually communicated to employees.
20. Appraisals grade performance; performance management emphasizes development
Since employee development is a top priority for performance management, it puts a lot of emphasis on training and upskilling and even offers these as rewards or benefits. This is not the case with performance appraisals, where the employee is only compensated for work already done.
See More: Performance Management Cycle: A Comprehensive Guide
Performance Management vs Performance Appraisal: Which One Should You Choose?
A growing organization needs to invest in performance management to make the most of its people assets. However, this does not mean that appraisals are not important. The very act of assessing performance and going through reviews to arrive at a suitable compensation/ rewards package counts as performance appraisal.
However, it is advisable to gradually move from an annual, static appraisal system that does not factor in a 360-degree view of employee performance to a model that addresses the bigger picture. The question, therefore, is not which one you should choose, but how can you ensure that performance management and performance appraisal work in tandem to deliver the best outcomes.
To implement a robust performance management system that also supports performance appraisal, explore Darwinbox. Schedule a demo today!