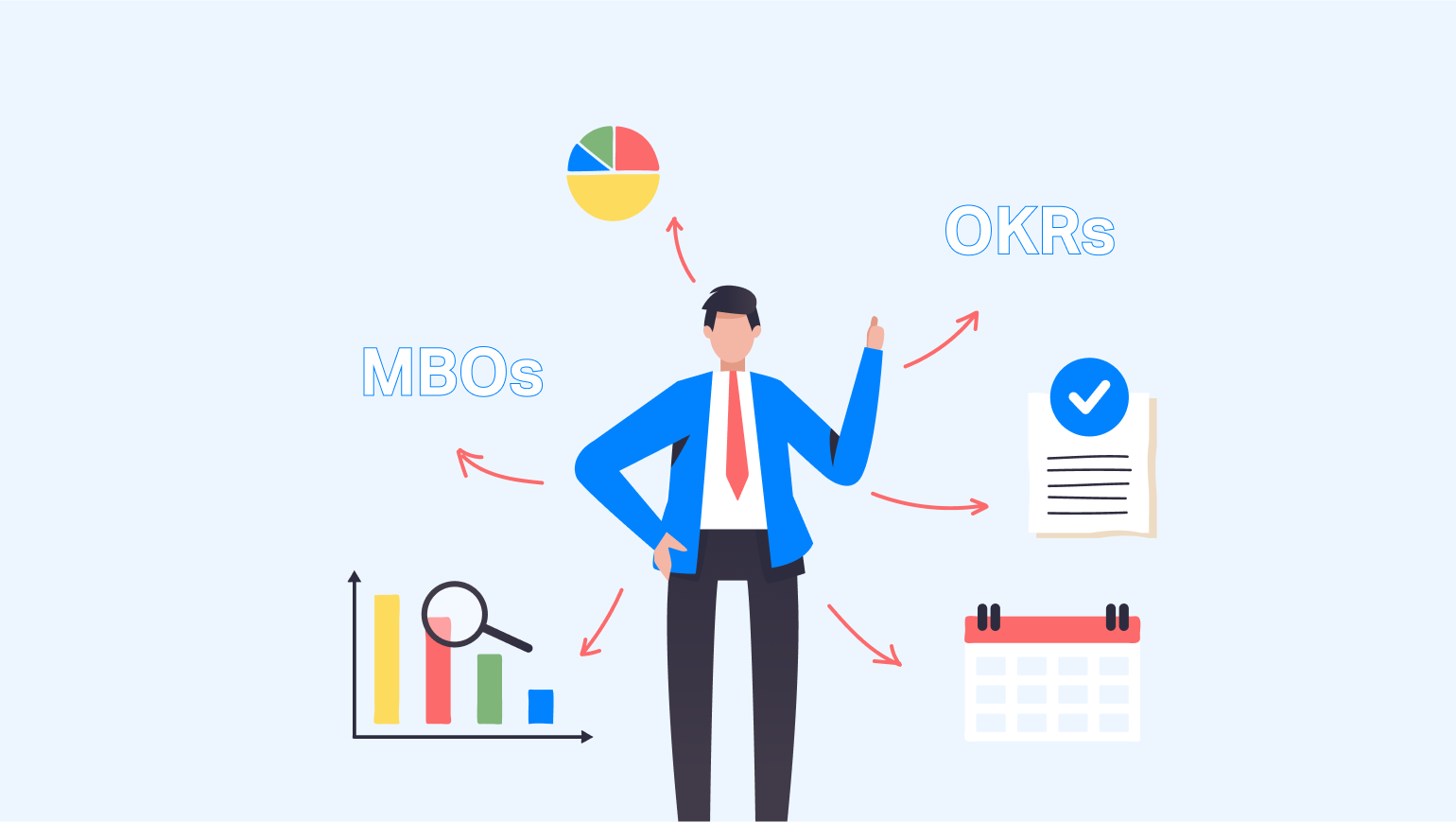 Performance management is all about how organizations can find ways to go above the baseline standards and aim for constant improvement. If you are looking for performance management models, approaches, and frameworks that are as easy to put into practice as they are effective in giving results, read on.
Performance management is part of a long-term strategy that focuses on company growth and organization-wide development. It's a process that is centered around promoting employee growth and development and fostering a culture that supports high performance.
A Gartner study says that employees spend 40 hours per year on average in performance assessment sessions while employers spend about 10% of their annual accumulated working hours conducting these sessions. The report also states that about 59% of employees believe that traditional performance reviews have no impact at all on their performance.
Organizations looking to make a mark in their industries must approach performance management differently, adopt industry best practices and follow performance management models that show tangible results.
In this article, we will cover how it can be done.
You'll be learning about:
What models to follow to improve employee performance
What approaches to adopt to inculcate a high-performance culture in your workplace
What frameworks to use to document, measure, and analyze performance and make data-driven, strategically-sound decisions
Learn More: HR Technology: Enabling Efficiency, Empowering The HR
What Are the 5 Most Important Performance Management Models?
There are a host of performance management models you can consider when you are designing performance management assessments or a performance improvement plan (PIP) at your organization. We have narrowed the list down to the five most powerful models that will help you implement performance management processes in your company effectively and efficiently.
1. Traditional
Many of us associate the term 'traditional' with something primitive. However, the traditional performance management model – the annual performance management model – is still the best one for several organizations. The yearly review model of performance management works well for teams that work with long-term, yearly goals with fixed plans. This performance management model is ideal for organizations that have exceptionally high employee retention rates.
The downside of this model, however, is that the employee would have to stick with an organization for at least a year to receive even one of these annual reviews and might not experience feedback or suggestions for improvement over the year.
2. Bi-annual
A bi-annual performance management model is essentially the traditional/yearly model broken into two sections. The employee will be evaluated for their work twice over the course of a year. This performance management model is again perfect for teams that work with long-term goals but have some room for change. This model gives teams a chance to bring all operations back on track in case of deviations and calibrate the processes that are in motion.
This model could also work for an organization that works with flexible/multiple goals but is inflexible with the execution process.
3. Project-based
The project-based performance management model, as the name implies, is one where an employee is evaluated on a project-by-project basis. For this model to be successful, one needs to decide on every outcome one wants from a project and have the exact evaluation metrics mapped out in advance.
After each project is completed, the team members review every step taken, every setback, and every goal achieved, and management can analyze an employee's performance on that particular project.
This works well for teams that work with different clients and receive different requirements from each project they take up. In the case of long-term projects, the frequency of these reviews can be increased. The regular, continuous feedback sessions that this performance management model promotes help employees with significant professional development and fast-paced growth.
One downside to adopting the project-based performance management model is that reviews might not be the perfect barometer for the evaluation of an employee's overall performance, since the reviews are only based on performance in one particular project.
4. Stack ranking
Stack ranking is a relatively old model of performance management that works on the foundation of improving performance by driving competition amongst employees. It is a model in which management gives ratings to employees, and the stack ranking fosters a competitive atmosphere in the workplace that motivates people to perform better. With numbers and defined metrics in place, evaluations become easier to understand, document, and analyze.
There are a few cons to using stack ranking as a performance management model:
The performance measuring practices become more quantitative rather than qualitative.

The practice could promote a negative work culture where people might feel like they are pitted against one another.

The model could lower morale and result in dissatisfaction among employees.
When not done right, and without the right tools of positive reinforcement, this performance management model can also end up decreasing productivity instead of increasing it.
5. High-growth (Highly recommended)
The high-growth model of performance management is one that is holistic and built on the pillars of planning, monitoring, reviewing, and rewarding.
The high-growth model is relatively new and is suited for agile teams across industries. This model supports annual and bi-annual review sessions, reinforced by smaller periodic check-ins to evaluate employees more extensively and frequently. Since the high-growth performance management model involves shorter assessment periods and frequent evaluations, incorporating performance improvement feedback becomes easier.
Goals for a high-growth performance management model are typically set based on a lot of factors and are SMART, which stands for specific, measurable, achievable, relevant, and time-bound.
Learn More: GOALS: To Stay Focused
What Are the Different Approaches to Performance Management?
Irrespective of the model you adopt, there are multiple ways to approach the design and execution of performance management. Each approach would involve different steps and elements but having a progressive mindset that involves combining multiple approaches will help improve the efficiency of today's agile and cross-functional teams.
Here's a list of five approaches one can take to craft an efficient performance management process:
1. Performance roadmaps
In addition to putting Key Result Areas (KRA) and assessment parameters in place, organizations should set clear performance roadmaps for all teams.
A performance roadmap for a particular employee should have components like:
The goals you want the employee to achieve within a defined period
Milestones that will lead to said goals
The action plan that will help achieve the goals and milestones
Key Performance Indicators (KPIs) that will help measure the performance of the employee
2. Key Performance Indicator (KPIs)
KPIs help you decide what metrics you need to judge an employee on, what the baseline for these metrics should be, and how managers and stakeholders can measure and analyze progress.
KPIs work when you set tangible and achievable goals for the employee and are drawn after goals are finalized.
3. Rewards and recognition programs
Setting up a system for rewards and recognition (R&R) is a sure-fire way to ensure that your performance management and assessment plan runs smoothly.
Rewards and recognition do not only mean rewarding outstanding performance or exceptional efforts; they could also be an acknowledgment of the investment that employees make to the company by putting in their best efforts every day. For instance, Cisco decided to give its employees a workforce of over 76,000 people, an entire day off for mental health in May 2020. It was symbolic of how the company supports the well-being of its people.
4. Continuous feedback
Consistent improvements and constructive changes are a result of continuous feedback. Continuous feedback will help employees understand what exactly is expected of them and give them definitive directions for improvement.
Continuous feedback is all about the 5 Cs; feedback must always be:
Clear

: For any feedback session to yield results, it is essential that employees get a clear picture of what is expected of them, and what improvements need to be brought in. Clear feedback is useful feedback.
Candid

: Feedback needs to be candid, that too, on both ends. It is important for both the manager and the employee to be honest to ensure that the feedback is effective.
Continuous

: Feedback works best when it is provided regularly. This way, the employer can ensure that employees can course-correct if they go off track and are able to show consistent growth.
Constructive

: Feedback has to be constructive in that it enables people to reflect on their performance positively and not lose motivation or doubt their own abilities.
Collaborative

: Feedback must be a collaborative process with both parties working towards encouraging the other and helping them grow.
Learn More: The Ultimate Guide to Mastering Continuous Feedback
5. Mentorship programs
Learning and development (L&D) programs are an essential component of any performance management model. L&D programs and mentorship programs enable individual knowledge sharing, collaboration, development, and performance assessment.
A mentorship program will help employees:
Learn from the experience of others
Gain exposure to new ideas and different ways of working

Develop soft skills
What Are the Most Important Performance Management Frameworks?
A recent study by Deloitte shows that 70% of respondents to a survey said that they are either reviewing or updating their performance management systems. We have listed three performance management frameworks here that you can consider if you're in the process of revamping your performance management program:
1. Objectives and Key Results (OKR)
In this performance management framework, company objectives are drawn out, key results are decided, and the deadlines for achieving these objectives are set. OKRs are essentially broad objectives broken into measurable and achievable key results that the team/employee must work towards. In this framework, not only do employees have a list of goals and milestones to be achieved, they also have a charted course of action to achieve the goals.
Learn More: 20 Best OKR Examples | Ready-To-Use
2. Management by Objective (MBO)
The Management by Objective is a results-driven process that aims to define objectives so that behaviors, intentions, and initiatives can be aligned to achieving these objectives. Management and employees work together to come to a consensus about the objectives. The organizational goals are decided, monitoring procedures are set up, and performance evaluation parameters and baseline metrics are defined. This leads to a feedback circuit that ends in the appraisal process. The theory is that people are more motivated and productive when they clearly understand their roles and responsibilities.
3. The Balanced Scorecard
Balanced Scorecard or the BSC framework is one of the more strategic approaches to improving performance, where identifying every operation is just as important as improving it. "The more you see, the more scope there is for improvement" – is one of the principles on which this framework is based. Like other frameworks of performance management, this one also follows the approach where a team sets up intelligent and quantifiable targets for them. With all the to-be-achieved numbers decided, roadmaps to these targets are then defined.
Key Takeaways
Performance management, when done right, could be the solution to leading an organization to become more successful and better as a whole. Every organization is concerned about raising performance standards. The performance management models, approaches, and frameworks detailed above can help organizations put in place a strategy tailored to the needs of the organization and help make the best use of their workforce's potential.
Find out how Darwinbox can help you with streamlining your performance management model; book a demo today!