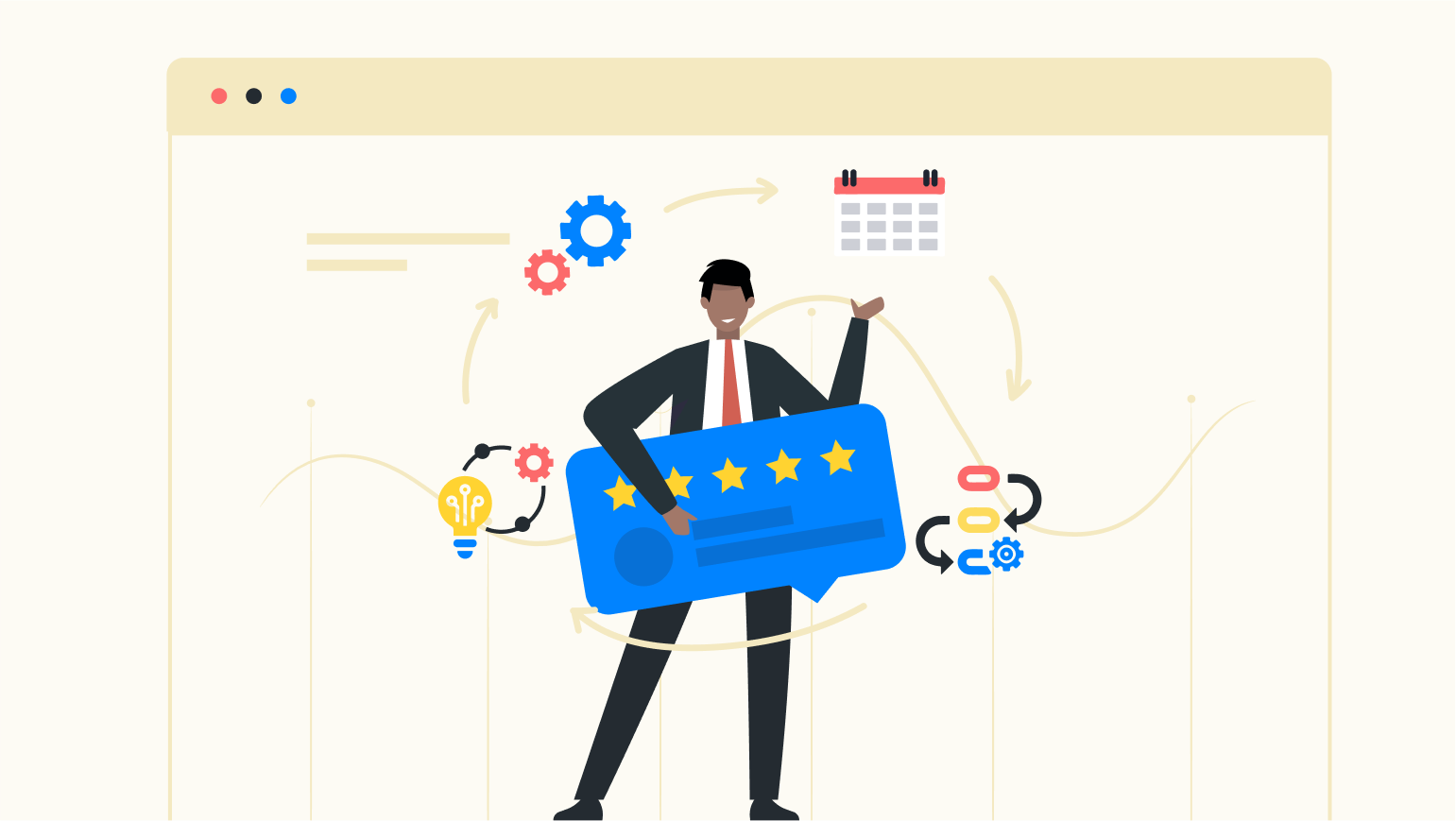 An in-depth understanding of how to implement a performance management process can help an organization formulate the best strategies to measure, reward, and upgrade employee performance. This article explains how the human resources (HR) department can set up an effective performance management process.
A performance management process monitors employees to ensure goals are achieved at the end of that performance cycle.
The performance management process is a continuous and repeating process, usually happening over a fixed period. Traditionally, the performance management cycle covered the entire fiscal year. However, research has shown that about 63% of workers prefer to receive performance reviews throughout the year rather than at the end of the year.
Learn More: Performance Management Cycle: A Comprehensive Guide
What Is an Ideal Performance Management Process?
If you decide to implement the expansive process of setting up a performance management system, then you must aim for the best possible outcome. This is quite achievable once the right steps are taken. First, we must examine and understand the expected outcome of an ideal performance management process.
An ideal performance management process is one that creates a positive and creative atmosphere where employees can take goal-driven initiatives, produce stellar results, and ultimately get job satisfaction.
The performance management cycle gives you a better idea of how employees can achieve their goals systematically, and the role managers/HR can play in this process. There are four stages in the performance management cycle. In order, they are:
Planning

Monitoring

Reviewing

Rewarding
1. Planning
In the planning phase the goals to be achieved in that performance management cycle are clearly defined. These goals must be in line with the primary vision of the company, its value proposition, and overall objectives.
After outlining the goals for that cycle, management breaks it down into achievable components. This is where each employee is assigned a specific objective and goal to achieve. Proper communication of these goals is essential. The 'why' of that goal and 'what' it is meant to accomplish, and 'how' it benefits the organization in the long run, should also be communicated to employees.
When planning the goals for a performance management process, each goal should be a SMART goal meaning they should be Specific, Measurable, Achievable, Relevant, and Timebound.
2. Monitoring
The monitoring phase is a vital phase in the performance management cycle. Without this phase, it is impossible to have an efficient performance management process. Monitoring could be done monthly, quarterly, or even biweekly. There is no hard and fast rule except that it must be frequent, precise, and useful when taking decisions.
Examples of decisions that may be taken during the Monitoring phase include:
Continuing with the already set goals without making any changes

Increasing or fast-tracking the goals for a particular team or employee

Extending the time given to an employee to achieve their objectives

Changing or augmenting set goals
Increasing the budget allocation
3. Reviewing
The reviewing phase comes towards the end of the cycle and depends on the information gathered during the monitoring phase. Examples of what to check for include: How well did the development team achieve its goals? Was the PR team able to mitigate any damages? Was every transaction documented?
Goals must be reviewed to assess the general performance of teams and individuals.
4. Rewarding
The rewarding phase is the driving force of the performance management process. Employees must be appreciated for a job well done. Teams should be recognized for leading the board. An exemplary manager, team, or employee should be applauded and rewarded as deemed necessary. This kind of system puts more pressure on workers to do better in the next cycle. Ultimately, it will result in the organization topping the charts.
Outcomes of a well-managed performance management process
An ideal performance management system is one that focuses on the future while learning from the past. A good performance management process must:
1. Drive accuracy
When creating or revising your performance management plan, you have to make sure the results reflect the true picture of your organization. A performance management plan that does not take real-time income, expenditure, available manpower, etc. into consideration is not accurate and cannot yield the expected results.
2. Ensure fairness
An ideal performance management system should be fair for all involved. Sentimentality on the part of the HR manager or performance manager should not creep in when making evaluations. Each worker must be treated fairly according to their capabilities and purpose in the organization. Fairness as a component of an ideal performance management process means that rewards, goals, opportunities, or corrections, as the case may be, must not be influenced by race, gender, personal opinions, etc.
3. Have multiple feedback sources
A great performance management process acknowledges human error. A good way to eliminate this error when making assessments is to have more than one individual involved in some part of the review and reward phase of the performance management cycle.
4. Encourage overachievers
Plateauing is a phenomenon that may arise in a performance management system. But this is far from ideal. An ideal performance management process in human resource management gives room for additional goals, expressions of creativity, leadership skills, etc., that some employees may have. In other words, it does not place a limit on the workforce, but encourages workers to climb high and climb fast.
Learn More: The Top 10 HR Best Practices for 2022
10 Steps to Implement a Performance Management Process
It is not enough to learn about performance management. You must be able to implement it in your organization. Here are 10 steps you to implement performance management in every organization:
1. Define your goals
The first step in the performance management process is goal definition. To further amplify this, let us consider a new organization. Initially, the owner of the organization must outline their vision statement – what they aim to accomplish, what their unique value propositions are, what product they want to sell, etc.
These goals are then divided into long-term and short-term goals. Long-term goals can be anything that will take over a year. For example, a 5-year goal aimed at the acquisition of another company, a 1-year goal aimed at introducing another product to the public, and so on.
Short-term goals are derived from long-term goals. They are actionable steps that will help you achieve long-term goals. These can span 6 months, 3 months, or even be earmarked for a month. Examples are increasing brand presence and awareness online, increase sales by 30%, adding a new feature to an existing product, market research for a potential product, etc.
In a performance management plan, goals are actualized at three levels.
First, organizational goals, whether long or short-term, must be broken into departmental goals. The department then breaks these it into practical tasks each employee must complete to garner the desired results.
2. Outline the appropriate job description
After defining goals, the next step in the performance management process plan is to write out job descriptions. In reality, this might coincide with the goal-setting stage, particularly when it moves from the organizational level to the department and individual levels.
The job description step applies both to old organizations without a structured performance management process, those trying to review their performance management plans, and finally to start-ups.
Every employee must have a job description written and outlined. It is here that individual skills are fit into the overall framework and objective of the company. An ideal performance management system must leave room for personal creative acumen while balancing the company's objectives.
3. Create a performance template
Performance management in human resources must adhere to a performance template. Using a standard format for all performance management plans encompassing every individual or team makes for a fair basis for performance review. Therefore, a performance template must be created at the beginning of the performance management process. The template may not include unique individual goals, but it must detail the measurement scale for goals, frequency of assessment, reward systems, etc.
4. Undertake developmental planning
At this stage in performance management, the goals, and objectives are discussed with the individual or team. The interaction between HR, management and the employee leads to deciding upon the skills necessary for the successful completion of the goals. If one or two skills are not up to par, the performance management process allows for development and training.
5. Execute employee development plans
Execution is a major step in the performance management process. The execution phase is when managers monitor what employees are doing. For employee this means doing their job, aided by the requisite training at every step.
6. Assess current and ongoing performance
Assessment of ongoing performance is a performance management step that saves time and effort. It is the phase in the process when the employee understands if what they are doing aligns with the company's overall objective.
An accurate assessment of ongoing performance significantly reduces bad results as errors are spotted early and corrected. A key feature of this phase is offering support when needed.
7. Review the performance of employees
Performance review is usually done at the end of the performance management process. Each employee and team is singled out, measured, and either rewarded or corrected. This step requires significant interpersonal and communication skills from the HR team. This is because irrespective of the result, an ideal performance management process must not demoralize the employee, but inspire them to do better. Criticism, when necessary, must be constructive and not destructive. Amazingly, 92% of employees in a study agreed that constructive criticism yielded better results.
Rewards should be made public with clear justifications as to why that employee, team, or department was found deserving.
8. Create and maintain documentation
Proper documentation of the performance management process ensures continuity, and sustainability. It also helps preserve organizational knowledge while creating a reference point for similar exercises in the future. As insignificant as it may seem, the documentation phase cannot be overlooked. It is necessary for future promotions, termination of employment, awards, company audits, etc.
9. Review the effectiveness of the performance management process
After the performance cycle is over, there must be a review of how effective the process proved to be. Were company goals met? Was there an increase in employee performance as compared to before? If done right, all these should hold true. On the other hand, there should be a closer look at loopholes that may have been overlooked if the performance management process does not prove effective.
10. Renew and reconstruct the performance management process
The final step in the performance management process for every organization is the renewal or reconstruction of the performance management plan. When the effectiveness of the current performance management process has been ascertained, there will be less need for reconstruction and the entire process will stop at the review phase.
The Way Forward
A performance management process can only be implemented successfully if you plan carefully and systematically to ensure fairness and positivity. It is also important to make sure that organizational goals are tightly linked with the goals shared with the workforce. If you carefully follow the steps detailed above, you will be able to create a performance management process that works for all stakeholders.
Find out how Darwinbox can help you plan a robust performance management system, book a demo today!