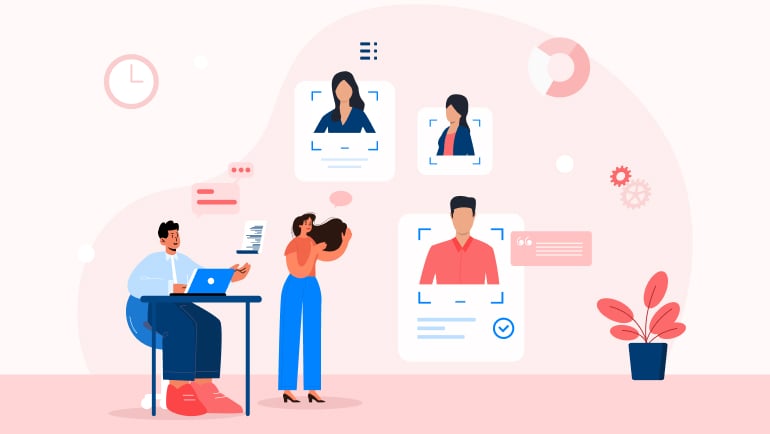 With so many companies operating in a fully remote or hybrid manner -- and borderless hiring now becoming more common -- you need to step up your virtual onboarding game. Learn which virtual onboarding email template to use and when, including the best onboarding email examples.
A stellar onboarding experience ensures that a company and its new employee are off to a great start, and this often begins with the onboarding email. How do you craft the perfect virtual onboarding email when hiring remote or hybrid employees? Read on to discover the only virtual onboarding email template you'll need, along with the best onboarding email examples.
What is Virtual Onboarding?
Using technology, virtual onboarding facilitates the assimilation of new hires into a distributed, or remote team. Organizations are using virtual or remote onboarding programs to help remote workers feel welcomed and achieve productivity more swiftly.
An ideal onboarding roadmap facilitates employees' transition into their roles and offers a straightforward blueprint for the next 3 days, 3 weeks, or 3 years. The purpose of the onboarding process is to establish a solid framework for the relationship between the business and the employee. As a general rule, the longer a relationship lasts, the better the integration.
While in-person orientation is an excellent means of nurturing a cordial welcome and making employees feel valued, it's just one part of the equation, regardless of whether your business is remote-first. And, in the context of the COVID-19 pandemic, it is vital to have a virtual onboarding capability, including a virtual onboarding email template that actually works.
Learn More: Everything You Need To Know About Virtual Onboarding
What is a Virtual Onboarding Email Template?
Even from a distant location, an introductory email helps new employees feel like they are part of the team. A virtual onboarding email template will introduce them to the organization's culture, and let them know you look forward to their arrival. And hopefully, a few words will ease any concerns they might have regarding their first day working with you, which are central to the best onboarding email examples.
We suggest including any useful insights, information, or tips, they'll need to begin their first day and concluding the note with a call to action, such as an invitation to an introductory meeting. Virtual onboarding email templates are often packed with information since there are no face-to-face interactions involved, so you'll want to strike a balance between brevity and comprehensiveness. That is one of the defining features of virtual onboarding email template!
Why Do You Need a Virtual Onboarding Email Template?
As mentioned, a virtual onboarding email template is a pre-written communication that can be used repeatedly in virtual onboarding instances. Perhaps the employee resides in a different location and will relocate in the future, or you may be utilizing a blended or hybrid working model with permanent or temporary provisions for remote work.
In either case, you only need to replace specific details and names with the new data; the residual content is ready for any scenario.
A virtual onboarding email template enables quicker and simpler onboarding message delivery. In addition, it ensures that your messaging is consistent in design, tonality, as well as priorities. In addition, templates facilitate quality assurance and error reduction across all your interactions.
Learn More: 7 Must-Have Features For Your Employee Onboarding Software
What Should the Virtual Onboarding Email Template Contain?
Here are some essentials that should be on your virtual onboarding email template:
1. Appropriate subject line: Keep it crisp, keep it concise (nothing beyond 60 characters). You must ensure that the recipient of the email knows the purpose of it and why it must be opened. Examples:
Yaaaaay! You have joined the [XYZ] organization.

This position at [XYZ] will transform your life – here's why

Greetings on your Day 1

A note from our CEO on your very first day of employment
2. The new joiner's name: With a tool for mail merge tags, customize the subject line as well as the body text.
3. The tone of voice: Create a welcoming atmosphere with a conversational and cordial tone.
4. Task lists: Aid your new employee in staying organized by bullet-pointing their most important tasks, upcoming events, and employee engagement activities. Even links to virtual induction resources can be inserted.
5. Invitations to virtual events: Is there a particular team orientation or training module for new employees? Using the template, event invitations can be sent directly from one's internal emails.
6. Your company's branding: Set your company's default colors, insignia, along with other components that will help your new hire become acquainted with the employer brand.
The conclusion of a sales or marketing email always includes a call-to-action (CTA), and so should one's virtual onboarding email template. Always outline the employee's next actions and make them simple and actionable. Whether you intend to collect feedback, arrange for a meeting, or ask the individual to attend a program, your CTAs should be unambiguous.
In addition to the formal process for scheduling meetings or offering feedback, always provide data on who employees can contact for information, advice, or assistance.
However, you may want to tweak your virtual onboarding email template to communicate specific information, depending on how far along you are in the onboarding process. Before we discuss the various types of templates you can use, here is a standard virtual onboarding email template that you'll probably find useful first.
Learn More: 7 Steps to Creating a Virtual Employee Onboarding Program
Virtual Onboarding Email Template Sample
Virtual onboarding email templates will typically comprise a welcome note from the HR team (also known as a welcome onboarding email template), and then a letter from the manager. Here are the templates for both:
1. Virtual onboarding email template for HR professionals welcoming a new recruit
Subject line: We are delighted that you've chosen to work with Your company name>!
Hi <name of the new hire>,
The entire organization is thrilled to welcome you to <Your company name>!
<Insert a company photo here>
We appreciate your participation in our recruitment process. At every step, you have established that you would be a tremendous asset to our team.
After receiving — and having duly filed — all your paperwork, you should have now received your brand-new laptop. The necessary software will already be installed on your device.
Here's a link to the list of orientation duties. It includes:
The first task that involves entering your personal information
A list of tasks you can complete
Tasks that show you how to set up accounts and passwords for our software
Don't worry if you don't accomplish all the tasks straight away; you'll be given ample time in the first week to complete them.
Please keep in mind that your initial Zoom meeting with us is going to occur on... at... AM/PM. We have no formal dress code, but please make sure the camera is on during all sessions with <Your company name>.
If you have any additional inquiries, please contact <HR employee name> at <Phone number/Email address>.
We await your presence at the meeting!
Best regards,
<name of signatory authority>
< signature of signatory authority>
2. Virtual onboarding email template for managers interacting with the new hire for the first time
Subject line: Greetings from <company name>
Hi <name of new hire>,
We are delighted to have you join us at <company name>. The date of your first day with us is <date>. To attend our onboarding session, simply select the Zoom link in the calendar invite at <time and timezone>.
From <timeframe> to <timeframe>, you will participate in a virtual orientation session for new employees with <name>, our HR director. We'll also be holding a Zoom call at midday for an informal meeting with the team over lunch, as I'm sure you'll work up an appetite finishing out all that documentation!
At <timeframe>, I'll introduce you to the new hire mentor, <name>, who's going to be your primary contact for the next two weeks. They will assist you with various essential issues, such as logging into the time-tracking software and setting up Slack so you can communicate with the team. Once you've been correctly set up, <name> will introduce you to our training modules.
If you have any queries prior to Monday, please contact me via email or direct line at <direct line number>.
Welcoming you aboard! We are delighted to have you join our team.
<Manager name>
<Manager signature>
Learn More: Smarter Onboarding For Better Engagement And Greater Productivity - By Abhishek Mathur
Resources to Include in Your Virtual Onboarding Email Template
The virtual onboarding email template must not only break the ice (remotely), but also set employees up for success in your organization. Keep in mind that virtual onboarding processes are followed by only infrequent in-person interactions – so it is important to be comprehensive. To that end, the virtual onboarding email template you use should have links to the following resources:
1. Tax forms: Whenever they start working for a new employer, all employees must submit tax forms. These forms contain crucial information that determines each employee's eligibility for tax credits.
2. Employee manuals or handbook: A handbook for employees is a compilation of the policies, rules, protocols, processes ,and other pertinent information relating to employment at the organization or business. You may utilize it to provide vital details on policies regarding compensation, benefits, performance management, and personal conduct.
3. Employment contract: An employee contract is a typical document that outlines the terms and conditions of employment for an organization. It describes the responsibilities, necessary hours, and remuneration for the position. The new joinee has likely signed the contract, but the virtual onboarding email template is a good place to share a digital copy for future reference.
4. Learning materials: As a component of virtual onboarding, a number of businesses offer educational materials. They often include videos, paperwork, slideshows, or online courses to aid in the instruction and training of new employees.
3 Other Virtual Onboarding Email Templates for HR
In addition to the direct email sent by HR/the manager to the employee, there are three more virtual onboarding email templates that can be of use, at various stages of the onboarding process. Remember these best onboarding email examples when designing your onboarding process:
1. Day 1 email announcement
You would like to have one's first-day email to assist your new employee in feeling welcome and at ease. The recruiting manager sends this follow-up email for the onboarding process to the full department/team and the C-suite. This email helps colleagues find out more about the new hire — but also makes it simpler for them to stop by their workstation (if they're in the office), start a conversation, or schedule a short video call to introduce themselves.
We suggest keeping this communication brief and concluding with a call to action, such as an offer to lunch or happy hours. Here is the virtual onboarding email template for this purpose:
Subject line: Team, say hello to <name>!
Today is the first day for name>! They will be closely working with teammate>, teammate>, and teammate> now that they've joined us as <position name> on <manager's team>. They are from <location> and love <item they adore>.
<Here insert Two to three sentences about interests and specialized skill sets.>
Want to learn more about <name>? Come say hi at their workstation, schedule a video conference, or join us for <lunch/happy hour> at <time/location/video conferencing software>!
<Name>, we look forward to seeing you there!
2. 30-day check-in with the new joinee
Especially for completely remote or hybrid organizations, it can be challenging for HR to maintain contact with new employees beyond the first two weeks. You need a follow-up email for the onboarding process. Creating a prompt or notification to check in with them on day 30 will give them the impression that a member of the HR team is looking out for them and help you gain some insights into how they're settling in. Here is the virtual onboarding email template for this purpose:
Subject line: Name>, how are you doing?
Hello, <Name>
Can you believe that you've been working with us for 30 days already?
I would be delighted to check in with you, and see how things are going and how I can be of assistance.
Are you feeling at home?
Let's schedule a meeting this week via phone, brunch, or whichever you prefer.
Happy to see you!
Best,
<Name>
3. 90-day check-in email
Hopefully, after three months with the organization, your new employees will feel settled in. This is an important follow-up email for the onboarding process. Sending out a 90-day check-in email will tell them that their experience at <<organization name> is important, that you're thinking about them, and that you want to make sure everything is progressing smoothly. Here is the virtual onboarding email template for this purpose:
Subject: How are you doing, <name>?
Hello, <name>,
It's hard to believe you've been with us for three months already! I wished to inquire about how things are, and if you've settled in properly. To ensure everything is in order, could you let me know the following?
If you are experiencing any worries about your role or team, please raise them.

If you are adequately supported please tell me that as well.

If you sense you can contribute to your team, share your thoughts on this.

If you need any clarifications on your objectives or responsibilities for the six months hereafter, please contact me.
Let's schedule a check-in meeting for this week, via phone, lunch, or whatever is most convenient for you. It will be delightful to reconnect.
Best.
<Name>
4. Virtual onboarding feedback email
Continuing the conversation with your new employees is a great method to increase employee engagement. It is also an efficient way to obtain candid feedback on the quality of your onboarding experience through a simple follow-up email for the onboarding process. We recommend using this template to ask your new employees if the onboarding program has made them feel welcome:
Subject line: Hello, <name> — we welcome your feedback!
Greetings, <name>!
It's hard to believe you've been part of us, for <tenure before feedback> already. Thank you for your efforts so far.
I'm writing to pose a couple of inquiries and ask about the status of your situation.
Was there anything that we neglected to do on your first day that would have made your transition into the company easier?
Since you've been with us for a few quarters, how do you perceive things have progressed so far?
Please respond truthfully, and if there is anything you believe we could be doing better or that has been troubling you, please let us know.
Best
<name>
Learn More: What is Employee Onboarding? | Meaning & Definition | HR Glossary
Virtual Onboarding Email Best Practices and Software
The virtual onboarding process leaves no space for improvisation. To successfully integrate new remote employees into your organization, you must develop a step-by-step orientation plan. Follow these best practices for success and guaranteed results:
Use remote tools wisely: Effective virtual onboarding is heavily reliant on the use of the appropriate technologies. As you begin creating the onboarding plan, delineate the key technological elements that may facilitate the process. This can include email automation, HR survey tools, and learning management systems.
Outline a structured schedule: Consistency is the key to effective virtual onboarding. To develop a successful process, you should standardize it, define all the stages necessary, and establish a program schedule for follow-up emails for the onboarding process, to be adhered to whenever a new employee is hired. The schedule should let HR professionals know which virtual onboarding email template to use and when.

Clearly communicate the essential onboarding steps: Your new employee cannot wait to get started, but there is no need to rush. To ensure they don't neglect any steps, you must communicate the onboarding process's goals to them using the virtual onboarding email template.


Launch a buddy program

: An onboarding partner is an employee paired with a new recruit to facilitate team integration. An onboarding companion, unlike a supervisor, may not necessarily originate within the same department. Instead, they assist in answering all the concerns that a new employee just wouldn't ask their supervisor. Make sure to introduce the buddy when you send the first virtual onboarding email.

Follow-up frequently

: The 90-day employee review has already been mentioned, but it is not the sole conversation you should have with your remote hire. Use the virtual onboarding feedback email template we shared to stay in touch with the joinee.
With so many factors to consider when onboarding a new remote employee as well as numerous virtual onboarding email templates available, it's easy to overlook something. Utilizing virtual onboarding software enables you to automate a significant portion of the process — and thereby create an exceptional onboarding experience. Darwinbox, for example, automates the onboarding process with configurable workflows and artificial intelligence.
Ask for a Darwinbox demo to know more.