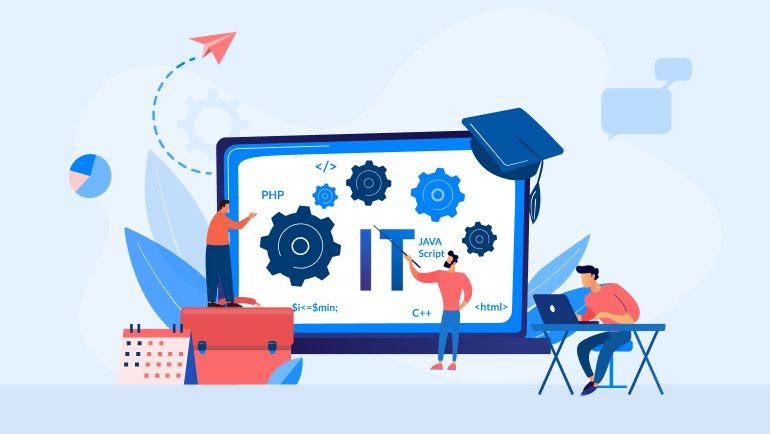 Workforce planning is the key to sustaining a right-skilled and rightsized workforce. Yet according to Gartner, less than 30% of IT organizations have a formal workforce planning process. In this article, you'll learn about the importance of workforce planning and discover how to handle workforce planning effectively at your organization.
AT&T Case Study: The Role of Workforce Planning in a Company's Success
In 2012, AT&T, one of the world's largest telecommunications companies, realized that most of its legacy businesses were quickly heading towards obsolescence. In order to survive, the Dallas-based firm had to reinvent itself into a software-driven, cloud-based, mobile-enabled company.
However, instead of going on a hiring spree, AT&T decided to do something unprecedented. It first identified the skill and competency gaps. Once the gaps were identified, AT&T partnered with Georgia Institute of Technology and Udacity to upskill/reskill their workforce of 280,000 spread all around the globe.
By May 2016, the upskilled employees not only filled half of all technology management jobs, but they also received 47% of promotions in the technology organization. Further, AT&T was able to reduce its product-development cycle time by 40% and accelerate time to revenue by 32%. The AT&T story is a case study of what strategic workforce planning can do for IT and ITeS organizations.
Why

the

IT/ITeS Sector Needs Workforce Planning
Workforce planning is the process of analyzing, forecasting, and aligning an organization's human resource requirements with its strategic objectives. It involves assessing an organization's current workforce, identifying gaps between the existing workforce and the desired future state, and determining what needs to be done to bridge those gaps. Workforce planning takes into consideration an organization's business goals, market conditions, and regulatory requirements. Simply put, workforce planning ensures that the organization has the right people with the right skills in the right roles at the right time.
Effective workforce planning can help organizations to improve their performance, increase productivity, reduce costs, and achieve their strategic objectives. It can also ensure that the organization is prepared for potential changes in its operating environment, such as technological advancements or shifts in market demand.
Organizations typically gather and analyze data – such as employee demographics, skills, and performance metrics – on their current workforce before getting into workforce planning, . They then use this information to develop strategies for recruiting, developing, and retaining talent and managing workforce transitions such as retirements, promotions, and layoffs.
Workforce planning is an ongoing process and requires regular review and adjustment to remain effective.
Learn More: 8 Key HR Trends Shaping the IT Industry in 2023
The Role of

the

HR

Function

in Workforce Planning
In most organizations, workforce planning, and organizational strategic planning go hand in hand. While the HR department plays a critical role in workforce planning , the business leadership including the CEO, COO, CFO, CIO are responsible for organizational strategy.
Business leaders should evaluate their workforce plan to ensure it can anticipate and respond to future needs, allowing the organization to make informed business decisions. Key performance indicators, such as profitability, return on investment (ROI), and productivity, should be used to assess the plan's effectiveness.
Additionally, implementing an effective performance management system can have a positive impact on these performance indicators. Industry data can be used to establish benchmarks for comparison.
Steps to Develop an Effective Workforce Plan
Here are some tips for business leaders seeking to develop effective workforce planning:
Choose a representative from the HR department to supervise the process.
Identify a senior executive to act as the project champion.
Engage important stakeholders

like the

CEO, the COO, the CFO and o

ther business leaders

in the process of workforce planning.
Ensure that the plan is in line with the company's overall business and IT strategic planning so that th

e

workforce capabilities align with short- and long-term business needs.
Prioritize talent strategy programs to identify, attract

,

and retain the right talent in roles vital to the organization's success.
Make workforce planning an ongoing process by continuously assessing internal and external factors that could impact the organization's staffing requirements.
Learn More: Managing HR Issues in the IT Sector: Best Practices & Solutions
The Four Fundamental Steps of Effective Workforce Planning
The process of analyzing an organization's workforce can be broken down into four main steps.
Supply analysis

which involves analyzing the current labor supply.

Demand analysis

which reviews future business plans and objectives.

Gap analysis

which compares the supply and demand models to identify skill surpluses and deficiencies.

Solution analysis

which focuses on how to address gaps in staffing through recruiting, training and development, contingent staffing, and outsourcing.
By following these steps, organizations can effectively manage their workforce and ensure they have the necessary skills to meet their future business goals. Let us explore these four steps in detail.
1. Supply Analysis
The first step towards effective strategic workforce planning is to analyze the current state. You would make a note of the skills-sets and competencies that are vital for your organization and the supply of labor. A 2022 Gartner survey showed that 47% of HR respondents were not aware of the skills gaps within their workforce. This can be overcome by bringing in dynamic AI-based skills ontology coupled with an exhaustive skills library. For example, Darwinbox's comprehensive and ready-to-use skills database which encompasses 34,000 skills across 38 industries is very well-equipped to help HR leaders take stock of the skills inventory across the organization.
It is recommended that you account for workforce demographics and DEI (Diversity, Equity, and Inclusion) while covering the number of employees and skill-sets. Demographics can help you find answers to crucial questions like how many of your employees are nearing retirement age, is any particular demographic showings signs of abnormal turnover rate, etc. Meanwhile, multiple studies have shown that organizations that have a diverse and inclusive workforces are 35% more likely to outperform their competitors. They are also 20% more innovative than a less diverse workforce.
Supply analysis also calls for forecasting attrition so that the results can help predict the future supply of skills and labor. Reporting and analytics tools like Darwinbox Atlas can be of great help when it comes to tracking metrics like attrition etc. With the data, the workforce planning team can draw a fairly accurate picture of the current state.
2. Demand Analysis
The purpose of conducting a demand analysis is to predict the future composition of an organization's workforce. This should consider various factors such as business trends, competition, growth or decline of global markets, the expected pool of potential employees within certain geographic regions, etc.
In order to conduct a comprehensive demand analysis, it is necessary to take both internal and external factors into account. When analyzing internal demand and external influences, it may be helpful to consider a range of questions such as:
Can the current workforce perform new duties with a new product line without requiring extensive retraining?
If the organization plans for anticipated changes, will the current employees remain committed and loyal?
Are there sufficient labor resources with the required skills and abilities that the evolving organization needs?
What external factors may cause a change in demand for goods and services, and how might these factors impact the organization's internal business decisions and workforce planning requirements?
It is also necessary to analyze the future composition of the workforce. The analysis should seek answers for the following questions:
How many employees are required to achieve business plan goals and objectives?
What skills and competencies will be required for the future?
What

skills and competencies are

available

within the current

workforce?
How can the organization attract and retain newer talent while maintaining diversity?
Learn More: HR in the IT Industry: Importance, Trends, Best Practices
3. Gap Analysis
During the gap analysis stage, you'll be comparing the results of the supply and demand analysis. The aim at this stage is to compare the current state and future state and identify the various gaps including skills, competencies, etc. that would need to be plugged to achieve the organization's goals.
Workforce planners should consider various possible scenarios and choose the most probable one, while also planning for alternative scenarios as a backup. While conducting gap analysis it is advisable for the planners to identify the additional number of employees needed who have the requisite skills, as well as the employees who will no longer be needed.
This is where HR tech can step in. For example, Darwinbox uses AI-based skill graph built on Graph DB which uses machine learning and NLP to define relationships between skills. Organizations can further hyper-contextualize the skills by customizing relationships, adding/editing new skills, and defining skill levels and how these skill levels map to different roles/jobs.
4. Solution Analysis
Once the planners have a fair idea of the current state, the future projections, and have identified the gaps between the two, the next step is to figure out plausible solutions. This may include upskilling or reskilling the current workforce, hiring new staff, contingent staffing, or outsourcing depending on whether the organization is planning to scale up, scale down, or restructure based on the future business goals. HRMS platforms can help you create the right learning and development plan to bridge the gaps in current roles. You can also create succession plans and define career paths for your workforce.
With Darwinbox you can also create an internal marketplace which connects your current workforce with opportunities within the organization. More importantly, it enables organizations to rapidly deploy, motivate, develop, and retain the current workforce. Darwinbox's skills ontology framework enables benchmarking of internal teams based on talent profile and developing talent in-house.
If your solution requires hiring new candidates to close the skills gaps, Darwinbox's Job Match Score™ can match candidates with jobs easily by stacking candidate CVs in order of relevance based on factors such as skills, past experience and educational background. Similarly, AI can suggest recommendations to be included in the job description such as educational qualifications, experience, skills, etc. required for a particular designation.
Conclusion
The IT industry is evolving rapidly, with emerging technologies and shifting customer demands. With the rise of artificial intelligence and machine learning, traditional IT roles are changing, and there is a growing demand for talent with specialized skills in these areas. By implementing strategic workforce planning, organizations can ensure they have the right people with the right skills to adapt to these changes and stay competitive. Failure to plan for these shifts can result in skill gaps, talent shortages, and a loss of competitive advantage.
Want to stay ahead of your competition with an effective workforce plan? Explore Darwinbox's Workforce Management Suite with real-time data, advanced analytics, and cutting-edge remote work tools on a super flexible HRMS platform. Book a demo today!