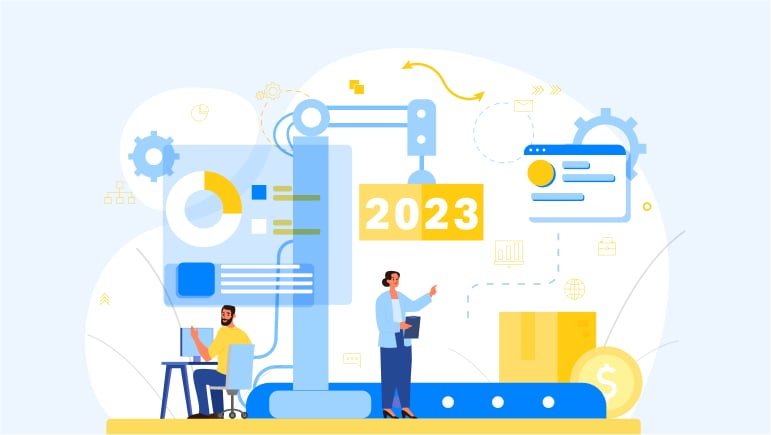 Smart manufacturing is about using technologies like IoT, AI/ML, virtual reality, and automation in manufacturing processes to connect the different systems, improve processes, reduce human effort, and create new business models. A strong HR function is critical to ensure that manufacturing companies can mobilize talent ready for the world of smart manufacturing. This article explains how next-gen HR tech can improve talent practices and enable companies to realize the full scope of smart manufacturing.
What is Smart Manufacturing
?
Smart manufacturing (SM) is a technology-first approach that uses digital and/or online systems to oversee the production process. Smart manufacturing is about the end-to-end digitization of industrial processes – not just with basic automation in manufacturing but also through using cutting-edge tools that add value, improve the bottom line, change business models, and transform experiences. Technologies used in smart manufacturing (or Industry 4.0) environments include artificial intelligence (AI), process automation, and augmented and virtual reality.
Ultimately, smart manufacturing is about achieving totally unmanned processes (i.e., lights-out factories) with automation in manufacturing and bots functioning flawlessly.
Digitizing a manufacturing plant and introducing smart manufacturing practices requires a lot of change management. The HR teams at manufacturing companies need to handle the various kinds of changes that will come by. Everything from the strategy and approach taken to manufacturing, the skillsets and
How can HR leaders support this transition? How do companies acquire the skills to design, construct, manage, and sustain these high-tech production plants? That is where HR technology play an important role.
Learn More: 16 HR Trends in the Manufacturing Industry in 2023
7 Reasons HR Tech is Essential for
Smart Manufacturing
It is not enough to know what is smart manufacturing and put together plans to get there– organizations have to use the right tools to execute the strategies. HR technology can help companies acquire, engage, retain, and deploy talent that can actually thrive in smart manufacturing or Industry 4.0 environments. Here are seven ways HR technology can ensure your company follows smart manufacturing practices:
Create a single source of truth for all HR information
In a manufacturing company, there are often multiple data sources. But to truly realize the potential of digital transformation, a single source of truth is necessary. Various systems ought to have the capacity to communicate and provide an unambiguous representation of both people and process requirements.
Most manufacturers already possess siloed HR software modules, but these disparate solutions might result in inefficiency and data inconsistencies. On the other hand, a comprehensive digital solution enables the HR team to cut down on the time needed to complete tasks like salary processing and focus on more strategic work. Furthermore, next-generation HR technologies may provide a fresh perspective on the efficiency levels of employees.
HR tech can be tailored to meet smart manufacturing use cases, specifically – like workforce planning and position management, facial registration, and line management via automatic staff replacement and rostering.
Previously, labor management data was collected at the end of every shift, and every hour was entered manually into a logbook. But using next-gen HR tech in smart manufacturing, shift and line supervisors can view the data on dashboards and use analytics to derive actionable insight from that data.
Seamless integrations with third-party apps to ensure agility
Manufacturing companies must use digital technologies to reinvent HR processes. HR solutions, such as AI-driven recruitment solutions, intelligent automation, and advanced analytics, can help the manufacturing sector stay ahead of the competition by fostering agile teams.However, it isessential that these systems can integrate seamlessly so as to drive maximum efficiency..
Next-gen HR tech platforms enable this through application programming interfaces (APIs). One of the primary goals of adopting HR tech solutions in smart manufacturing use cases is to ensure platform interoperability. In addition to core HR operations like travel & expense management or payroll, this may include competence management software, rewards & recognition solutions, and succession planning tools.
Learn More: Refine Your Recruitment Process to Attract the Best Talent
Support employee training for smart manufacturing processes
In Industry 3.0, the majority of production work was carried out manually. This implied that every individual was expected to have skills and training in physical, manual labor. WIth the emergence of smart manufacturing and Industry 4.0, most jobs have been automated. Workers are expected to be aware of working with machines based on RPA, IoT, AI, and ML technologies, and operate equipment in a safe and effective manner. This necessitates continuous training for blue-collar employees . The size of the blue-collar workforce is often the primary hurdle to conducting training programs, but next-generation HR technology enables companies to strategize, plan, manage, and execute learning and development programs on a continuous basis.
Employers using HR technology solutions can use intuitive learning management systems (LMS) to retrain and reskill their vast workforces on an individual, personalized basis.
Mobile-first HRMS platforms also offer access to learning programs on mobile, making it easier to impart training to employees, as they don't need any additional devices to receive their learning modules, and can complete their training at any time, or at any place.
Simplify shift scheduling in smart factories
In labor-intensive industries, shift work is common. Ineffective shift management can negatively impact employee satisfaction and productivity. Nonetheless, a fair and open shift policy is essential for employee satisfaction in the manufacturing sector. Managing shifts in a large manufacturing workforce is a complex task.. Typically, a shift scheduling supervisor must consider hundreds of people, various locations, installations, compliance requirements, absenteeism, and many other factors before assigning each employee their shift. HR workforce management products can help process the multiple elements, and regulate shifts in a way that it boosts efficiency, throughput, and productivity.
Employers are able to simplify operations, maintain a proper record of shifts, and reduce absenteeism by employing HRMS platforms with features to enable workforce management.The tools help enable people managers automate shift scheduling, giving them the time to concentrate on more strategic tasks. AI engines typically use predictive capabilities to set up the most optimal shift, and workers can then use self-service features to choose what works for them or swap shifts with a colleague. Essentially, HR tech in smart manufacturing use cases is a win-win for both employees and their supervisors.
Efficient payroll management for a new, diverse workforce
With a large workforce compensation management becomes time-consuming and susceptible to errors if manufacturing companies don't use the right kind of payroll processing software. Manual computations lead to delayed or incorrectly computed and disbursed wages.
This becomes more complicated when employing gig workers, or remote workers – something that's becoming common in the world of smart manufacturing. Even minor salary issues might result in significant discontent and employee turnover. In today's complex economic environment rife with inflation, it is important that manufacturing workers are paid correctly and on time – especially if they are to support an organization's transformation initiatives and effectively execute smart manufacturing practices and processes.
A next-generation HR technology software suite that offers a highly accurate and effective payroll platform can help with compliance and scalability. It saves a substantial amount of time that might have been wasted on error rectification and redressing grievances.
Learn More: The Role of HR in the Manufacturing Sector: Issues and Solutions
Providing exceptional employee experiences and ensuring low attrition
If manufacturers want to expand their market share or increase their productivity in the era of Industry 4.0, they will have to modernize their hiring and retention processes. As the idea of the conventional employee has evolved, so have the techniques for recruiting them and ensuring they stay with the organization.
To stay competitive, manufacturers must invest in recruiting technology that helps them find top talent, particularly those with the skills and aptitude to excel in the world of smart manufacturing .
HR technology can help with solutions for bulk or skill-based recruiting, a necessity in manufacturing companies. Also, most companies struggle to retain specialists with the competencies required for smart manufacturing, demand has steadily increased. Next-generation HR technology enables companies to improve operations — placing greater emphasis on employee engagement, personalized employee experience, and skill development. 7. Staying compliant with the latest laws in the manufacturing sector
Every government makes revisions to regulatory requirements periodically, and manufacturing companies should be aware of these changes. The pace of regulatory change has only increased with smart manufacturing and Industry 4.0. In order to avoid penalty for non-compliance, it is essential for HR leaders to grasp the subtle distinctions across part-time, contractual, or seasonal employees and to register them accurately. Smart manufacturing systems, in particular, collect a lot of data, so it is important to be compliant with data privacy and security laws as well.
There is a pressing need for automation in manufacturing and for HR leaders to address workforce management issues. It will help companies across various smart production sites or traditional sites, ensuring that staff records are accurate.
HR software, which enables simple reporting, analysis, insights, and online registration with secure access anywhere, at any time, and over numerous devices, can help companies stay compliant in all countries they have operations in.
Learn More: Highlights from Darwinbox's HR ChangeMakers Club Session: Digital Foundation for A Future-Ready Workforce
HR Tech Innovations that are Crucial for Smart Manufacturing
It is clear that HR tech plays a central role in facilitating this industry-wide transformation to smart manufacturing. Three technological breakthroughs, specifically, are important within the scope of smart manufacturing:
People analytics and talent analytics

: Talent analytics generates both global and micro-level insights. Using this data, companies can enhance recruiting and engagement, vendor management, and workforce productivity. When effectively applied, talent analytics can also be used to forecast skills gaps and employment dynamics, enabling the development of sustainable long-term workforce strategies.

HR tech apps on mobile

: Manufacturing companies will benefit from mobile apps with features like employee referral portals, online event registrations, and company-wide networking. They increase engagement, enhance the standard of applicants, and strengthen the employer brand.

AI and automation in hiring

: Chat and

voicebot-based virtual assistants

can support recruiting managers in exploring talent pools, accessing data, and building teams for

smart manufacturing

initiatives. In addition, they may be used as guidelines to enhance the applicant experience.

Automation in manufacturing

can help simplify reference checks or other recruiting workflows while minimizing both risks and expenses.
Learn More: 18 Tips to Retain Talent in the Manufacturing Industry
Conclusion
In the age of smart manufacturing and industry 4.0, HR functions also need to be modernized, bringing in the same principles and approach used for popularizing automation in manufacturing operations and processes.
However, PwC research reveals that HR systems modernization is a top challenge for more than 1 in 3 HR professionals. Around 39% are also struggling with HR analytics and recruitment, two important levers for smart manufacturing. Modern, next-gen HRMS platforms are essential to help manufacturing companies successfully transition to the world of smart manufacturing. To learn how HR technology can help your company ace smart manufacturing, schedule a demo with Darwinbox today!