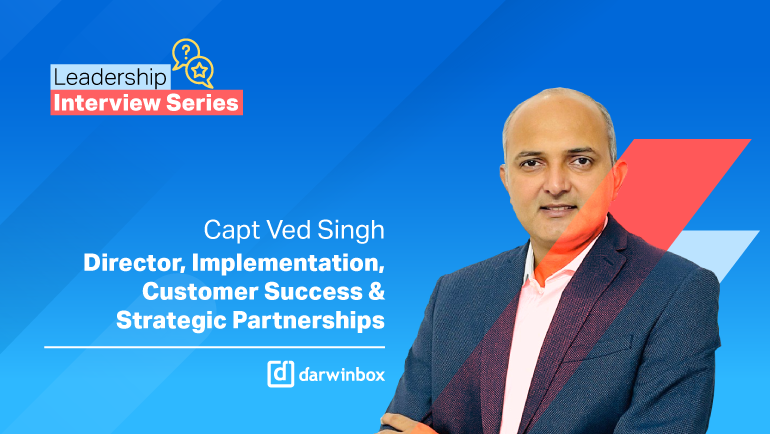 The world of work has undergone significant transformation in the past couple of years. And the story of this transformation is best told by the people who are pioneering this change. No one embodies 'change' better than a leader who has been there, done that, and transformed teams with his tact and ambition.
Meet Capt Ved Singh, part of Darwinbox Leadership Team spearheading Implementations, Customer Success and Strategic Partnerships for Geographical Regions in Indian Sub-Continent and MENA. He brings in over 18 years of experience in Tech Business Leadership, HR Leadership and People Management roles. He is an Expert in HR Tech Transformation interventions during / post Mergers and Acquisitions involving complex business, geographical and cultural nuances. Recognized amongst Top 40 HR influencers in India on Twitter in 2020, he is an active Propagator of notable People Practices, Tech Transformations and OKR's approach.
In a candid conversation with Capt Ved, we discovered everything from how much the industry is evolving to accommodate the recent market changes and how he uses his military background to bring order to his work and purpose to his assignments.
Here are the excerpts from the interview:

Darwinbox: How have you seen HR transformations in the enterprise landscape pan out post the global pandemic?
Capt Ved: Agility, creativity, and flexibility have been the key attributes displayed by thriving HR Teams and organizations, and these directly impacted how the HR Transformations were chosen, approached, and executed during and post pandemic. Here are some of most prominent changes I have witnessed recently:
Greater focus on agile and nimble organizational structures to meet team-based working patterns and embrace new emerging roles.

Building the workforce for future through continuous upskilling, competency building, and multimodal progression paths.

Enabling personalised experience in a hybrid environment and supporting employee wellbeing.

Sweeping adoption of analytics enabling data-driven decision making.

Strengthening and up-gradation of primary HCM systems with deeper integrations with other technology systems for a consistent end-user experience.
"Digital today, not tomorrow" has been an echoing mantra, especially during the last year, leading to the reduction of technology deployment timelines to less than 40% vis-a-vis pre-COVID times with much higher mobile adoption. Pandemic catapulted the work world into the next era of digital transformation where the focus has shifted to holistic business results through simplification of work processes. And all of this is riding on innovative mobile-first technology which is reversing many trends, such as force-fitting existing processes onto technology tools or stepped change introductions.
Darwinbox: An HRMS touches all employees from rank to file. What, in your opinion, is the secret sauce to HR tech success?
Capt Ved: An HRMS is akin to the circulatory system of the human body, it touches and impacts every member of the organization not only during their journey as an employee but well before as a candidate and way after as an alum. This is why an HRMS is often referred to as the mother system in organizations.
The role of HR is also becoming more horizontal, it is advancing quickly as an integrator cum enabler of every business decision owing to the current times where the success of organizations has had a greater dependence on ideas, people, and capabilities, while the access to markets, finance, and technology is available with ease. This changing role of HR makes HR tech systems a business catalyst in organization's growth.
The deployment of HRMS platforms is emerging more as an art than a science. We have been learning and evolving our own implementation framework 'Inflexion', powered by over 600 enterprise transformation experiences.
While every transformation is unique, we observed a few common threads in some of the greatest success stories, for instance:
People at the centre of transformation

- Approaching the transformation from the perspective of end users in employees and how things would change for them, boosts the effectiveness of change management process. Not only that, but it will also help secure their desired support fuelling its quicker adoption.
Leadership buy-in

- A well laid down set of program objectives, functional objectives and KPIs go a long way in ensuring the success of any transformation project. This not only caters to the alignment of businesses with functions but also ensures that we remain focussed on the outcomes rather than getting lost in the journey.
Wrest the opportunity

– Tech transformation is also a terrific opportunity to enhance and/or simplify existing processes while also solving for those legacy challenges, bringing in harmonization and adoption of best practices, the absence of which has been limiting the impact of people initiatives.
Data-driven decision making

– Best suited SaaS platforms are ~ 90% fit to organisational processes leading to certain critical decisions to be made in brief timeframes. Usage of analytics to end institutional bias helps in making informed and rational decisions.
Celebrate each win

- A technology transformation journey, due to its very nature, means that a lot of energy is consumed in managing stakeholders, change communication, and driving adoption which inevitably leads to burnout. Celebrating each milestone in the journey and a before-after story sharing at every stage re-energises the team, driving transformation for their next bigger haul.
Darwinbox: What does Customer Success mean in today's virtual world of work?
Capt Ved: Customer Success (CS) is a proactive and holistic approach to ensuring that the customers achieve their desired business results from a product and unlock its full potential to their benefit. CS extends a real-time visibility into customers' current state vs. desired state, aligns the product company to adopt metrics for mutually beneficial results, and works as a guiding light to build the product roadmap.
In the virtual word with limited physical interface, product experience and digital adoption solutions have become a close ally for customer success teams. For instance, you would notice that:
Quarterly Business Reviews (QBRs) with client leadership,

Consultative sharing of emerging Industry trends,
Reflecting on adoption analytics, deployment of new/advanced features, and

Being on the mark towards key organisational challenges & desired business results,
paves way to building and cracking action plan for customer success.
Darwinbox: What military values do you continue to live by to this day? How do they impact your choices and modus operandi, in general?
Capt Ved: Military values, ethos, and behaviours get ingrained onto the soul of a soldier and we continue to live through them for life and thereafter. Military experiences and perspectives prove invaluable and repeatedly come in handy moving through this fast-paced innovative corporate environment.
Competitive Intelligence –

The military excels at conducting systematic & competitive analysis




to predict a futuristic view of the changing

battle

environment. The military accepts nothing but the best, it demands par excellence delivery

and 360 degree

awareness

through

ou

t any operation




because the mistakes made cause permanent damage as compared to a recoverable balance sheet

impacts for

a quarter or two in the corporate sphere. This drives one to be at one's best in every business activity or even personal endeavour.

Planning and Preparation –

The creation of a timely, comprehensive, structured plan with clarity for every team member is the hallmark of military planning. Deeper discussions around the distribution of resources, contingency planning, and revving up of everybody's skills to execute the operation, reinforces the success probabilities and helps bring about the peak performance of every participant. This skill that I picked up during my military career is one that I repeatedly exercise in the corporate world.

Innovative Execution

- Someone said that for all military Plans, it's back to the drawing board after the first bullet is fired. Military success is not just based upon the strength of the initial plan but also on the tactical and strategic manoeuvres undertaken while a battle is in progress. Last year and a half have been a perfect example of innovative execution, we not only met but surpassed our client and board's expectations despite various uncertainties in the environment through agile product enhancements, remote work-related manoeuvres ensuring business continuity and unshaken outcomes focus.

Team Development

- Military uses a process of continuous work role up-gradation and proactive performance dialogue with team members that enables soldiers/airmen/sailors with basic capabilities to handle some of the most advanced and futuristic technologies globally with ease. In the current talent war, in addition to attracting the best talent, we have been able to achieve massive elevation

in the quantum of responsibilities being handled by our team members across functions and verticals, we have been able to create some inspiring growth stories which would be an example for all Darwinbox employees.

Selfless Service and Ownership

- "Your own ease, comfort and safety come last, always and every time"—an excerpt from Chetwode credo. Military service is a commitment to the larger interests of the nation and society which lifts an individual into the mindset of serving others

selflessly

. A product company or a product itself exists to help people solve problems. Therefore, you not only need to extend an excellent product but also own a complete ecosystem of support, consultation, and encouragement that ultimately leads to clients' success.
If you want to hear more from people working in various areas, check this space for our full collection of interviews.