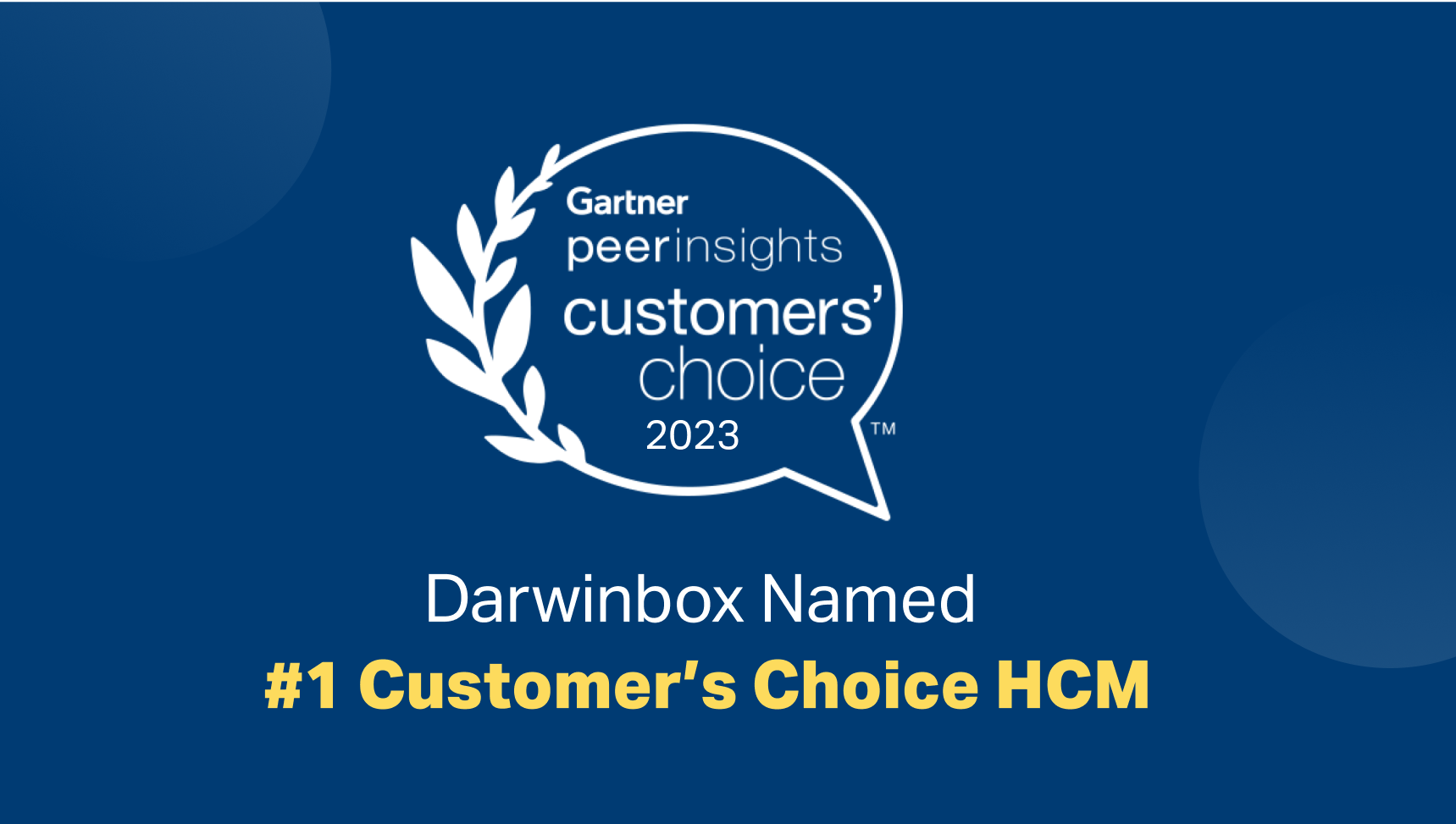 Darwinbox has been rated as the top Customers' Choice Cloud HCM Suite for 1,000+ Employee Enterprises in 2023 by the Gartner Peer Insights "Voice of the Customer" (VoC) report. Darwinbox received a score of 4.7 out of 5, the highest rating on Gartner Peer Insights, ahead of established vendors.
Every individual is unique. And everyone part of the world of work has unique requirements, preferences, and needs at the workplace. Naturally, a one-size-fits-all approach won't work, particularly when it comes to HR services. One common HR technology tool for employees belonging to different countries simply doesn't cut it.
Darwinbox was founded to fix this gap in the market – to create a customizable, flexible HRMS platform that takes into account the nuances of every kind of work culture and enables companies to personalize experiences for every employee.
The efforts have paid off. We've received the best kind of validation and encouragement we could ask for.
Darwinbox is the only HCM player to have been named the Asia Pacific Customers' Choice in Gartner's report - Voice of the Customer for Cloud HCM Suites for 1,000+ Employee Enterprises.
Gartner Peer Insights is a customer review and ratings platform for enterprise software and services decision-makers, and the reviews you see go through a strict validation and moderation process to ensure authenticity. Around 127 customers from various geographies and industries provided feedback about us.
Darwinbox has received a rating of 4.7 on 5, and a 94% 'Willingness to Recommend' score from customers. Darwinbox has received the highest 'Willingness to Recommend' score among the top 11 HCM vendors.
Here's What the Recognition Entails:
Darwinbox is the Only HCM of Customer Choice in Asia Pacific.
This is testimony to the fact that there is a need for HR technology designed keeping local nuances in mind and that Darwinbox is the best one in the market that fulfils this need.
Darwinbox comes with deep and extensive knowledge of the work culture in the different countries across Asia Pacific and the world, and has been designed so it can be customized for any kind of work environment for companies operating in different parts of the world.
Highest rated (4.7/5) HCM, alongside legacy players such as SAP, Oracle
Darwinbox's technical architecture, built on GraphDB and Kubernetes make it an agile platform that can fit the evolving needs of customers.
Employee expectations have evolved and there's now a greater need for companies to provide employees with personalized experiences. HR technology that is built to be flexible and customizable is indispensable in the new world of work.
#1 recommended HCM solution for 1000+ enterprises
Darwinbox is loved by enterprises across industries, globally. Darwinbox has several customers who have more than 10,000 employees, proving that Darwinbox has what it takes to handle the HR needs of large, complex organizations with varied and unique requirements.
What Forms the Basis of This Recognition?
There are 4 pillars of evaluation for the coveted Customers' Choice recognition. These provide a holistic picture of the product capabilities and of the process of bringing the platform to customers and end-users. Here are the scores we've earned this year:
Product Capabilities – 4.6/5
Sales Experience – 4.7/5
Deployment Experience – 4.7/5
Support Experience – 4.5/5
Over the last year, our product has evolved and grown significantly.
For starters, Darwinbox is collaborating with Microsoft to jointly work on innovations that will shape the future of work. This partnership is amongst the first of its kind in the global HCM market
We have also struck a partnership with MS Teams to bring HR into the flow of work. HR teams today aim to provide employees with frictionless, smooth experiences, and integrate HR into the flow of work. Darwinbox is now on MS Teams, enabling employees to handle their work effortlessly and efficiently on the MS Teams app. Whether it is accessing information or completing tasks such as attendance, employees can handle it on one app.
To meet the growing demand for robust people analytics tools, we have launched Darwinbox Atlas, an all-in-one reporting & analytics engine that will give you everything you need to navigate the sea of data and make your way to the port of unique, actionable, data-driven insights.
Thank YOU, Dear Customers!
We're humbled and grateful for this recognition and are committed to achieving even greater milestones with you and for you. We absolutely could not do this without you! Thank you for being such wonderful supporters of our mission, year after year.
If you have any questions about anything or if you'd just like to say Hi, please drop an email to founders@darwinbox.com. If you'd like to learn more about our product, schedule a demo today!