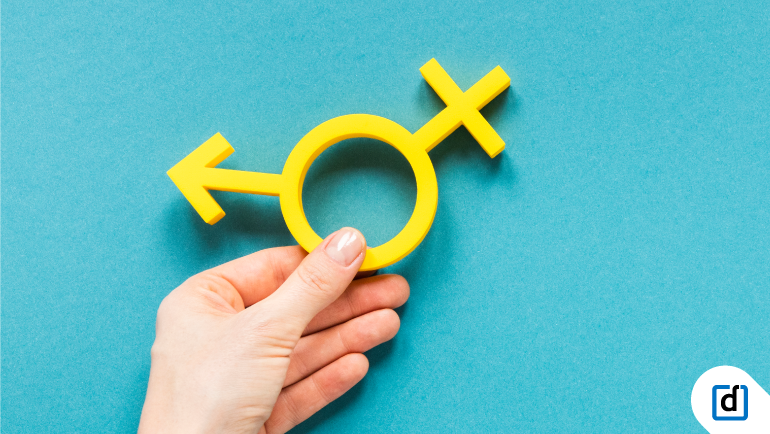 What is Gender Diversity?
Gender Diversity is a term that refers to an equal representation of people belonging to various genders. It is not restricted to binary but encompasses various gender identities. It is a burning topic of discussion in many junctures of life as it seeks to establish equality and diversity, a notion that was once not accepted widely. It is about acknowledging and respecting that diversity is a part of life and that we should embrace it.
Why do we need Gender Diversity in workplaces?
The pressing importance of Gender diversity in the workplace stems from the lack of it. Having a diverse workforce brings in varied views and perspectives necessary to grow in a work environment that is ever-evolving. A culture of equality and inclusivity is a powerful tool to drive innovation and growth. A diverse and inclusive workforce with a range of approaches and perspectives is automatically more competitive in a globalized economy. Gender diversity is crucial in workplaces as it:
Brings in various viewpoints.

Creates an opportunity for equal representation.

A diverse talent pool is an asset after all.

Improves the overall quality of life for the employees.
Better Customer targeting.

Creates more inclusive and safer workspaces.

Increases employee satisfaction.
Top 10 Benefits of Gender Diversity in the Workplace
Pools in a Diverse Customer Base
Having a mixed-gender environment creates more opportunities for getting a diverse customer base on board. This is because then people are better able to understand the requirements of the customers, are more sensitive to their needs, and thus can drive better decision making.
Since opinions come from a varied group of people, there's more chance for debate, and that ultimately results in getting a better picture of the pros and cons of collaboration with different customers. A gender-diverse workforce provides quick access to resources such as wider industry knowledge. Thus, it allows the company to serve an increasingly diverse customer base.
2. Improves Collaboration and Productivity
A gender-diverse company appears to be more competent than the ones that are not. This is because as more diverse people are called onboard, innovative thinking follows. Employees are often curious to know what other people have to say and this calls on for more collaboration.
As per research conducted by Harvard, it was found that gender diversity results in more productive companies, as measured by market value and revenue. Firms with a widespread cultural belief that gender diversity is important are comparatively more productive.
3. Creates a Safer and Sensitive Work Environment
Companies that foster a safer work environment ensure that they maintain a healthy balance of all types of genders. When such is the case, employees naturally become more heedful and sensitive to other employees. In simpler words, a fair and equitable balance between all genders ensures that the work environment is healthy. In the gender-diverse workforce, there are enough people to support every side of arguments. This helps create much safer work environments where all voices are heard.
4. Increases Financial Returns
You might wonder how gender diversity has got anything to do with the profits of any firm? To answer this, a report by McKinsey tells that companies in the top quartile for gender diversity on their executive teams were 15% more likely to experience above-average profitability than companies in the fourth quartile.
Just having higher gender diversity doesn't guarantee higher profits. Rather it is a combination of other factors such as employee engagement, retention, and innovation as well. But that said, there has been enough evidence that shows that gender diversity is a massive benefit for any organization as it positively impacts revenue.
5. Ensures Employee Contentment
There are two ways to look at it, internal as well as external contentment. When more gender-diverse groups join a firm, the people belonging to that gender feel more empowered. At the same time, the employee joining the firm feels belonged. And as diversity increases, there is more voice that these groups get.
6. Draws in Multiple Perspectives
This advantage is definitely a no-brainer in that a diverse employee-base is ought to bring with it ideas and viewpoints of all sorts. Having multiple perspectives about a single issue gives more room for innovative and better solutions.
It is a given that a homogeneous group will make the thought process mundane and unimaginative. While diversified teams bring different experiences, perspectives, and approaches to solving complex and non-routine problems.
7. Attracts and Retains Talent
An organization that boasts of having a diverse culture will attract better talent. This is true because when seeking to join any company, employees place work culture on a very high priority. According to a report, about 85% of the female employees, especially millennials, believe that an employer's policy on diversity, equality, and workforce inclusion was an important driver when selecting whether to join an org or not.
Employee satisfaction is a key driver in a company's growth and profitability, and gender-diverse workforces help foster that. This also leads to higher employee retention rates. Higher retention and low turnover rates imply that employees stay longer in an organization and are thus able to perform to the best of their capabilities.
8. Build Brand Reputation
Inclusive organizations tend to build better branding for themselves. When the workforce is diverse and content, they become brand ambassadors for the org. Having diversity and inclusion policies helps the orgs promote themselves to prospective employees.
It is especially critical in today's era of social media. Only satisfied employees will further become evangelists and build a reputation for the firm. Building reputation is extremely critical for an org if they want to sustain. Corporate reputation can increase profits and investor confidence, so companies are often motivated to enhance the way they are publicly viewed. Thus, Gender diversity and reputation go hand in hand. Approximately half of all midsize companies and a majority of Fortune 500 companies formally state their commitment to diversity efforts. (source)
9. Gives more Scope for Innovation
Innovation is a consequence of different perspectives being united. After all, new ideas are born from diverse ways of looking at the same things.
"The most innovative company must also be the most diverse," says Apple Inc. in one of its Diversity and Inclusion annual reports.
It is self-explanatory in that creativity and innovation brim at workspaces that welcome a diverse group of people. The recent boom in the startup culture is a testimony to this fact, now a universal truth. The creativity that comes from a gender-diverse workforce will facilitate the organization in seizing any opportunities that come their way and creating novel opportunities at the same time.
10. Ensures a Lively Work Culture
What if you had only one kind of breakfast to eat every single day? It would become mundane, and you would start detesting it. The same is true for a workspace. If you only had a homogeneous group, work wouldn't seem interesting anymore. After all, it is the people who make work fun.
Having a gender-diverse employee base will ensure that the work environment is always kept active, with new ideas flowing, new perspectives shared, and new concepts discussed. Lively work culture will motivate people, and this will eventually show results in terms of excellent output of work.
How to Improve Gender Diversity in the workplace?
Lack of gender diversity in the workplaces has existed for decades now; it is only recently that people are voicing their opinions to make workspaces more diversified. Despite even the best intentions, organizations across the world still encounter hurdles when it comes to achieving gender equality in the workplace. If organizations want to avail themselves of all the benefits that come as a part of a more mixed workforce, then they should adopt the following practices to improve diversity in terms of gender at their workplace:
Create a culture of respect and inclusivity.

Deliberately hire Gender Diverse people. (It could also mean allocating a certain quota for the same).

Initiate and hold Diversity programs and events (Read how Darwinbox celebrated its female workforce

here

).

Raise awareness to remove the unconscious bias.

Draft policies that revolve around creating a gender-diverse workforce.

Preach the benefits across all departments of the business.
Creative Initiatives across the world to create Gender Diverse workspaces
Here are a few innovative ways orgs are battling and pushing boundaries to create more gender-diverse and inclusive work environments:
REA Group
They believe that diverse teams are the best teams, and thus encourage a workplace where everyone can be themselves. They have clear gender-based goals in technology roles where they are seeking 35% female representation across the technology community by the end of FY22. They also disclose this data every year in their annual report. They also make their diversity and inclusion policy publicly available which makes them answerable to a wider public. Read more here.
2. Drift
Drift is a Revenue Acceleration platform that uses Conversational Marketing and Conversational Sales to help companies grow revenue and increase customer lifetime value, faster.
In an interview with Comparably, when asked what actions Drift takes to improve diversity, David Cancel, Co-Founder & CEO, said, "We have created aggressive hiring goals to improve diversity on our team, and are in the process of hiring someone who will focus on diversity in the recruiting process and help hold us accountable to these goals. We recognize that this goes beyond just numbers. It's about ensuring that we are fostering an inclusive workplace. We also previously had a DEI Manager and work with external consultants on improving our DEI practices."
3. Mastercard
"Diversity is built into the core of what we do," says Ajay Banga, Executive chairman, Mastercard. Banga believes in cultivating a bright, diverse workforce, but he's also looking for something he calls a high D.Q.—decency quotient.
With their creative solutions, the company boasts twice the number of women in leadership as other companies in the S&P 500. Read about how Mastercard created Business Resource Groups (BRGs) to promote a more inclusive culture for all. They have a total of 9 BRGs, 140 chapters in 47 locations worldwide.
4. Avanade
Avanade is a global professional services company providing IT consulting and services focused on the Microsoft platform with artificial intelligence, business analytics, cloud, application services, etc. It earned the title of 2020 Employer of the Year from the Women in IT Awards. One way they work towards making a diverse work culture and ensuring equal opportunities for all is through them STEM Scholarship for young women, which helps fund recipients' education and offers internships, mentoring, and a strong support network!
5. GoDaddy
A successful diversity initiative at GoDaddy is the company's partnership with Stanford. Starting in 2013, GoDaddy partnered with VMware Women's Leadership Innovation Lab to become a top workplace for women in technology. This collaboration was mainly focused on eradicating the unconscious biases at GoDaddy. As a result, GoDaddy has implemented initiatives to reduce unconscious bias in people processes, such as performance reviews and promotions.
Conclusion
An employee is an employee at the end of the day, it really doesn't matter which gender, which race, which religion, etc. they belong to. The only way forward is to bring everyone together. If organizations are aiming at creating a happier and more productive work culture, then diversity, and not just in terms of gender, will have to be ingrained quite deeply into the business mindset. It is high time Gender diversity became a mandate.
The discussion about Gender diversity exists because it still does not exist at workplaces. But now, moving into the future, let us hope organizations will understand the numerous benefits that come with it, and they will finally implement it.